On the Record: Republican Congressional candidate Sam Peters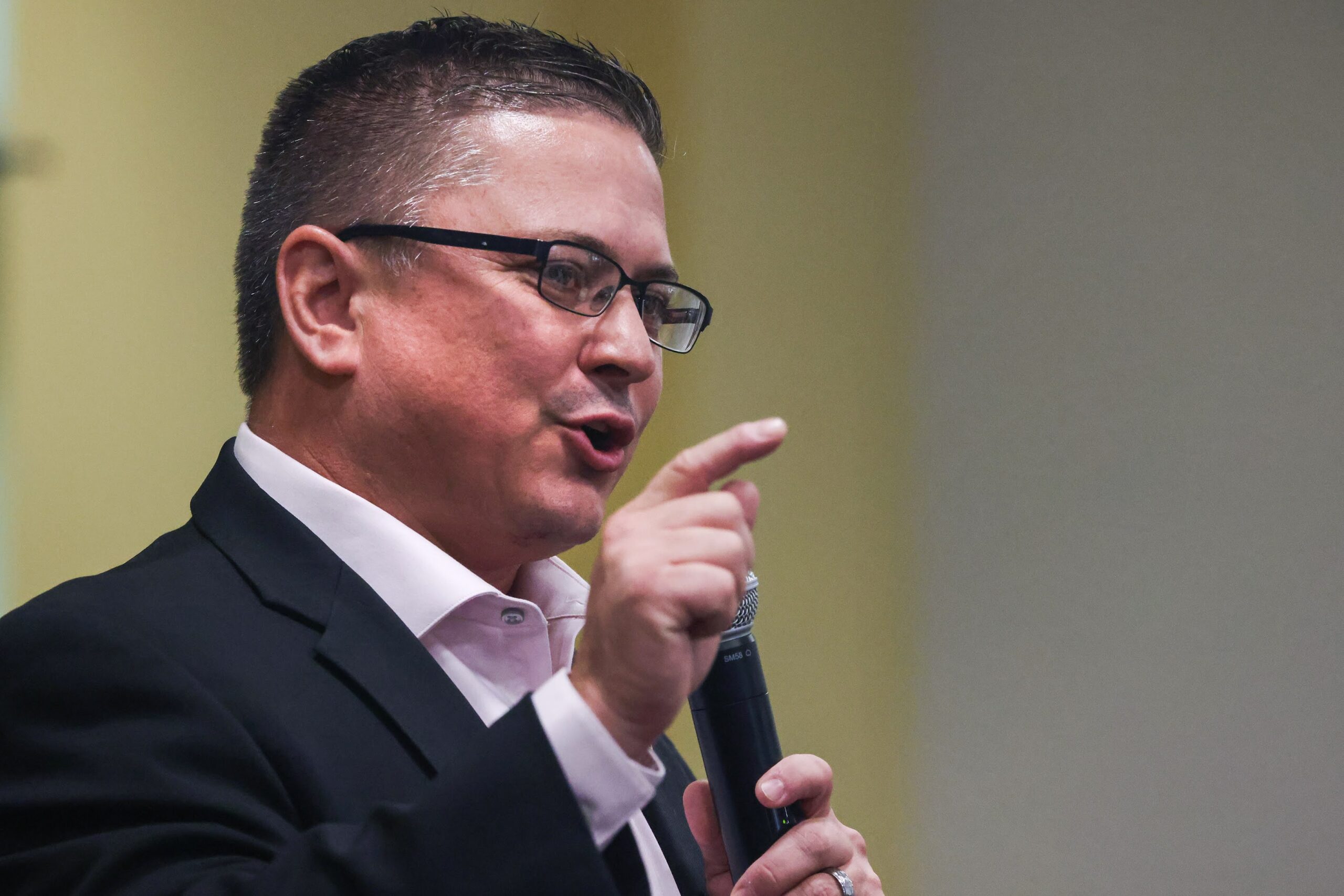 This is an installment in a series of "On the Record" pieces highlighting the policy stances of candidates running for major offices in the 2022 Nevada election. Click here for additional election coverage. For more information on the policy positions of Peters' opponent, Democratic Rep. Steven Horsford, click here.
Sam Peters, a U.S. Air Force veteran and insurance firm owner, lost the 2020 Republican primary for Congressional District 4, but didn't lose sight of his goal to unseat Democratic Rep. Steven Horsford.
This year, Peters won the Republican primary election for District 4. He has highlighted immigration, debt and spending and government outreach as the issues central to his campaign, often tying immigration and federal debt issues to Democratic policies and casting a negative outlook of the country's future.
"If we continue down the road of bad policy, excess spending, allowing the invasion that we're having at the southern border, all of these different things that are destroying our country, we're going to end up like those other places in the world which show the worst of humanity," Peters said during a sit-down interview in April.
Though Peters spoke with The Nevada Independent prior to the primary election, his campaign did not respond to multiple requests for an interview ahead of the general election.
In the Democratic-leaning 4th Congressional District, Peters, who has aligned himself closely with former President Donald Trump, has a chance to flip the district red for only the second time in its short history. The nonpartisan Cook Political Report rates the race a "toss-up," and national Democrats and Republicans have poured in millions of dollars to swing control of the seat created in 2011.
District 4 has massive geographic boundaries, covering a region larger than 17 states and roughly the size of Louisiana. It stretches through parts of northwest Las Vegas, the city of North Las Vegas and the entire northern half of Clark County into rural, central Nevada, including Nye, Lincoln, Esmeralda and Mineral counties and portions of Lyon County.
Below we explore the policy positions of Peters, the Republican District 4 nominee, based upon his April interview with The Nevada Independent, as well as past public statements and interviews. Click on one of the following subjects to jump to a specific section:
Immigration
Since the onset of his campaign, Peters has placed a strong emphasis on immigration. He's said the country is facing an "invasion" at its southern border, and argued for taking action to halt illegal immigration.
In his first television ad of the cycle, a narrator states that Peters is "running for Congress to finish President Trump's wall [and] stop illegal immigration."
He's also linked "the humanitarian crisis on the border" with fentanyl overdose deaths in the United States. In August, Peters traveled to Texas for a tour of the border and to meet with ranchers and agricultural workers in the El Paso area "to really get a feel for what's happening on the southern border," he said during a candidate forum in Pahrump prior to the trip.
Over the past year, monthly encounters between border patrol agents and migrants at the U.S.-Mexico border are more than twice as high as they were three years ago, as encounters have spiked since March 2021. Migrant encounters include both apprehensions, in which migrants are taken into custody, and expulsions, in which migrants are immediately expelled from the country. Border authorities have also seized increasingly large amounts of fentanyl in recent years, though the drug is typically trafficked through legal border crossings.
Peters has an 11-point plan "to immediately confront and fix our immigration problems," according to his campaign website.
That plan starts with finishing the wall, and he believes "walls/barriers/fences and the like DO provide a layer of security that will deter, delay, and dissuade illegal entry," according to his website.
His immigration plan also includes ending "chain migration for non-immediate family members," a Trump administration priority that broadly aims to cut down on immigration based on family ties, discouraging the formation of sanctuary cities and ending the visa lottery system, which randomly awards 50,000 immigrant visas annually.
Peters also wants to "require mandatory employer verification of worker eligibility" and "increase penalties on businesses that knowingly hire illegal aliens," according to his website.
Federal spending
Peters identified "debt and spending" as his "priority number two" after immigration during a candidate forum in Pahrump in August.
"We cannot continue to pass bills at $740 billion, $1.9 trillion, $1.2 trillion, and continue to live at 8, 9, 10, 15 percent inflation," he said of recent federal spending bills and the current economic conditions.
Peters has tied what he sees as excessive government spending to the elevated inflation rate, which hit a 40-year high in June. He also has taken issue with many Democratic economic policies, from President's Joe Biden's plans for student loan forgiveness to tax credits for electric vehicles approved as part of the Inflation Reduction Act.
Though major spending bills, such as the American Rescue Plan, have contributed to inflation, economists have also pointed to global supply chain issues, the war in Ukraine and the COVID-19 pandemic as contributing factors to the rise in prices.
During an April interview, Peters also took issue with sending funds to other countries, including aid sent to Ukraine in the early months of Russia's invasion into the country.
"We cannot be spending and funding the rest of the world," he said. "We spent billions of dollars on Ukraine within the last few months."
Peters has also touted his experience working on the federal budget during his time in the military, adding on his website that he would "strive for a solvent Federal Government."
Government overreach
The job of the federal government is defined in the Constitution, Peters said in April, but it has "gotten so big and so out of control" that the federal government is no longer focused on the "safety and security" of the country.
As part of that position, Peters is staunchly against tax increases. He's signed the Americans for Tax Reform's "No New Tax" pledge in 2020 and 2021, according to his website. The pledge is a commitment to oppose any and all tax increases.
"As your congressman I will work diligently to make sure Americans are able to keep their hard-earned dollars and businesses are allowed to thrive with minimal government interference," he states on his website. "I've always been for limited government and free market capitalism."
He's also tied his concerns about government overreach to land issues, bemoaning the federal Bureau of Land Management's ownership of a large share of Nevada land, and even the CROWN Act, a bill that prohibits discrimination based on hair style and hair texture. Nevada passed a version of the bill last year, though a federal version remains stalled in the Senate.
"I'm so tired of seeing the crisis at the border continue to escalate while Congress prioritizes on issues such as discrimination against hair in the workplace, and spending millions of taxpayer dollars on more government overreach like they're doing with the CROWN Act," Peters wrote in an April fundraising email.
Abortion
Peters describes himself as "pro-life," and states on his website that he would re-introduce and sponsor the Pain-Capable Unborn Child Protection Act, a bill that seeks to criminalize abortions past 20 weeks, with exections for rape, incest and the life of the mother.
Despite his support for that legislation, his campaign told the Las Vegas Review-Journal that he "does not support a national ban," and instead supports the U.S. Supreme Court's decision in Dobbs v. Jackson Women's Health Organization earlier this year, allowing states to determine abortion laws. Peters praised the decision, tweeting "Life wins," afterward.
According to his website, if elected, Peters would also support the Born-Alive Abortion Survivors Protection Act, which would institute requirements for the care of infants born after failed abortions, and the Conscience Protection Act, which would provide protections to health care providers that refuse to provide abortions based on religious beliefs or other convictions.
Guns
Peters is "a card-carrying Lifetime Member of the [National Rifle Association] and Gun Owners of America," according to his website. The NRA has endorsed Peters.
Peters also stated he is a "proponent of constitutional carry" — a term referring to the ability to publicly carry a handgun, either openly or concealed, without a permit — and he has pushed back against gun control measures.
"This America First Candidate in NV4 will NEVER pander to a political agenda in the wake of the precious loss of life to convince Americans to give up their Constitutional freedoms," Peters wrote in a June fundraising email amid a congressional push to pass gun control measures after the mass shooting in Uvalde, Texas. "Punishing 350 million law abiding citizens for the lunacy of a few is not how America works."
In another June fundraising email, Peters described "increasing gun restrictions of law-abiding citizens" as "a farcical attempt to disarm citizens."
Police
In the wake of his 2020 primary election loss for District 4, Peters launched the Law Enforcement Loyalty PAC, a group that spent roughly $50,000 in 2020 to support what it called conservative, pro-law enforcement candidates.
This year, he has pitched himself as the race's "law and order" candidate, earning an endorsement from the Public Safety Alliance of Nevada, a coalition of nearly 100 law enforcement groups in the state, including the union representing Las Vegas Metropolitan Police Department (Metro) officers.
He has staunchly opposed efforts to defund the police, and criticized criminal justice reforms.
"Last year's legislative session brought Nevadans a utopian approach to bail and criminal reform, and the results are devastating," Peters wrote in an April fundraising email. "Since then, crime has skyrocketed. In Nevada, murder is up 900 [percent] around the strip."
Through Sept. 16, year-to-date murders in the Las Vegas Valley are down 18 percent compared with last year, from 114 to 94, and only five murders have been logged in the Convention Center Area Command, which covers the Las Vegas Strip corridor, according to data from Metro.
Elections
Peters does not believe the country's elections are secure, he told The Nevada Independent in April.
He has called for the implementation of voter ID in Nevada, and targeted his concerns about election security at electronic voting machines, which he believes can be manipulated.
Last year, he wrote a letter to the Nevada secretary of state pushing to end use of machines from Dominion Voting Systems — a company central to Trump's false claims about the 2020 election.
In regard to recent efforts from rural Nye and Esmeralda counties to eliminate the use of their electronic voting machines, Peters said in April, he wishes "every county would do it." The congressional hopeful added that he did not have enough information to say whether he believed Nevada's 2020 election was affected by issues with voting machines.
"I think there is a lot of questions that still have gone unanswered," he said. "I can't attest to the 2020 election … Here in Nevada specifically, did the voting machines have an impact on the actual who was elected and who wasn't? I can't say because we can't get the information."
The Nevada secretary of state's office has found no evidence of widespread fraud in the 2020 election, and Dominion voting machines used across a majority of the state are not connected to the internet.