Never too late: Aspiring school social worker turns former gang lifestyle into new calling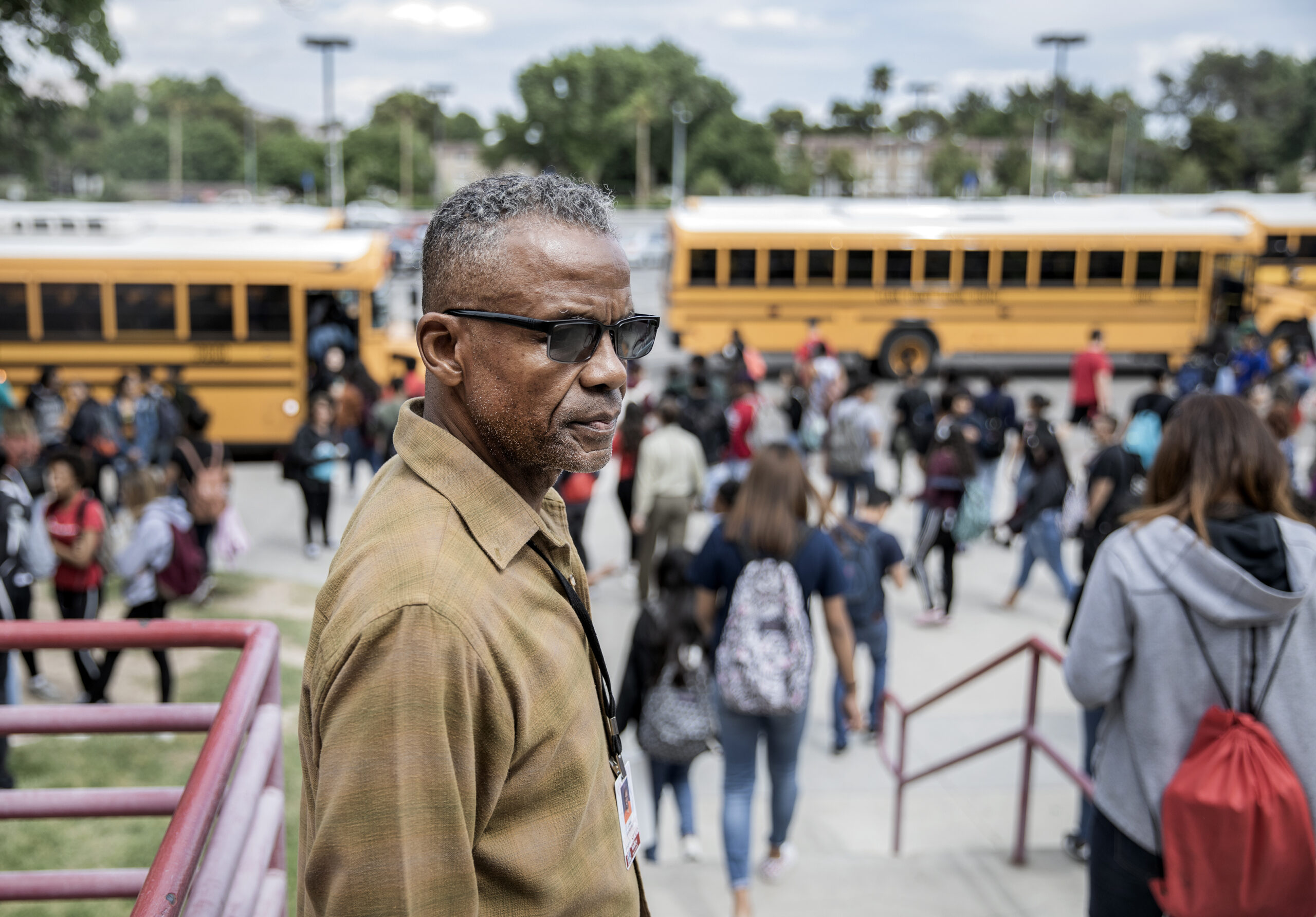 Some staff members need a bullhorn to corral students through congested high school hallways and exit points. Not Lionel Stoxstell.
On a recent afternoon, the U.S. Air Force veteran-turned-student success advocate stood at his normal lookout point — doorways leading to the bus pick-up area — when he spotted a potential skirmish brewing inside the Valley High School cafeteria. He bounded through the double doors, students parting on either side of him.
"Ay! Ay! Ay!" he shouted. "This ain't middle school."
The teens got the message. They abruptly stopped.
The slender 63-year-old, who stands 5-feet-9-inches tall, returned to his post. What Stoxstell lacks in stature he makes up for with his vocal chords. As a student success advocate, his job is fairly self-explanatory: He's a support staff member dedicated to ensuring students find their footing. He monitors attendance and behavior issues but also attitude. And when Stoxstell speaks, students generally listen.
"My voice is kind of heavy, so I don't need to use one," he said, referring to voice-amplifying objects. "I find the kids show me a lot of respect."
But his booming voice isn't the only reason Stoxstell can capture their attention. They call him "OG," slang for original gangster. It's a nod to his storied past involving gangs and drugs, which he shares with them in small doses, knowing that maybe — just maybe — it will help similarly struggling students. Starting next year, though, they can add a few more letters to that nickname: MSW.
The man several decades their senior expects to graduate from UNLV later this month with his master's degree in social work. Just two years away from Social Security eligibility, Stoxstell will be starting his career as a school social worker.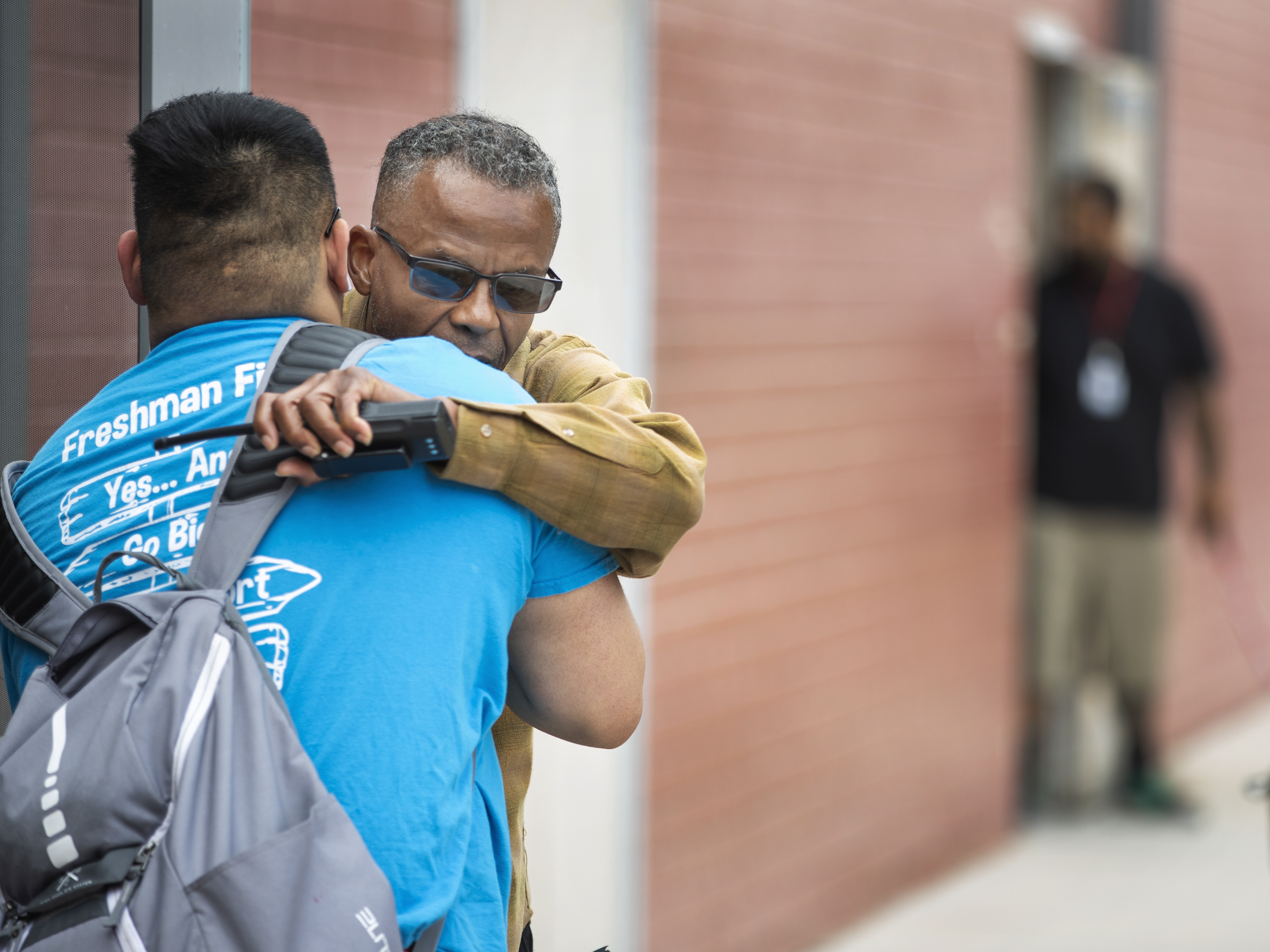 ***
Stoxstell's first arrest came at age 7. He was hungry, and milk jugs lined porches in his Chicago neighborhood. So he grabbed one and started drinking.
A resident observed the mischief and called the police, which led to handcuffs, a ride in a patrol car and a beating at home. Such was the way of life for the child of a teenage mother prone to nervous breakdowns and an absentee biological father who made money as a pimp. Stoxstell said his first stepfather abused him physically and the second did so verbally.
An older cousin molested him at age 12, he said, sparking aggression to mask his shame.
By eighth grade, Stoxstell won a schoolyard fight against a bully bigger than him. It caught the attention of gang members, beginning years of involvement and leadership that continued after high school. As a 20-year-old, he realized the lifestyle would end in a shooting.
"I knew, eventually, I was going to do something to them," he said. "Or they were going to do something to me. They wouldn't leave me alone."
His escape came in the form of a place where he would be following orders rather than giving them — the military. He spent 11 years as an electrician with the U.S. Air Force, which eventually brought him and his young family to Las Vegas. The stability didn't last, though.
Stoxstell developed an addiction to crack cocaine. It took him 14 years to fully kick the habit — a time period that saw the murder of his biological father, whom he had reconnected with in his later teen years, the demise of his marriage, two arrests for impaired driving and thousands of dollars wasted on drugs. Ultimately, a second stint of rehab in Milwaukee broke the self-defeating cycle.
He returned to Las Vegas to be near his three children. In 2006, the Clark County School District hired him as a custodian, but that wasn't the job he envisioned long term. Stoxstell had taken a career interest assessment while in rehab, and the results indicated he would make a good minister or social worker.
"I thought maybe I could help somebody not go through what I went through," he said.
And so began an educational journey that started with remedial math and English courses at the College of Southern Nevada en route to a bachelor's degree in social work from UNLV. But Stoxstell, buoyed by the federal government's offer to pay tuition given his military service, continued on to get his master's degree, which is required for school social workers.
"I kept going," he said. "I kept going."
It's a mantra that says as much about his life as it does his educational pursuits.
***
Four years ago, former Gov. Brian Sandoval introduced a program that would place social workers in schools. It was an attempt to provide another layer of support amid a growing number of students experiencing mental health-related issues.
Lawmakers allocated $22 million for that purpose in the 2017-2019 biennium. The money funded 203.5 school social worker positions across the state as of December, with 116 of those in Clark County. Gov. Steve Sisolak has recommended an appropriation of $17.7 million in each year of the upcoming biennium, which would be a $13 million increase.
If approved by lawmakers, that funding level could come close to reaching Clark County's goal of placing a social worker in every school, said Brian Adams, a coordinator in the district's Education Services Division who oversees the program.
Stoxstell plans to be one of them, pending his graduation and licensure by the Nevada Board of Examiners for Social Workers.
Ivet Aldaba-Valera, a lecturer within UNLV's School of Social Work who taught Stoxstell, sees him as a natural fit to help overcome one of the state's most pressing challenges — a shortage of mental health professionals.
Many of her students fall somewhere between 25 and 35 years old, meaning Stoxstell is twice as old as some of his peers. Aldaba-Valera provided one-on-one support to Stoxstell as his program liaison within the graduate school. She said his life experiences and natural people skills give him a certain wisdom not commonly found in other students.
"He really just humanized every situation he came across," she said.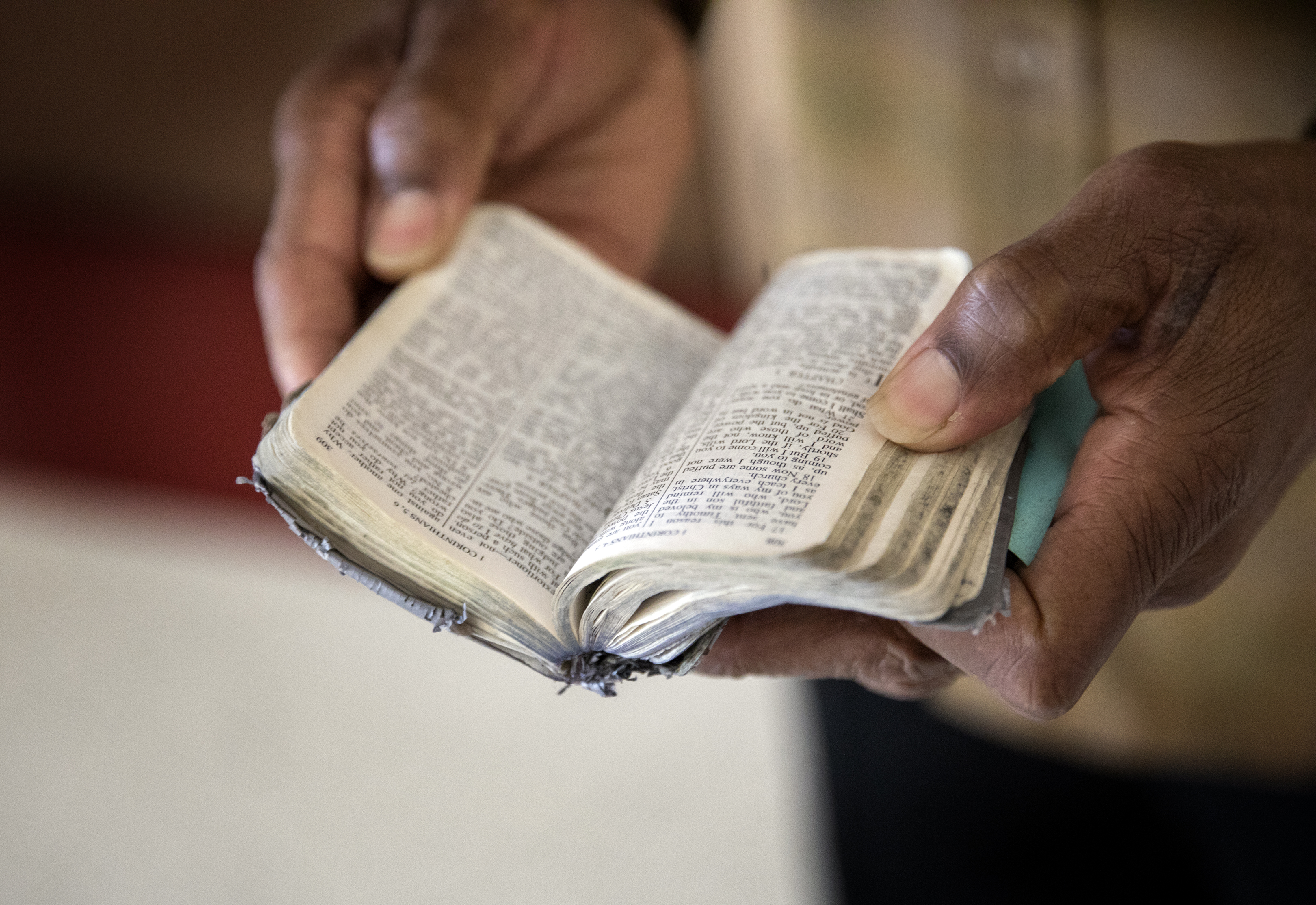 Grashawn Beaudion, 17, agrees with that characterization. He credits Stoxstell with helping save his life. The student success advocate offered to chat with him after learning that Beaudion, who had been back and forth between the counselor and psychologist's offices, had written a suicide note.
"I let him know what was going on with me and how I wasn't really feeling right," he said. "I felt like I was useless. The first thing he said to me is, 'God is the only thing. He's the one to tell you who you are and what you are. Don't let man tell you anything different.'"
Stoxstell followed up by purchasing a pocket-sized Bible for Beaudion. The unconventional approach in a public school setting clicked with the high school junior. It wasn't scientific. It wasn't medical. And the two had never met, but Beaudion said something about Stoxstell's message uplifted him that day.
"It's almost like he kind of sensed something," he said. "He was there at the right time."
Beaudion now considers Stoxstell a "wise uncle" who regularly checks in on him.
Ramona Esparza, principal of Valley High School, said Stoxstell's ability to connect with students and de-escalate situations has earned him deep respect on campus. She had a feeling when Stoxstell arrived wearing a full-piece suit five years ago for an interview in 100-degree weather that he was someone who meant business and would give it his all.
"Everyone talks about it's important to develop relationships with kids, but how do you do that?" she said. "He's a master at really knowing and really understanding students' stories."
Esparza hopes to hire him as a school social worker once he receives his licensure. In the meantime, students can expect to continue hearing Stoxstell's favorite catchphrases echoing throughout the hallways: "Be nice." "Don't lie." "Walk with the purpose."
It's all about preparing them for their next phases of life.
And sometimes that means enforcing what students might consider pesky rules such as no headwear in school. The sight of a teen sauntering by recently with a do-rag kicked the former campus monitor into action.
"All you gotta do is take it off and we have no problem," Stoxstell told the boy.
This time his negotiation powers didn't work. The sophomore refused and baited Stoxstell's threat about sending him to the dean's office. Off the pair went — each appearing equally surprised and irritated about the turn of events.
Inside the dean's office, Stoxstell softened his approach.
"You are a smart, intelligent young man and very respectful," he told the student. "Now, I just thought you were showing off for the girls."
After some conjoling, the teen mumbled his regret. He admitted Stoxstell was right: He should have complied and avoided an unnecessary confrontation.
The dean took it from there, and Stoxstell departed. It was almost the end of the school day, and he had hallways to patrol, orders to give and high-fives to receive. The advice he dispenses could have come in handy during his earlier years, but hindsight is always 20/20, and Stoxstell figures he can at least help a younger generation avoid the same pitfalls.
"We've got rules in the world. We've got rules in the school," he said while walking briskly toward the bus pick-up area. "I told them if you can't follow the rules in high school, you're gonna have a hard time following the rules of the land."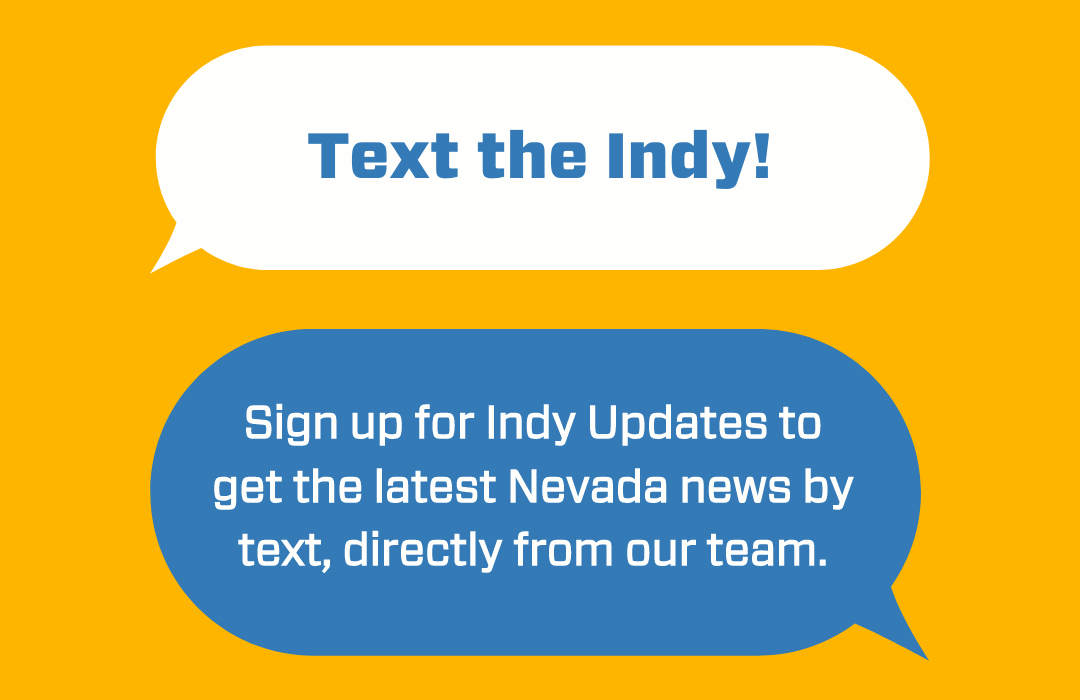 Featured Videos
Comment Policy (updated 4/20/2021): Please keep your comments civil. We reserve the right to delete comments or ban users who engage in personal attacks, use an excess of profanity, make verifiably false statements or are otherwise nasty. Comments that contain links must be approved by admin.