New data shows how many Clark County graduates head to college, highlights challenges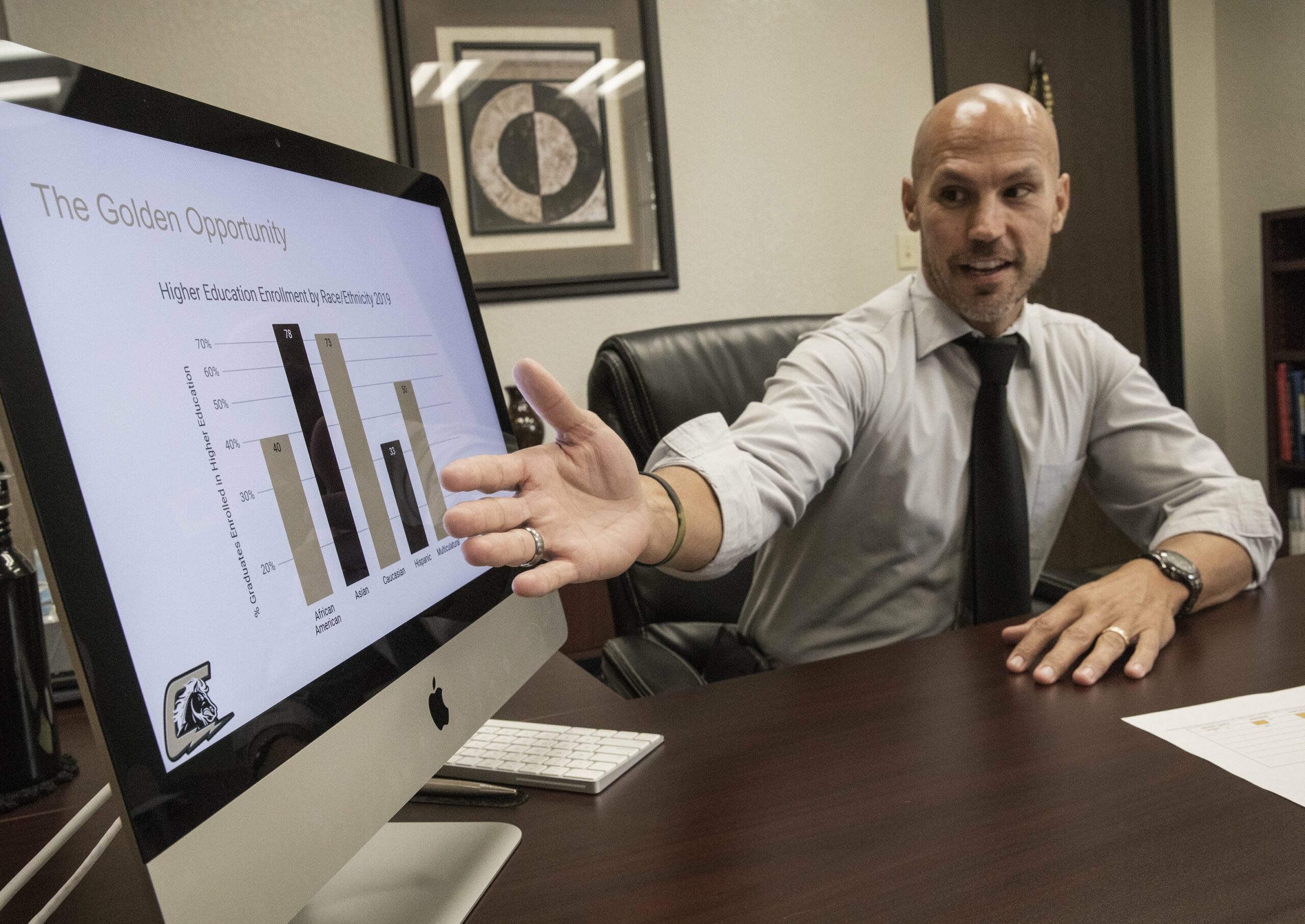 Clark High School in central Las Vegas regularly sends students to some of the most exclusive colleges and universities.
Students from the class of 2018 wound up at Harvard, Stanford, Cornell, Vanderbilt, University of Southern California, New York University and the University of Pennsylvania, to name a few. The 3,200-student school — and alma mater of comedian Jimmy Kimmel and Sen. Catherine Cortez Masto — has become known as an academic powerhouse. Last year, it churned out more than two dozen National Merit Scholarship semifinalists.
But for half of the school's students, college is not a reality. 
Forty-nine percent of Clark's graduating class in 2018 went on to higher education, according to data from the National Student Clearinghouse. The Clark County School District received the data for the first time this year, giving educators a school-by-school look at student pathways beyond graduation and, in some cases, the disparities between campuses and among student groups. The school district shared some of the data with The Nevada Independent.
"I was surprised in general with some of our campuses where I assumed or I just had the assumption that more kids were going on to college," said Mike Barton, the district's chief college, career and equity officer. "I think that viewpoint is probably shared with others as well."
Clark High School's college matriculation rate parallels the school district's average. About 51 percent of district graduates in 2018 enrolled in a two-year or four-year higher-education institution. But geography, ethnicity and type of school also play a role in college enrollment.
Barton said the Clearinghouse data — provided via a $17,850 annual contract, or $425 per high school — gives the district a chance to drill deeper into a question sometimes lost in K-12 conversations: What happens to students after they receive their high school diploma?
The answer to that question could drive changes within the district.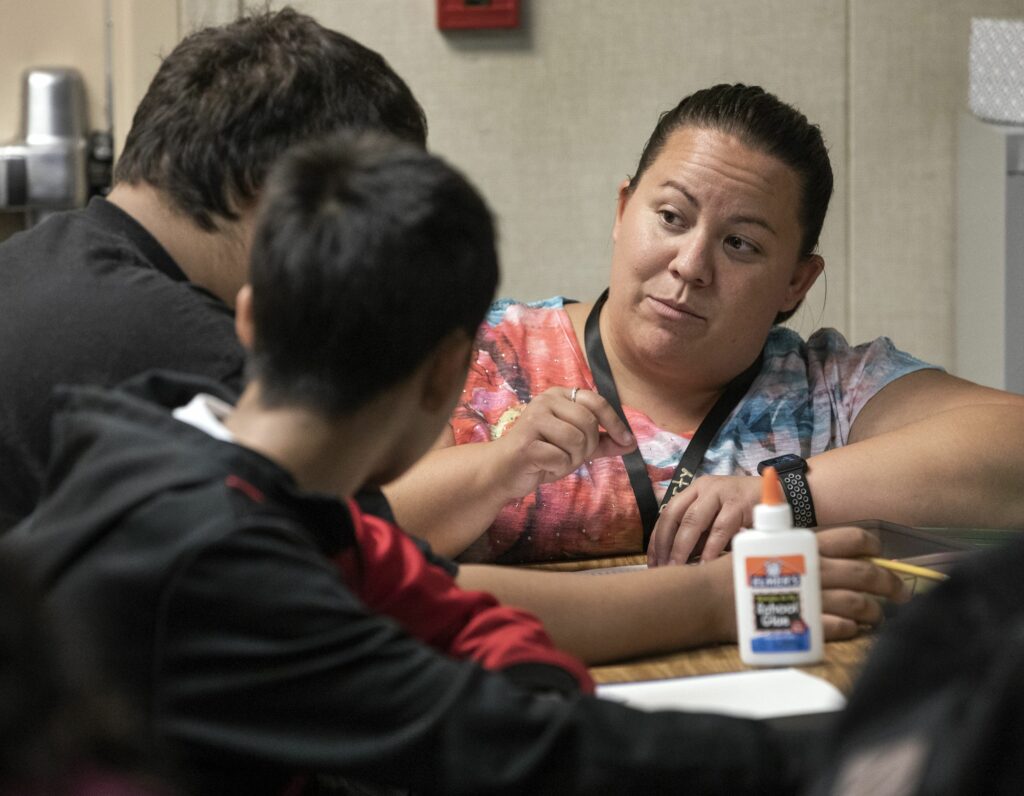 Some takeaways 
It's no secret that achievement gaps exist within the Clark County School District, where more than 40 percentage points separate the highest- and lowest-performing student subgroups in English language arts, math and science. Clark County Superintendent Jesus Jara has vowed to tackle the system inequities that contribute to the achievement gaps. His five-year strategic plan sets targets for decreasing proficiency and graduation gaps over time.
The Clearinghouse data, however, shows how those gaps also spill into the higher-education arena.
White and Asian students have the highest graduation rates in the school district — and they're also most likely to enroll in a college or university. Sixty-eight percent of Asian students and 58 percent of white students from the class of 2018 continued on to higher education, according to the Clearinghouse data. Meanwhile, only a third of American Indian or Alaskan Native students, 39 percent of Pacific Islander students, 45 percent of Hispanic students and 43 percent of black students from the 2018 class enrolled in higher education.
From a geographic perspective, high school students in Region 1 — which includes parts of North Las Vegas and the northwest valley — were less likely to enroll in higher education than their peers in other parts of the district. Forty-seven percent of 2018 graduates in that region went on to a two- or four-year higher-education institution. 
By comparison, about 53 percent and 54 percent of graduates in the other two regions enrolled in higher education. Those regions encompass Summerlin, Henderson, Boulder City and central and eastern Las Vegas.
Felicia Ortiz, a member of the State Board of Education, said the differences based on ethnicity and geography highlight the work that remains to shore up inequities. 
"If we're doing our job right, there should be no differentiation of what your ethnicity is," she said. "All kids should have the same access regardless of where they grew up and what ethnicity they come from."
But those aren't the only factors that determine a student's likelihood of attending college. Higher-education enrollment rates spiked dramatically for students who had attended dual-credit programs or career and technical academies, indicating that school environment makes a difference as well. 
College of Southern Nevada High School - West Campus funneled the most graduates — 88 percent — to higher education. West Career and Technical Academy and Advanced Technologies Academy followed, with college continuation rates of 88 percent and 85 percent, respectively.
On the flip side, eight schools saw a third or fewer graduates enter a college or university. Of those, one is in North Las Vegas (Cheyenne High School); three are in the northeast valley (Eldorado High School, Desert Pines High School and Sunrise Mountain High School); two are in rural areas (Laughlin and Sandy Valley); and two are alternative schools (Desert Rose High School and Global Community High School at Morris Hall).
The Clark County School District has long touted its magnet, dual-credit and career and technical education programs as examples of top-quality public education. The problem, though, has been access. Seats are limited and, for some programs, students must meet certain academic criteria.
District leaders have been mulling ways to expand access to these programs, and an announcement is expected soon.
Yvette Williams, chair of the Clark County Black Caucus, said she hopes the Clearinghouse data spurs district officials to re-think course offerings, too. If more students are exposed to challenging honors or Advanced Placement classes, they'll be better prepared for higher education and perhaps more likely to enroll and finish a degree, she said.
"I'm going to be curious to see, as we follow this data next year, how many kids are still enrolled," she said. "I can tell you a lot of them will not. That's where we miss it."
In future years,  district leaders plan to do exactly that — examine the persistence rate of those graduates who entered higher education. But the initial data set gives the district a chance to begin looking at student pathways and so-called feeder alignment, which refers to student preparedness as they transition through elementary, middle and high school, Barton said. 
Ultimately, district leaders want students prepared for their next step, whether that be a postsecondary degree or a career in a skilled trade, he said. The Clearinghouse data just furthers that process, showing the district's strong points and weak spots.
"We'll be able to show improvement. We'll be able to goal-set at the district," Barton said. "As school leaders, principals can work with counselors to make sure the pathway discussions are happening to connect college and career."
Changes underway at Clark High School
The percentage of Clark High School students continuing on to higher education didn't come as a complete shock to Principal Antonio Rael. 
When he started as principal in March, he began sifting through the school's data and noticed a disturbing trend: Math and English language arts proficiency rates varied widely between students in the magnet program and those zoned to attend Clark High School. 
For math, the proficiency rates — measured by ACT scores — were 9 percent for zoned students and 83 percent for magnet students. The divide was nearly as wide for English language arts. Twenty-three percent of zoned students were proficient in English language arts compared with 93 percent of magnet students.
Gaps in higher education enrollment also existed among ethnic groups. Substantially more white and Asian students were heading to college than black, Hispanic and Native American students. The deeper Rael dug into the data, the more he realized it was almost like two schools operating under one roof — one for magnet students and one for neighborhood students. Only 1 in 10 magnet students was from a neighborhood zoned for Clark High School.
"The reality is, because I think of the light shining so brightly on the magnet program, there hasn't been a lot of conversation around what's happening in our neighborhood population," he said.
Rael's findings led to what he described as an "emotionally charged conversation" recently with parents. He shared the data with them and then talked about needed changes.
Apartment complexes surround the 54-year-old school, which sits just north of Chinatown on Pennwood Avenue. It's an ethnically diverse but also impoverished neighborhood. And while parents likely understood that reality, some weren't prepared to hear the depths of the academic disparities among students within the school.
"There was a lot of shock and awe from our families," Rael said. "There was some tension in our parent meeting because the disparities show up in terms of ethnic breakdown, which is always troubling for all of us when you see things play out that way. It went from a conversation that was a lot of emotion to, 'Okay, what do we do now as a school community?'"
Rael pooled the school's Title 1 and Senate Bill 178 funding streams, which are meant to boost at-risk and underperforming students, and reconfigured their uses. For starters, he created an interventionist position whose sole job is to track student data and create a real-time response when red flags suggest trouble brewing. Maybe too many absences. Or plummeting grades.
His mantra is to prevent students from winding up in the "emergency room" their senior year when it's possibly too late for academic intervention. That's why another new initiative targets about 100 at-risk freshmen. They're enrolled in a freshman seminar class focused on goal-setting and healthy academic and social habits to succeed in high school and beyond.
Those freshmen also chose elective classes of interest rather than ending up with a computer-generated schedule.
"We let them pick in the same way that magnet students have the opportunity to pick," Rael said. "We created the same environment that our magnet students typically would have for our neighborhood children."
The school is also piloting a program that pairs at-risk sophomores with teachers who have volunteered to serve as mentors. Over time, Rael hopes these initiatives and others create the college and career pathways the neighborhood students need.
He calls it a different kind of lift, not a different type of desire among those students.
"They hear the idea of college, but it still seems like a foreign concept to them because they haven't seen the pathway," he said.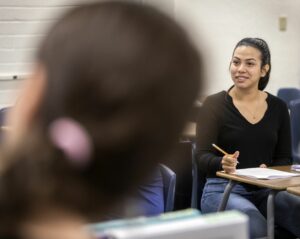 Take Kaylin Arguello and Meghana Veeramachaneni, for instance. They're both seniors at Clark High School who envision careers in the medical field.
Arguello, raised by her mom who works as a housekeeper on the Strip, dreams of being a nurse. Veeramachaneni, the daughter of an engineer and pediatrician, wants to become a doctor. 
Their academic lives haven't intersected much in Clark High School, where Arguello, a neighborhood student, takes honors classes and Veeramachaneni, a magnet student, takes many Advanced Placement courses. But they're at the same crossroads, trying to determine what their academic lives will look like post-high school.
"Thinking about college is kind of a scary thing for me," Arguello said.
She's trying to figure out the application process and how she'll pay for college. The one thing Arguello, 17, does know is that she wants to stay close to home, close to her mom. She'll most likely start at College of Southern Nevada.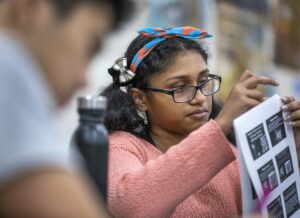 Veeramachaneni, on the other hand, plans to send out 15 to 20 college applications, hitting a variety of Ivy League and top research universities. She's busy writing her college admissions essays and throws around application-related terminology with ease. And after a rigorous junior year, she has decided to participate in only a few after-school clubs.
"I don't want to stress myself out so much," she said.
The girls' thoughts entering their senior year highlight the barriers Rael wants to break down. While both are college bound, it's Veeramachaneni — the magnet student — who appears more comfortable navigating the process. Arguello speaks with hesitancy in her voice. 
As Rael stood in a hallway Wednesday morning, he watched hordes of students make their way to class, knowing that many of them may never interact. But he has reason to believe that may change: Magnet students involved in a business-oriented club were recently recruiting neighborhood students to join.
It's one of the many answers to the question on Rael's mind each day.
"How do you create that pathway for both children to excel?"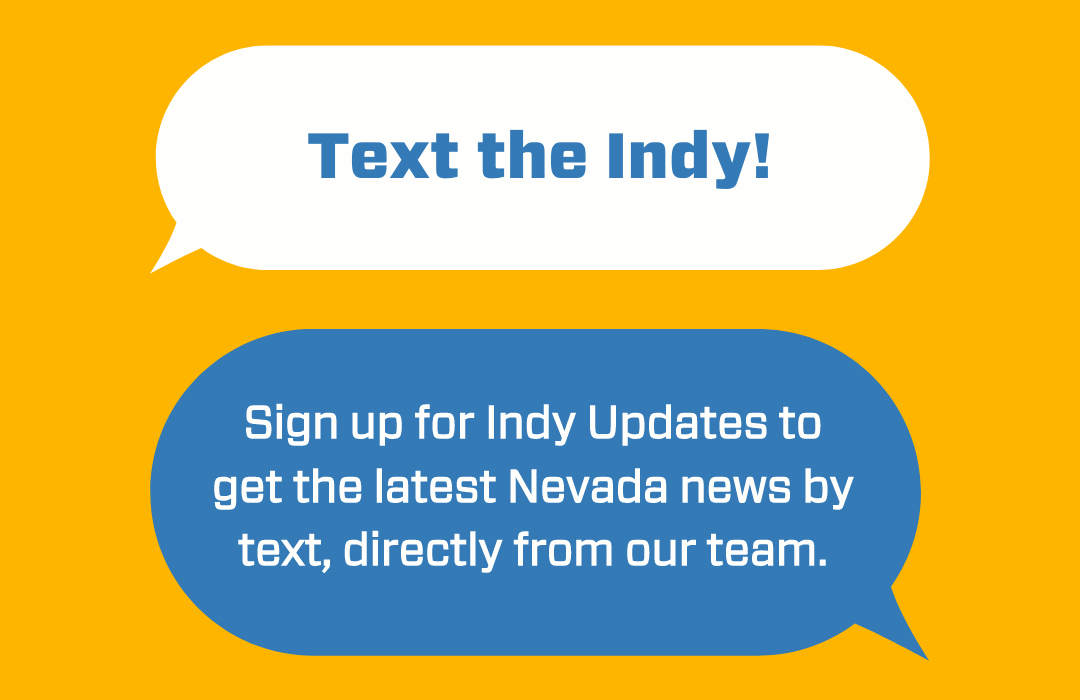 Featured Videos