New funding gives boost to programs serving future first-generation college students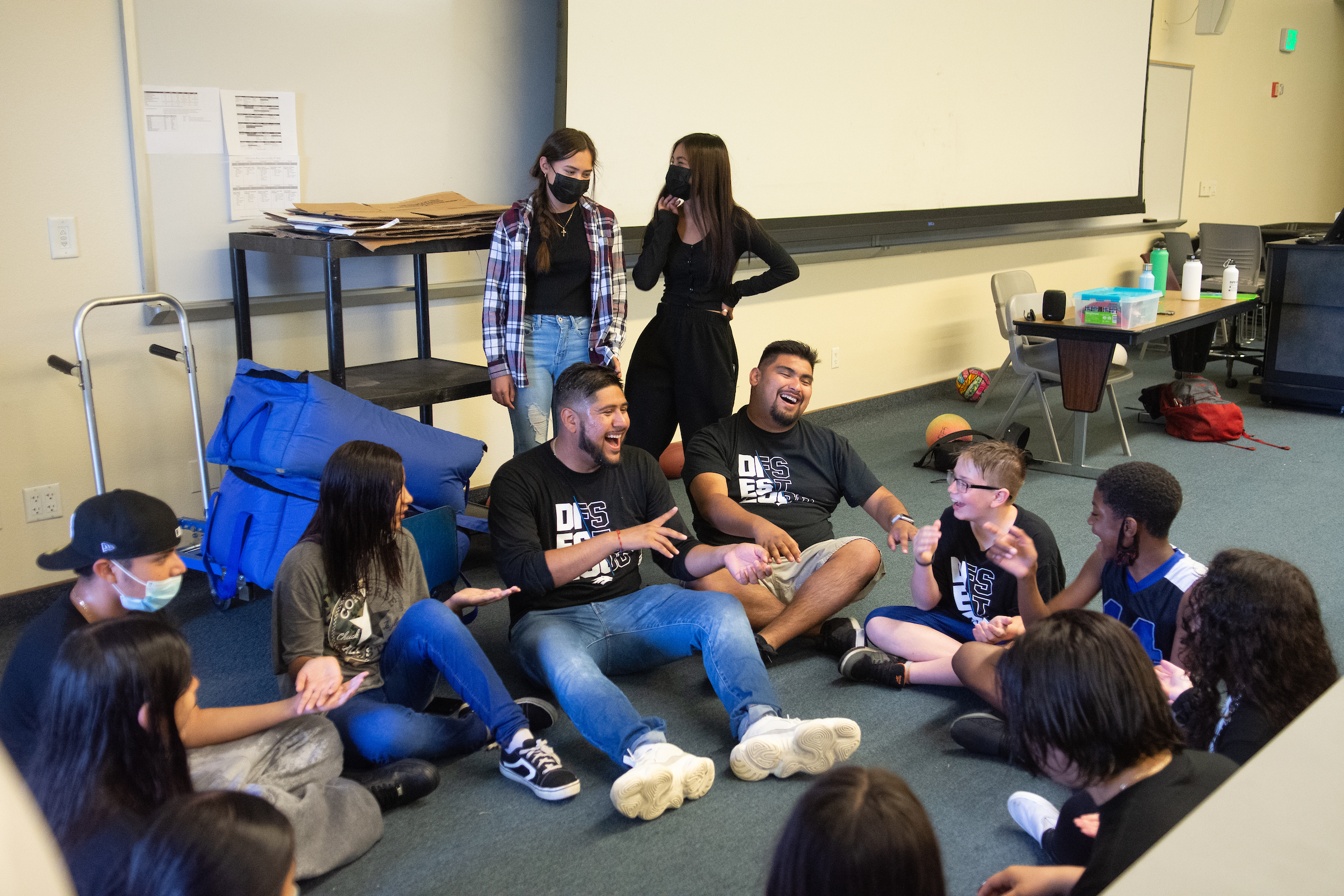 Manuel Ortiz's introduction to a program for prospective first-generation college students started with a lunchtime meeting featuring pizza.
While the food won him over initially, his more than two-decade journey with the Dean's Future Scholars (DFS) program has resulted in two postsecondary degrees, a marriage and now a full-time job. It's an arc he never could have predicted as a sixth-grader receiving an invitation to join the program affiliated with UNR. In fact, Ortiz wasn't even sure he wanted to accept the opportunity.
The DFS program comes with a big ask for potential recruits: Forgo a big chunk of summer break in exchange for academic support and mentorship that could open a pathway toward high school graduation and higher education.
"Do I really want to give up some of my time?" he recalled thinking.
College had not been on Ortiz's radar. He grew up in public housing with his five siblings and single mother, who fled Nicaragua for political asylum in the United States. She worked at factories, a daycare and, later, the Washoe County School District as a teacher's aide. Ortiz said his mother pushed her children to do well in school despite only having a sixth-grade education herself. But her understanding of education beyond high school was limited.
That's the void the Dean's Future Scholars program has tried to fill for the past 21 years. It's not just the application and financial aid process that can stymie first-generation students' attempts to enroll in a college or university. Their academic choices building up to that moment can also play a role. So the homegrown program deploys a long game, building relationships with selected students starting in sixth grade while injecting academic enrichment along the way.
"I always say, 'We are in the business of relationships,'" program director Mariluz Garcia said. "Everything we do is focused on social-emotional (development). We do hit the academics really hard, but the way it's delivered and the wraparound services that are provided are always done through the near-peer-mentoring model."
Since its inception in 2000 — when 50 sixth-graders joined the first cohort — the program has served more than 1,400 students, while, in some ways, flying under the radar. The group occupies a modest lounge at UNR, where students come and go as they please. Grants, private donations and in-kind contributions form what Garcia describes as a "piecemeal" approach keeping the program alive year to year.
But in the final days of the 2021 Legislature, state lawmakers tucked a $4 million windfall for the DFS program into SB461. The bill disburses federal American Rescue Plan funding to a variety of causes, such as programs addressing food insecurity or helping people with disabilities. The education-oriented program is the sixth priority in the bill, which says the money should be used to "establish a statewide program modeled after the Dean's Future Scholars Program at the University of Nevada, Reno, to assist pupils who are in grade 6 or higher, are prospective first-generation college students and have been negatively or disparately impacted by the COVID-19 pandemic."
Garcia had made a presentation about the program to an education committee early on in the session. At the time, she said, lawmakers were mulling another bill that would have encouraged other higher education institutions to create similar programs. The days ticked by with no word until late May when her phone rang.
"This all came as a big surprise to me," she said. "I almost fell over."
Now, Garcia plans to conduct a needs assessment across the state with hopes of launching a "Nevada First-Gen Network." The new umbrella organization would support other programs that, while maybe not identical to DFS, also help a similar demographic of students. Her rationale is that Nevada is too large and diverse to expect a one-size-fits-all approach. Slightly different programs may work better in other places. But as plans materialize, Garcia said she will share the "secret sauce" that sets DFS apart.
The continual mentoring. The long-term approach. The family feel. The desire to stick with students through good times and bad.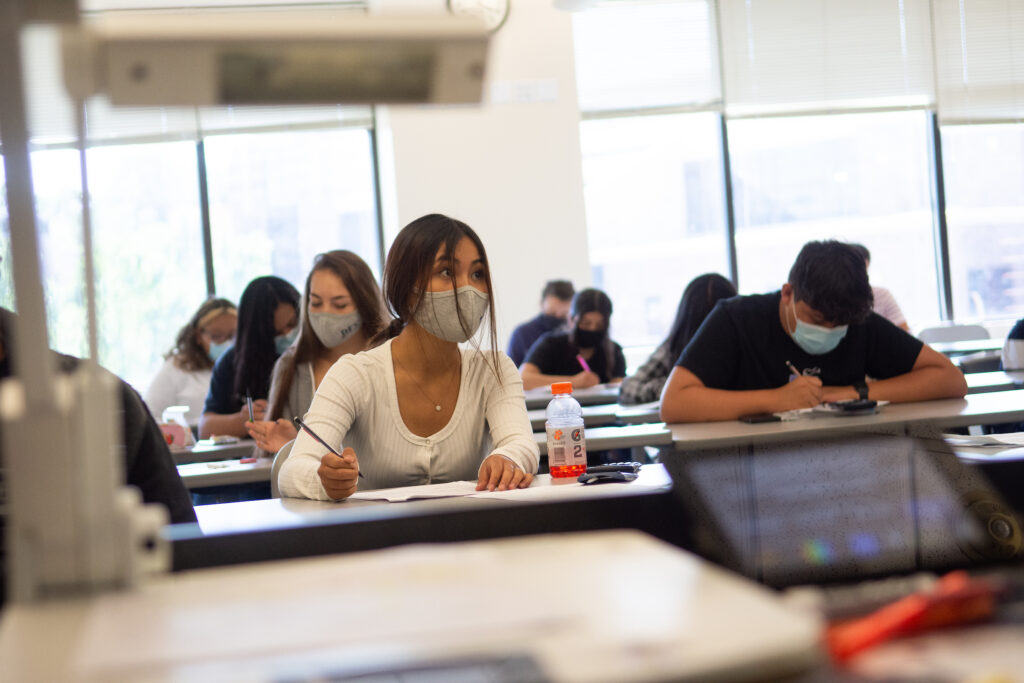 ---
Entrance into the DFS program starts with a tap on the shoulder. There is no application process. No minimum grade-point-average or test score requirements. Each spring, a combination of counselors, teachers and principals from select Washoe County School District schools nominate students. The schools are all considered Title I, meaning they serve a large number of students from low-income families.
The recommended students must qualify for free or reduced-price lunch, show an interest in attending college and preferably come from families in which they would be the first to earn a bachelor's degree. The selected students' journeys begin the summer after their sixth-grade year with a three-week program and continue throughout middle and high school. During the school year, paid college-age mentors — many of whom went through the program themselves — regularly meet with students. The conversations often address stressors students may be experiencing related to family or friend dynamics, coursework, employment and time management, among other issues.
Over time, the summer programs gradually become more academic-focused, giving students enrichment in STEM (science, technology, engineering and math) subjects as well as dual-credit coursework during high school. There's also an eight-week summer bridge program before they enter college featuring two UNR classes and a paid internship.
During the summer going into eighth grade, Ortiz balked at the time commitment. He wanted to sleep in and play video games. His mother dragged him to the UNR campus anyway.
"At the end of the day, I was so glad my mom did that," he said.
What he found that day kept him going: He immediately reconnected with fellow DFS students and mentors. The now-32-year-old recalls the experience as something akin to summer camp. Yes, they took difficult math courses, but they also swapped laughs and personal stories. Years later, he still maintains contact with friends made during those summer sessions.
Plus, they were on a college campus — in a giant lecture hall inside a distinguished-looking building — soaking up an environment unavailable to their non-DFS peers. The experience launched Ortiz to a private college in Alabama after high school. But he returned a year later, largely because of financial reasons and the lack of a support system there. He enrolled at UNR, the familiar place that had become home, and started working as a DFS mentor. His path did not directly lead to a college degree, though.
Three semesters shy of obtaining an undergraduate degree, Ortiz dropped out. Family and financial issues had created some obstacles. He lost focus, stopped turning in assignments and attending classes.
It was DFS that reeled Ortiz back in when a former program director walked him to the university's financial aid office. Ortiz — who met his now-wife through the program — went on to earn both a bachelor's degree in secondary education and a master's degree in higher education administration. After a stint working for the Washoe County School District, he has returned to work as the DFS assistant director.
"With DFS being so present in every aspect of your life, they kind of see you in those moments of sadness, in those moments of anger when you're feeling most vulnerable," he said. "I feel like that's what builds the bonds closer."
Ortiz knows his return to school — and degree completion — meant nearly just as much to the younger generations looking up to him. He said the hypocrisy of being a mentor, encouraging younger students to persevere but then dropping out himself, weighed on him.
They're students like Chayenne Neyra, 15, a DFS member who attends Spanish Springs High School. She credits the program with helping her stay ahead academically, especially after the pandemic heavily affected students' grades. Mentors are always a phone call or text away, she said, whether the need is for life advice or academic help.
Put more simply: "It's nice having someone even when you feel like you don't," she said.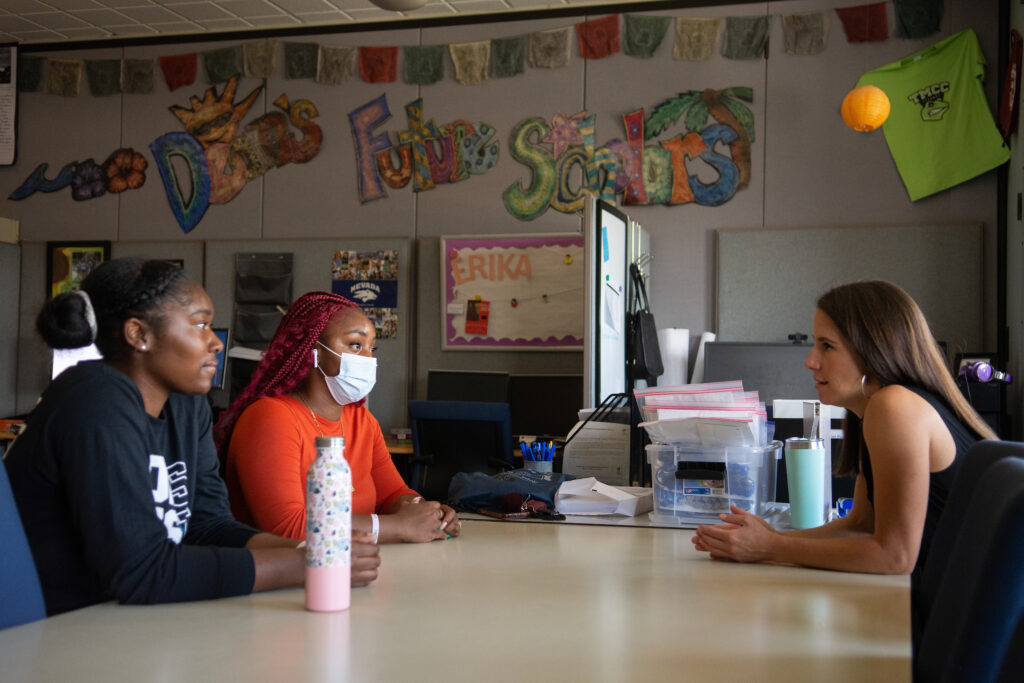 ---
While relationships make up the backbone of the program, the mission is academic and career empowerment. Only 62 percent of DFS students' fathers and 59 percent of their mothers graduated from high school, according to the organization's 2020 report.
The program aims to foster upward social mobility, giving students a boost to not only graduate high school but also continue into college — a trajectory that can increase their job opportunities and overall career earnings.
It's a situation Garcia, the program director, knows firsthand. Her father left Basque Country in Spain after being recruited to Nevada as a sheepherder. His formal education ended somewhere around eighth grade. Her mother, meanwhile, immigrated to the United States from Mexico as a young child. She grew up attending schools here, but her family didn't know the ins and outs of the American education system.
Garcia's first brush with college life came when she and her siblings packed into the family's Aerostar minivan and left Elko, bound for San Francisco. They were dropping off her older sister at a university — a concept Garcia didn't quite understand until she saw the campus, the academic buildings, the dormitories and the general hustle and bustle. Later, it was that same sister who helped Garcia navigate the college application process.
"I didn't know how to apply for college. I didn't know what financial aid was. I didn't know how I was going to pay for it all," she said. "All I knew was that my sister did it, and I wanted to, so it was kind of crazy how my sister had this, like, positive ripple effect on my whole family."
Ever since, she has been drawn to giving children like herself similar opportunities. On the day Garcia defended her dissertation en route to a doctorate, she wore a T-shirt that said, "Your test scores don't define you."
It's a message she imparts early and often to DFS recruits.
"There's not one type of student. You do not have to look like them, breathe like them, come from the same background as them," she said. "You can pretty much achieve anything that you put your eyes on as long as you show up, get your butt in the seat and you keep working hard."
A report highlighting the program's 20th anniversary in 2020 found that DFS students had averaged a 95 percent graduation rate over the prior five years, outperforming their school district peers. And 66 percent of DFS high school graduates earned an advanced, college and career readiness or an honors diploma.
The program also created a direct pathway to UNR, with a college retention rate of 86 percent. As of the 2020 report, 160 students had earned bachelor's degrees; 13 had earned two bachelor's degrees; 32 had earned a master's degree; and five had earned two master's degrees at UNR.
Not all students continue on to UNR, though. Some wind up at community colleges, private universities, out-of-state institutions or trade schools. Others have joined the military.
Garcia acknowledges there's room for growth. The program has averaged a 70 percent college enrollment rate since its first cohort of students. Still, she said the success stories matter.
"Every single college graduate that we have, every student that enters into the workforce successfully — that is having huge implications for the whole state," she said.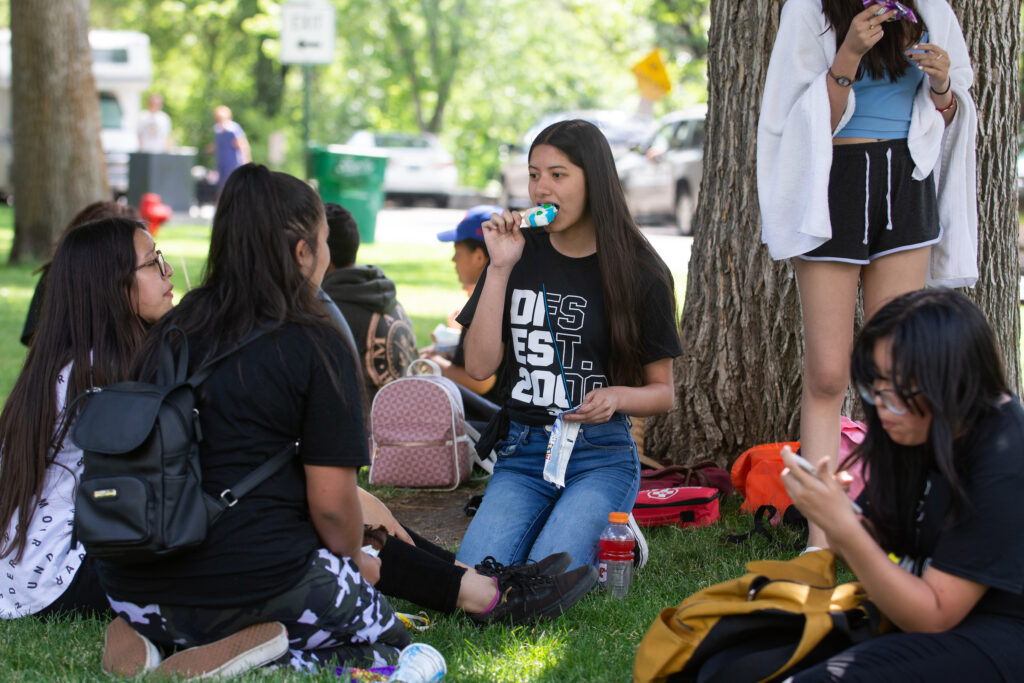 ---
On a recent summer day, former Gov. and UNR President Brian Sandoval visited DFS students along with Sen. Catherine Cortez Masto. Their visit signaled a growing spotlight on the homegrown program, which aims to broaden students' horizons. If they can now see themselves on a college campus, what more could they envision? Life as a teacher, engineer, doctor? Or perhaps a federal lawmaker?
"I may be the first Latina in the United States Senate, but I'm sure not going to be the last," Cortez Masto told the students. "And we are going to make sure that happens."
For DFS students, that's partially happening because of the partnership forged between local schools and the university. Garcia wants to further topple the invisible walls that exist between the state's K-12 schools and higher education system.
"There's a lot of good work happening," she said. "Why are we not talking?"
She hopes the Nevada First-Gen Network can foster more dialogue among people and groups that have similar goals, even if different approaches. These groups have often viewed each other as competition, she said, fighting for the same grant programs and funding sources.
The $4 million federal infusion could change that. Garcia envisions offering other organizations microgrants, which would provide COVID-related relief through efforts to address food insecurity, learning loss, technology gaps, mentoring and paying for college.
The potential ripple effect goes back to the very essence of the DFS program — building relationships.
"It's not rocket science, right?" Garcia said. "You just bring people together and get to know each other so you can build trust and, you know, build more of a collaborative thing."
The beneficiaries will be students like Chayenne Neyra. She's eyeing a future in real estate or forensic science. She could be the first in her family to graduate from college, and it all started with a tap on the shoulder several years ago.
This story was updated at 5:35 p.m. July 25, 2021, to add a missing word to a quote.
The Nevada Independent is raising $200,000 by Dec. 31 to support coverage of the 2024 election.
Tax-deductible donations from readers like you fund this critical work.
If you give today,your donation will be matched dollar-for-dollar.
Give + Get Matched
Featured Videos