New Jersey Sen. Cory Booker touts unions during Labor Day swing through Las Vegas
The campaign swing started late Monday morning for New Jersey Sen. Cory Booker, who — dressed down in a black polo and jeans — joined up with a small cadre of local union members and leaders on a Labor Day pilgrimage to a local McDonald's in an effort to educate workers on the value of organized labor. 
It was, however, a mission destined to fail. A manager caught wind of the union flyers and, in a flash, shooed the group out the door, pointing to a nearby sign emblazoned on the window in bright orange letters: No Soliciting. 
The visit marked an inauspicious start to Booker's swing through Nevada — his seventh of the 2020 campaign cycle — meant to tout the power of unions on the occasion of Labor Day. 
But the group was undeterred, and Booker hitched a ride with the group to another McDonald's, this time in North Las Vegas. There, catching a few workers changing shifts, Booker shadowed the union members as they handed over fliers and touted the value of organizing, eventually taking selfies with a few of the workers.
It was a quick stop, though, and Booker was shortly shuttled to his next event, a speaking engagement nearby at a Labor Day barbecue hosted by Democratic Congressman Steven Horsford. Though a number of the major Democratic candidates for president set up shop with volunteers and surrogate speakers — including Joe Biden, Elizabeth Warren, Bernie Sanders, Kamala Harris, Pete Buttigieg and Beto O'Rourke — Booker was the only candidate to appear and speak to the roughly-one hundred people gathered under an awning, looking for a break from the hot afternoon sun. 
Booker has sustained a campaign nearer to the rear of the field than the front, hovering somewhere close to 3 percent in both national and early-state primary polls. Still, the New Jersey senator has likened his effort to the campaigns of Bill Clinton and Barack Obama, whose poll numbers also hung low in the weeks and months before voters took to the polls. 
"We're running a campaign that, if you look at the metrics that matter, we're winning, actually," Booker said in an interview with The Nevada Independent. "If you look at Iowa, the metrics that matter is what kind of organization you have on the ground, and everybody from the Des Moines Register to the Iowa Starting Line says me and Elizabeth Warren have the two clearly best organizations." 
The senator touted a number of local endorsements in Iowa, and said he was excited to be back and "competing hard in Nevada," a state that — home to his mother and other members of his family — is "very personal to me." 
Booker also defended the progressive politics of the 2020 trail, including liberal policies — such as Medicare-for-All and decriminalization of border crossings — that have taken center stage. His remarks come at a time when former Senate Majority Leader Harry Reid has cast the issues as quagmires in 2020, telling Vice News last month that "of course" the policies would be problematic. 
"I think that's not the language of Democrats," Booker said. "The language of Democrats is that we need to have strong borders, but the way to do that is not by violating our values but by upholding them."
At the barbecue, Booker's brief remarks once again leaned on his support for organized labor, touting unions as an essential piece of the American Dream. 
"I am here because of the union traditions that took my family from poverty into the middle class," Booker said, his voice rising. "And we cannot allow us to allow our nation to turn its back on that tradition, because unions are under attack in America. And when we're under attack, we gotta stand up and fight back."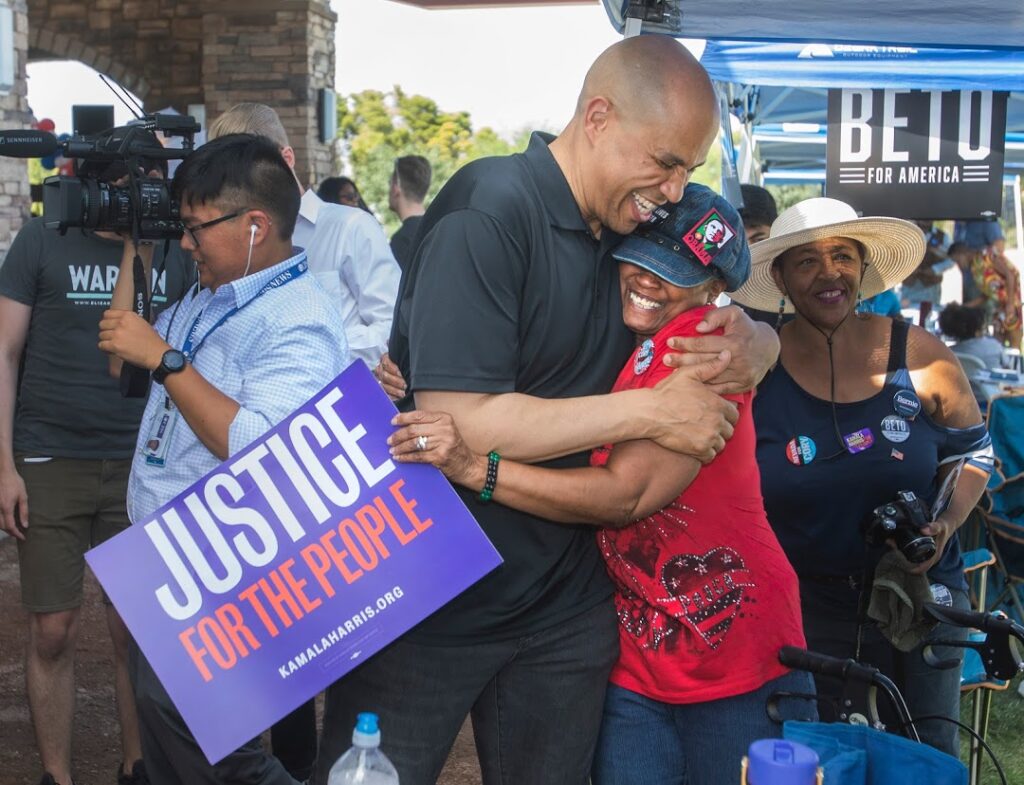 Then came the selfie circuit, as Booker slowly dispensed selfies, handshakes and what's become a trademark of his campaign: a personalized shout out from the candidate himself, filmed directly onto your phone. Some of those selfies came juxtaposed with the trappings of a half-dozen campaigns — something of a hallmark of the crowded 2020 field — as attendees held signs or wore buttons and shirts for a bevy of candidates not named Cory Booker. 
The parade of presidential candidates is set to continue through September, including a visit later this month from former Vice President Joe Biden. Booker is also among a number of candidates scheduled to return to Las Vegas next month as part of a forum on gun violence hosted by former Congresswoman Gabby Giffords and March For Our Lives. 
To track the past and future visits of all the presidential candidates, check out our 2020 presidential campaign tracker.