New school, book bus, teacher teams: A look at CCSD's first day of school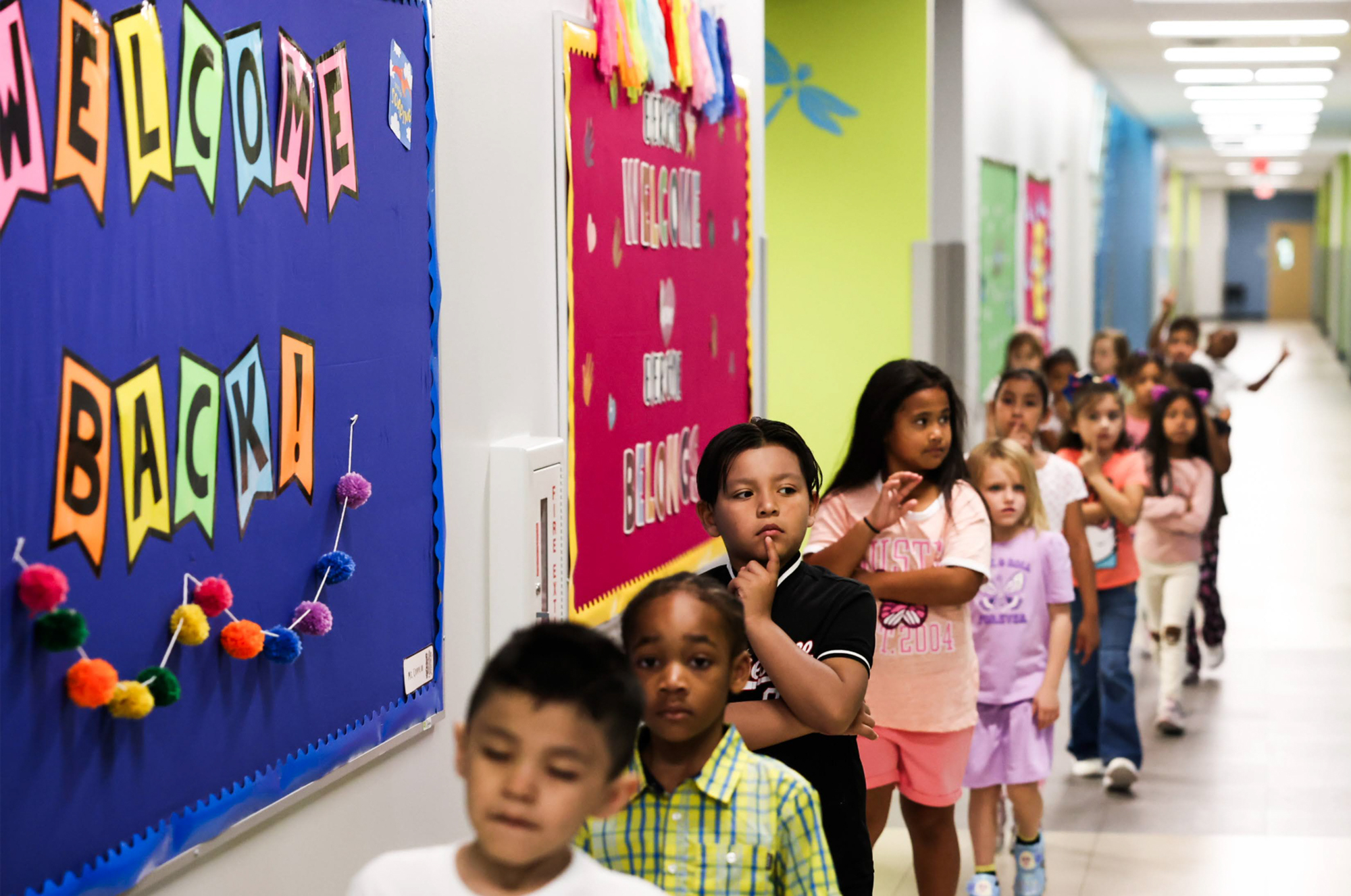 Nearly 300,000 Clark County students returned to class on Monday — an occasion the district marked by opening its newest career and technical academy in North Las Vegas, unveiling a school bus that carries free books for students and piloting a workforce model developed by Arizona State University at six middle schools.
"Every school that I go to teachers are excited … to welcome our children back to a great academic school year," said Superintendent Jesus Jara.
Jara also acknowledged teacher vacancies and ongoing tensions between the district and the teachers union that cast a shadow on the back-to-school events.
The new school on the block
Northeast Career and Technical Academy is the latest in the district's portfolio of high schools focused on career readiness and technical education. The new academy offers 10 programs for students to choose from including energy technologies, teaching, computer science and automotive technology. The school has been under construction since 2021, and cost approximately $200 million.
It's located in North Las Vegas across the street from Legacy High School. It comes a year after the district opened Central Technical Training Academy in central Las Vegas, which focuses on construction technology and advanced manufacturing. Another career and technical academy is in the works and is slated to open in Henderson in the 2024-25 school year.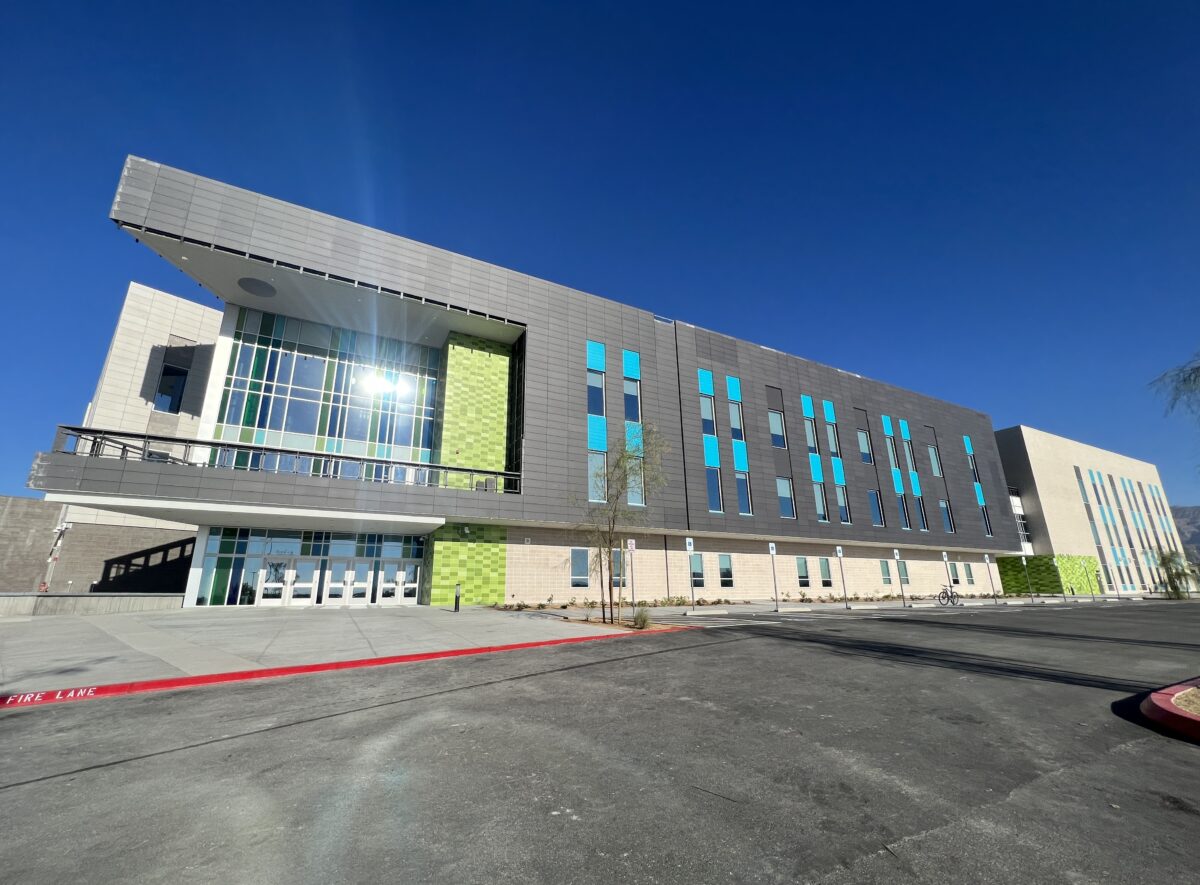 Northeast Principal Ryan Cordia said his vision for the school is to make it 100 percent student centered, having students take the lead on what path they want to take in their education and set the pace of their learning.
"Every individual student picks the job they want to first train for," he said. "In the core classes, they decide the due dates for all the assignments so they can finish their courses efficiently. The student decides how quickly they go through their math, science and social studies."
Northeast is opening its inaugural school year with 550 freshmen and 150 sophomores, and Cordia said the school will eventually add upperclassmen and grow to 2,000 students.
"I'm excited to let our phenomenal staff and students get to work," Cordia said. "I'm excited to get out of their way and see their potential get unlocked."
The school district also showed off the recently rebuilt John C. Fremont Middle School located near downtown Las Vegas. The original campus opened in 1955. The new facility features a brand-new gym called the Lancer Arena, complete with a mural of the school's mascot — a knight in shining armor riding on a white horse — a robotics room and medical science labs for the school's medical sciences magnet program.
Principal Abigail Johnson said that next year the school will be teaching students about sports medicine and medicine technology, which includes working with artificial intelligence.
"That is the future and we want our kids to be on the cutting edge of whatever's going to be offered in terms of careers," she said.
Reading on wheels
Students at Ullom Elementary School in East Las Vegas were treated to free books that they could keep and take home as part of the launch of the school district's new Book Bus.
The bus interior was retrofitted into a small library with shelves stocked with books, both in English and Spanish, in the place of seats. The bus features two small seating areas in the back and two baskets filled with bookmarks toward the front that students can grab on their way out.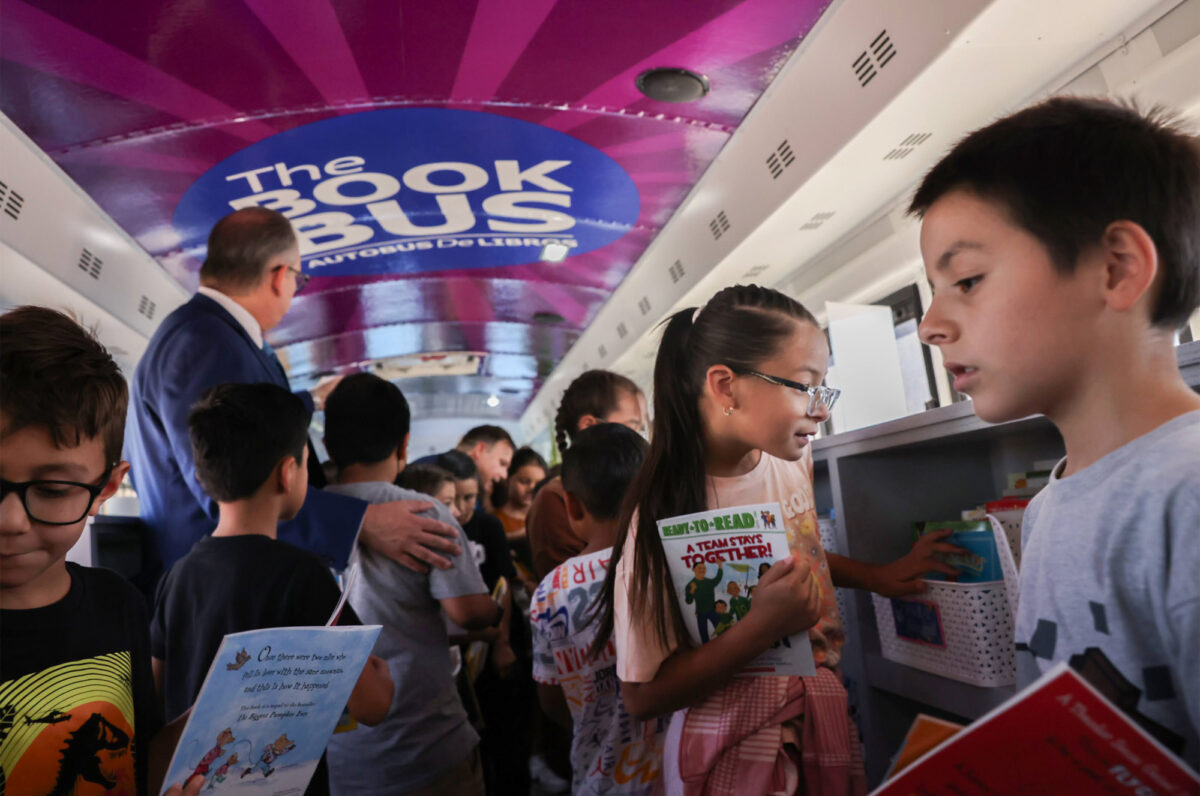 The brightly colored bus is part of a literacy initiative from the district's Engagement Unit in partnership with community groups including the Public Education Foundation, AKJ Education and Findlay Subaru of Las Vegas to make sure students are reading by grade 3, said Brad Keating, the unit's executive director.
"We created the idea to build the book bus so that every child throughout Southern Nevada can have the chance to go on, self-select their own titles and create their own personal home libraries," he said.
Keating said the bus will travel to a variety of schools at different grade levels and community events throughout the school year. His goal is to give out a minimum of 75,000 books annually, eventually increasing that number in the future.
Collaborative teaching
The school district is testing an education workforce model at six middle schools that promotes collaborative teaching and learning opportunities this school year.
Under the Next Education Workforce Innovation model by Arizona State University, schools form teams of teachers that share a cohort of students. The teams create a system of support for teachers and students. School leaders said the implementation looks a little different at each of the schools piloting the model.
Charles A. Silvestri Junior High School in Las Vegas is only piloting the model at the sixth grade level with teachers in core subjects: math, science and English. Each team will share a cohort of about 70 students.
"So those are all the students that those three teachers have … and they work together to look at the needs of the kids, the academic needs, the social-emotional needs and they get to know the parents and the families," said Principal Yvette Tippetts. "It kind of creates a smaller school within a large school."
Tippetts said the model is meant to address issues such as a substitute teacher shortage, teachers feeling disconnected from peers and students feeling disconnected from their peers and school staff.
Other middle schools piloting the ASU model include Del E. Webb in Henderson and Leavitt Middle School in Las Vegas.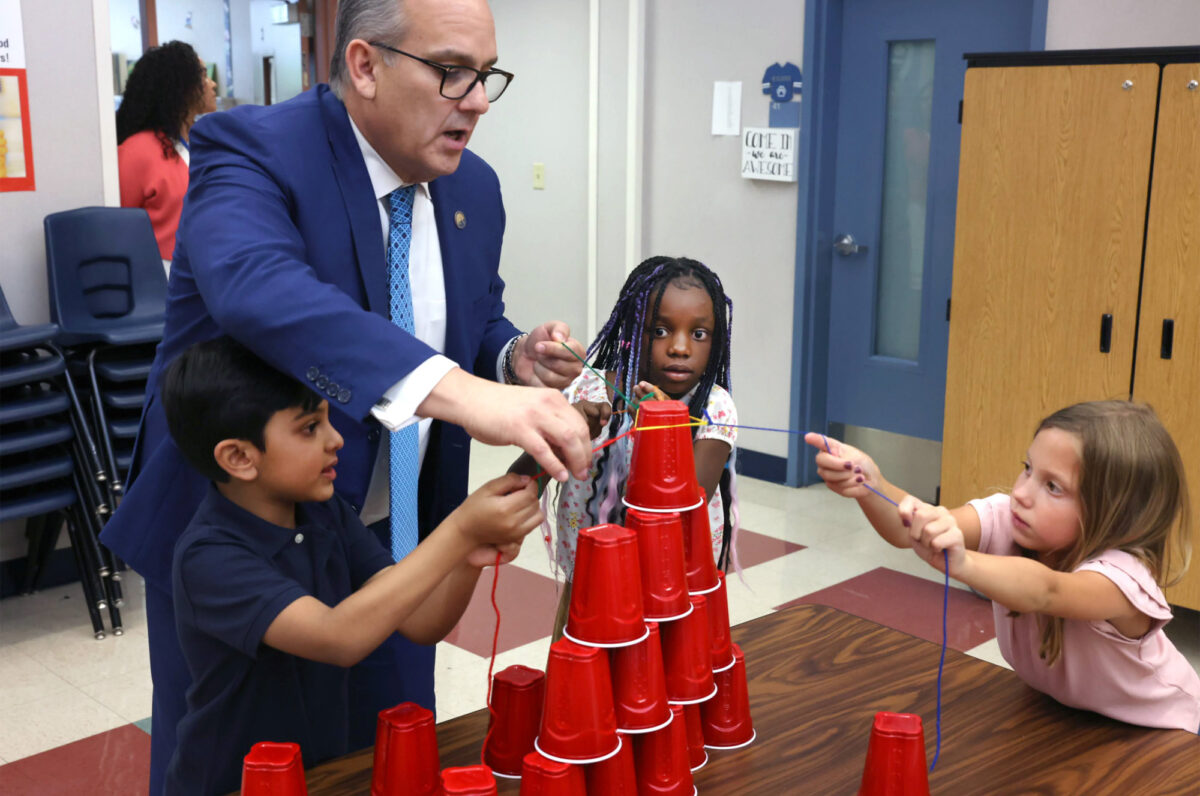 Students learning autonomy through state-funded STEM programs
Jara and other district personnel paid a visit Monday to Judy and John L. Goolsby Elementary School in Summerlin, which was ranked 6 for elementary schools in 2021 by U.S. News. The school received a $20,000 STEM grant this fall from the governor's Office of Science, Innovation and Technology, which will go toward teacher training to expand the school's STEM curriculum.
Goolsby Elementary is also one of several public schools that could soon become a "governor designated STEM school, which is awarded when a campus meets the highest standards of STEM instruction and is a model for schools across Nevada," according to a CCSD press release.
The home of the Greyhounds began focusing on STEM last year, with seven educators volunteering for the "intensive" STEM Leaders Academy, training on the Nevada STEM framework.
"This is just the beginning of this journey," Principal Melanie Boyer told Jara as he toured the school. "We're still on the ground floor … but you can see we're trying to transition."
Walls inside of the school were covered with bulletin boards showcasing science projects, "problem-based learning activities" and photographs of STEM experiences, including one that transformed a classroom into an immersive space to highlight the solar system and planets.
Assistant Principal Heather Hawley said students observed and learned about planets and different phases of the moon while lying on their backs with classmates and looking up at the ceiling's augmented reality installation.
For the past six years, STEM schools could apply for a governor's designation for high standards in education and receive up to $25,000 in grant funding. Applications will open this fall for public and charter schools that meet certain benchmarks.
Boyer said teachers have taken up STEM lesson planning at the school and that her main focus is to support them and ensure that they have creative freedom and autonomy, which she said transfers over to the children. According to Lis Dziminski, the STEM program manager for the Governor's Office of Science, Innovation and Technology, STEM education is rooted in autonomy.
"[It's about] student-driven experiences, choice, autonomy — where [kids] are really investigating and problem solving things that are relevant to them," she said.
CCEA negotiations
Before the school day started, teachers held more than a dozen rallies outside school campuses as their bargaining unit, the Clark County Education Association, continues to push for more pay.
The union wants an 18 percent pay increase over the next two years along with additional compensation for special education teachers and teachers who work in certain schools with high numbers of teacher vacancies and hard-to-fill positions.
CCEA said more protests are planned for schools across the district during the next two weeks, and members are planning to be in attendance at the Aug. 10 school board meeting.
CCEA has given the district until Aug. 26 to come to an agreement on the new contract. If not, CCEA Executive Director John Vellardita warned that members may vote to take "work actions." The announcement prompted the district to file a legal complaint against the union over a possible strike.
During a midday press conference, Jara said teachers have the right to protest and he wouldn't interfere with the demonstrations, but said negotiations should take place at the bargaining table and not the picket line.
"I welcome the leadership of CCEA to get to the bargaining table so we can get this job done. So our teachers can get compensated as they deserve," Jara said.
CCEA has argued that in addition to the boost in per-pupil funding the school district is receiving for the next two years as part of a $2 billion increase in K-12 spending, lawmakers also created a $250 million matching fund through SB231 to incentivize school districts to raise pay for teachers and support staff.
Jara told reporters the school district hasn't received its share of the SB231 funds, but submitted paperwork for it earlier this month.
Jara has said it is not clear how much funding the district could receive from the fund, and argued it wouldn't be fiscally responsible to use those one-time funds for permanent raises as lawmakers have suggested.
"It's one-time money; it's not to be used in raises," Jara said at Monday's press conference.
Last Friday, the Clark County School Board approved new contracts with the bargaining units representing support staff and school administrators.
Jara said the district plans to use its share of the SB231 funds for additional compensation for support staff. He didn't share any specifics of what that could look like.
Jara also addressed the district's ongoing teacher vacancies issue. He said the district is starting the school year with 1,145 vacant teacher positions, a 17 percent decrease from the previous year. The district has hired 200 more teachers than it did last year, according to Jara.
Jara said the district is going to fill some of these vacant positions by returning 53 project facilitators who had been working at the district office back to school classrooms.
The Nevada Independent is raising $200,000 by Dec. 31 to support coverage of the 2024 election.
Tax-deductible donations from readers like you fund this critical work.
If you give today,your donation will be matched dollar-for-dollar.
Give + Get Matched
Featured Videos