Western High School students walk past a Clark County School District Police car on Friday, Oct. 19, 2018. (Jeff Scheid-Nevada Independent)
New school safety measures go beyond random searches for weapons
October 26th, 2018 - 2:15am
A Las Vegas high school recently installed a high-tech version of a safety feature common to almost any home or apartment — a doorbell.
Now, when visitors arrive at the blue metal doors that serve as the building's main entry-point, a sign greets them: "Welcome to Sierra Vista High School. Please ring bell."
The bell connects to three handheld devices that allow staff members to communicate — via video feed — with guests and verify their reason for visiting. If they pass that initial hurdle, staff electronically unlock the door and direct them to the main office. That's where they'll encounter step two of the visitation process: Visitors will have their driver's licenses scanned into a new computer system that also snaps their photo and prints out a guest pass.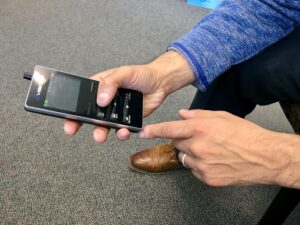 "The more layers you have of security, the more likely a bad guy is going to stay away from that building," said John Anzalone, principal of Sierra Vista High School.
Anzalone considers the roughly $15,000 investment for the buzzer system and door closers worth every penny. Like other principals around the valley, he has been brainstorming ways to beef up security at his high school, home to roughly 2,700 students. In a school that size, he said it's not uncommon to have 30 to 50 visitors each day, whether it be parents, delivery drivers, maintenance workers or district administrators.
The question vexing nearly all educators, but especially ones at large campuses such as Sierra Vista, is how to manage the flow of people and prevent an ill-intentioned person from smuggling weapons on campus to cause harm. School safety has dominated headlines this last year after a string of school shootings from Florida to Texas left students and parents yearning for change.
Random searches
Clark County School District police acknowledge it's more a matter of when, not if, someone will target a local school. So far this academic year, school police have confiscated 11 firearms from students. Although those students weren't necessarily intending to commit a shooting, the mere presence of weapons on campus is enough to strike fear within the community.
Last week, Superintendent Jesus Jara and the school district's police chief, James Ketsaa, announced middle and high school students would be subjected to random searches — a strategy they hope will deter them from bringing weapons or drugs on campus.
David Wilson, principal of Eldorado High School, said his students know suspicious behavior, such as leaving and returning to campus, could lead to them being searched. His school already generally conducts 10 or more searches of students per week, based on a 1985 Supreme Court ruling that gives school officials leeway to do reasonable searches, Wilson said.
His message to students is simple: Keep weapons off campus.
During his first year as principal of Eldorado High School, staff recovered 62 knives from students, Wilson said. Last year, his staff only removed a handful of weapons from campus.
"Kids, if they know they're going to be searched, generally they're not going to bring their weapons on campus," he said.
Anzalone said a few parents already expressed concerns about the random searches, but he thinks it could be an effective prevention tool if carried out responsibly.
"What is the face of a school shooter?" he said. "It's going to look different to you than it is to me, so random really is the key word there."
Other safety measures
Anzalone said Sierra Vista's school organizational team approved spending budgeted money on the buzzer system rather than supplies such as textbooks or Chromebooks. He admits it's not "100 percent foolproof" but considers it a beneficial additional safety buffer.
It's not the only school experimenting with various safety enhancements.
Valley High School Principal Ramona Esparza said her students and staff are required to wear their identification badges — a quick way to scope out who does and does not belong on campus.
"All students are required to have it displayed," she said. "It's supposed to be somewhere visible on the student, and they have been pretty compliant with that."
Schools are also treating fire alarms differently, Wilson said, to prevent a repeat of the Parkland, Florida, shooting. At some point during that Valentine's Day tragedy a fire alarm went off, sending more students into the hallways and harm's way.
Now, when a fire alarm goes off, students and staff pause momentarily to ensure it wasn't pulled accidentally or maliciously, Wilson said.
Safety initiatives go beyond policies and procedures, though. Esparza said school violence underscores the need for a focus on climate and culture. Staff at Valley High School spend a lot of time emphasizing expectations and values as well as developing trust with students.
"Every student probably has a connection with at least one adult," she said.
School Safety Task Force
As districts and individual schools grapple with how best to prevent violence, a group commissioned by Gov. Brian Sandoval has been doing the same.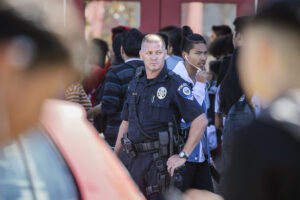 The School Safety Task Force wrapped up its work Thursday by finalizing a recommendation-filled report that will be sent to the governor, his successor and legislative leadership. The six recommendations serve to inform Sandoval as he prepares a draft budget for the next biennium:
Adopt an omnibus school safety planning bill.

This recommendation encompasses everything from creating school safety teams to the makeup of district crisis plans.

Make a significant investment in school-based mental health professionals and services.

The task force recommends establishing staffing ratios for mental health providers such as school counselors, psychologists and social workers, with school districts developing plans to achieve those target ratios within 15 years. The group also wants to see the "Safe Voice" reporting system be sustainable over the long run.

Make a commitment to ensuring the availability of additional trained school resource officers and school police personnel.

The task force suggests creating a categorical fund dedicated to bolstering the number of school police officers.

Provide funding to ensure safe learning environments.

The task force recommends creating a categorical fund for the purpose of enhancing building safety as well.

Provide legislation and budgetary authority that would grant district funds to ensure students and school staff have prevention skills needed to help all students be successful and safe in school.

This recommendation includes weaving social-emotional learning into curriculum of schools.

Make necessary statutory and regulatory changes regarding disproportionality of school discipline.

The task force wants information about the race, ethnicity and special-education status of students who are disciplined to be reported annually.
Sandoval has made school safety one of his top priorities before he's termed out of office at the end of this year. His spokeswoman said he's recommending $59.5 million be put toward school safety needs over the next biennium.
His budget recommendation isn't binding, though. His successor could change the proposed budget after taking office in January.
Comment Policy (updated 3/21/19): We welcome reader comments on our stories. However, in keeping with our general policy of transparency, accuracy and accountability, we do not accept comments from anonymous accounts. Anonymous accounts are those without a valid first and last name. Any such comments will be deleted, and anonymous users will be blocked from commenting further. We also will block commenters who use offensive language, engage in personal attacks or state things that are verifiably false.
get our morning newsletter,
The Daily Indy
INDYMATTERS PODCAST
CAFECITO CON LUZ Y MICHELLE
@TheNVIndy ON TWITTER