Nonprofit undergoes paradigm shift to serve students in their homes during closures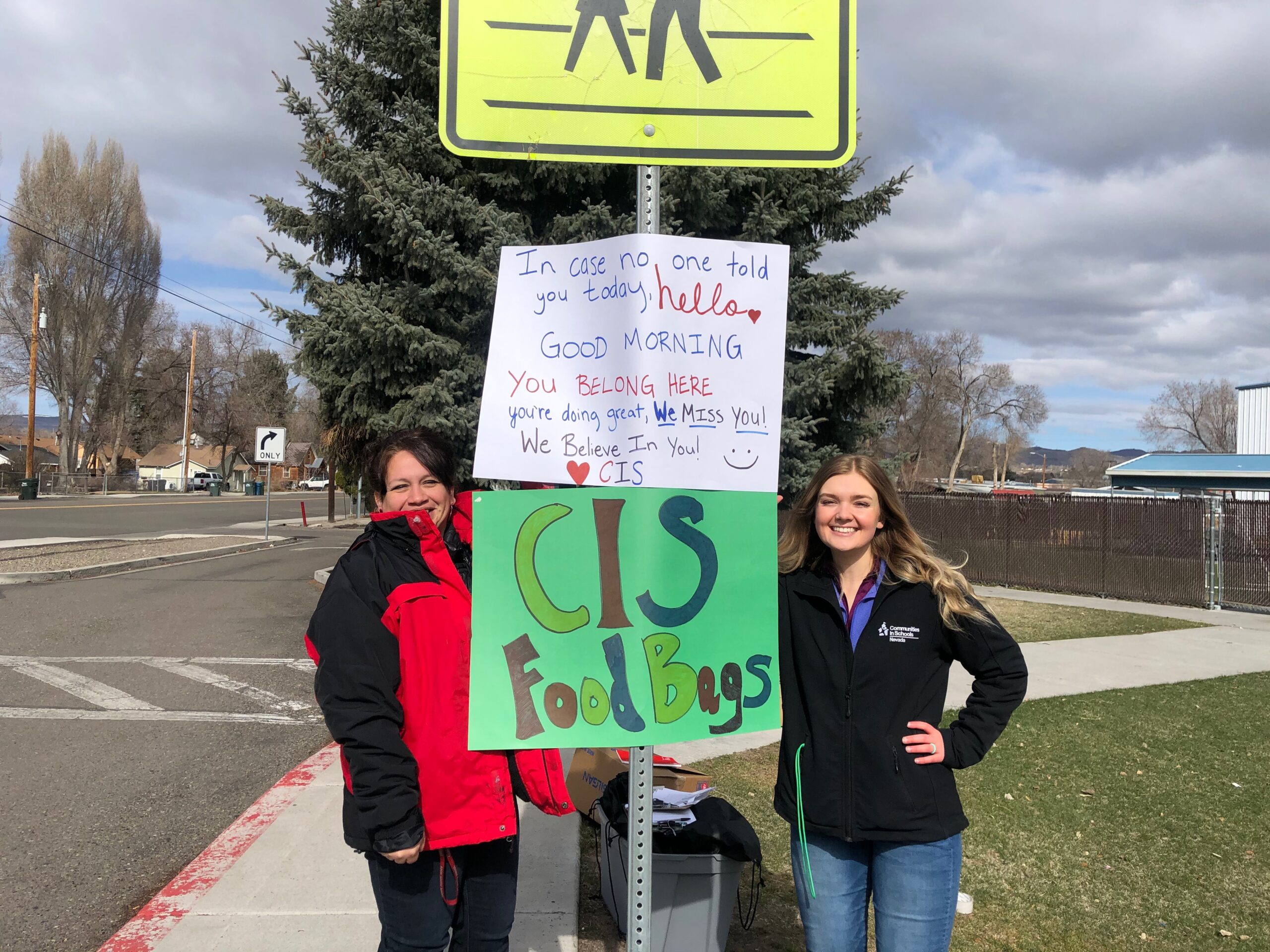 When Maria Ruiz learned a student's mother had been laid off and food was running low in the household, she knew one thing might cheer him up — hot Takis.

So Ruiz, a site coordinator for Communities In Schools in Elko, stopped at a gas station for the spicy snack and scrawled a handwritten note: "Hey, buddy. I'm here for you. I'm thinking about you. I think you're wonderful and this is going to go by fast."

She left the snack, note and a box of other food at his front door. As she turned and walked away, she caught a glimpse of the eighth-grader waving from a window.

This is what it means right now to be a staff member with Communities In Schools, a nonprofit in 25 states and Washington, D.C., that works with vulnerable students. School-based staff members, like Ruiz, traditionally bring outside resources into schools to help students, but the coronavirus closures have changed the paradigm. Now, the nonprofit is tasked with bringing those same resources — and sometimes even more support — to students at their homes.

Last year, Communities In Schools of Nevada served nearly 72,000 students across 72 schools.

"What we've removed from them is that safe place that they come every day to get their food and get their caring adult and get their cheerleader and their person that's really championing them to make sure that education and their mental health is a priority," said Tami Hance-Lehr, chief executive officer of Communities In Schools of Nevada. "So what we're now trying to do is flip that switch and figure out all the ways that we can continue to support them."

Ruiz, who works at Adobe Middle School, has spent her days chatting on the phone with students, many of whom are dealing with increased anxiety. She said her students' parents have lost their jobs at casinos, hotels or retail stores, putting an extra strain on already-tight family budgets.

Communities In Schools of Northeastern Nevada has received 58 new students enrolled in its food program since the closures began; however, as the team brings the new students and families on board, they're also trying to ensure existing students receive meals as well. Transportation has been one barrier, officials said. Under normal circumstances, students enrolled in the weekend food pack program would receive meal bags at school.

Now, some families don't even have enough money for gas to pick up food that's being distributed, she said. School resource officers have been volunteering to deliver food to those families.

Ruiz described many of her students as being in "survival mode" during this uncertain period. Despite the tangible resources their families may need, she realized several students, more than anything, desired a listening ear.

"I had a girl that I talked to for 30 minutes, and it was just about boys and how she was having a hard time connecting with her boyfriend because she can't see him," Ruiz said.

The coronavirus crisis has shed light on broad inequities that exist among students, whose needs extend beyond food and shelter. Christine Wong is a site coordinator for Natchez Elementary School in Wadsworth on the Pyramid Lake Indian Reservation.

All of the school's students receive free breakfast and lunch, so right away, Wong knew there would be a huge food need. But she quickly learned that many families were congregating outside a community gym to access free Wi-Fi because they don't have internet at home.

"That made me think about, okay, how are we going to do distance learning with these families?" she said. "They shouldn't have to sit in the car in a gym parking lot to try to teach them."

For starters, the organization delivered paper and pencils to families along with food.

Doris Orantes, a site coordinator at Petersen Elementary School in Las Vegas, has taken a jack-of-all-trades approach to her role outside the brick-and-mortar school environment. She has been connecting with the 65 students on her caseload, assisting at the school's food pickup site and helping teachers reach Spanish-speaking parents.

"I feel like I'm still helping in some type of way," she said.

In some ways, Communities In Schools' model hasn't changed dramatically because of the coronavirus. They're still conducting needs assessments with students, except now over the phone.

Rocio Ledesma, one of two site coordinators at Eldorado High School in Las Vegas, said she has been documenting students' needs by asking a series of questions that try to suss out their physical, mental and academic health: How are you doing? What have you been doing? What food or supplies do you need? Can you access the internet?

"I think in high school, we have a lot more communication," she said. "They're more aware. They actually do know what's going on."

Her calls have yielded a peek into students' home lives during the closures — a capability that teachers might not have given the volume of students in their classes. Ledesma said she has learned some high school seniors are worried about finishing credits to graduate. Others have confided that their parents lost their job, and some cannot apply for unemployment insurance because of their immigration status. Two of her students are navigating the crisis while pregnant.

While many seemed in good spirits, Ledesma said she expects a shift if food dwindles and bills mount in their households.

"Once we start seeing that, that's when it will start hitting them emotionally," she said.

The organization is also loaning laptops to students in its academy classes, which enroll students who are credit deficient with a goal of getting them back on track toward graduation. Hance-Lehr said staff members are checking in with those students to make sure they can cross the finish line despite the unconventional end to their senior year.

"We're going to continue doing whatever it takes," she said.

And, in Elko, when families drive through a food pickup site, they're greeted by signs the site coordinators have left for their students. In lieu of in-person conversations, Ruiz said it's one more way to remind students that they're school-based mentors haven't disappeared.

"They know that we're here thinking about them," she said.

The Nevada Independent is raising $200,000 by Dec. 31 to support coverage of the 2024 election.
Tax-deductible donations from readers like you fund this critical work.
If you give today,your donation will be matched dollar-for-dollar.
Give + Get Matched
Featured Videos