Officials: Nearly 48,000 independent workers have been paid PUA unemployment benefits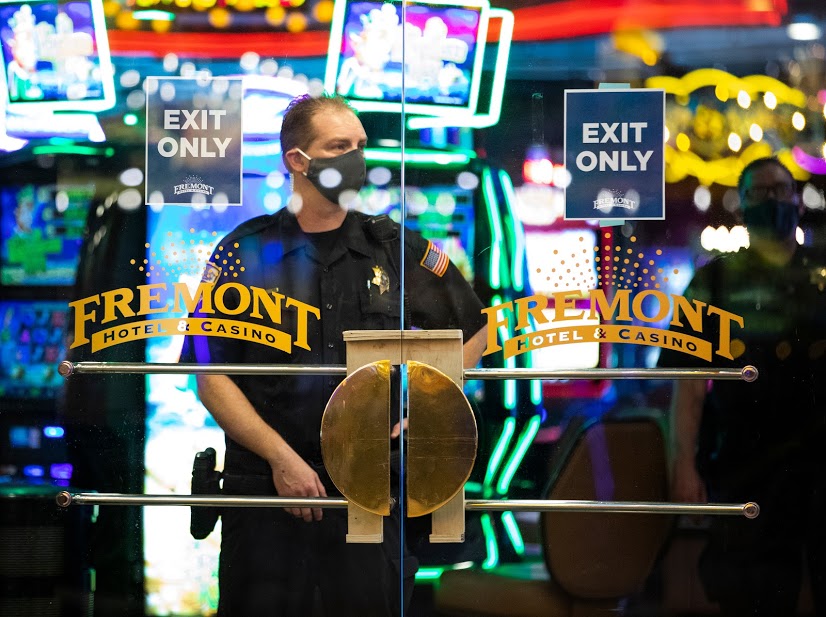 State officials say 47,582 people who have filed for the Pandemic Unemployment Assistance program for independent workers have been paid so far — an increase of more than 20,000 from the prior week and about 41 percent of all initial claims filed.
Heather Korbulic, director of the Department of Employment, Training and Rehabilitation (DETR), said in a video press briefing that 116,996 PUA claims had been filed as of Friday morning. About 40 percent of claims being filed are deemed ineligible for the program for reasons including that people are eligible for regular state unemployment insurance instead of the new federally funded program.
The updates come as unpaid claimants continue to air frustrations with the unemployment system on social media, to reporters and to elected officials, particularly raising complaints about being unable to get through to staff through the phone or being frequently disconnected. Korbulic said DETR learned part of the problem is that robocallers have been jamming the phone lines.
"Our vendor and our staff have deployed technology to prevent robocallers from getting through with the hopes that this will allow many more calls to be connected to a representative," Korbulic said. "DETR's PUA vendor is actively recruiting, hiring and training call center representatives and adjudicators to assist with the high volume of claims that we are currently working through."
Other updates
The number of regular unemployment claims that remain unpaid because of a pending issue stands at 33,310. That's down from the prior week, when that figure was 36,815.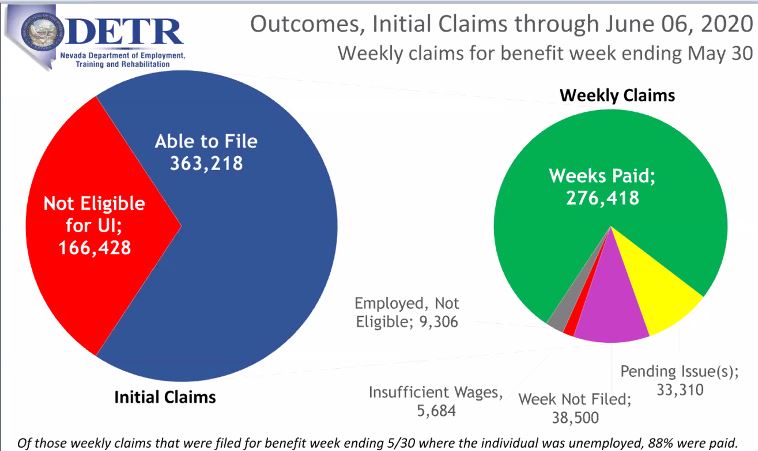 The number of initial claims filed to the state's regular unemployment system in the week ending June 6 is down slightly— by 589 — to 10,748. Still, there have been 496,273 claims filed during the pandemic period alone.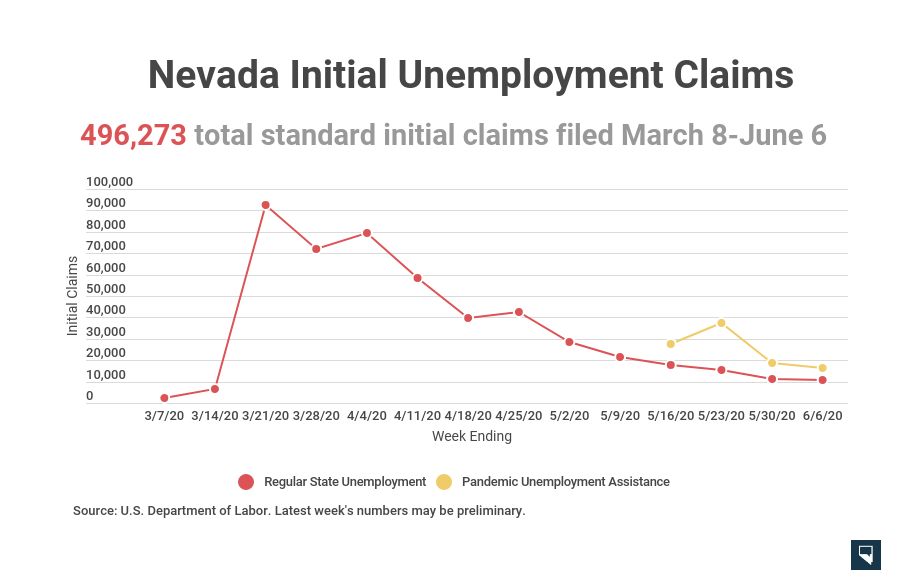 The number of "continued claims," or people filing week after week for benefits, is down just slightly — by 861 — to 334,182.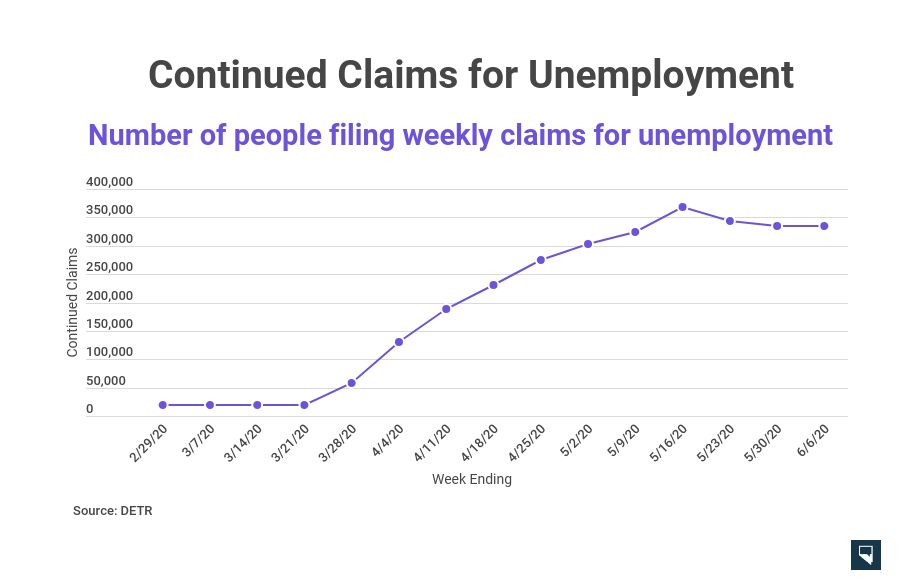 Nevada's "insured unemployment" rate, or the ratio of people who are filing continued claims to those who are eligible for unemployment insurance, is down just one-tenth of a percentage point, to 24.2.
That number is different from the widely understood unemployment rate, which stood at 28.2 in the month of April and is updated monthly.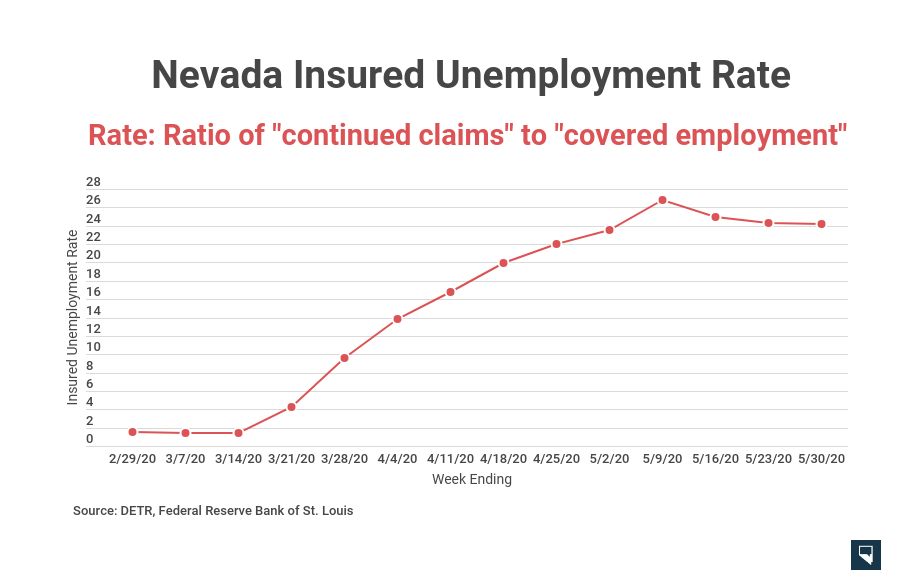 Regular unemployment benefits are paid from the state's trust fund, which had a balance of nearly $2 billion before the pandemic but now stands at just $1.2 billion at the end of last week. It has enough money to pay out 11 weeks of benefits.
In the past, when the trust fund has been depleted, Nevada borrowed money from the federal government.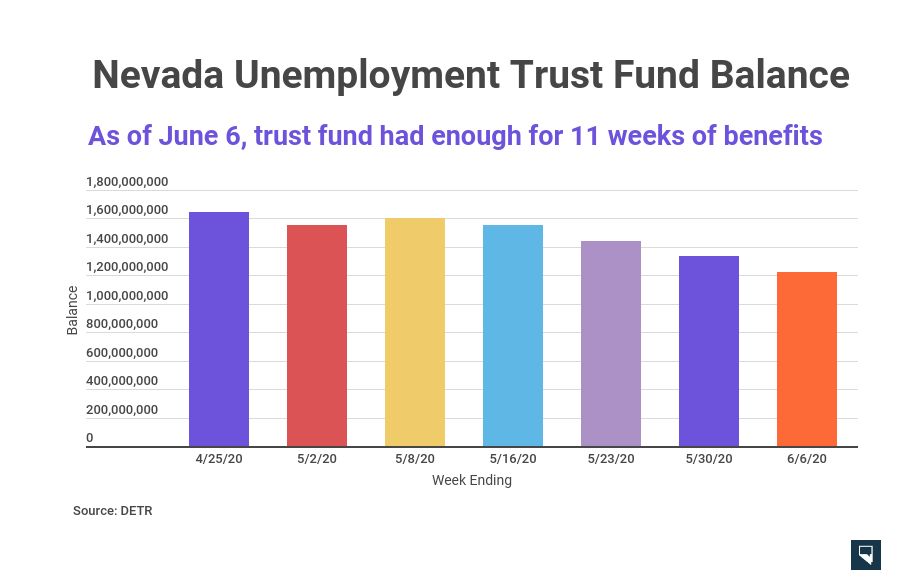 Nevada has paid out $246 million in federal dollars to PUA (independent worker) claimants since money started flowing in late May.
It's also paid $2.3 billion to regular UI claimants through June 6 — a figure that includes combined federal and state money.
The role of unemployment benefits in keeping economy going
Earlier this week, DETR Economist David Schmidt gave a presentation to members of the Economic Forum about the magnitude of the job loss in Nevada and government programs are helping to sustain consumer spending during the crisis. The forum is charged with analyzing the state's economy and predicting how much revenue the governor and state lawmakers will have to build a budget.
"You can use just about any adjective you like to describe just how unprecedented the numbers we are seeing these days are and you really wouldn't be exaggerating," Schmidt said on Wednesday. "We've never seen anything like this. No state has ever seen anything like this."
The state's April unemployment rate of 28.2 percent is the highest in any state for any month back to 1976, when consistent records started to be kept. Michigan's April rate of 22.7 percent is the second highest ever, for any state.
Schmidt compared the situation to that seen in the Great Depression — a period before modern recordkeeping methodologies were in place but that is estimated to have brought unemployment rates of around 25 percent. One of the key differences, he said, is the unemployment insurance system borne out of the Great Depression.
The program exists "to help avoid the vicious cycle of income loss leading to business failure leading to further income loss leading to more business failure," he said. "The level of intervention that this program has had, where we've had 300, 400, 500,000 people filing for claims and receiving payments — we've had a lot of money going back out into the economy to help blunt that cycle."
How quickly the rate turns back will depend on how quickly consumers will return to more normal activities, whether businesses will pick up where they left off and how readily workers — many of whom made relatively low wages in the hospitality sector before — will resume their jobs.
"Will workers be willing and able to go back to work?" Schmidt asked. "The benefits that have been provided, and the way those benefits were formatted — in many cases, people are able to earn more on unemployment than they were at work."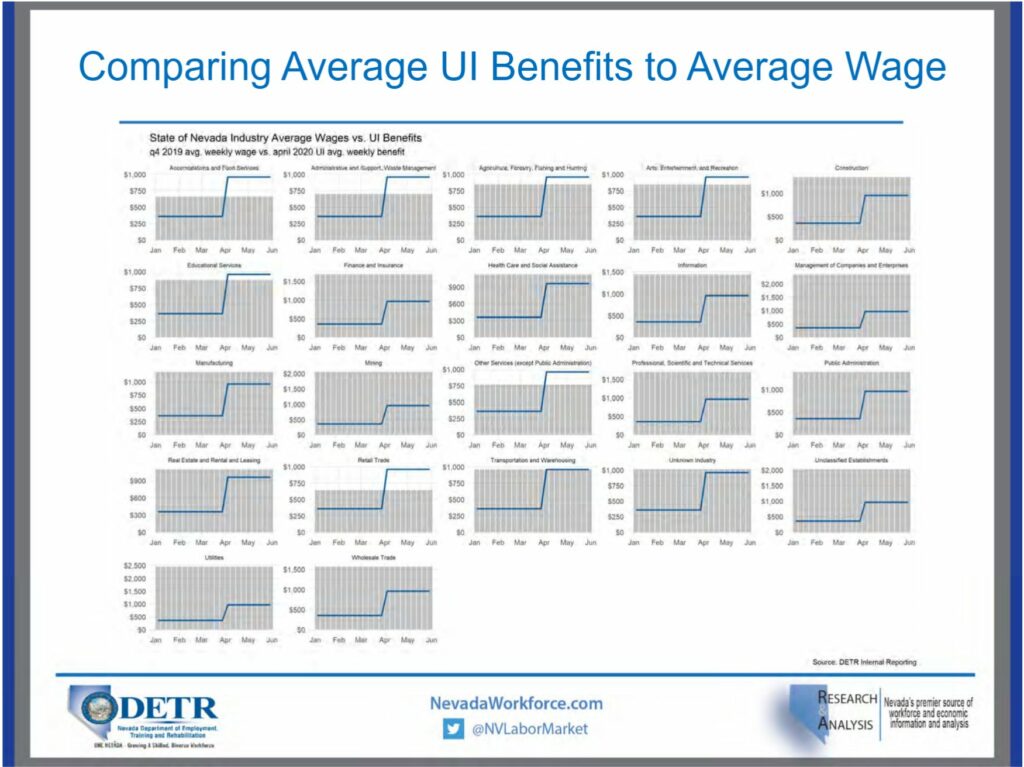 Schmidt noted that people are not allowed to "just sit on unemployment" and cannot collect benefits if they refuse "suitable work." That includes offers to return to their old job, and claimants must be truthful on whether they are refusing that work because they want to continue collecting benefits that sometimes exceed $1,000 a week.
"That would be potentially a misrepresentation issue that could affect their payments and/or potentially be considered fraud on the part of the claimant," Schmidt said.
Numbers from the Federal Reserve Bank of St. Louis bear out how unemployment insurance has been able to keep people participating in the economy and even boosted overall income. From March to April, personal income in the U.S. rose 11 percent. If transfer payments such as government benefits are subtracted, that number dropped 6 percent from March to April.
What the state's unemployment rate will look like for May and June is an open question. Schmidt said that in spite of the reopening of non-essential businesses, he doesn't expect the rate to return to the pre-pandemic 3.6 percent.
In Nevada, Schmidt has estimated that about $3.7 billion in wages have not been paid during the pandemic that otherwise would have. That's a gap backfilled by about $2.3 billion in unemployment payments administered by the state, and programs such as the $1,200 stimulus payments and the Paycheck Protection Program on top of that.
He said the government programs are helping get people through the public health emergency for now so "we can reopen in a healthy and safe way, which I think will be fundamental to the state reopening more broadly and bringing in that tourism and entertainment-based employment that we have."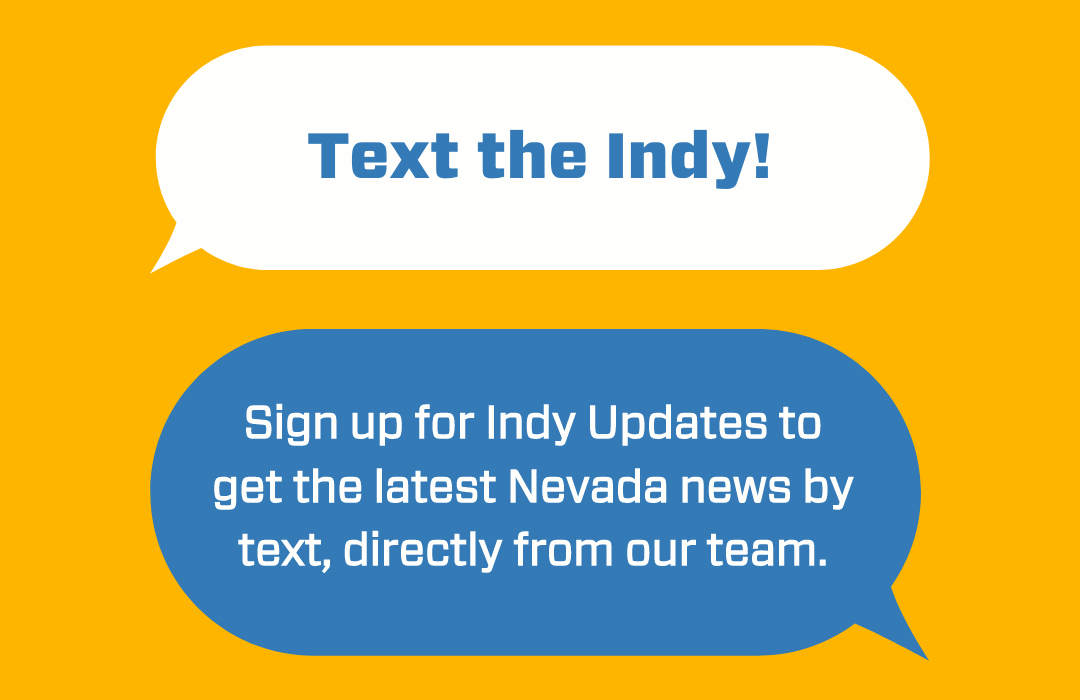 Featured Videos