On eve of security site visit and after giving maiden Senate speech, Rosen promises to hound DOE's Perry over promise to remove plutonium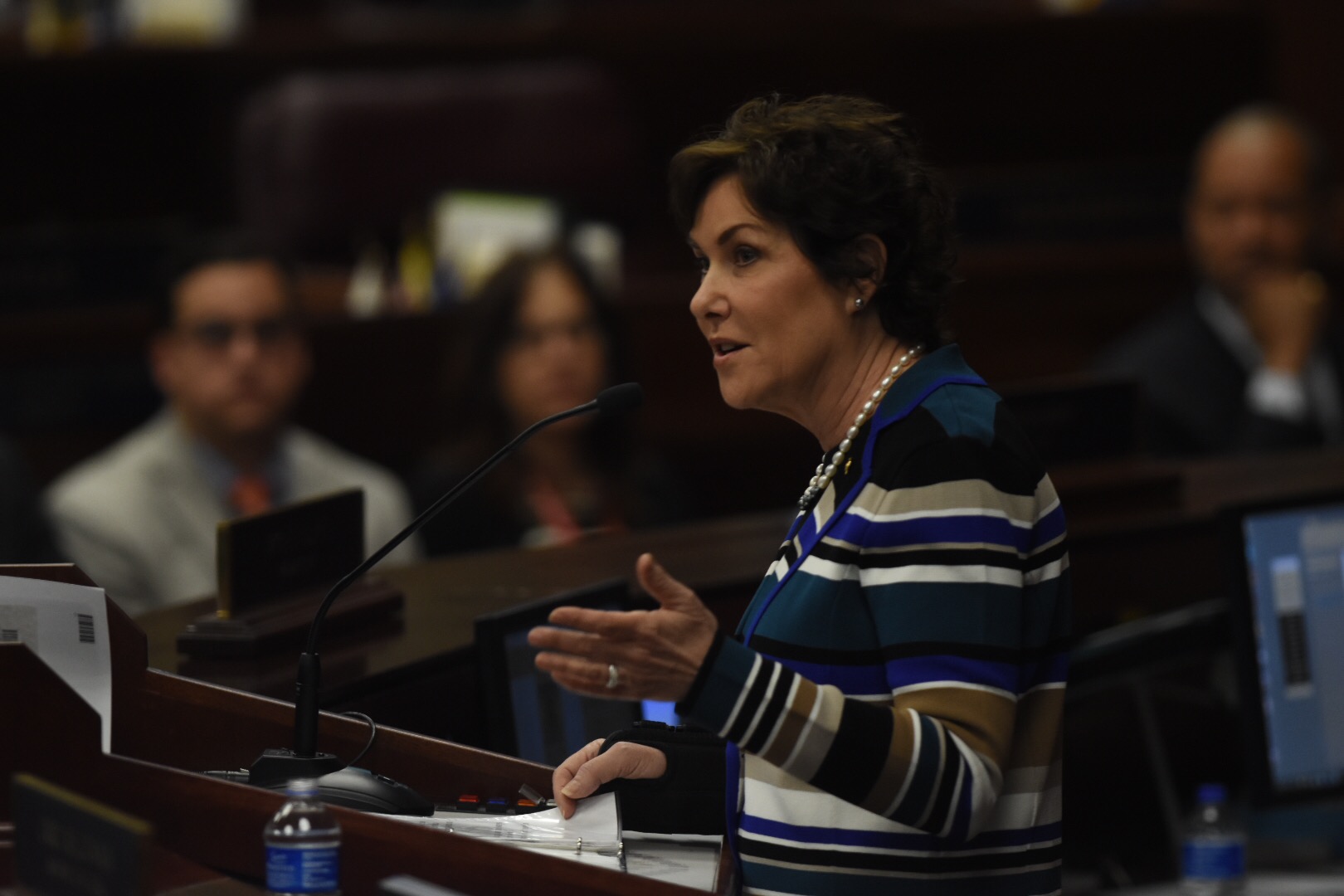 With a visit to the Nevada National Security Site by Energy Secretary Rick Perry and Sen. Catherine Cortez Masto set for Friday, Sen. Jacky Rosen said she plans to hound Perry to make sure he lives up to the agreement he made to remove the secretly shipped plutonium being stored there.
"I want to look [Perry] in the eye and make it abundantly clear to him that Catherine and I, and the rest of the federal Nevada delegation, our governor and our state Legislature, we're not going to let him slide," she said Thursday after giving her maiden speech on the senate floor. "We're going to hold him accountable to move the plutonium out."
Cortez Masto reached an agreement last month with Perry for the Department of Energy to begin to remove the weapons-grade plutonium the Department of Energy, secretly shipped from South Carolina, beginning in 2021. Perry also agreed not to ship any more plutonium to the state. They also agreed to visit the device assembly facility at NNSS where plutonium is being kept.
"We are going to be requesting reports, we're going to be requesting updates and we're not going to let undocumented, unknown shipments come across our country," Rosen continued.
Rosen and others in the congressional delegation have raised concerns about the environmental risks posed by housing the plutonium in Nevada, citing seismic activity in the vicinity that they argue could lead to contamination of the groundwater or worse.  
In her speech, Rosen voiced her support for protecting the environment and named the renewed efforts in Congress and by the administration to build a national nuclear waste repository at Yucca Mountain as another threat to the environment in Nevada.
"Nevada has made it clear time and time again: we will not become the nation's dumping ground for nuclear waste," Rosen said. "Yet, we continue to see relentless efforts to turn our state into the nation's sole nuclear waste repository without our consent."
She reiterated her pledge to use every tool at her disposal to prevent the project from moving forward.
With Nevada an early caucus state—the Democratic caucus is scheduled for February 22—Yucca has become a national issue with candidates for the Democratic presidential nomination being asked where they fall. The candidates have also sought out Rosen for insight into how to win in Nevada.
Rosen said she has spoken to many of the 21 declared candidates who have visited Nevada, but did not provide many details.
"Of course, so many of my [Senate] colleagues are running and what they all ask me is 'tell me what's important to people in Nevada', which I am happy to tell anyone," she said. "Some of is the same as what's important to people everywhere: health care, education, the environment. I talk about our communities. Seventy percent of people live in Clark County, but we have vibrant rural communities. They need access to broadband, telemedicine, health care all those kinds of things. So I just tell everybody the Nevada story."
She left open the possibility of endorsing a candidate after the caucuses, but not before, citing discord among Democrats in 2016 when Bernie Sanders supporters at the state convention  complained it unfairly squelched Sanders' attempts to overturn the caucus results.
In 2016, "a lot of feelings were hurt," Rosen said. "As one of the Democratic leaders in Nevada, I want to support all those hard working men and women who are helping to put on the caucus, organizing our Democratic Party and whoever our voters in Nevada feel is going to represent them best then I'm going to stand as their representative in that, so I am going to see who comes out of the caucus."
In her maiden Senate floor speech, which was delivered Thursday morning, Sen. Jacky Rosen sought to strike a bipartisan tone, while arguing for some of the pillars of the Democratic agenda, including protecting access to health care, defending the environment and improving education.
Rosen has also been a supporter of efforts to help veterans reintegrate into the workforce.
"We can improve lives by listening to the voices of those that sent us here to represent them, by working together to create a healthy, educated, and economically-empowered future for all, and, most importantly, by agreeing everywhere we can, especially on the issues that matter most to families at home," she continued.
Among those issues that matter most, health care was a perennial campaign theme for her in 2018 and it remains a top priority for Rosen.
"And there's no issue that matters more than health care," Rosen said.
Rosen has teamed up with West Virginia Democratic Sen. Joe Manchin to have Senate lawyers represent the chamber in a lawsuit in Texas that has challenged the constitutionality of the Affordable Care Act (ACA) and could result in the loss of protections under the law, including those requiring insurance companies to cover pre-existing conditions and limiting how much can be charged.
In her speech, she moved for the Senate to approve the resolution under unanimous consent, which is a request to set aside a specified rule of procedure in order to expedite proceedings. If no senator objects, the Senate permits the action, but if any one senator objects, the request is rejected.
"I think I am the first person in their maiden speech to do a unanimous consent," Rosen said after the speech, adding that she wanted health care to be among the top issues she focused on in her first floor speech.
Rosen's request was objected to by Senate Majority Whip John Thune of South Dakota. A bipartisan agreement on health care remains out of reach as President Donald Trump, after Republicans in Congress failed to repeal the ACA in 2017, has sought to have the law invalidated in court.
A time-honored tradition in the Senate, freshman members typically wait for months to years to speak on the floor, depending on the era and the senator. That norm is based on the assumption that by waiting and learning the ins and outs of the chamber, new members would more readily win the respect of their senior colleagues. While that's not necessarily the case nowadays, the tradition of waiting some period of time before giving the first speech remains. Sworn in in January, Rosen waited five months to give her first speech.
A former computer programmer, Rosen has also been a vocal supporter of improving science, technology, engineering, and math (STEM) education. A male-dominated profession, Rosen had helped introduce legislation to provide new research grants to increase the participation of girls in computer science and a bill to provide funding for research to better understand the factors contributing to, and consequences of, sexual harassment, and examine interventions.
Rosen, who along with Sen. Catherine Cortez Masto, make up the state's first ever all female Senate delegation. She cited former Democratic Sen. Richard Bryan, who held her seat between 1989 to 2001, who she said "worked tirelessly to advance civil rights, empower women in government, and defend Nevada's public lands."
"I'm honored to carry his values with me to move Nevada forward," Rosen said.
On veterans, Rosen's unveiled the Hire Student Veterans Act in February, the first bill she introduced in the Senate. The measure expands an existing tax credit so businesses are incentivized to hire veterans who are currently using their GI benefits to study.
Rosen, Nevada's 28th senator and the second Nevada woman to be elected to the Senate behind Cortez Masto, concluded by pledging to "be an independent voice for all Nevadans by agreeing where I can and fighting where I must."
IndyFest is proudly sponsored by:
Comment Policy (updated 4/20/2021): Please keep your comments civil. We reserve the right to delete comments or ban users who engage in personal attacks, use an excess of profanity, make verifiably false statements or are otherwise nasty. Comments that contain links must be approved by admin.