On impeachment, Amodei parses, media reacts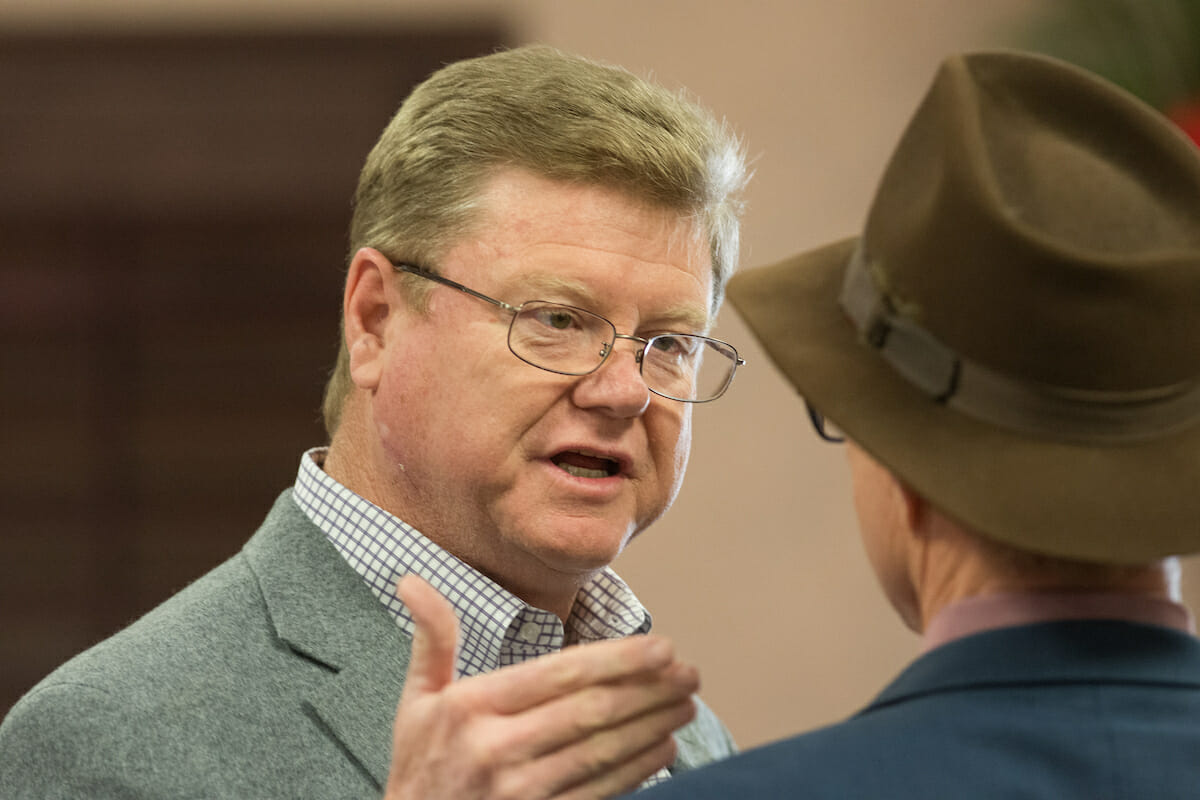 Rep. Mark Amodei spent the weekend pushing back on claims that he was the first Republican member to support an inquiry into whether to impeach President Donald Trump amid a media firestorm triggered after he told reporters that he backed congressional efforts to get to the bottom of allegations that the president pressured Ukraine to investigate a political rival.
The Nevada Independent posted a story (and an audio file) Friday following a call with reporters that Amodei said was improperly construed by many media outlets as him taking the position that he was the first Republican to support an impeachment inquiry, as well as the impeachment of the president. During the call, Amodei had said of the allegations contained in a complaint from an anonymous whistleblower, "let's put it through the process and see what happens."
In making those remarks, Amodei landed at the center of a media storm triggered by a combination of his own linguistic style and a partisan political environment in which many people conflate an impeachment inquiry with impeachment itself. An impeachment inquiry, which House Democrats have now officially launched, is aimed at investigating whether there are grounds to impeach a president. Impeachment itself is the process whereby the House formally accuses a president of wrongdoing and recommends that the Senate remove him from office.
"It seems to me a perfectly appropriate and nuanced thing for, frankly, any intellectually honest member of Congress on either side to say 'the investigation should go forward, we should consider the facts and make up our mind thereafter,'" said Frank Bowman, who teaches at the University of Missouri Law School and is the author of High Crimes and Misdemeanors: A History of Impeachment for the Age of Trump, and who said that there is a difference between the House inquiry and the decision to impeach.
"There is a distinction in conducting an inquiry or investigation or whatever you want to call it, and actually saying 'yes, the president has committed an impeachable offense and we ought to return articles of impeachment," Bowman said. "I think it's unfortunate that people are jumping on the congressman because I think it's going to discourage other fair-minded Republicans from even suggesting that they're going to listen to any evidence at all. That would be a real tragedy." 
His comments came after Fox News host Laura Ingraham took to Twitter to criticize Amodei. 
"Now is not the time for vague or opaque statements from Republicans. Reporters shouldn't have to get them to do clean-up on their remarks," she said.
Amodei's office pushed back on Ingraham's portrayal, depicting her as one of a group of "misinformed conservatives," who mischaracterized what he said, according to The Times.
Ingraham included a link to a story in Breitbart in which Amodei said he supports the delivery to the House and Senate Intelligence Committees of a complaint filed by a whistleblower who was disturbed by the details of a July call between Trump and with the Ukrainian head of state. A resolution aimed at forcing the complaint to be shared with Congress was unanimously approved by both the House and Senate. 
But Bowman was skeptical of Amodei's take because the action in the intelligence committees is part of the overall inquiry as one of the six committees investigating the president. The results of those efforts will be used by the House Judiciary Committee to decide whether to draw up articles of impeachment.
Speaker Nancy Pelosi "basically said that Intelligence and the other committees that are interested in misbehavior about Mr. Trump are going to turn over their results to Judiciary for determining whether to draft and forward articles of impeachment to the full House," Bowman noted.
The New York Times yesterday changed its running tally of Republican members supporting an impeachment inquiry to show "0" GOP supporters following a release Amodei issued clarifying his position.
The paper's initial tweet on its tally from Friday is below:
The first Republican House member has announced support for the impeachment inquiry against President Trump: Representative Mark Amodei of Nevada

See the full list: https://t.co/nnYylNUBSA pic.twitter.com/7SUfyj48Sq

— The New York Times (@nytimes) September 27, 2019
Other Republicans have also voiced an openness to investigate allegations that the president mounted a pressure campaign aimed at Ukraine to damage a political rival, but haven't gotten the same blowback. Last week, Rep. Elise Stefanik (R., N.Y.) said "it's important to talk to people with direct knowledge to get to the bottom of it," according to The Wall Street Journal. Of allegations that White House officials diverted politically sensitive records of Trump's call into a computer system for classified materials, she said, "they're going to have to answer questions."
That reaction contrasts with that of some Senate Republicans, including Sen. Chuck Grassley of Iowa and Sen. David Perdue of Georgia, who have used the fact the the whistleblower did not hear the call firsthand to dismiss or avoid opining on the matter.  
"What's concerning to me is it's based upon secondhand and third-hand reports ... so you got to get more facts behind it," Grassley told Vox.
"He's not a whistleblower," Perdue told reporters last week. "He wasn't in the room; he wasn't on the phone call."
But only Amodei's comments have triggered broad media scrutiny, as he has at times hedged over what he meant. When Breitbart asked Amodei if he "supports what Pelosi and Democrats are doing in what they call an impeachment inquiry through the various House committees including the Intelligence, Judiciary, Foreign Affairs, Financial Services, and other committees," Amodei responded, "No," the story said.
The Nevada Republican also added that "I guess the reason I'm not phenomenally agitated or whatever is quite frankly I think that [The Nevada Independent's] article was fair and accurate."
"Amodei's office went into damage control, quickly issuing a statement denying that the congressman was advocating for an impeachment inquiry," wrote The Washington Post, adding,  "sure, they argued, the congressman wanted to find out what occurred between Trump and the Ukrainian president. But that's not the same as wanting the House to begin impeachment proceedings."
Amodei's office hinted at the dilemma it faced given a tendency by the public to equate an impeachment inquiry with impeachment itself, telling the Post that "the difference between backing an oversight process and supporting 'Pelosi's inquiry' is that 'then you stand with the 223 Democrats who have made clear that if we were to vote right this second today to impeach Trump, they would vote yes before any sort of process has transpired. Again, prior to any such process playing out, the congressman does not support impeachment in any way, shape or form.' (It isn't clear that all the Democrats who support an impeachment inquiry also support impeaching the president.)
Amodei also spoke on Friday with acting White House Chief of Staff Mick Mulvaney and House Republican leaders to clarify his position, according to The Times. 
Comment Policy (updated 4/20/2021): Please keep your comments civil. We reserve the right to delete comments or ban users who engage in personal attacks, use an excess of profanity, make verifiably false statements or are otherwise nasty. Comments that contain links must be approved by admin.