On the Record: The policy positions of Democratic House candidate Pat Spearman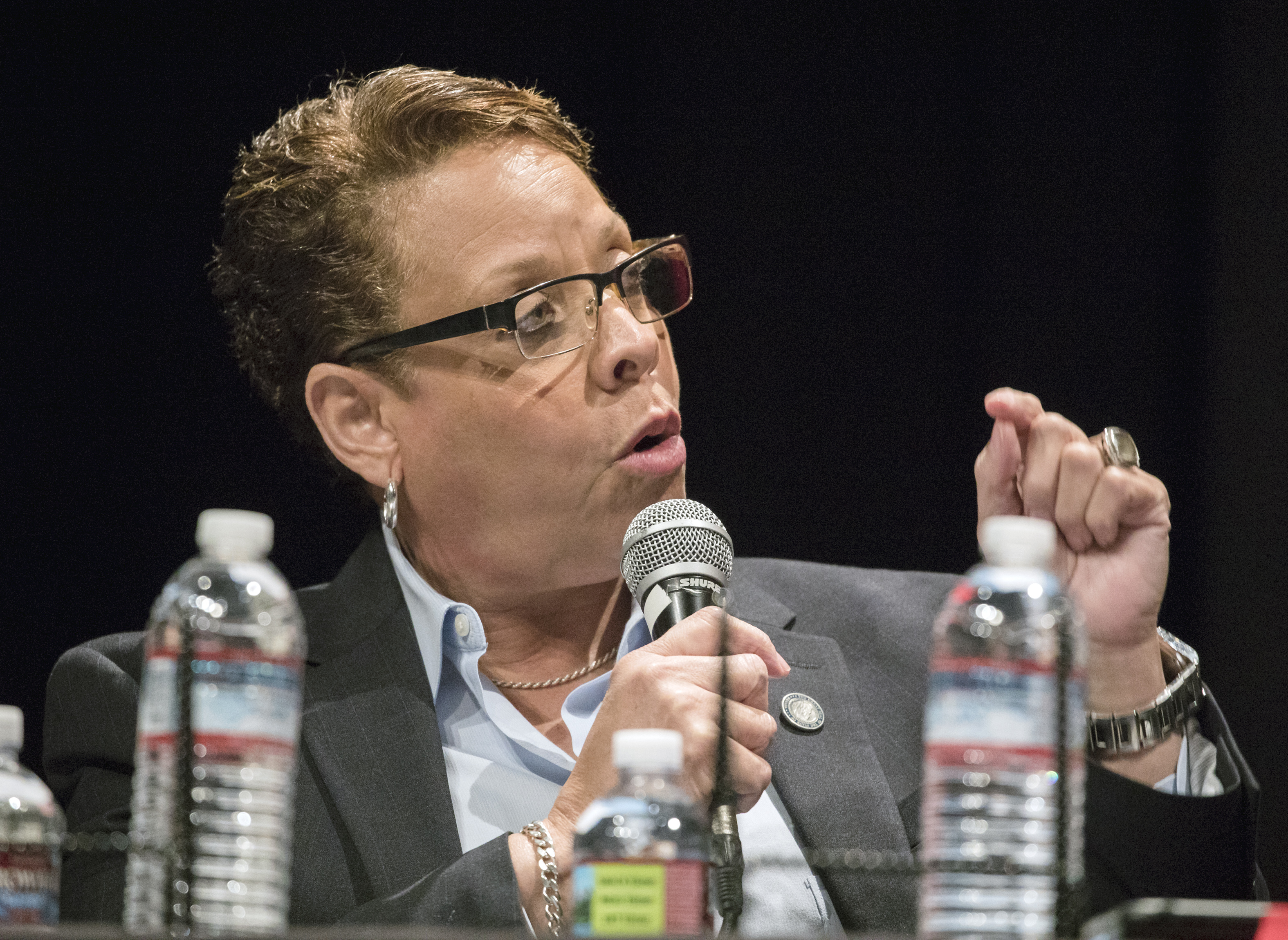 It happens like clockwork.
Candidates announce their bids for office. Then the attack ads follow in short order, unabashedly targeting their voting records and more.
We're here to help. The Nevada Independent already produces fact-checks for political advertisements and off-the-cuff remarks, but we also want to get ahead of the campaign game.
When politicians announce their candidacy for public office, we'll roll out "On the Record" — our look at their voting history and stances on a broad array of subjects.
Now up: Democratic congressional candidate and state Sen. Pat Spearman. Issues are in alphabetical order.
Abortion
Spearman said she believes in a woman's right to choose abortion.
"It is between a woman and her God," she said. "I mean that is a very private matter. In many cases it is a very painful decision. As a pastor, I have listened to women who have debated and wrestled with whether or not to have an abortion. ... Other people have nothing whatsoever to do with it. Nothing. And if you really are about life it has to be about life outside the womb."
Bipartisanship
"If you look at my legislative portfolio you will see that I don't have fluff and stuff bills," Spearman said. "Most of the bills that I sponsored, say like 98 percent of them, they are heavy lifts. The legislation that I have passed, most of it has been bipartisan. I can work with people to get things done."
Spearman promoted Republican Senate Bill 167 with Republican Sen. Michael Roberson. The bill promoted equal pay and tightened discrimination laws.
Criminal Justice Reform
Spearman said it's important to understand "what criminal justice reform means to black and brown communities and marginalized people … I have either lived that experience or been around people who have lived that experience. I look at these things through a different kind of lens."
Spearman was a sponsor of a "Ban the Box" bill that prevented most government employers from asking about an applicant's criminal history until they had made the person a conditional job offer.
She also was a sponsor of a bill that would have restricted the state's use of private prisons, but it was vetoed by the governor.
Disability
"Last session, it was the fight to get money for the commission for the deaf, hard of hearing and speech impaired. What I did not know when I started fighting for the funds is that we don't have a school for the deaf here. Why should parents have to be without the benefit of being with their child while they are growing up simply because they are differently able? Why?"
Education
On her website, Spearman touts her support of legislation that added hundreds of millions more dollars each year into public schools, referring to a tax package that passed in 2015.
She co-sponsored bills in 2017 that call for an audit of the tests students have to take and another that required financial literacy education in schools.
"Pat will continue to passionately advocate for affordable, quality education for all Americans," her site says.
Gun Control
"I am a strong advocate for common sense gun safety," Spearman said in an interview. "My oldest and youngest brothers were killed. They were both murdered by people who should not have had weapons. To me it's a no brainer. You have to get a license to drive a car, you go to work for somebody and you have to get a background check."
Spearman sponsored a 2013 bill to require a background check before buying firearms. It passed the state House and Senate before being vetoed by Gov. Brian Sandoval. A similar measure was approved by voters in 2016, but hasn't been implemented.
Energy
Spearman earned a doctorate in business administration with an emphasis on renewable energy and is a member of Nevada's New Energy Industry Task Force.
"It's an economic driver," she said about renewable energy. "Every one job that is created because of clean or renewable energy, you have five or six other jobs that are created."
Spearman sponsored a successful proposal requiring the Public Utilities Commission of Nevada to establish energy savings goals and to implement an energy efficiency plan to help the company meet those goals. Sandoval signed it into law.
She also co-sponsored a measure that would have significantly raised the state's renewable portfolio standard (RPS), requiring electricity producers to draw more of their power from renewable sources. The bill was vetoed, but a ballot measure that could be up for a statewide vote in November seeks to accomplish similar goals.
Health Care
Spearman says she will advocate for Medicare for All in Congress.
"Health care is a right, not a privilege. We must work to achieve affordable universal health-care without compromising health-care benefits for active members of our military, their family members and veterans," she said. "As a member of Congress, Pat will advocate for the implementation of Medicare for All to guarantee that all Americans have the insurance they deserve."
Spearman chaired the Senate Health and Human Services Committee in the 2017 session. She co-sponsored a bill that required Medicaid in the state to cover contraception and hormone-replacement therapy.
On her website, she said she "fought against GOP schemes to take away health insurance from millions of Americans."
Immigration
Spearman said in an interview with The Nevada Independent that there should be a pathway to citizenship for everyone, not just DREAMers — people who were minors when they entered the country illegally.
"We need sensible and compassionate immigration reform," Spearman's website says. "Despite the racist, anti-immigration rhetoric embraced by the GOP, Pat knows that diversity is key to the strength and success of our nation. Undocumented Americans are just as much a part of our society as anyone else, and they deserve a pathway to citizenship."
"You either learn to be pious in your own culture and everyone else is not as good as your culture. Or, you learn to appreciate diversity," she added in an interview. "We need to fight for immigrants."
LGBT Rights
The first openly lesbian member of the Legislature, Spearman supported amending the Nevada Constitution to allow for same-sex marriage.
"If it is about equality I'm going to fight for it. Am I passionate about that? Yes, I am. You know why I am passionate about that? I am an African-American woman also happens to be a member of the LGBTQ community. You can't get anymore marginalized than that," she said. "You still have people who are getting beat up, shot or killed because of their sexual identity or sexual orientation. That's not identity politics. What it is is being real and seeing something that needs to happen in the world and being willing to fight for it. We need to fight for equality."
On her website, she promises that in Congress, she'll fight to pass the Equality Act and enact comprehensive protections for women and minorities.
Marijuana
Spearman was the primary sponsor of bills in 2017 to provide an early start to the recreational marijuana program and to allow for apprenticeships in the marijuana industry.
"As Senator, Patricia Spearman has created legislation that allows for the growth of the Marijuana industry," her website says. "As Congresswoman, Patricia Spearman will aid and advocate for the use of Medical Marijuana growth, research, and regulation."
Minimum Wage
Spearman voted for a proposed constitutional amendment that would raise the minimum wage in Nevada to $14 by 2022.
On Public Lands
"Public lands should remain public and I don't think we ought to be selling off public lands," Spearman said. "I think that in so many, many cases they are treasures that cannot be replicated. Once gone they're gone."
She received a 100 percent ranking on the Nevada Conservation League's 2017 legislative scorecard, which based scores on support of solar energy and public land conservation bills, and also landed on the group's "honor roll." She has a lifetime score of 96 percent from the group.
Veterans
Spearman sponsored a successful bill in 2017 that would require state agencies to collect more data on veterans they're serving, and also extended a temporary fund that aids victims of sexual assault in the military.
"As a U.S. Army Veteran, Pat understands the sacrifices made by military members and their families," her website says. "As a member of Congress, Pat would continue to dedicate herself to helping her fellow veterans by expanding access to childcare for military families, assisting veterans and servicemembers who have survived sexual assault during their service, and ending the epidemic of veteran homelessness by ensuring veterans have access to well-paying jobs when they return from service."
She said she's against privatizing some of the services of the VA.
"We need to make sure we are funding the VA at a level it needs to be funded," she said. "Because people shouldn't go to war and come back and not have an opportunity to get whatever issues or problems that were created there, get that looked at. Privatizing is not it. The issue is funding. Funding to make sure we have adequate space. We have to have the professionals, skilled professionals, in those areas so they can see people."
Voting Rights
Spearman sponsored a measure that proposes to add a voter's bill of rights to the Nevada Constitution, enshrining the right to have information about the voting process and other assistance made available.
In 2015, she sponsored a bill that would allow people to register to vote on the same day as the election and called for voting centers where any registered voter in the county could cast a ballot, as opposed to requiring them to vote at the precinct near their home. It didn't survive in the Republican-controlled Legislature.
She voted in favor of Initiative Petition 1, which implements a system of automatic voter registration. Because of the Legislature's approval, the petition will go before voters statewide in the 2018 general election.
Women's Rights
Spearman led the charge to ratify the Equal Rights Amendment in the U.S. Constitution. The proposal passed the Legislature.
"Here are the things I want to do in Congress. You've got to have equality. In every aspect of the human existence," she said. "That means the ERA, once it is ratified in the states, Congress must vote to extend the deadline. Pay equity. It is not just about a difference in pay for men and women. It is really about economic security, now and in retirement. We have to have equality, period. Because you should not be denied equal rights because of who you are, who you love or where you live. That shouldn't happen. We are all God's children.
Worker Protections
Spearman was a co-sponsor of a bill that would have required certain employers to offer paid sick leave to their workers. Gov. Sandoval vetoed the measure, and lawmakers did not overturn it.
She sponsored a bill that would give businesses a tax credit if they assist their employees with the costs of child care. It was unsuccessful in the Democratic-controlled 2017 Legislature.
Yucca Mountain
Spearman was one of the sponsors of a resolution that expressed the Legislature's opposition to storing nuclear waste at Yucca Mountain. The measure is significant because it expresses a statewide stance against the proposed waste repository, even though there are pockets of support for the project including in Nye County.
"If you make the trash, you dispose of the trash," she said. "If you are the one that makes the nuclear waste then you should dispose of it. Here is my analogy. If I have Thanksgiving dinner at my house and we are next door neighbors, is it fair for me to bring all those dishes to your house and say 'now you have to wash it?'"
Comment Policy (updated 4/20/2021): Please keep your comments civil. We reserve the right to delete comments or ban users who engage in personal attacks, use an excess of profanity, make verifiably false statements or are otherwise nasty. Comments that contain links must be approved by admin.