Tracy Szymanski, who's the director of guest services at Sunrise Hospital and Medical Center, stands beside a signed banner to remember victims of the Las Vegas shooting during an interview on Thursday, Sept. 27, 2018. (Jeff Scheid/The Nevada Independent)
One Year Later: Concertgoer who's also a hospital worker cherishes friendships that grew from tragedy
October 1st, 2018 - 2:10am
Tracy Szymanski was still wearing her Route 91 Harvest music festival tank top when she arrived at Sunrise Hospital and Medical Center shortly after the shooting.
Unlike the scores of wounded concertgoers brought there out of necessity, Szymanski went by choice. She's the director of guest services — the person who oversees the hospitality function of the hospital. It's a people-centric job that entails a little bit of everything, from coordinating volunteers to managing the transportation department.
"I immediately took on my role of taking care of families," she said. "For three weeks, that's what I did."
Earlier that night, she had been soaking in the country tunes alongside her husband. The couple attended the music festival each year to celebrate the anniversary of the day they met. They were sitting in a grassy area called the "chair corral" when bullets ripped through the air, ending what had been an idyllic fall night.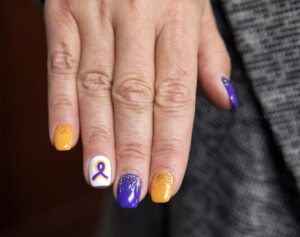 Szymanski and her husband fled to a tarp-covered bar to their right and then, later, out of the venue entirely to the nearby Hooters Casino Hotel. They escaped physically unharmed but saw enough to realize the sheer magnitude of people who wouldn't be as fortunate.
She dialed the hospital's on-call administrator.
"If I've seen 10 people (injured), I've seen 100," she recalls telling him. "We are going to get hit hard."
Like other hospital workers who automatically drove to Sunrise after they heard about the shooting, Szymanski made her way there, too. She tears up talking about this decision because, in the year that has followed the tragedy, Szymanski still struggles with how to define herself.
She attended the concert but wasn't physically hurt.
And she went straight to work, but she's not a medical caregiver.
She never wants to give the wrong impression.
"I feel stuck between being a survivor and being a health-care worker," she said, "but I do feel like I have a purpose."
The initial night it meant ferrying panic-stricken loved ones to a hospital auditorium and distributing things like cell-phone chargers and magazines — anything that could make the wait seem a little less horrific. Later, she helped arrange visits by therapy dogs and musical performers and continued checking in on victims' family members.
Three days after the shooting, a family whose son had been shot recognized Szymanski when they entered the hospital auditorium. Every day of the music festival, Szymanski and her husband had seen this California family in an area that contained tables.
They barely knew each other and yet this familiarity was enough to forge an immediate bond.
"It was an instantaneous connection," Szymanski said.
She remains close with the family to this day. The same is true with other people she met in the tragedy's aftermath. More than anything, Szymanski said the people have changed her.
"I wish this had never happened, but I am so blessed because as a result of it happening, I have friends," she said, wiping away tears. "Before this I could tell you I had a lot of acquaintances but maybe two friends. Today, I feel like I have friends. That's the stuff that has been important to me."
Szymanski said she is removing herself from various Route 91 groups on Facebook on Oct. 2. She doesn't need the social network to maintain the friendships born out of the tragedy. They're friends in real life.
Comment Policy (updated 10/4/19): Please keep your comments civil. We reserve the right to delete comments or ban users who engage in personal attacks, use an excess of profanity, make verifiably false statements or are otherwise nasty.