Pastor Charlotte Morgan speaks during an interfaith service remembering the victims and events of 1 October called Dear Love: A Service of Hope, Healing, and Transformation at the Guardian Angel Cathedral in Las Vegas, Nev. on September 30, 2018. (Mikayla Whitmore- The Nevada Independent)
One Year Later: Pastor takes long view on recovery, focuses on healing powers of faith
October 1st, 2018 - 2:20am
There are few scripture passages more meaningful to Pastor Charlotte Morgan than Psalm 121.
Slightly more than two years ago, the founder of the Indigo Valley Church in Las Vegas suffered a pulmonary embolism. Facing death, she said the verses of the psalm — "I lift up my eyes to the mountains— where does my help come from? My help comes from the Lord, the Maker of heaven and earth" — helped her recover.
"A friend of mine who is a rabbi in California called me every single day and read that scripture to me, not knowing what was to be in Las Vegas," she said. "Since then, I've been able to pay forward that psalm about where our strength comes from. It's helped many others as well."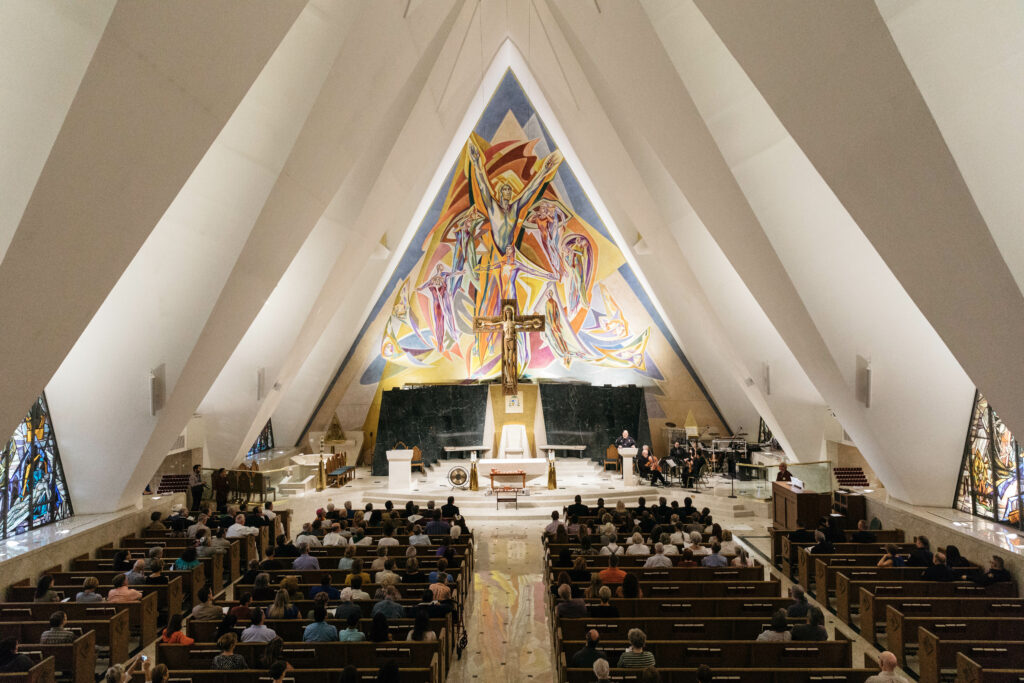 Morgan is one of the many faith leaders who spoke at the hastily-arranged vigil the day after the shooting at the Guardian Angel Cathedral off of the Las Vegas Strip, just six miles away from the site of the shooting. She's scheduled to speak there again nearly a year later, as part of a series faith-based services and vigils scheduled around the Oct. 1 anniversary.
Like many others, Morgan found out about the shooting through a Facebook post, before turning on the news and watching the horror slowly unfold. The same night, before the full extent of the carnage was known, she and other faith leaders began putting together plans for an interfaith vigil at the cathedral.
She read scripture, including the psalm, and comforted the grief-stricken.
"I stepped off of the altar area, and held a politician who cried in my arms, and said he went to the ER and it was just covered in blood," she said.
That Sunday at her own church, Morgan read the names of the 58 victims, backlit against the light of 58 candles. She has lit a large candle, in remembrance of the victims, every subsequent Sunday.  
Her focus this Sunday is on healing — she's spoken with pastors who counseled community members after the shooting at Sandy Hook Elementary School about how to counsel people not just in the days and weeks following the shooting, but what to do one or five years later.
"We're going to be in a big cathedral with beautiful stained glass windows," she said. "Every piece of glass that was used to create this beauty was broken. And out of the brokenness came that beauty. And you have to let that light in, or else you can't see it."

From the Editor
The Nevada Independent
is a 501(c)3 nonprofit. We need help to attain the elusive goal of sustainability. We depend on recurring donations from you, the readers who believe in our mission of nonpartisan, transparent journalism. I know you are busy. I know you have many commitments. But if you would take a moment to
support our work
or bump up your current donation, I would be forever grateful.
Thanks for all of your support.
Best,
Jon Ralston
get our morning newsletter,
The Daily Indy
Double your generosity!
Between now and Dec. 31, every donation of up to $1,000 will be matched by a group of national foundations in support of local, nonprofit journalism.
Your donation is also tax deductible, so don't delay — give today.
#NewsMatch
@TheNVIndy ON TWITTER