Las Vegas residents search for answers, guidance at vigils following deadly mass shooting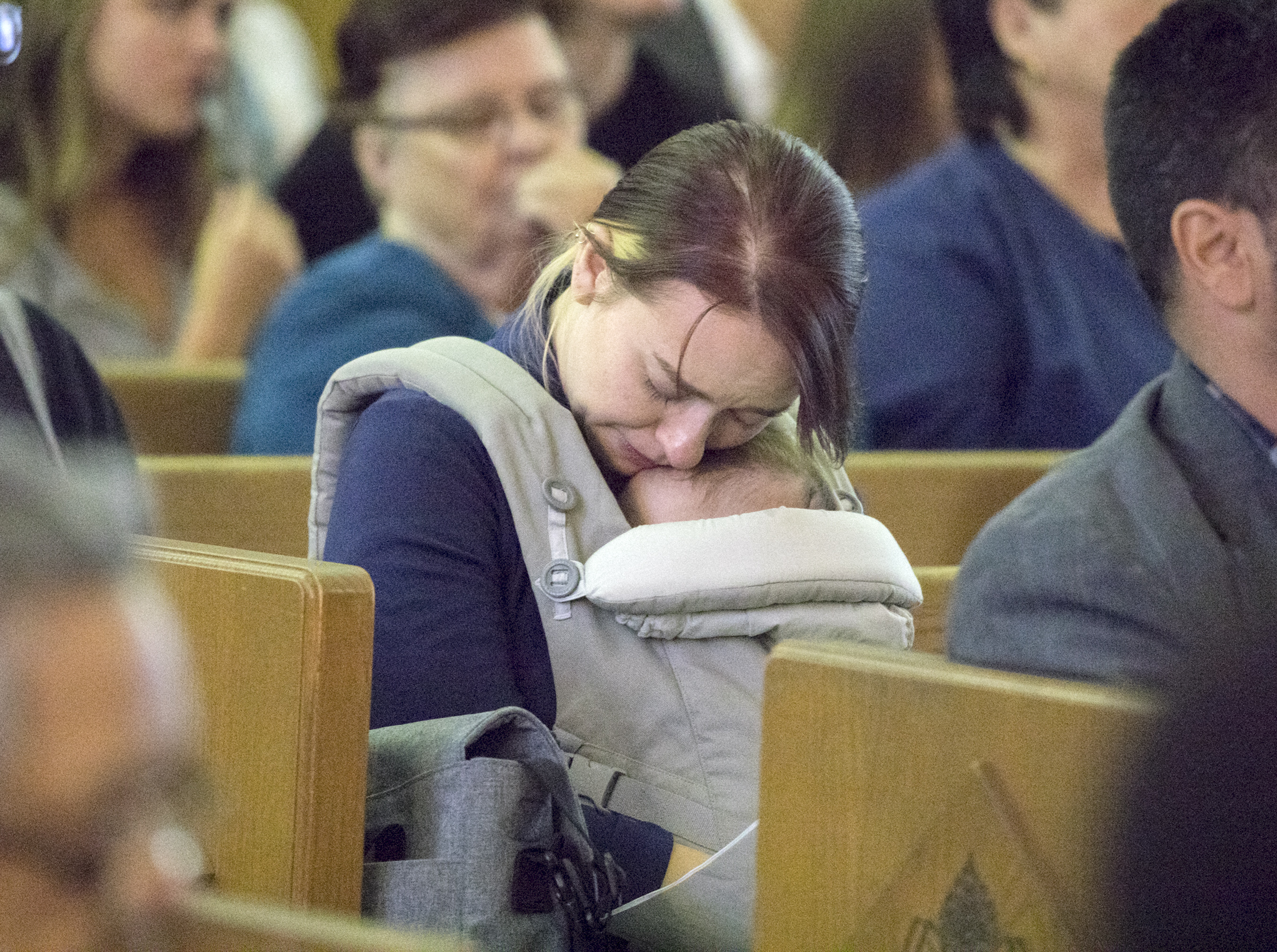 "Take a deep breath."
Rev. Bob Stoeckig uttered that four-word direction Monday evening, less than 24 hours after an apparent lone gunman wreaked havoc and lives on the Las Vegas Strip.
He was addressing a standing room-only crowd inside Guardian Angel Cathedral, a church nestled among casinos on the famed boulevard, where people flocked for guidance and community.
Their religious affiliations didn't matter here. The faith leaders presiding over the interfaith service — one of many impromptu gatherings and vigils held Monday honoring the 59 people killed and 527 injured — preached unity.
"In the face of this tragedy, we need each other," Bishop Joseph Pepe said. "And, in the face of violence, we stand together because we cannot let hate and violence be the last word in this community."
Hate certainly doesn't seem to be taking root. If anything, the aftermath proved the opposite.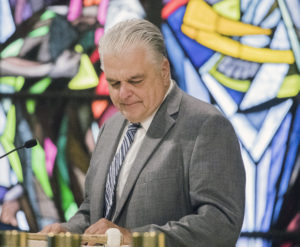 Facing an initial blood shortage, lines snaked around blood-donation centers early Monday, creating an eight-hour wait by afternoon, Clark County Commission Chairman Steve Sisolak said, his voice cracking as he recited the numbers. Monetary donations poured into a GoFundMe page set up to help victims and their families as well, topping $2.5 million Monday evening.
His fellow commissioner, Chris Giunchigliani, said she received a knock on her door in the morning. Outside was a mother and her young boys, gathering food donations for police officers.
"Las Vegas will never be quite the same as a result of this," Sisolak said. "... But I've told everyone it doesn't matter if this is Las Vegas, Los Angeles, Little Rock, Lansing, Mich.: This could have happened anywhere. Our city is safer than any city there is."
Las Vegas Mayor Carolyn Goodman called the blood donors "incredible" at a similar vigil held on the steps of city hall. She said the tragedy brought together Las Vegans as "one person, one group, one passion, one heartbeat."
"Everybody in our community has been so touched by the loss of these lives and the horror that sick, horrible, human being, who has taken into his hand devastation, and imprinted in our minds forever, a day that really doesn't belong in our fabulous, beautiful city," she said.
That vigil also attracted several faith leaders, including International Church of Las Vegas Pastor Pasqual Urrabazo, who spent much of Monday helping connect families separated after the shooting as well as counseling victims and those who lost loved ones.
Urrabazo, who helped set up a crisis hotline and coordinate with state and local officials on how to best provide relief to victims, said his toughest — but most important — job was speaking to survivors.
"Well, the message is, 'We're here for you.' That one thing — we're there for you," he said. "Just sit there with you. Let us pray with you. Do you need anything? A water? Or maybe a ride back to the airport? And we just sit there with them. That's the first part of being there for them."
Mizie Hugo, 32, still couldn't fathom the body count displayed across news networks. One of her coworkers attended the concert but escaped unharmed.
"It's helped knowing that there are a lot of people who also feel the same way," she said while at the vigil. "Just like they emphasize, unity is a big part of the healing."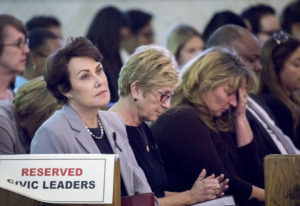 Rep. Jacky Rosen, speaking after the service, echoed the many unanswered questions running through the minds of many Las Vegas residents about what had happened and whether the tragedy could've been prevented. Earlier in the day, the Democratic congresswoman visited Sunrise Hospital and Medical Center, where she said some of the nurses were so shell-shocked they couldn't even speak.
"I think about the janitor — they said there wasn't an ounce of floor, no time for gloves, people just being dragged in, they're intubating, putting central lines, PICC lines, doing everything like a war zone — and who is that janitor who cleaned up the blood and the gauze?" Rosen said. "Who? That's all I can think of."
Justin Lombardo, meanwhile, couldn't shake another question: What if?
What if he had gone to the concert as planned instead of bailing for a last-minute softball game? Would he and his girlfriend be among the victims? They had attended the first two nights of the festival.
The couple, desperate to help, searched for volunteer opportunities Monday but came up empty-handed. Centers were overwhelmed with helpers.
So they settled on attending the interfaith service instead.
"You don't think anything like this could happen," Lombardo said, still reeling in disbelief.
Similar prayer vigils and services were held at a number of faith centers including Canyon Ridge Christian Church, St. Viator Catholic Community, Gateway Baptist Church and Canyon Ridge Christian Church. UNLV and the College of Southern Nevada hosted a campus vigil as well on Monday.
Support manifested itself throughout the state and around the globe. The famous Reno arch went dark to honor victims of the tragedy, as did the Eiffel Tower.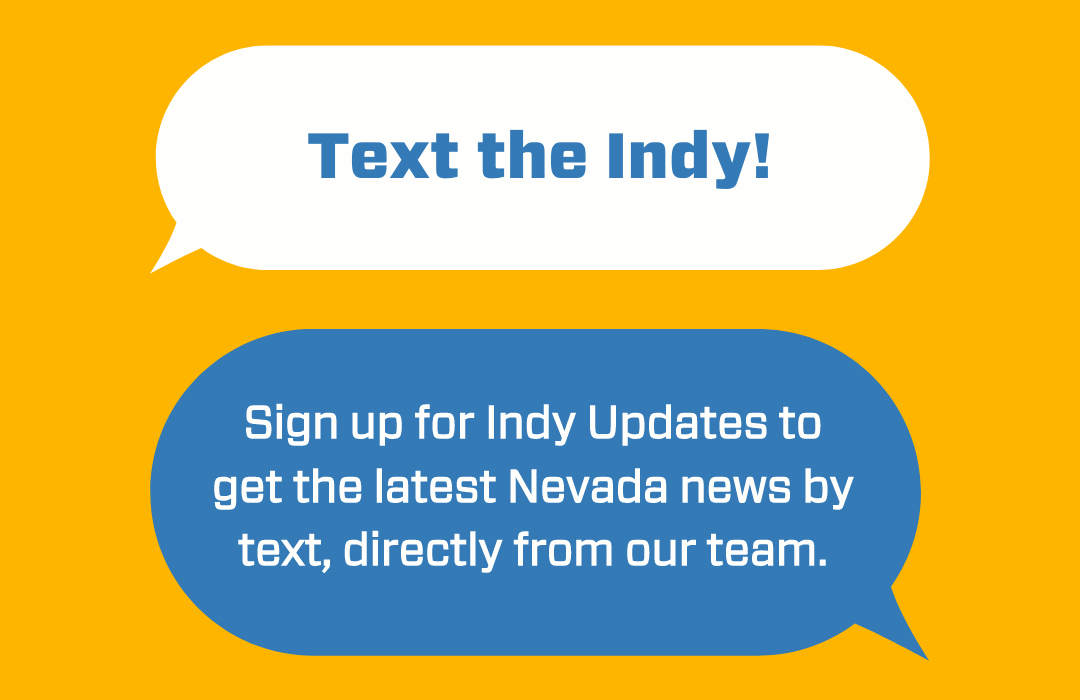 Featured Videos
Comment Policy (updated 4/20/2021): Please keep your comments civil. We reserve the right to delete comments or ban users who engage in personal attacks, use an excess of profanity, make verifiably false statements or are otherwise nasty. Comments that contain links must be approved by admin.