Overpayment notices bring new heartburn to broke claimants who say DETR still owes them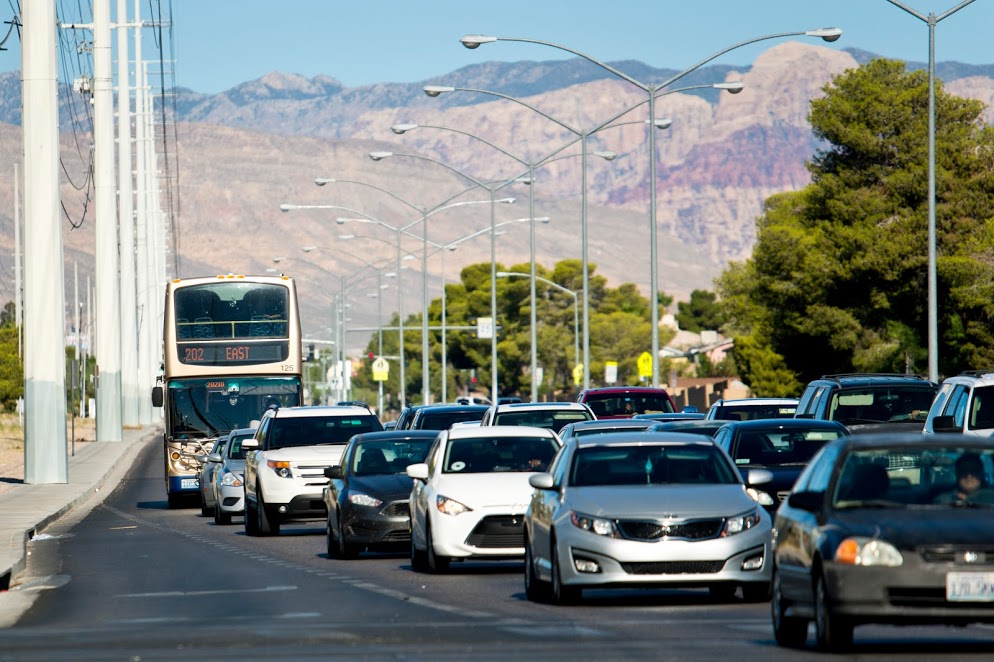 Las Vegas resident Diana Santeliz has been struggling so much as she waits for a resolution on her stalled unemployment claim that she has been unable to pay for a car she needs to continue as an Uber driver. As of Thursday, she had just $6.50 in her checking account.
So it was a shock when, a few days earlier, she received two letters from the Nevada Department of Employment, Training and Rehabilitation (DETR). One said she was overpaid $8,483 and that it needed to be paid back within 11 days. The other said she owed the state another $10,200.
"Oh my God, I started crying," said Santeliz, 47. "And then I was sick in the bathroom, my stomach upside down."
Santeliz said she knows there must be a mistake because she only received a few weeks of benefits before her claim stalled indefinitely, and the amount DETR said she owes is far more than she was ever paid. But it's still a major stressor for a mother of two who is trying to keep a roof over her head, and she's far from the only Nevadan receiving such news.
DETR Director Elisa Cafferata said in an interview posted Friday on KLAS-TV that the two most common situations for overpayment notices include when someone received money through the Pandemic Unemployment Assistance (PUA) program and it was discovered later that they hadn't exhausted their eligibility under the regular unemployment program.
The other common scenario is when a claimant's statement about their income doesn't match underlying documentation, sometimes through an honest mistake, and DETR has paid them more than they are entitled.
Barbara Buckley, who leads a strike force tasked with reducing the backlog of unresolved claims, said there's due process for correcting those issues.
"People shouldn't get too stressed out about them. I know it's stressful to get a notice, but look, if they're out of work, they're out of work, right?" she said. "The important thing is, if they think it's legally wrong, to file their appeal, to have an independent referee look at it. And at that point, later on, they can look at a repayment plan, they can look to when they get a job."
The appeals process Buckley described is still gearing up for the PUA program, though. Cafferata told KLAS the agency has held "a few hundred" appeals hearings and has about 700 or 800 ready to be scheduled.
"We're just working through that first couple hundred to sort of get the process, all the pieces in place," she said. "And then once we get it set up so that it's working smoothly, we should be able to get through them pretty quickly, but we're just not quite there yet."
Frustrations have boiled over so much that attorney Mark Thierman, who represents claimants whose payments have been delayed, denied or stopped, filed a motion Thursday asking that DETR be declared in contempt of court. He points to DETR's statement that a group of 13,068 PUA claimants who had received at least one payment in the past were not paid the week of Aug. 15 for reasons other than making too much money or not filing a claim — but DETR has not fully explained how many in that group were ever eventually paid or why payments were stopped.
Thierman said he continues to receive hundreds of communications each week from claimants whose payments have stopped for no obvious reason. He also criticized the overpayment notices, and a message that pops up on an online portal for claimants trying to appeal them, that tells users they "do not have the privilege to perform this action."
"Clearly, DETR continues to follow its inhumane and unlawful edict of denying benefits
to eligible Nevada citizens for any and all reasons, whether legal or not, as opposed to providing
struggling eligible Nevada claimants a means in which they can promptly receive lifesaving
benefits mandated by Congress under the CARES Act," the lawsuit said.
He is asking a Washoe County judge to fine the defendants — who include DETR officials — up to $1,000, publicly admonish them, and put them behind bars for up to three months if they disobey for a third time a court order to pay certain groups of claimants. Thierman's motion also says progress is not enough, even though Buckley told KLAS that DETR and her strike force think they're about two weeks away from working through a list of unresolved PUA claims.
"DETR also argues that they have made 'significant efforts toward compliance,'" the suit said. "These are not legally valid reasons to disobey a court order."
For Santeliz, the challenge is trying to find a way to keep money coming in without help from unemployment. The car that was her livelihood was repossessed over the summer, and her initial solution of renting a car for $360 a week left her underwater.
But this week, her mother-in-law is expected to loan her the $500 she needs for a down payment on a car. She'll have to pay 26 percent interest on the loan because of the damage the repossession did to her credit, but she hopes it at least relieves the anxiety she feels every four weeks when rent comes due.
"If I have to leave that [Uber app] on for 15 hours a day I will," she said. "I have to be able to have an option to make money and not be broke."
Unemployment statistics
Initial claims for regular unemployment benefits dropped to the lowest they've been since March last week, and PUA claims have leveled out from their spike.
Still, 17,988 initial claims were filed this week, and there have been nearly 1.4 million such claims during the pandemic. There are about 1.5 million people in the Nevada labor force.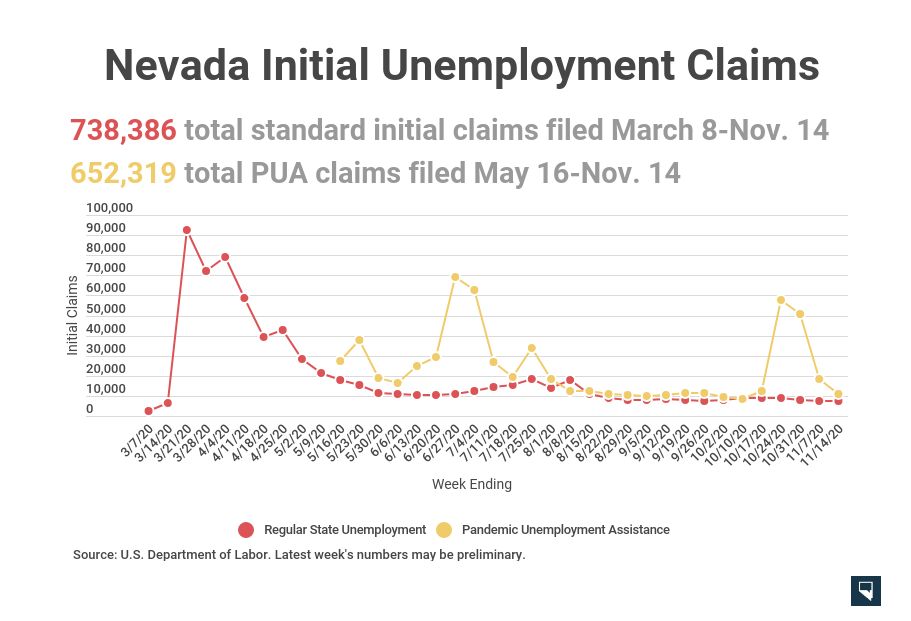 The trend of more people exhausting regular unemployment allotments — which vary in length — and moving to the Pandemic Emergency Unemployment Compensation (PEUC) extension program continues. There were 94,009 PEUC continued claims last week, and 96,872 continued claims in the regular, base program.
Across the four programs, 279,894 people claimed unemployment in Nevada last week. That's down 18,693 from prior week — a larger-than-typical drop.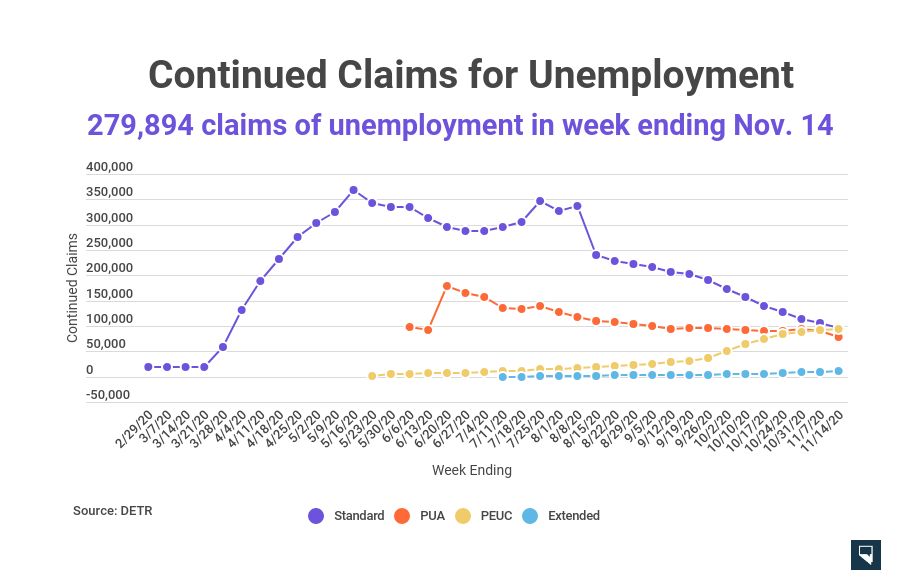 The state's unemployment trust fund balance is about $89 million, or enough to pay out three weeks of state benefits at current levels. Nevada expects to borrow from the federal government to continue payments when the trust fund is exhausted.
DETR administered about $111 million in benefits last week, nearly a third from the temporary Lost Wages Assistance federal program that adds a $300 bonus payment for a limited number of weeks.
Cafferata told KLAS that the state is still finishing up paying eligible claimants the fourth week of the benefit, and expects to start paying the fifth week of the benefit next week. Payments roll out in phases, starting with PUA claimants and moving to regular unemployment claims, with the payouts expected to wrap up in two weeks.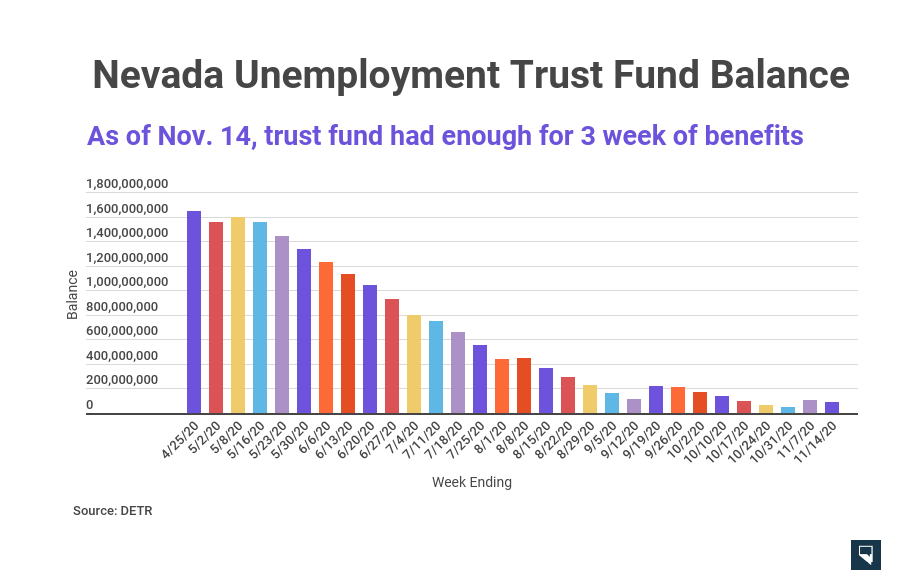 Nevada's unemployment rate in October was 12 percent, which is down from 12.5 percent the month prior.
But DETR economists warned that record-setting levels of COVID-19 cases flaring up in Nevada, and the possibility that state leaders could unveil further restrictions to help control the spread of the virus, could send more shockwaves through the battered economy.
"Although the labor market continues to improve, Nevada remains one of the states most impacted by the COVID pandemic," the agency wrote in a monthly report released this week. "A new wave of cases continues to grow, and further policy restrictions may limit speed of our recovery over the next few months."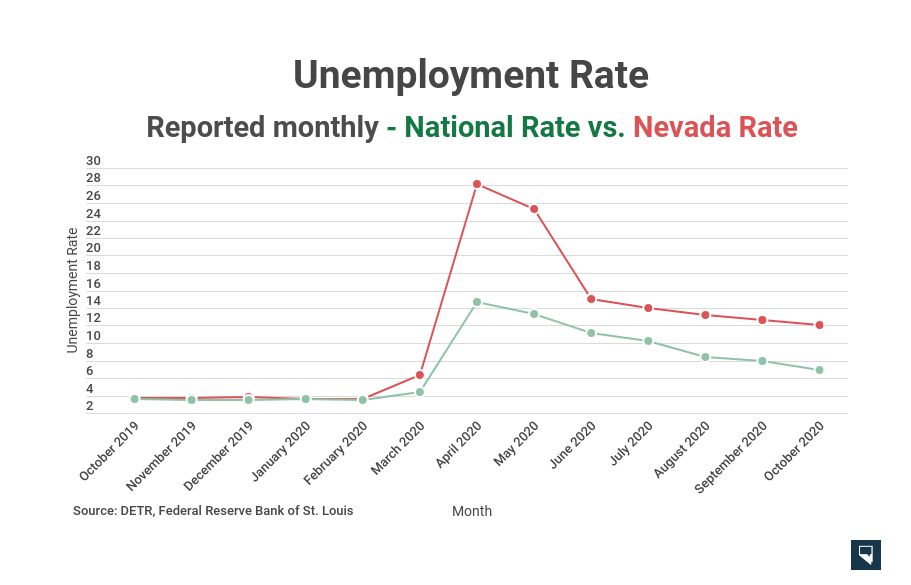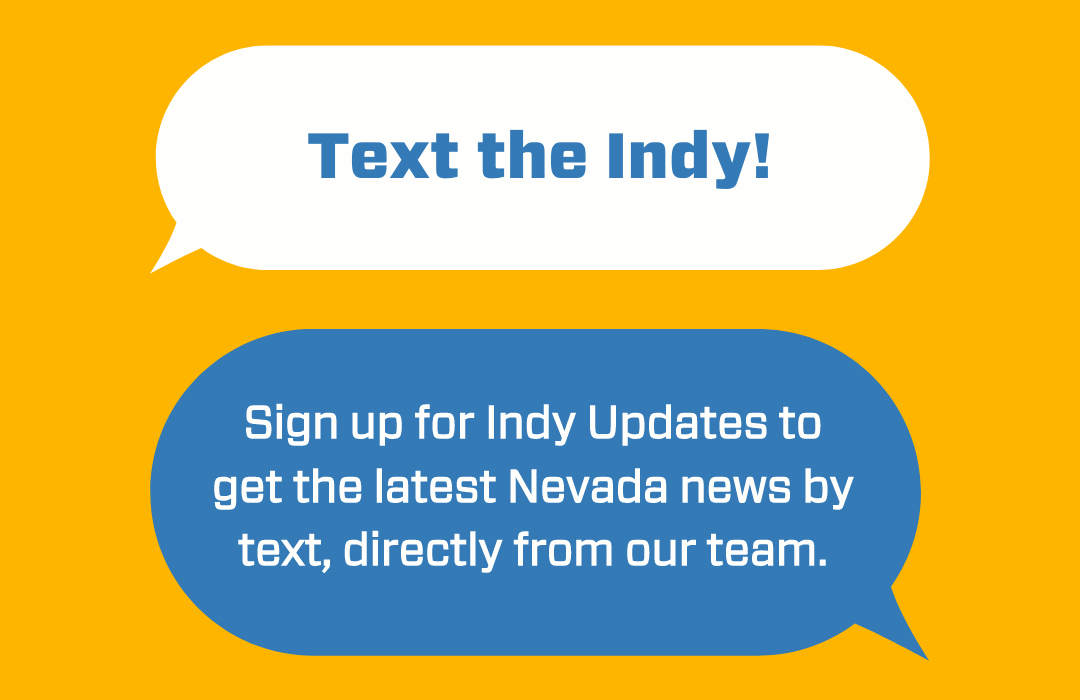 Featured Videos