An orphan 11 week old Labrador Retriever mix at The Animal Foundation on Monday, Jan. 27, 2020. (Jeff Scheid/The Nevada Independent)
Pandemic life spurred more animal adoptions, but economic difficulties remain a concern
January 3rd, 2021 - 2:00am
On Friday, March 13, as the state prepared to shut down, the fate of many four-legged, feathered and scaled residents hung in the balance.
Greg Hall, CEO of the Nevada Humane Society, which has a presence in Reno and Carson City, organized a late-night emergency call with staff. They discussed how to operate amid the threat of COVID-19, a potentially lethal virus that carried so many unknowns. Meanwhile, seven hours south, staff at The Animal Foundation in Las Vegas braced for the worst.
What would they tell the little faces barking, meowing or chirping while awaiting a forever family?
"We were worried that we weren't going to see a lot of animals going home," said Brenda Arceo, the shelter's adoptions manager. "Between all of the unknowns and people losing their jobs and so many things happening, we thought for sure we were going to slow down."
Adoptions at The Animal Foundation fell to 243 in April, down from 628 in March, but the drop coincided with a sharp decrease in the number of animals surrendered by their owners, according to data provided by the shelter. By May, adoptions had more than doubled, with 546 animals finding new homes. Adoptions remained steady through the summer before rising to 813 in September.
The Nevada Humane Society saw a similar phenomenon up north. The organization's Carson City shelter cleared out its adoptable animals three times since the pandemic began, while the Reno shelter did the same once in September, Hall said.
"It's tough to declare a silver lining in such a huge tragedy, but I do it anyway because it is the truth," he said.
Animal welfare workers say the increased interest in pet parenthood boils down to companionship. As the pandemic forced humans to stay apart, they longed for a new friend — specifically a creature offering unconditional love. At the same time, people suddenly had the time to adopt animals and acclimate them to their new environments.
"An animal's love and affection — their loyalty — is just compared to nothing else, really," Arceo said. "They don't judge you. They don't care if you lose your job. They don't care that you haven't showered in three days because you're stuck at home.They don't care about any of that. As long as you give them love, they're going to give it right back."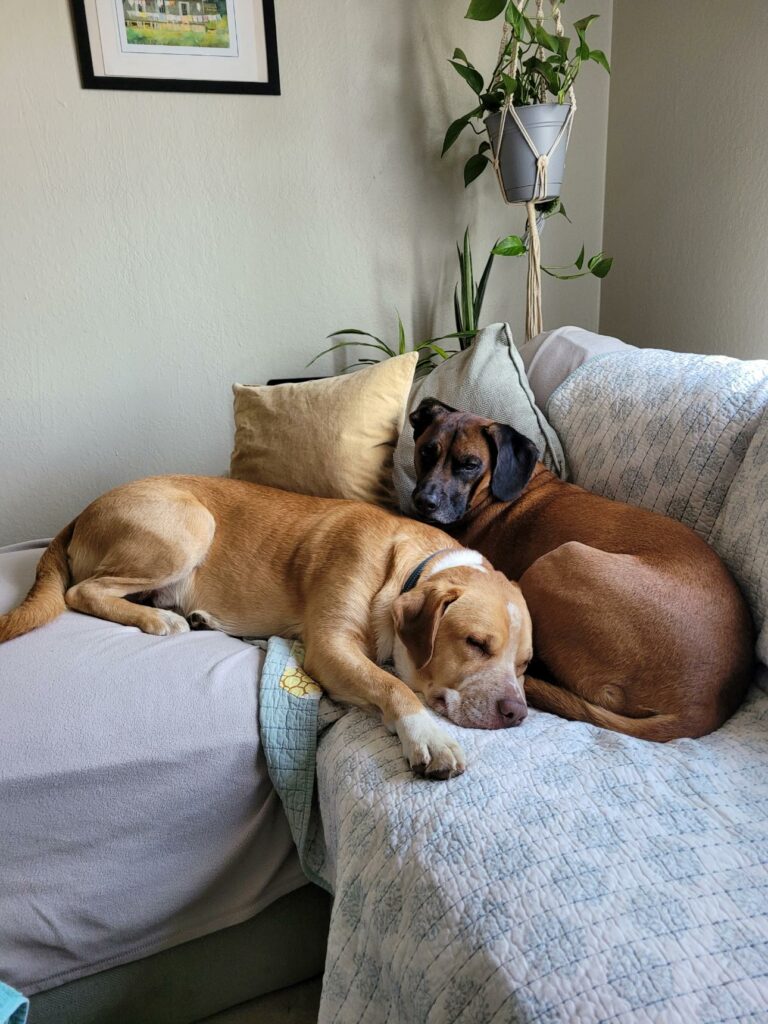 Paul Boger, politics editor at KUNR, echoed that sentiment. He and his wife welcomed a new dog, Gordo, to the family in early November. Gordo, a 2-year-old golden retriever-pit bull mix, joins Hank, the couple's 4-year-old Rhodesian ridgeback mix.
As the pandemic stifled social activity, Hank felt the sting of loneliness, too. He missed his regular interactions with other animals at the dog park. So Boger and his wife decided to get him a friend. They adopted Gordo through the SPCA of Northern Nevada.
Hank and Gordo have become fast friends, but Boger said the extra furry family has been helpful for him as well.
"They help me get out of the house and go for hikes and go to the parks," he said.
But in the animal adoption world, not all departures result in a happy ending. Some animals wind up surrendered after, for instance, a dog given as a Christmas gift doesn't work out. So far, the Las Vegas shelter hasn't encountered too many animals cycling back through the facility after an unsuccessful adoption, said Ari Medecki, who handles surrender interventions and services for The Animal Foundation.
If the economy further frays, though, that could change. Of the animals surrendered in recent months, some ended up in the shelter because of a family's financial situation, such as a job loss or eviction, Medecki said.
Last month, Gov. Steve Sisolak put in place a new eviction moratorium that will last through March. The move, which aligned with rising COVID-19 case numbers, came as a relief to animal welfare organizations. Hall, the CEO of the Nevada Humane Society, said the governor's action meant animal shelters "dodged a potential bullet."
A drop in adoption demand after the holidays, he said, could have coincided with families losing their houses or apartments and, thus, their beloved animals.
The Animal Foundation has a few initiatives designed to prevent financial-related surrenders. Keeping Every Person and Pet Together — or KEPPT, for short — provides families with some emergency assistance, such as pet food or animal medical procedures for free or a low cost, that can help them navigate rough patches, Medecki said. Under that same umbrella, the organization has started helping families affected by COVID-19 that have been forced to move. The program helps families cover pet deposit fees at their new place and up to three months of pet rent.
Grants from PetSmart Charities is helping fund the assistance programs, she said. From September through mid-December, a dozen families received financial aid through the pet deposit program, which funnels the money directly to landlords.
"We know right now everyone is stretched to capacity," Medecki said. "So, again, we want to keep those pets in the home and if the way we can do that is help with the pet deposit, which we've been able to do working with several social services agencies here in Vegas, we will do that."
While the pandemic has largely benefited animals in the form of more adoptions and snuggles, a darker trend has emerged as well. Tammy Wines-Jennings, assistant director at Washoe County Regional Animal Services, said animal cruelty cases "have gotten a little worse."
Wines-Jennings, who spoke while cats fresh out of surgery meowed in the background, couldn't provide more details because the cases have not been adjudicated. But she said the animals are safe after being rescued, mostly thanks to tips from neighbors or acquaintances.
"You hear a lot that domestic violence and all that kind of stuff has taken an uptick," she said. "I think the same thing kind of affects animals as well."
Pandemic or not, shelters can suddenly inherit an influx of new animals, and that's exactly what happened last week. Officials from The Animal Foundation announced Wednesday on Twitter that the shelter was rescuing roughly 50 cats from a home that had "far too many animals."
"We just took in 32 neglected and terrified cats. Around 20 more are on their way," shelter staff wrote on Twitter. "Their fur is filthy and matted. Most of them are sick — congested and struggling to breathe."
The social media message included a link to donate.
Like other businesses and organizations, 2020 has taken a financial toll on animal shelters as well. Hall said the Nevada Humane Society experienced a 20 percent drop from what it initially projected to receive through individual and business donations. Additionally, the money it generates through service fees fell 45 percent.
But he's not sounding any alarms yet.
"When we talk to people on the phone about making donations, some people can't make donations, but at the same time, those people that can give are giving," he said. "And so our donations are down, but we're doing fine."
As for those looking to add a new animal to the family — whether it be a cat, dog, bird, bunny, lizard or any other creature in need of a home — shelter leaders encourage patience. Booking appointments to visit an animal, they said, can be frustrating if slots fill up fast.
"Don't give up," said Arceo, who works at The Animal Foundation. "You know we always have new animals coming in."
For Boger, the adoption happened quickly. A glitch with an online application through the SPCA of Northern Nevada led to a phone call, which turned into a visit. Boger considers himself lucky.
Gordo probably does, too. He found a loving home.
Comment Policy (updated 10/4/19): Please keep your comments civil. We reserve the right to delete comments or ban users who engage in personal attacks, use an excess of profanity, make verifiably false statements or are otherwise nasty.