Pandemic 'survival mode' complicates students' pathways to graduation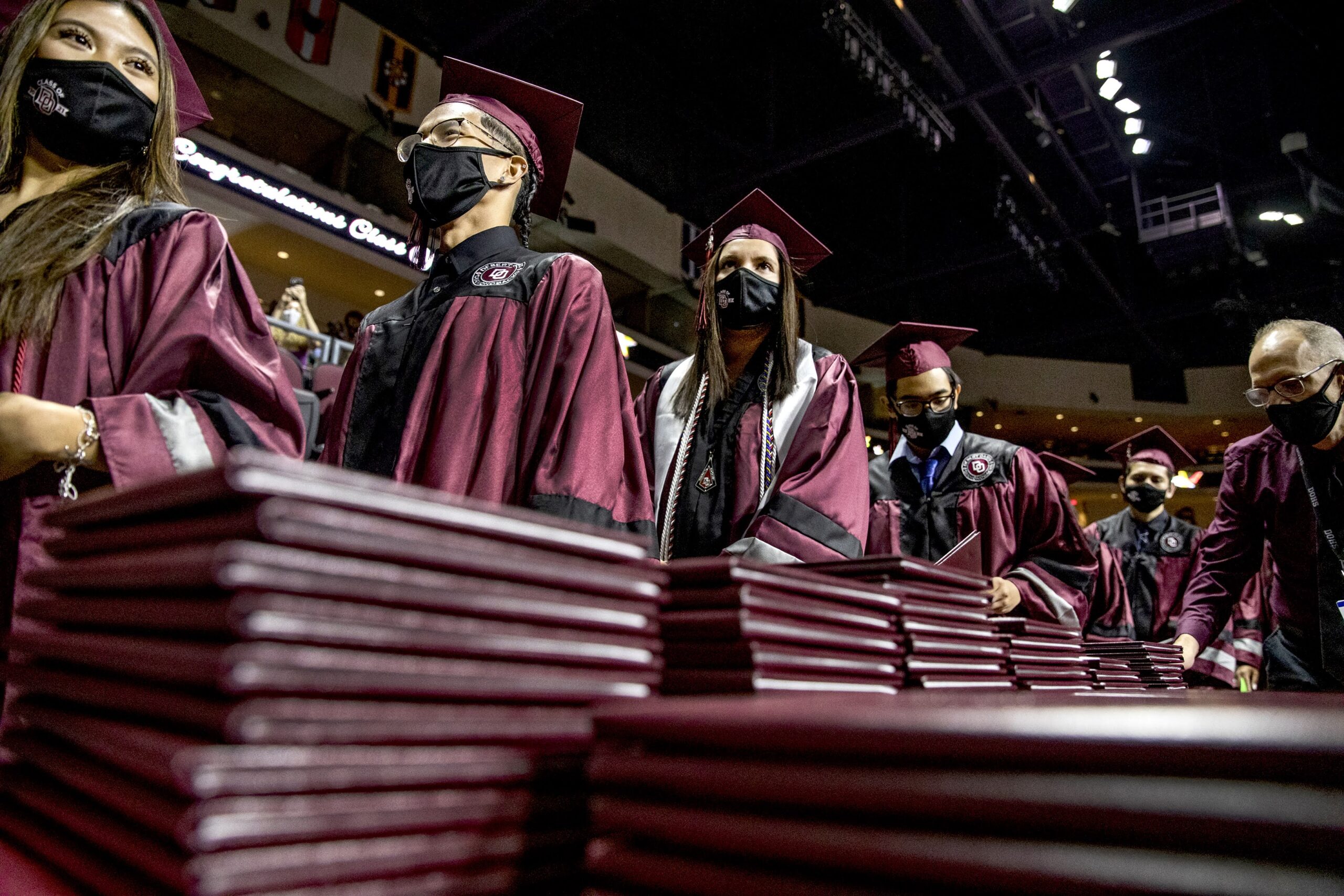 Flowers and balloons decorated a makeshift stage on Virginia City High School's football field, where cap and gown-clad students collected their diplomas last May.
The sunny day came on the heels of a late snowstorm that threatened the outdoor ceremony, a pandemic-era plan to keep everyone safe. The moment brought hugs and tears for students, staff and parents alike in this small, rural school district east of Reno.
When the 2020-2021 school year started, Storey County educators counted about 10 out of 36 senior students who were either deeply in danger of not graduating or on the cusp. It became an all-hands-on-deck operation, with everyone from the superintendent to the custodian regularly checking in on students to ensure they crossed the graduation finish line.
In the end, they did. Storey County school officials say the district achieved a 100 percent graduation rate for the Class of 2021. The Nevada Department of Education lists Storey County's graduation rate as 97 percent with 33 students, but Superintendent Todd Hess said the numerical difference boils down to how cohort numbers are tracked.
"My main emotion was relief and exhaustion," said ShawnMarie Lumos, the school's principal.
The happy ending in Storey County was somewhat of an outlier, though. Graduation rates dipped in many states, including Nevada, in 2021. The Silver State posted an 81.31 percent graduation rate last year, down from 82.57 percent in 2020 and 84.11 percent in 2019.
Although nine Nevada school districts posted graduation rate increases, the state's two largest districts — in Reno and Las Vegas — awarded fewer diplomas to students than in prior years. The Washoe and Clark county school districts' rates both fell by more than 2 percentage points from 2020.
Graduation rates are one of the key metrics monitored in the PreK-12 academic world, in large part because high school diplomas put students on a path toward higher education or trade schools, broadening career opportunities and lifetime earning potential.
The pandemic, however, appears to have blunted some of the progress made over the past decade or so. Many Nevada high school students did not attend in-person classes full time during the 2020-2021 school year, and while virtual learning worked for some students, others struggled.
Educators say they foresee continued challenges ahead as they reacclimate students to brick-and-mortar learning environments and navigate ongoing COVID-19 disruptions.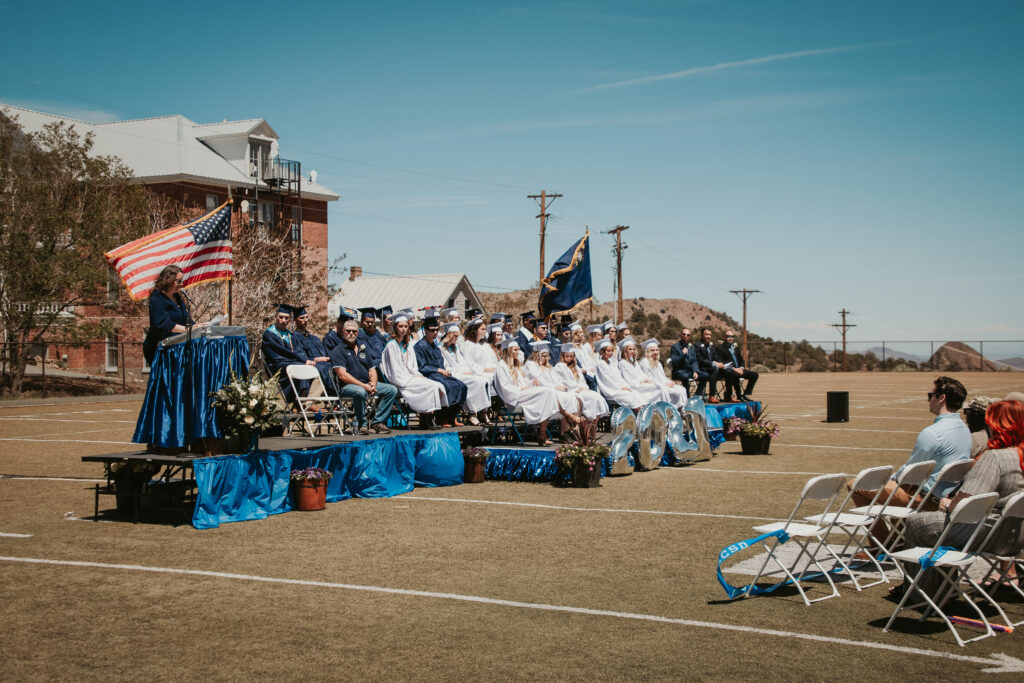 ---
Survival mode.
That's the phrase Lander County Superintendent Russell Klein uses to describe students' mindsets since the onset of the pandemic. School officials in the north-central Nevada district noticed an uptick in the number of students getting jobs to supplement family income. Some were helping care for younger siblings during distance education. Others grew disinterested in school as virtual learning dragged on.
"I think we tend to achieve at the level we're capable of achieving for the mode we're at in life," he said. "And on many levels, we're in a survival mode. Then our output is going to be at a survival level."
Only two-thirds of students in Lander County's Class of 2021 graduated, a sharp decline from roughly 82 percent the year prior. Klein said it was a "deflating" outcome despite teachers and administrators doing "somersaults" to engage students.
Home visits, incentives, required study halls and clubs and activities simply weren't enough to motivate some students, he said. COVID-related absences and trauma compounded the situation.
Grief counseling has become a regular part of the school's mission. Within the first two months of this academic year, a handful of kindergarteners lost either a parent or grandparent, Klein said. Olders students and staff members have experienced losses as well.
The district's Native students and their families were especially hard hit by the pandemic, he said. Statewide, students who identify as American Indian or Alaska Native experienced one of the larger graduation rate shifts — down 2.21 percentage points to 72.17 percent — among subgroups last year.
Jonathan Moore, the state's deputy superintendent for student achievement, said the Nevada Department of Education is making investments to help boost graduation rates among student subgroups, including a roughly $500,000 initiative involving Native American curriculum and professional development for educators. The more students see themselves reflected in the curriculum, the more engaged they will be, he said.
"The reality is because there have been a number of years where support may have lacked for those student groups, it's going to take some time for that to shift," Moore said.
And on top of health and trauma factors, students' habits changed during the prolonged period of distance learning, Klein said. Lander County students resumed full-time, in-person learning in January last year, but getting back into that groove hasn't been as seamless as many hoped.
"We have all experienced a collective trauma, and we want to go back and be normal and be what we used to be, but we've all in a way really become changed," Klein said.
Joe Ernst, chief accountability officer for the Washoe County School District, echoed much of what his colleague in Lander County said. The pandemic exacerbated challenges and disruptions that affected the stability of high school seniors.
The Reno-area school district's graduation rate for the Class of 2021 dropped 2.6 percentage points to 82.48 percent, which is still slightly above the statewide average.
Washoe school officials said they have leveraged federal coronavirus relief money — known as the Elementary and Secondary School Emergency Relief Fund, or ESSER, for short — to provide additional classes during breaks, counseling and staffing support to help monitor students' progress and address their needs.
Nearly 75 percent of ESSER funding the district received went toward efforts to support student learning, including extra instructional help, Ernst said. They're cognizant of the fact that the pandemic may have jeopardized graduation chances for younger students as well.
"It is about mobilizing that funding and getting as many people in our building to support students in all ways," he added. "We look at our seniors first, but we're also being mindful of our junior class, our sophomore classes — they, too, have experienced some significant disruption and we're really working to support them on their journey towards graduation."
Ernst said the district has been reaching out to connect with families, providing additional tutoring and setting up seniors with a specific "graduation support plan."
For some students, the pandemic marked the beginning of an elongated absence from school. Administrators at Beacon Academy — a charter school that exclusively serves at-risk students, many of whom are severely credit deficient — said they are continuing to enroll students who haven't been in school since the initial COVID-related shutdowns in March of 2020.
"Unfortunately, there's just a lot of students out there right now that aren't going to school," said Tambre Tondryk, executive director of operations at Beacon Academy. "They haven't returned. We do find that challenging — how to reach that student who's not in school right now."
Last month, Beacon Academy opened its second campus, located on the east side of Las Vegas. The other campus is in the Spring Valley area. Beacon leaders expect enrollment to increase, especially now that the school has a footprint on the other side of town.
On average, the school has graduated about 100 students annually over the past three years, said Andrea Damore, executive director of academics at Beacon Academy. Because the school only serves at-risk students who are at least 16 years old and qualify for alternative education, the graduates can be in their fourth, fifth, sixth or seventh year of high school.
---
April Esparza easily could have been a student who slipped through the cracks and failed to graduate. She gave birth to a baby boy during her junior year at Hug High School in Reno and missed several credits while adjusting to motherhood.
But the 17-year-old sought help from an organization called Communities In Schools of Nevada, which embeds staff within schools to help at-risk students stay on track and graduate.
Last year, the organization saw a 92 percent graduation rate among the students it served — 11 percentage points higher than the state's graduation rate for the Class of 2021. Esparza graduated in December, a whole semester early, after working with CIS and catching up on classes through Edguinity, an online tool for credit recovery.
"There was a point where I was really behind. But with the help of [site coordinators] Robert and Alex and my teachers, I was able to bring everything up," she said. "Honestly, I don't even know how I did it. I'm even surprised we did it. I'm also thankful for the help from my boyfriend's family taking care of the baby and helping me, making sure I finished school."
Tami Hance-Lehr, CEO of Communities In Schools of Nevada, credits relationship-building for the organization's success helping students graduate. The site coordinators earn students' trust and help get them across the finish line.
"Maybe other adults have let them down," she said. "Our site coordinators build that relationship and have a larger conversation about what's going on at home or why their academics slipped and how we can help."
The organization is poised to help even more at-risk students across the state in the future. Communities In Schools of Nevada last week announced it is receiving $5 million as part of a $135 million donation given to the national organization by philanthropist MacKenzie Scott. It was one of 40 affiliate organizations out of 110 in the network to receive a slice of the mega donation.
The CIS strategy largely mirrors the playbook used by several Nevada school districts that increased their graduation rates in the midst of the turbulent pandemic period.
Last year, the Churchill County School District convened what Superintendent Summer Stephens dubbed the "SWAT team" — a group of 10 educators from the district office who worked closely with students most at risk of not graduating. Stephens said they helped the students create plans to graduate and, if they couldn't finish on time, strategize next steps: A fifth year? Summer school? Adult education courses?
The district also added counselors to the middle and high schools, further strengthening bonds between students and trusted adults, Stephens said.
The district's graduation rate last year increased 3 percentage points to 79.91 percent, though that still lags the statewide graduation rate.
Looking forward, Stephens said she hopes to launch a pilot program in Churchill County for "micro-credentialing" — a concept in which students would earn credentials for mastering certain skills that, when put together, would be credit for an entire course. She considers innovation crucial at this moment in education.
"That flexibility that's created could … speak to individual learners in a different way than a traditional brick-and-mortar school does right now," she said.
Back in Storey County, educators said it was pandemic-forced innovation that contributed to the district's high graduation rate. The district started the 2020-2021 school year on a hybrid schedule, meaning students were split into two groups and attended school two days a week in person. That left Friday as a third virtual day — except for students that teachers had identified as needing extra support.
School staff called those students Thursday night, alerting them of their required attendance Friday, said Lumos, principal of Virginia City High School. They'd be assigned to certain classes based on their needs.
Lumos said Friday school was a "critical part of the puzzle" because it motivated students to work hard and complete assignments to avoid coming that day. But, on the flip side, it provided small-group support for students who had fallen behind or were struggling academically.
Friday school ended last March when students returned to in-person learning five days a week after pandemic restrictions eased, Superintendent Todd Hess said. Continuing the concept would require community discussions and school board approval, though the district hasn't ruled out exploring it given last year's success.
But Hess was quick to point out the district doesn't have any secret sauce for student success. As a lifelong Storey County resident who attended the schools he now leads, Hess acknowledged the district's small size enables a personalized touch that can be more difficult in urban areas, where single schools have more students than in his entire district.
"I will just say that we have the resources and the ability to walk up to a kid and say, 'You're not allowed to fail. And you're not allowed to not graduate,'" he said.
The Nevada Independent is raising $200,000 by Dec. 31 to support coverage of the 2024 election.
Tax-deductible donations from readers like you fund this critical work.
If you give today,your donation will be matched dollar-for-dollar.
Give + Get Matched
Featured Videos