Jonathan Morris, 39, drinks a soda in The Courtyard, a city of Las Vegas operated day shelter for homeless, on Friday, May 4, 2018. (Jeff Scheid/The Nevada Independent)
Patrons of new courtyard weigh in on how Las Vegas is serving the homeless
Las Vegas recently opened a homeless resources courtyard along Foremaster Lane, a street in the downtown area with a high concentration of homeless people and agencies that serve them. For now, the courtyard provides a place for homeless Las Vegas residents to spend the day and receive services, but the eventual plan is to offer a secure, open-air place for people to sleep.
Patrons of the courtyard spoke Friday afternoon about what they like about the service and their recommendations for addressing the problem of homelessness.
LEO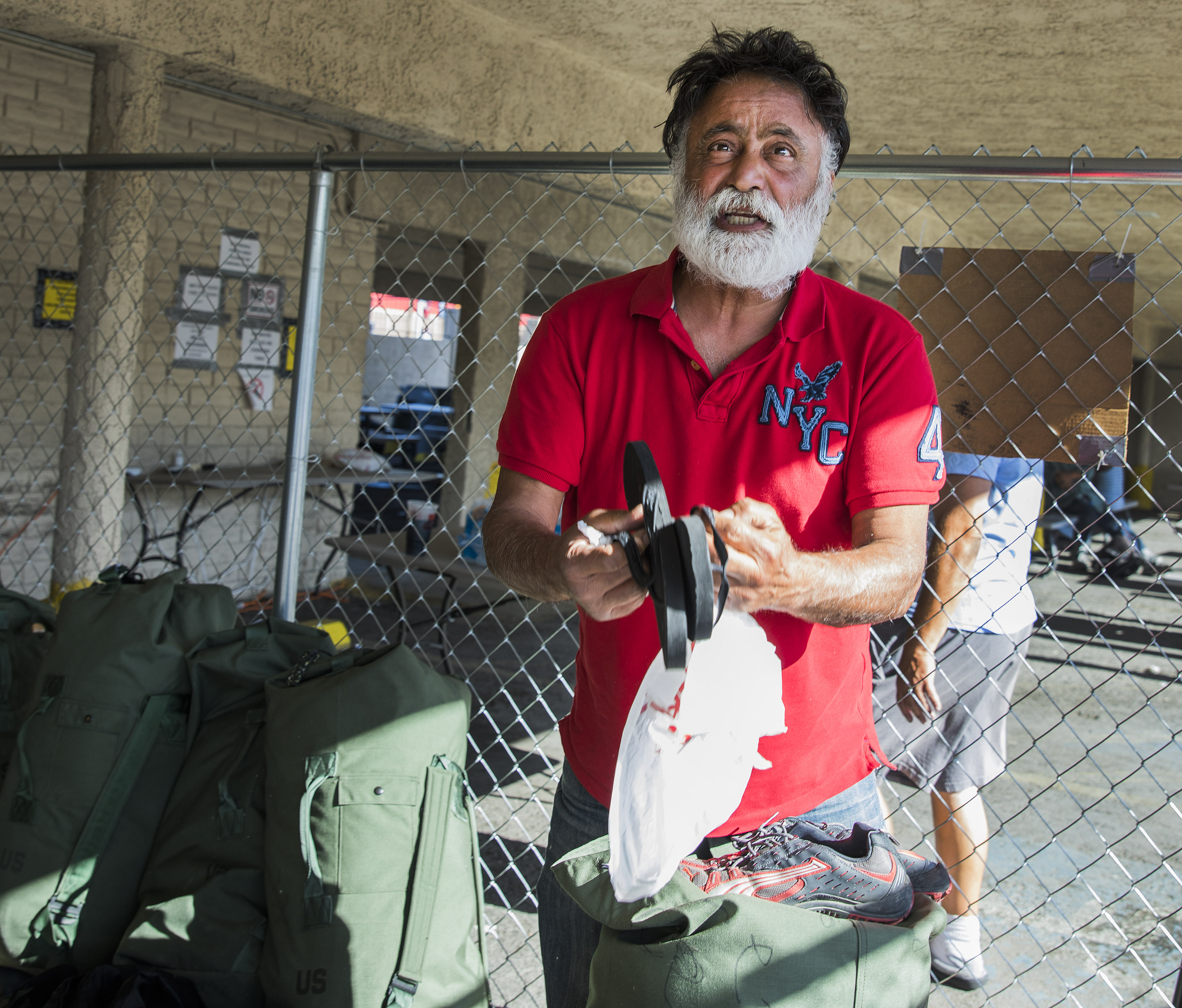 Leo Afshar, dressed in a bright red polo and red high-tops, starts from the very beginning to explain why he's at the courtyard. He comes from Iran, fought in a war, faced religious persecution and then spent three years in Germany.
From there, he went to Texas, where he worked for 30 years as a mechanic and then at an Albertson's. He said he decided to see what California was like, but thought there was too much violence there and he came to Las Vegas.
Afshar, 60, said he got a job through ManPower, an employment agency, but wasn't making enough to cover the cost of living and ended up at Catholic Charities.
When the courtyard opened up, he said, staff invited him to help them with chores such as cleaning the picnic tables and taking out the trash. He said he's grateful for the coffee he gets every morning and for a storage area where he can securely keep his belongings in an Army surplus duffle bag.
"It saves lives," he said about the courtyard. "Because it's hot out there. Very very hot."
Asked about whether he's looking to live independently and get his own place, he says he worries he'd be lonely.
"I can get that no problem but it would be sad to be alone," he said. "These people are nice. They help me, they give me all this stuff. It's like a million dollars."
DEAN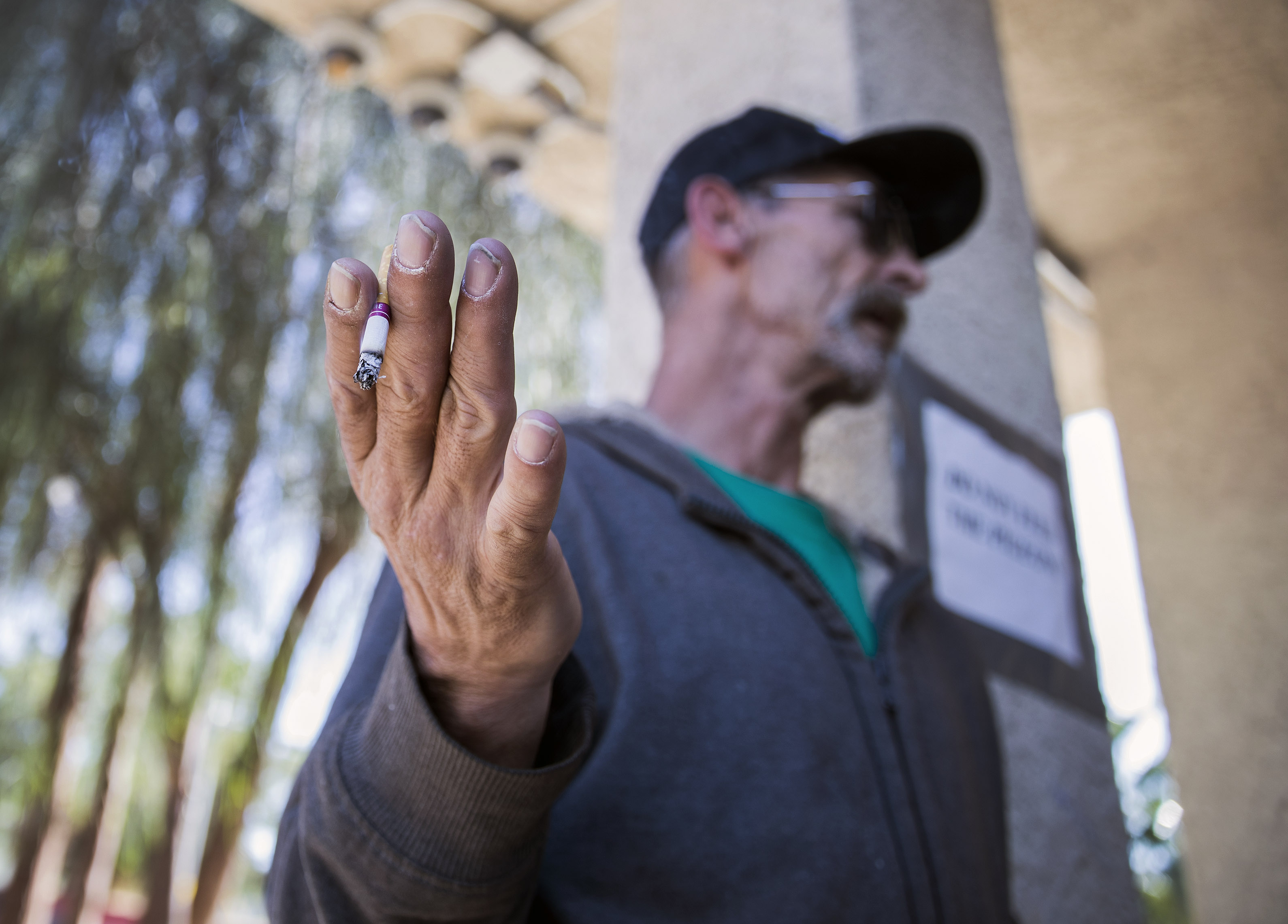 Dean Adamson is relatively new to the Las Vegas streets, arriving about a month and a half ago after stints in California, Kansas and Oklahoma.
Through the services at the courtyard, he's been able to obtain an official ID — something he said he's been trying to do for about five years but that was complicated because he was born in Germany and struggled to demonstrate citizenship in the country he's called home since he was two. Unlike in other states, he's also been able to obtain Medicaid coverage, which will help him get dentures and a hernia surgery.
"In a way, Nevada's been a blessing, but in a way it's been a curse because of the situation I'm in," he said.
Adamson, 54, said he ended up homeless through a series of events that involved the death of his stepmother, leaving him no place to go. Once the hernia is addressed, he plans to head back East to reunite with his girlfriend and look for a job.
For now, Medicaid pays for him to attend an adult day care program where he can also take a shower and do his laundry. If he gets bored, he spends time in the courtyard or heads to the library where he can access the internet. At night, he's in a sleeping bag.
"On this street, you sleep with one eye open," he said. "I've never ever seen a street in any of the states I've been in as bad as this street. Sometimes it's good, sometimes it's bad. It's who you know that keeps you safe."
He doesn't think food resources are adequate. While Catholic Charities across the street serves a free meal at 10 a.m., getting breakfast there earlier costs $4 (they accept food stamps). The Las Vegas Rescue Mission offers a free community dinner at 5 p.m., but that's about a mile and a half away — tough for people with physical ailments or in wheelchairs.
Adamson thinks Las Vegas needs more housing for the homeless, and suggested tiny houses or a tent city, where residents elect leaders from among themselves and keep order.
"I think what they should do with some of these businesses downtown is convert them for the homeless," he said.
"COUNTRY"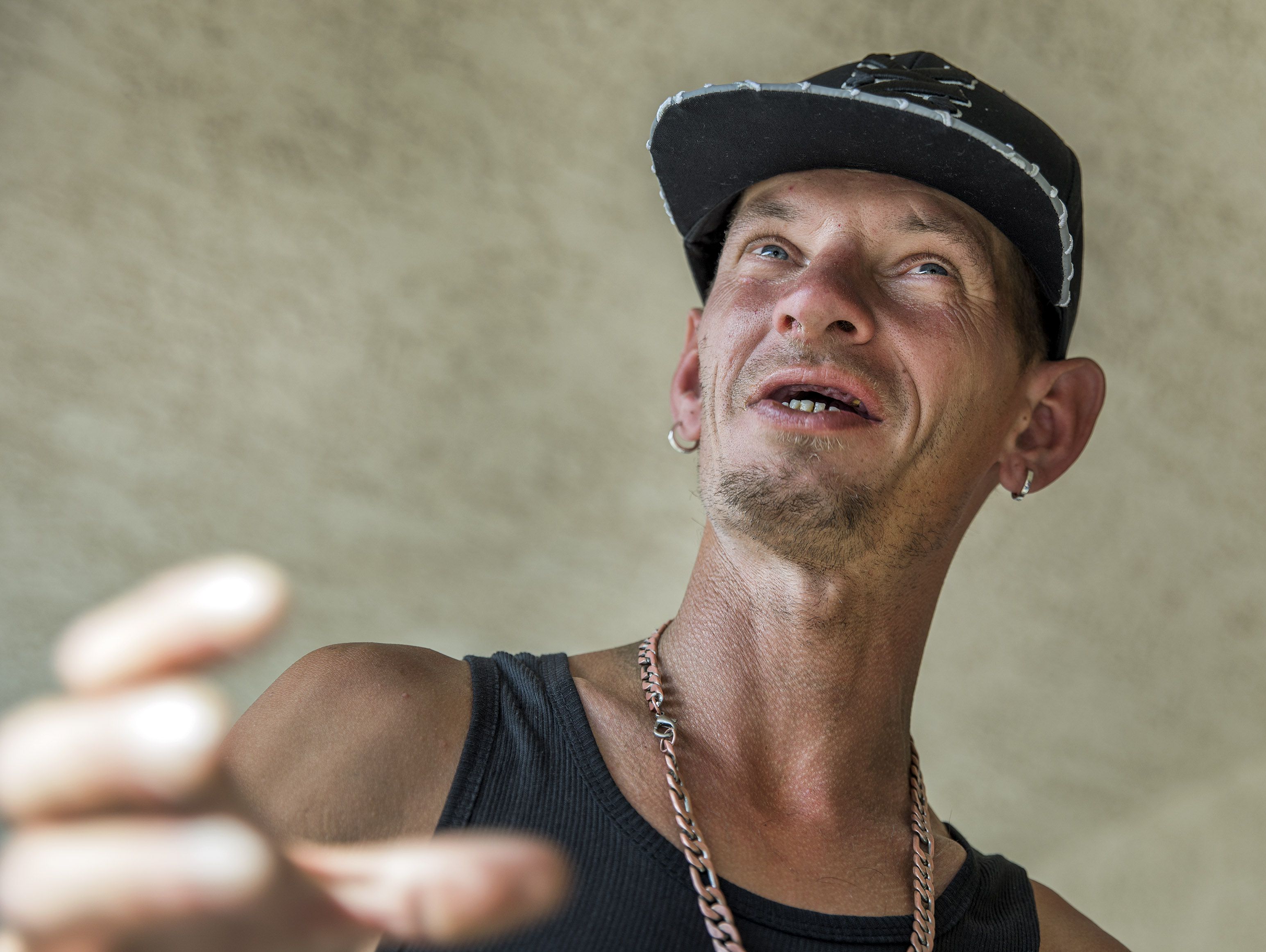 Jonathan Morris, who hails from Tennessee and goes by the name "Country," is one of the self-described guardians of the homeless corridor. When he can't sleep, he walks around to check in on the others.
Morris, 39, worked security but was laid off, and was evicted after he said his roommate threw too many parties. He now does volunteer work around the courtyard, running errands or printing off documents as needed; he's got a possible job lined up starting in June doing farm work.
Homeless services providers have tried to crack down lately on "street feeding" — when groups not affiliated with permanent charities in the area offer one-off meals or sandwiches to the homeless. Deacon Tom Roberts of Catholic Charities said the practice is "enabling," keeping people on the streets instead of bringing them in to facilities where they can receive a range of services, and generates trash and human waste in the aftermath.
Roberts encourages well-meaning groups to "redirect their generosity" and partner with existing charities instead of feeding the homeless on their own.
Morris doesn't agree with the approach. He thinks the trash problem isn't coming from those who live on the street, but people who live in the shelters but then spend the day outside.
"That is wrong," he said. "If a church wants to help, let them help."
He thinks Las Vegas' biggest focus should be bulking up its housing options for those in need.
"Instead of spending money on casinos, they need to help the homeless," he said.
Stories
Candidate Trackers
Endorsements, Ads, Policies, Visits
& More
visit now
Comment Policy (updated 10/4/19): Please keep your comments civil. We reserve the right to delete comments or ban users who engage in personal attacks, use an excess of profanity, make verifiably false statements or are otherwise nasty.