A peek inside schools educating students with the most specialized needs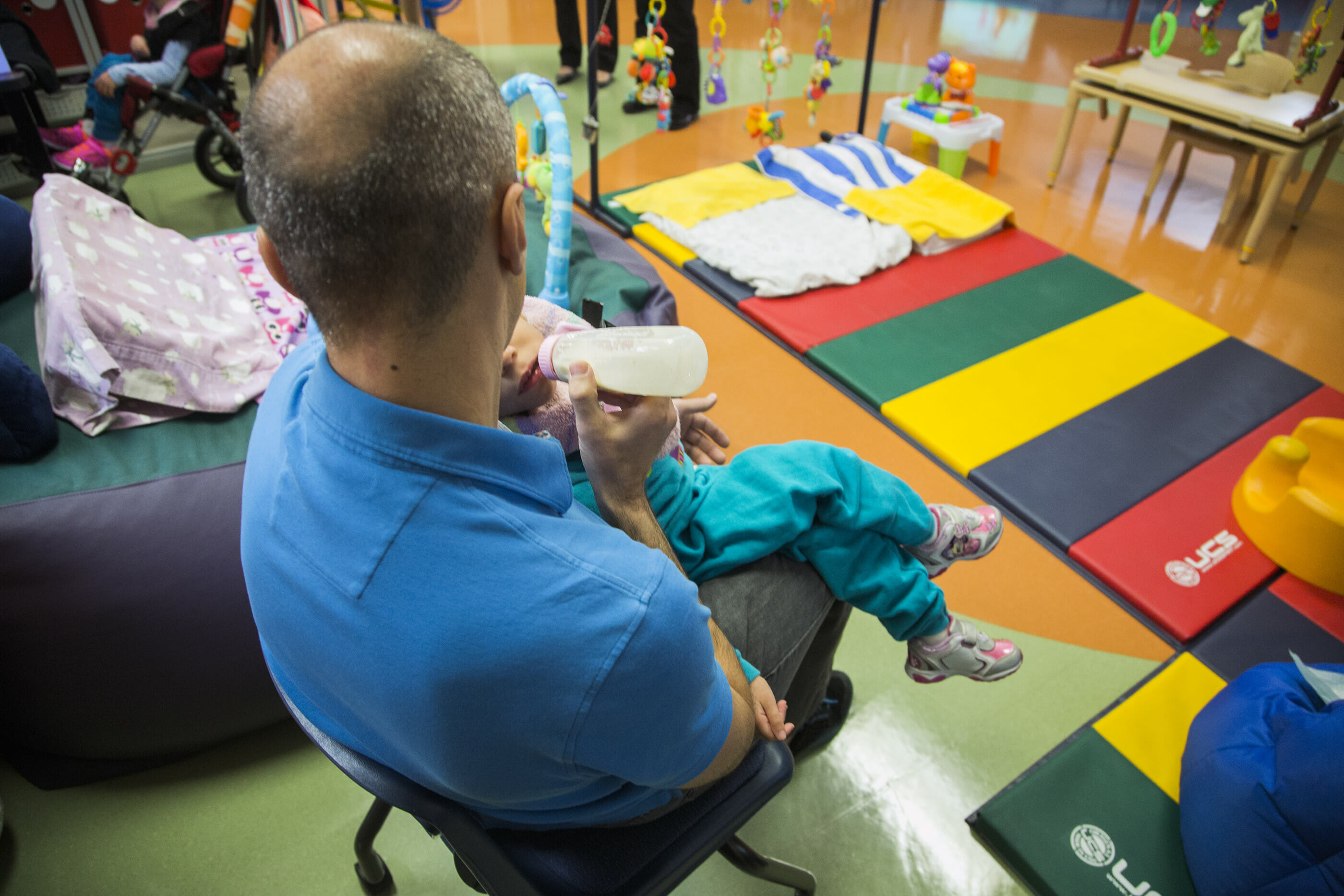 When ambulances rush to John F. Miller School in eastern Las Vegas, they pull up to a discreet side entrance that's out of eyeshot for most visitors.
The separate entrance for emergency medical workers is by design. Of the school's roughly 130 students, 98 percent have seizure disorders, more than a dozen have tracheostomies and some are on hospice care — hence, the occasional medical emergencies.
"It's just not a good message to parents to see ambulances coming in the front," Principal Jean Reynolds-Trudell said.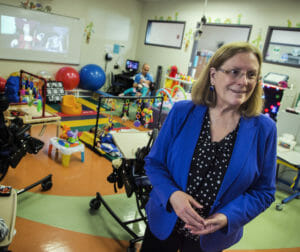 The parents are well aware their children's health conditions can go from stable to dicey in the blink of an eye. They don't need any more reminders, Reynolds-Trudell said. The school, which boasts wider hallways, an elaborate health office and a sizable nursing staff, is where the Clark County School District educates its most medically fragile students.
As the school district, state education department and lawmakers wrangle over special education funding, a walk through John F. Miller School shows why educating students with disabilities can be such a costly — but also rewarding — affair.
In a kindergarten class, a teacher bottle-feeds a little girl who can't walk or speak while his other students lie on blankets and play with sensory objects hanging from mobiles. Down the hall, a nurse fastens a G-tube to a boy's stomach and pours water first, then formula into the feeding device as the student babbles in his wheelchair. Outside the health office, a girl claps her hands and shrieks in joy as a physical therapist helps her ride a three-wheeled bicycle.
It's a different type of education than what you'd find in a comprehensive school. The students, ages 3 through 21, who attend school here will likely never learn to read, but by federal law, they're entitled to a public education just like any other child.
The school district has 38,608 special education students this year, all of whom have individualized education plans known as IEPs that chart their specific learning goals and progress. The needs of special education students vary greatly: While one student may only need speech therapy and reading help, others require a one-on-one nurse and multiple interventions.
That's why the cost for educating a special education student ranges from several thousand dollars to $50,000 or more per year, district officials said.
"If we were to line up students, there's a different need that comes at a different cost that comes with every student," said Carlos Morales, assistant superintendent for the student services division.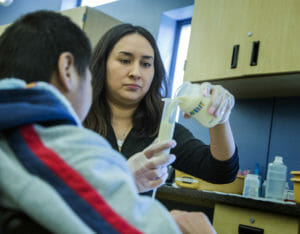 The Miller school motto — "All children can learn" — speaks to the potential that exists within each student, regardless of his or her disabilities. A bulletin board in the kindergarten classroom lists goals for the students, such as maintaining their heads in an upright position, learning how to activate switches to hear stories and independently taking objects out of containers.
The school exposes students to core subjects such as reading, math and science, but the curriculum also places a large focus on developing skills that will help them be more independent, said Reynolds-Trudell, who has worked at Miller for 19 years. She cringes when community members suggest that educating this population of students isn't worth the cost. Chances are, if those same people had a child with severe disabilities, they'd want them to have educational opportunities as well, she said.
"We want to make school a fun, stimulating place to be," said Reynolds-Trudell as she poked her head in classrooms on a recent morning. "For many of our kids, it's the only time they're out of home."
The cost of special education
The school district uses local, state and federal funds to cover the cost of educating students with physical or learning disabilities. Those students may be in general-education classrooms with extra support, smaller learning environments within a comprehensive school or at a separate school designed for children with special needs.
Clark County received the lion's share of state special education funding —  $111.9 million  out of the roughly $168 million appropriation — this fiscal year, but when broken down by the number of students, its per-pupil funding from the state still lags behind many other Nevada counties. As a result, the school district pulled about $350 million this fiscal year from its general fund to cover special education costs, Morales said.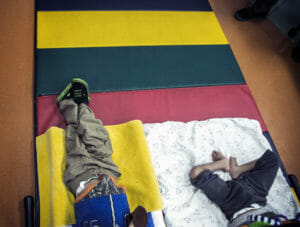 Will Jensen, the state special education director, said efforts are underway to gradually increase special education funding in Nevada. An initial step was transitioning from a unit-based system, which allotted money for teacher salaries, to a per-pupil funding mechanism designed to let dollars flow directly to special education students, he said.
The so-called "weight" for special education students — extra money added to the per-pupil funding every student receives from the state — doesn't necessarily cover the cost of educating each student. Some students may require more money for services, while others need less funding, but state officials hope the allocations "balance out" and help districts cover those costs.
The statewide average weight for special education students this fiscal year was $3,034; in Clark County, it was $2,968.
Jensen said it will take years to achieve complete equity across school districts in terms of how much funding they receive for special education, but the state is working toward that goal. Gov. Brian Sandoval's proposed budget for the next biennium calls for another $30 million increase in special education funding.
"These considerations about equity are ever-present in our building of budgets," he said.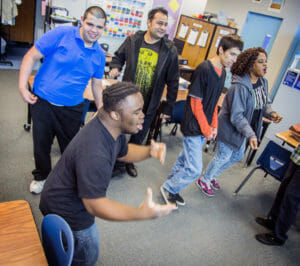 Morales said the Clark County School District doesn't have a specific dollar amount in mind that it would like to receive from the state for special education. District officials just want state money "fairly and equitably distributed to each and every single one of the 17 districts," he said.
Educational settings differ by student
In the meantime, state education officials are encouraging school districts to closely examine students with mild to moderate disabilities and, if appropriate, place them in general-education classes. Jensen said research across the country has shown the strategy provides a win-win: Special education students placed in general-education settings are more likely to graduate, and as the "rates of inclusion" increase, costs decrease for school districts.
"We're self-containing a lot of students who could probably be very successful in general-education environments with appropriate support," he said.
Morales said an entire team of professionals meets and discusses what education setting works best for each student with special needs. Nearly half of the district's special education students are in general-education settings for at least 80 percent of the school day, school district officials said.
"Every student does matter to us, and we're always looking again at having the students be in the least-restrictive educational environment where they are going to be successful," he said.
That's why Variety School has a transition program. Located just east of downtown Las Vegas, the school serves students with multiple disabilities, severe emotional challenges and cognitive deficits. Unlike Miller school, though, students may not stay at Variety for the duration of their schooling.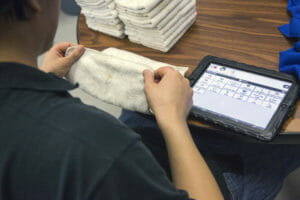 Variety Principal Jason Fico said the school has a classroom that prepares students for the transition to a comprehensive campus after staff deem them capable of handling that environment. The program involves tours of the comprehensive school, gradual introductions to their new teachers and exposure to certain "triggers" to see how well the students can adapt with the transition, he said.
The goal: Let students ease into the idea of attending a new school to make the transition more successful.
Variety has transitioned 15 of its 170 students back to comprehensive schools this academic year, Fico said.
School district officials, however, stress that general-education campuses aren't always the best option for certain students or the most practical use of money. By grouping medically fragile students at Miller, for instance, the district saves money by not having to provide the specialized medical care and equipment to individual schools across the valley, Reynolds-Trudell said.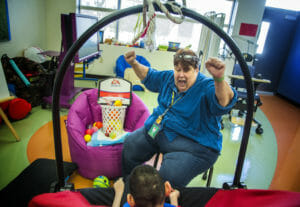 Educating students with severe disabilities isn't a job for everyone, Reynolds-Trudell said, but her staff takes great satisfaction in witnessing the children's big and small milestones. Some of Miller's students have even learned to walk in the school's hallways, she said.
Teacher Assistant Sandy Feink is one of those staff members who can't imagine working with any other group of students. On a recent morning, she chattered away to a smiley boy sitting in a makeshift swing. He was practicing his motor skills by throwing a plastic ball toward a miniature basketball hoop, and Feink lavished him with praise each time.
"I love the kids. They're like family," she said. "I have more fun than the kids do."
Caption: Bale Andreevski, an early childhood specialist at John F. Miller School, feeds a special needs student on Thursday, Feb. 24, 2017. Photo by Jeff Scheid.
Featured Videos
Comment Policy (updated 4/20/2021): Please keep your comments civil. We reserve the right to delete comments or ban users who engage in personal attacks, use an excess of profanity, make verifiably false statements or are otherwise nasty. Comments that contain links must be approved by admin.