Students arrive at Wengert Elementary School for the first day of in-person learning on Monday, March 1, 2021. (Jeff Scheid/The Nevada Independent)
PHOTOS: Face masks and fist bumps herald return of in-person learning for Clark County's youngest students
For thousands of Clark County's youngest students, the school day did not start through the lens of a computer screen on Monday.
The Clark County School District began its long-awaited transition to in-person learning after nearly a year of distance education that tested the patience of parents, teachers and students alike while also exposing technology inequities along the way. The scene outside Cyril Wengert Elementary School in East Las Vegas was jubilant by 7:38 a.m. when the first cars rolled through the drop-off line. But a sense of cautiousness hung in the air.
Armed with clipboards and donning face masks, staff members greeted each student as they confirmed that parents had completed a health wellness check that morning. A song with apt lyrics — "celebrate good times" — blared from the school's sound system.
"We're as prepared as we can be," Principal Kimberly Swoboda said. "It's safety first and, you know, now it's just getting kids in and watching all the new routines start."
The debut of a new routine brought one of Tyiqua Turner's children to tears, but it wasn't her first-grader, Tynaya. It was the little girl's 4-year-old sister who suddenly felt left behind.
"She's just so used to her sister being home," Turner said.
Despite her daughter's separation sadness, Turner remained steadfast in her decision. Tynaya, whom she described as "shy but excited," needed a learning environment free of distractions.
Her daughter was one of 121 students at Wengert Elementary School who will be returning for two days of in-person instruction under the hybrid model. About 37 percent of families selected the hybrid model, Swoboda said, but she expects in-person enrollment to continue growing.
Across the school district, 41,520 students in pre-kindergarten through third grade — the first group eligible for the hybrid model — will enter school buildings again this week, district officials announced Monday. They're split between two groups — 21,763 for Cohort A and 19,757 for Cohort B — that will rotate in-person learning days while working from home the other three days. A third cohort has 50,549 students in those grades whose families opted to remain in full-time distance education.
Those numbers aren't set in stone, though. Clark County Superintendent Jesus Jara said schools will work to accommodate students whose parents change their minds and want to enroll them in the hybrid model. He said waitlists may be necessary if schools encounter issues with class sizes; however, by April 6, the district plans to welcome back all elementary students in pre-kindergarten through fifth grade for in-person instruction five days a week.
The district's staggered reopening timeline will allow students in sixth, ninth and 12th grades to return under a hybrid schedule on March 22. The remaining grade levels will return by April 6, though only elementary school students will be receiving face-to-face instruction five days a week.
That means the wait will be longer for students like Lily Shipp, a freshman at Foothill High School, who joined dozens of parents and students last week outside a Clark County School Board of Trustees meeting. The rally, coordinated by advocacy organization Power2Parent, brought together those who wish to see even more in-person learning.
"I spend a lot of my time kind of up in my room away from everything," said Shipp, adding that it has been difficult keeping her grades up during remote learning.
While the district's reopening schedule may not be as soon or as fast as some want, it coincides with the deployment of COVID-19 vaccines. Jara said about half of the district's employees — or close to 20,000 people — have received vaccines through the Southern Nevada Health District or an inoculation clinic at UNLV that was set up for school district employees.
Health and safety measures, such as social distancing, washing hands and wearing masks, will continue even after elementary students return five days a week, Jara said.
"Some folks thought all the mitigation strategies were going to be relaxed," he said. "That's not the case."
At Wengert Elementary school, fist bumps — not hugs — were the common greeting. But the quirks of the new routine didn't faze Swoboda. She's just happy to see students in the school, which is celebrating its 50th birthday this year.
"We're not looking at them through a computer screen," she said. "And I think that's huge."
Here's a peek at the scene outside the school on Monday morning: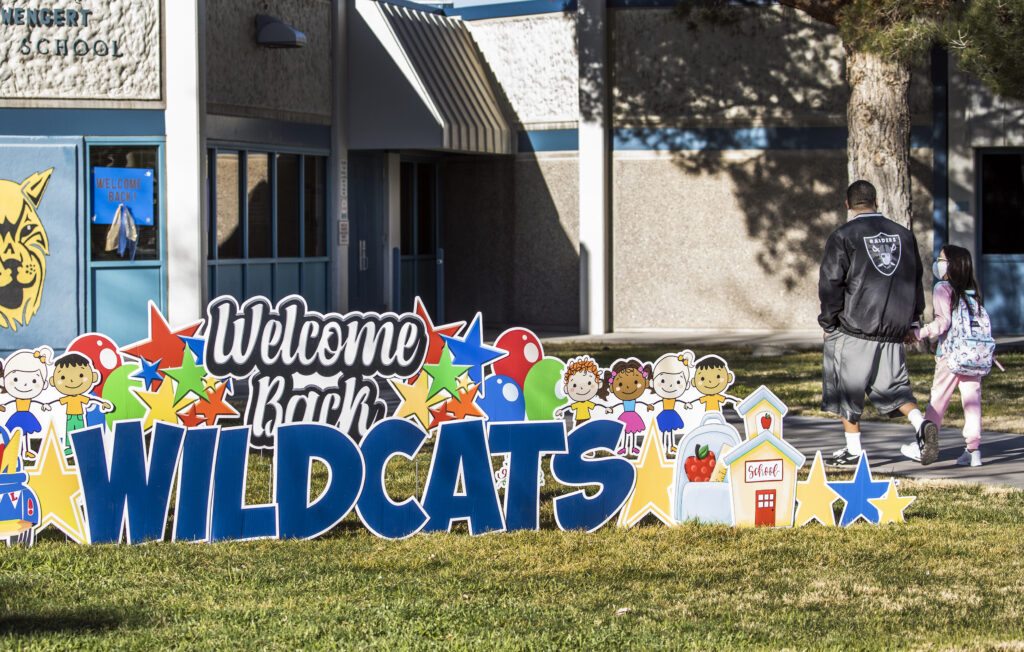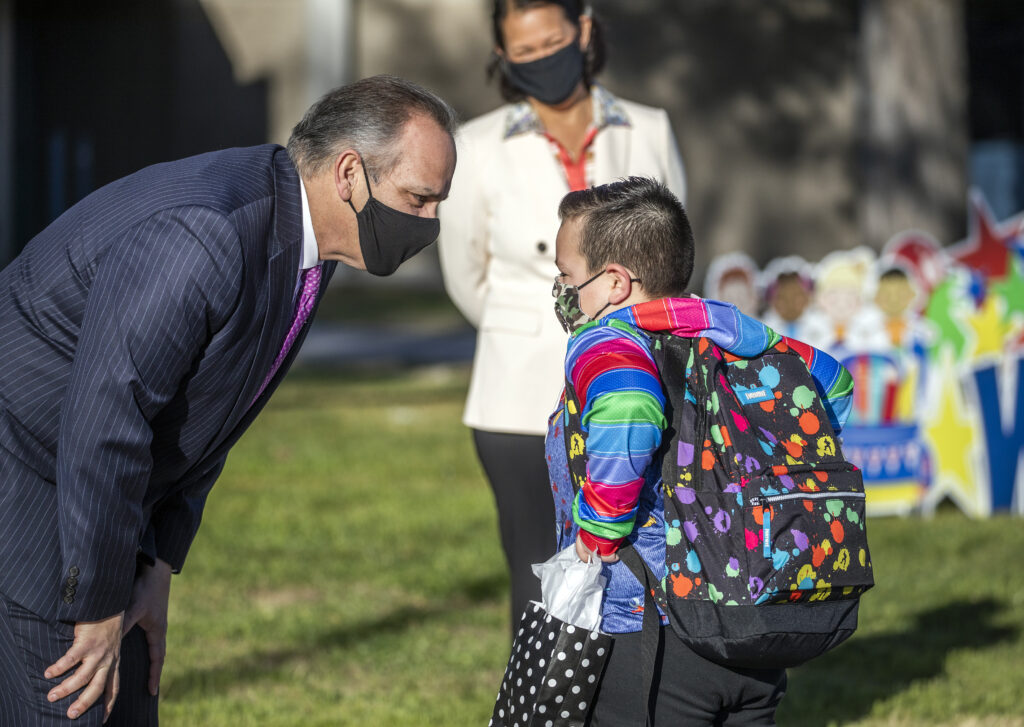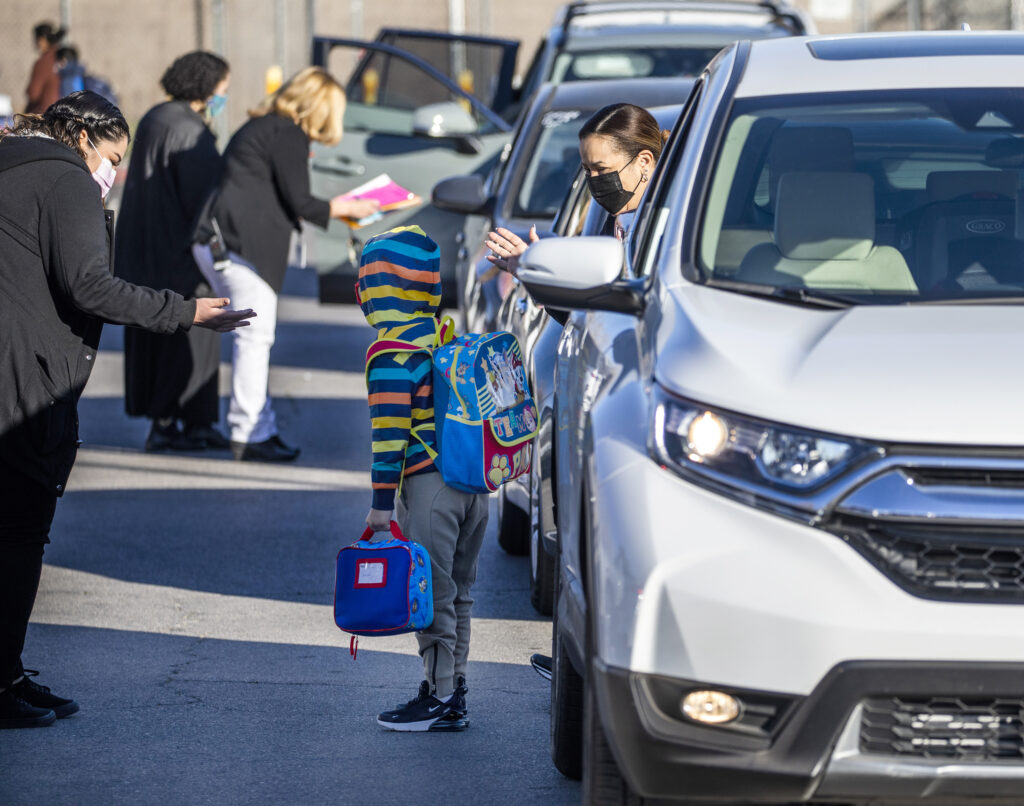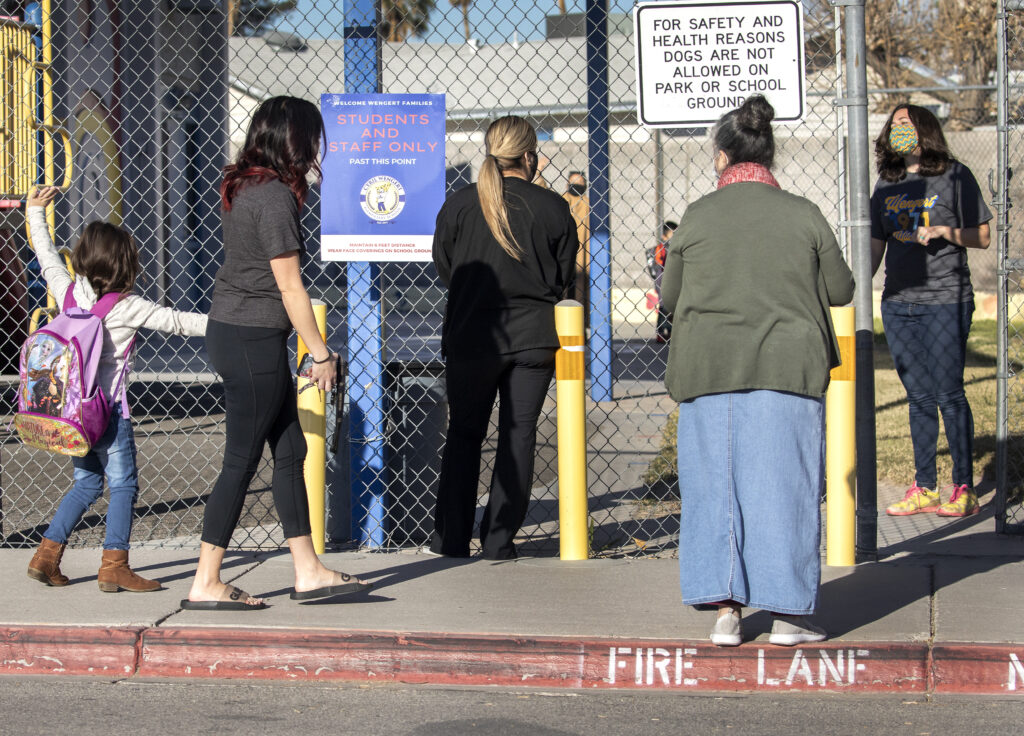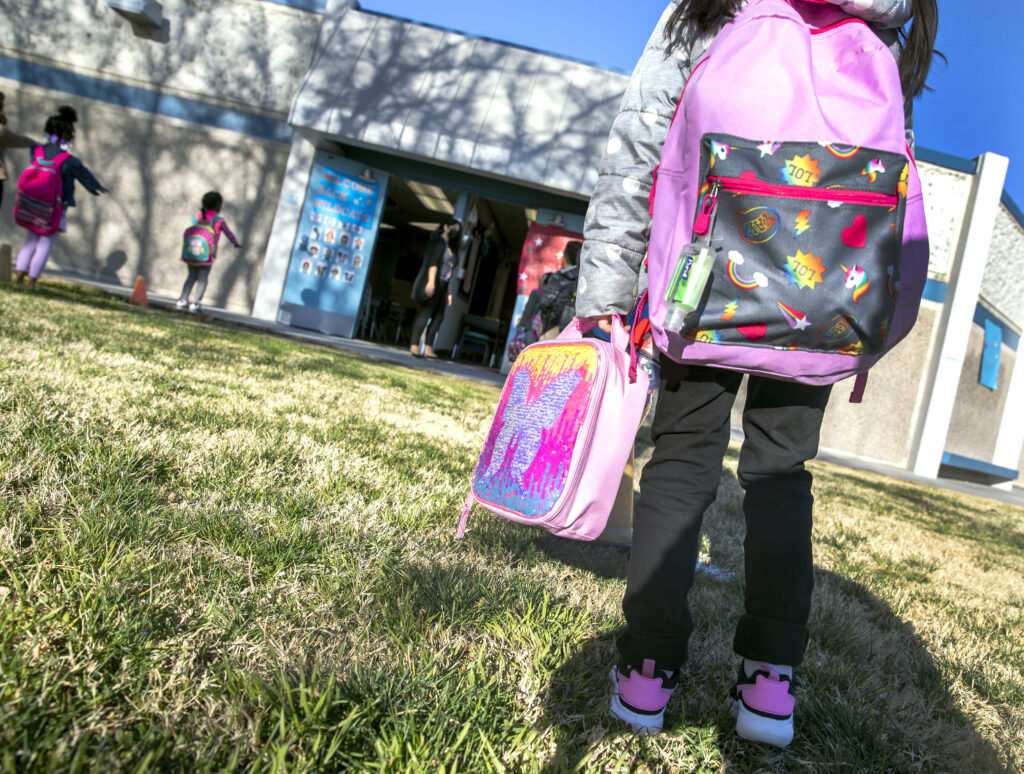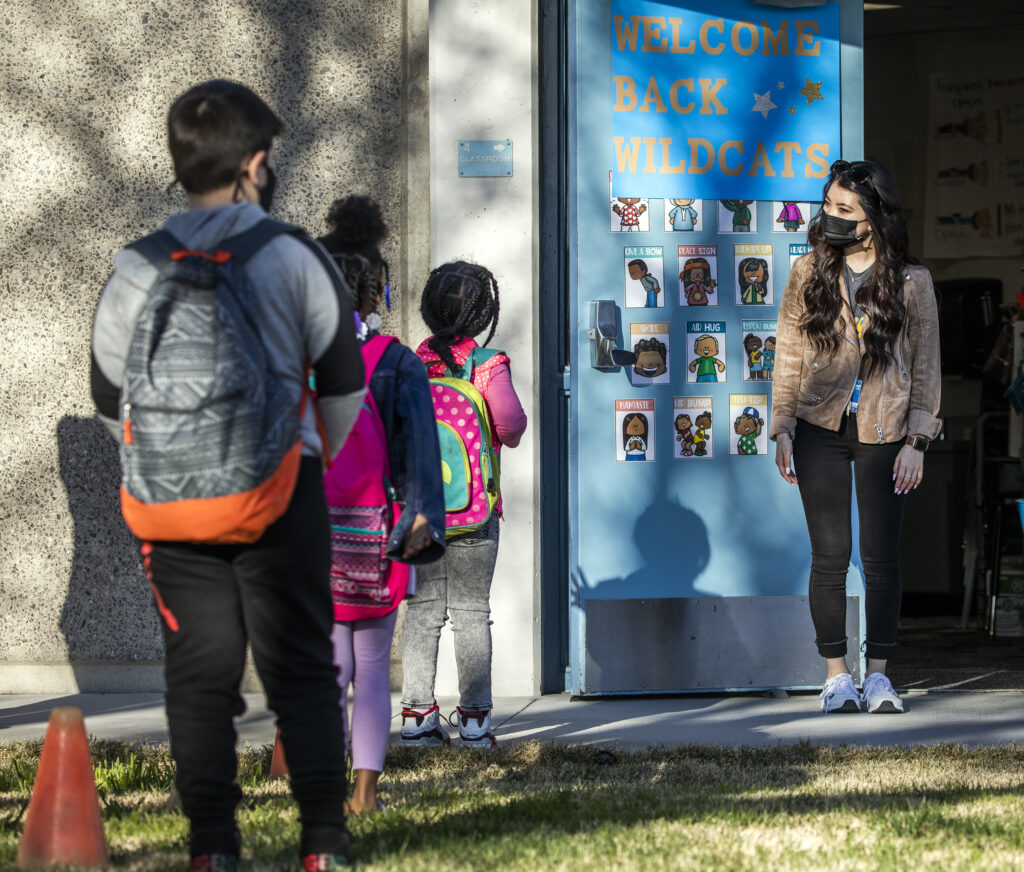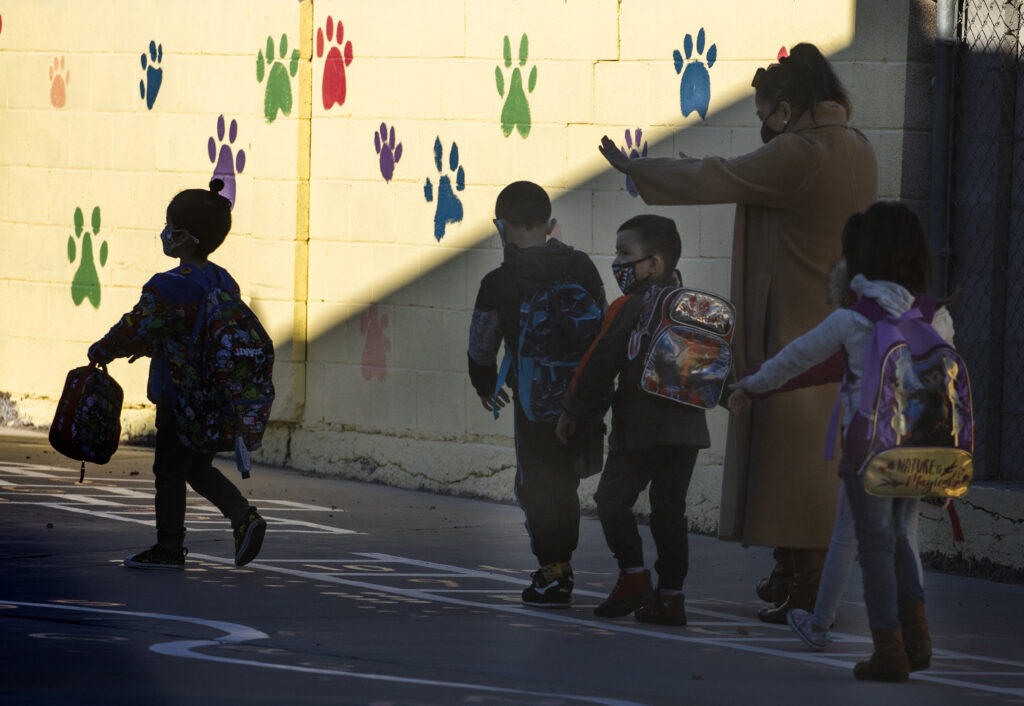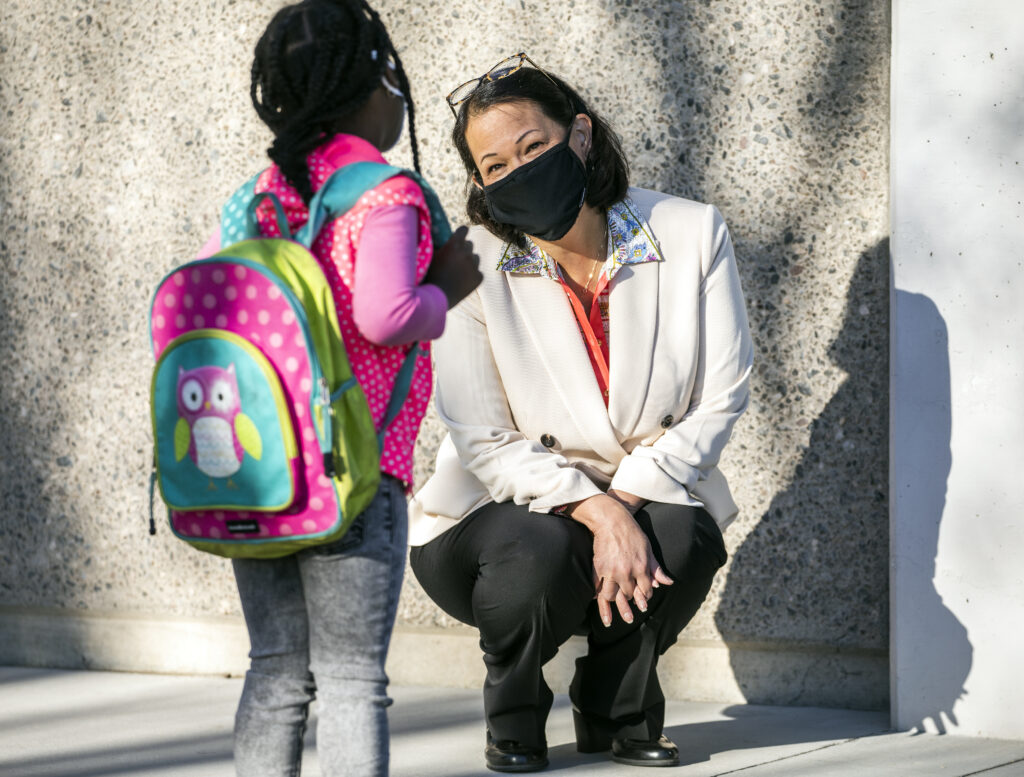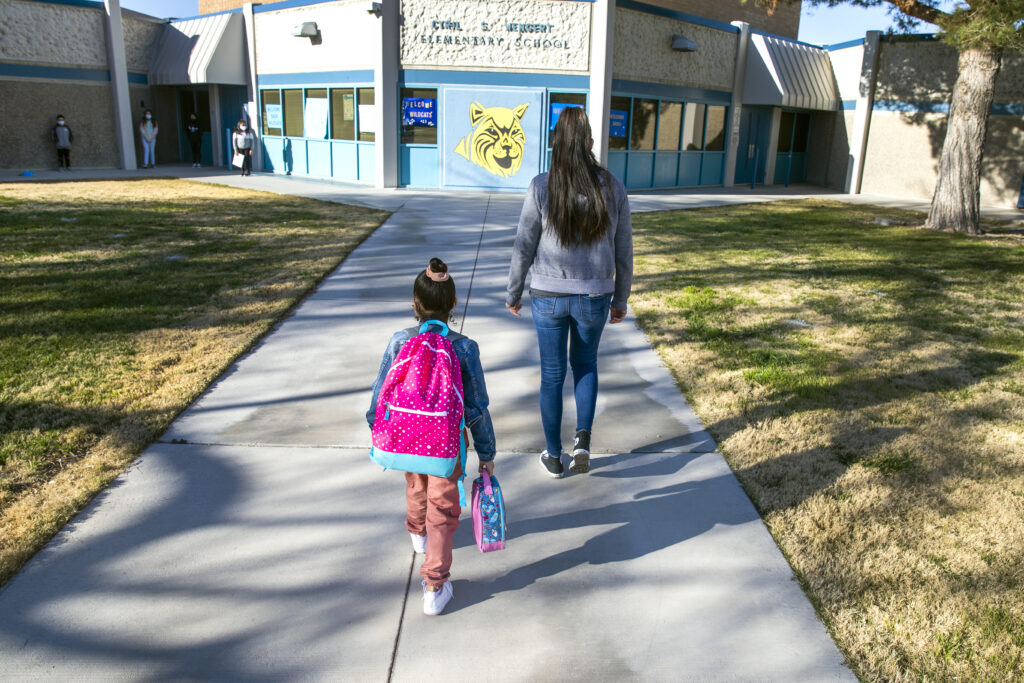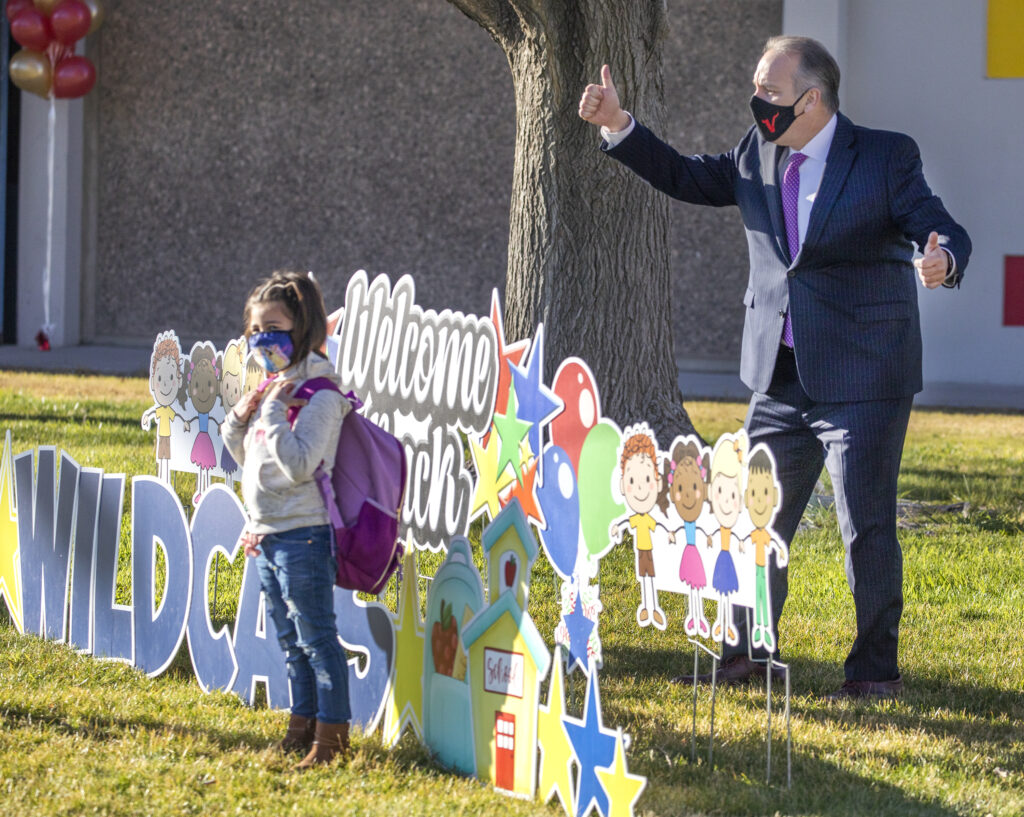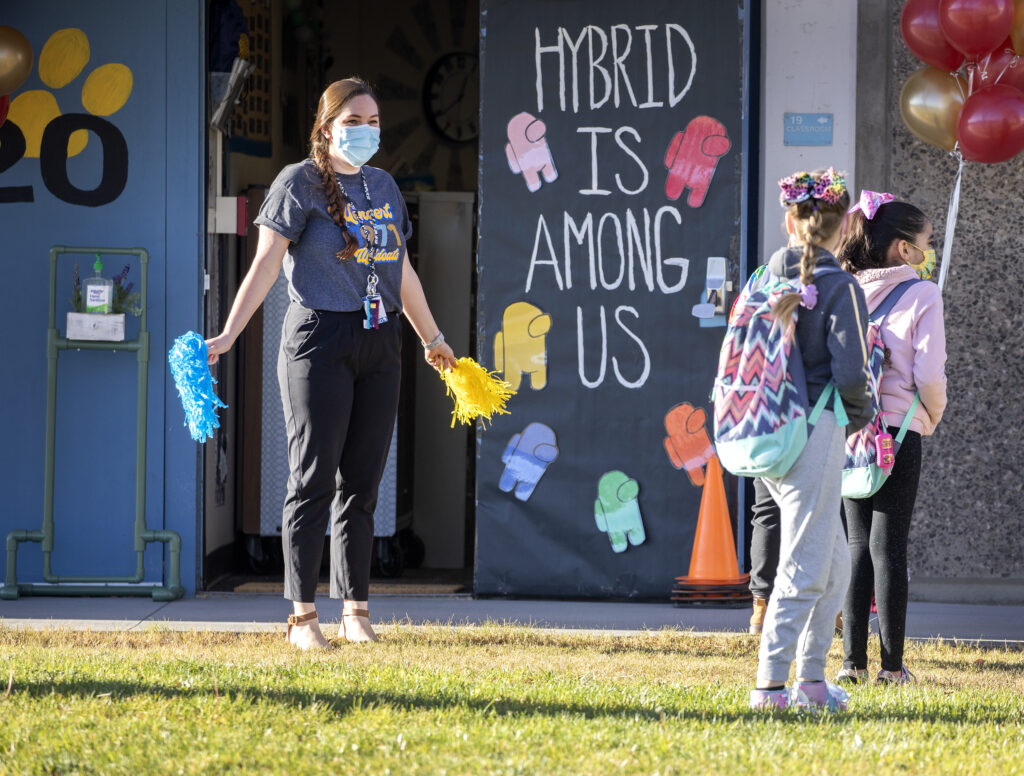 Comment Policy (updated 10/4/19): Please keep your comments civil. We reserve the right to delete comments or ban users who engage in personal attacks, use an excess of profanity, make verifiably false statements or are otherwise nasty.