Plant-based eatery options sprout across Southern Nevada, fueled by growing demand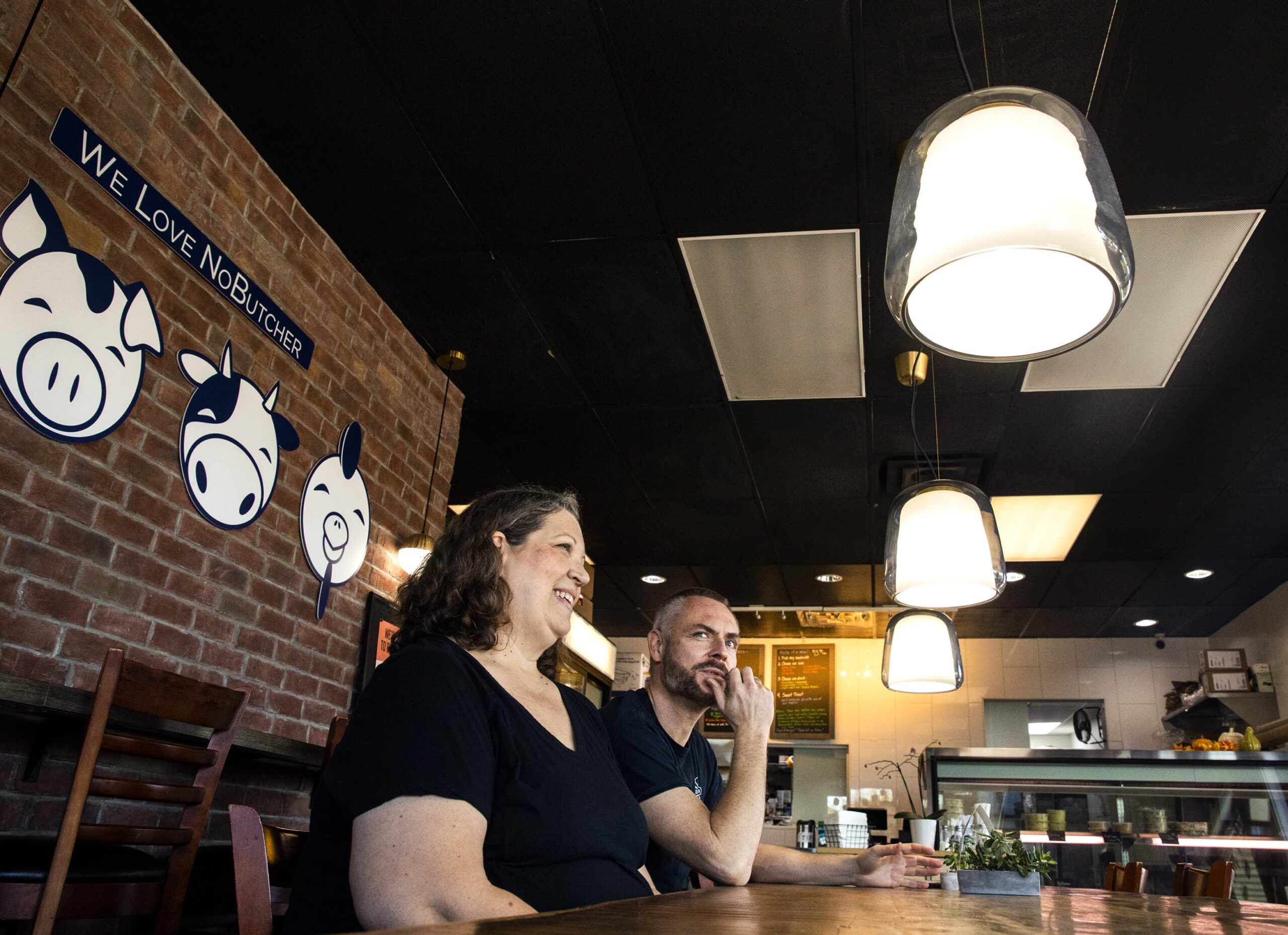 When customers enter NoButcher, a vegan restaurant in Las Vegas, they encounter a long, communal table, which the owners have observed occupy a more diverse clientele over time.
It's anecdotal evidence, they say, of plant-based foods' growing popularity in Nevada and the rest of the world. Co-owner Alecia Ghilarducci said NoButcher's initial customers tended to be "young, white girls basically," but two years after opening their brick-and-mortar eatery, people of "all ages, all ethnicities" can be found sitting at the wooden table munching on vegan menu items such as the "Pulled NoPork Sandwich," "NoEgg Sandwich" and "NoTuna Sandwich."
Officials from the Vegas Chamber and Nevada Restaurant Association said they don't track the number of vegan restaurants, but Ghilardcucci said she found eight fully vegan restaurants when she moved to Las Vegas four years ago. Now, she knows of 35, some of which are the same brand with multiple locations. Veganism refers to a plant-based diet devoid of animal foods such as meat, dairy, eggs and honey. Some vegans also avoid purchasing products derived from or tested on animals.
A recent analysis by TotalShape, a fitness website, named Nevada as the top vegan state, based on estimates of the vegan population, restaurants, meetup groups and animal welfare organizations. That doesn't necessarily surprise those in the local vegan community. A Las Vegas Vegans group on Facebook has more than 13,000 members.
"Back in the day, there was that stigma that vegans only eat carrots and lettuce and how do they even survive? Now on TV you see these athletes all eating plant-based," said Sebastian Mueller, co-owner of NoButcher. "It becomes mainstream and maybe even cool in parts to be plant-based."
Eleven Madison Park, a fine dining restaurant in New York City that has three Michelin stars, transitioned to a plant-based menu in May. The fast food world has also jumped on the vegan bandwagon, with eateries such as Burger King debuting its Impossible Whopper and Del Taco launching its Beyond Taco. The menu items' names refer to two companies, Impossible Foods and Beyond Meat, producing plant-based meat alternatives.
Last month, Plant Power, a vegan fast-casual restaurant based in California, opened a location in North Las Vegas.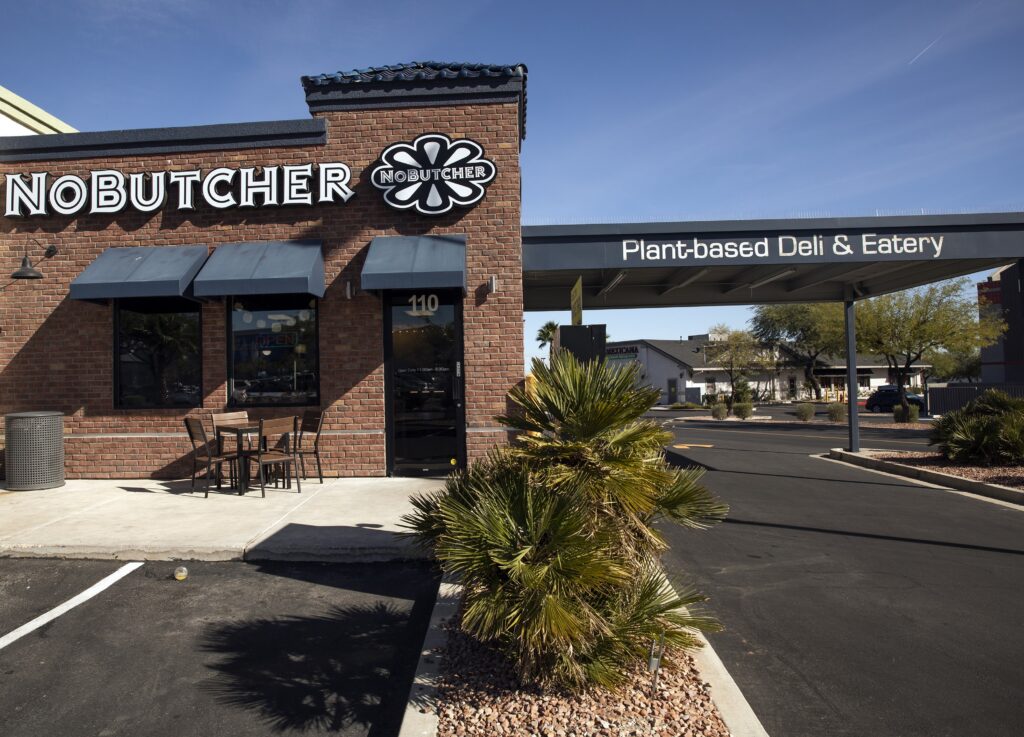 Market analysts are starting to take note, too. A report released in August by Bloomberg Intelligence suggests that global retail sales of plant-based meat and dairy alternatives may reach $162 billion by 2030, up from $29.4 billion in 2020. If that projection pans out, it means plant-based alternatives would account for 7.7 percent of the global protein market.
Kristen Corral, co-founder of Tacotarian, said "relentless demand" has led to the plant-based Mexican eatery growing to three Southern Nevada locations with a fourth on the way next year. She has watched the buzz for Tacotarian expand outside the vegan community, as curiosity about plant-based food grows and vegans bring their friends and family to restaurants.
"Do I think everyone in the world is going to go vegan? Absolutely not," Corral said.
Instead, she sees a movement toward people eating one to three plant-based meals per week, perhaps for health, environmental or animal welfare-related concerns. Her own interest and transition to veganism grew from concerns surrounding the treatment of animals.
She's quick to make a distinction about the Tacotarian restaurants, though.
"We are not catering to vegan people. That's not our base," she said, noting that 75 percent of Tacotarian's clientele is not vegan. "I think when you go that route and only target vegan people, then you're missing out. The way to convert people is with good food."
Mueller and Ghilarducci originally started making vegan meat and cheese from an industrial kitchen and selling their products to other businesses. But a visit to a vegan food festival, where they brought their "Pulled NoPork Sandwich," launched them in a new direction after hundreds of people wound up in their line.
In the fall of 2019, the pair opened NoButcher, which they describe as a vegan deli with made-from-scratch menu items. The eatery advertises that its vegan meat and cheeses are plant-based with no cholesterol, hormones, preservatives or artificial flavors. Mueller said wheat protein and spices bring the vegan meat to life, while the vegan cheese is nut based.
NoButcher's building happened to have a drive-thru window, which the owners say turned out to be a blessing in disguise given the emergence of the COVID-19 pandemic the following spring. But, as the communal table inside the eatery suggests, Mueller said he and Ghilarducci are big on forming personal relationships with their customers.
"If you ask people about NoButcher, I hope they say it's also about us being very involved in the community," he said. "We know a lot of our customers by name, and we have a lot of regulars. We just enjoy the interaction."
Corral echoed that sentiment. She said Tacotarian prides itself on featuring various charities and talking about its mission and goals, one of which is to expand into communities without many vegan options.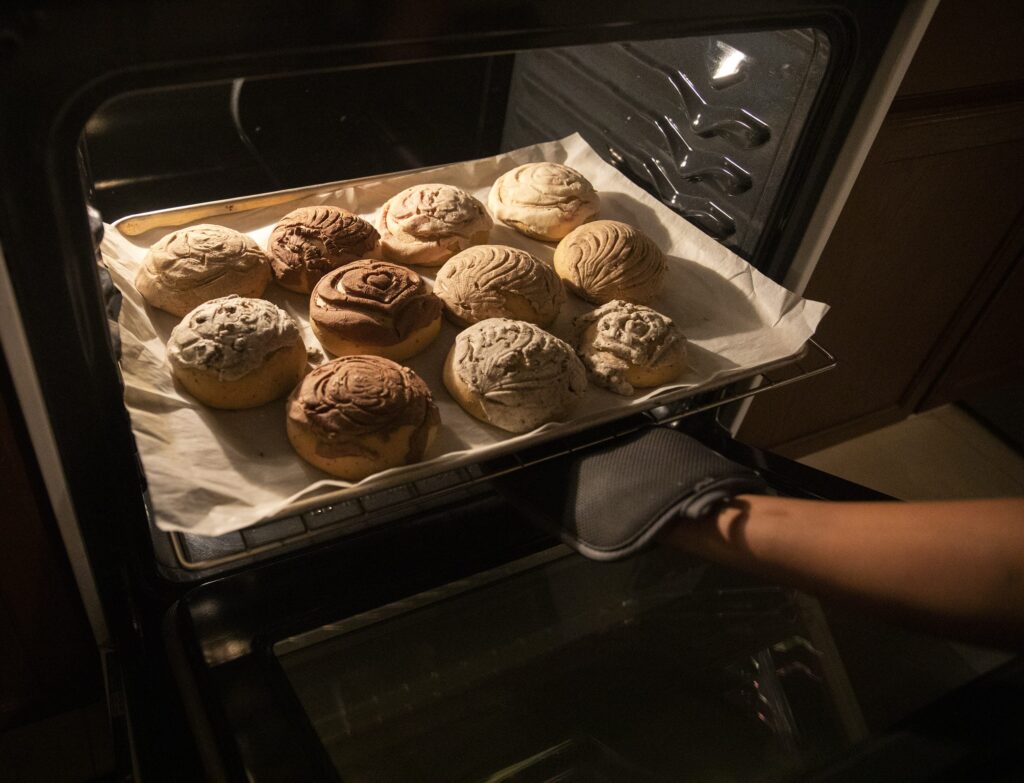 While NoButcher and Tacotarian are among the more recognizable vegan restaurants in the Las Vegas Valley, the movement is encouraging other like-minded entrepreneurs to test the waters. Take, for example, Yazmin Teodoro.
Her entry into the local vegan industry started with the concha, a Mexican sugar-covered bread that resembles a seashell, and a craving so strong that it pushed her to action. Teodoro became vegan five years ago to help the environment, but as the daughter of two bakers from Mexico, pan dulce, or sweet bread, was one thing she truly missed.
"I love pan dulce, I love it," she said. "And I saw that here in Vegas there is nowhere I could get vegan pan dulce, so I started trying to make conchas for myself."
After many tries and some flops along the way — bread turning out too hard or burnt — and with help and criticism from her parents, she eventually perfected a vegan recipe with alternatives to milk, eggs and butter.
"Even though I had [my parents] to answer questions, they wanted me to figure it out … They would tell me 'You know how, you can do it,'" Teodoro said. "Eventually, I showed my vegan friends. My friends then spread the word and, little by little, it grew. Two years ago, it really took off."
And Vida Dulce was born. The name translates to "sweet life" for her desire to sweeten people's lives with her baking.
Now, Teodoro takes orders through Instagram and Facebook and bakes on the weekends to make between 150 and 180 pieces of bread. She has veganized classics, such as the conchas and jelly-filled pastries called besos (kisses), as well as specialty Mexican holiday-themed bread, such as pan de muerto for Dia de Muertos (Day of the Dead) in November and rosca de reyes for Dia de Reyes (Three Wise Men) in January.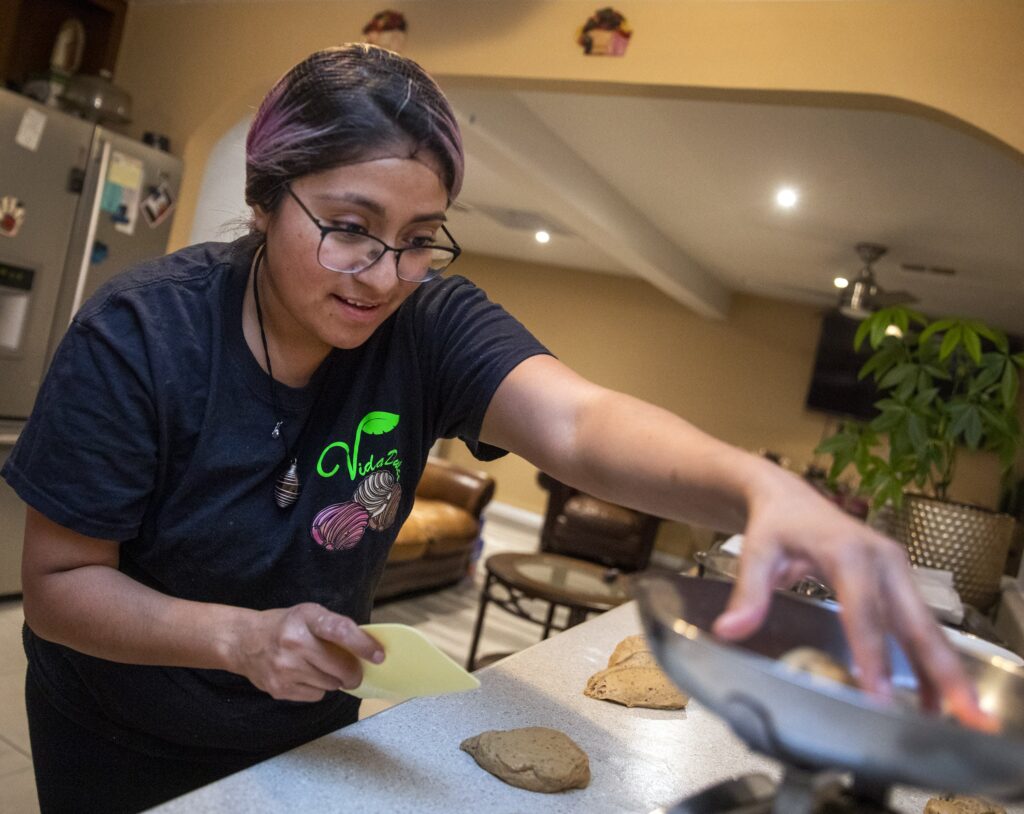 "Food is so important in our culture. I started baking because I missed having the bread. Being vegan doesn't mean you're leaving your culture," she said. "Wherever we go, whatever decisions we make, always with our culture and our roots in mind … I want to bring to the community a little piece of our culture and our country."
Teodoro and her family moved to Las Vegas from Mexico when she was 10 years old. For now, Vida Dulce remains a side business operating from her home kitchen, but the 32-year-old hopes to someday open a vegan bakery in Las Vegas and make her parents even prouder.
"They're very happy. They support me a lot, especially my mom. She's my strength," said Teodoro, who is also a recipient of the Deferred Action for Childhood Arrivals (DACA) program. "There's no limit to what we can do, and I'm really proud of myself … and I don't want to disappoint my parents, I don't want their efforts and immigrating here to go in vain."
So she is continuing to bake. Fellow vegan cooks and restaurateurs are doing the same, especially with the holiday season right around the corner.
Mueller said he expects roughly 200 orders of the restaurant's "NoTurkey Roast" ahead of Thanksgiving. Or to put it another way: "We're planning to save 200 turkeys," he said.
Featured Videos
Comment Policy (updated 4/20/2021): Please keep your comments civil. We reserve the right to delete comments or ban users who engage in personal attacks, use an excess of profanity, make verifiably false statements or are otherwise nasty. Comments that contain links must be approved by admin.