Students are detained during a coordinated drug sweep at Eldorado High School in Las Vegas on Wednesday, Nov. 14, 2018. (Daniel Clark/The Nevada Independent)
Police dogs and officers descend upon high school as part of district's ongoing safety efforts
November 15th, 2018 - 2:05am
Classes had barely begun Wednesday morning at Eldorado High School when four teenage boys found themselves lined up in front of Metro Police vehicles as officers conducted an investigation.
The students — three seniors and one junior — had been lingering in a corner near the school's theater shortly before 8 a.m. Then they moved to a turquoise-colored, older-model Ford Explorer parked in the student lot. An officer detected a whiff of marijuana.
So the police lights flashed and officers approached the group, received consent to search them and located marijuana. It was the second narcotics discovery less than an hour into a safety-oriented operation conducted at the northeast valley school.
"Schools have a responsibility to keep students safe and drug free," Assistant Principal Jennifer Ludtke said.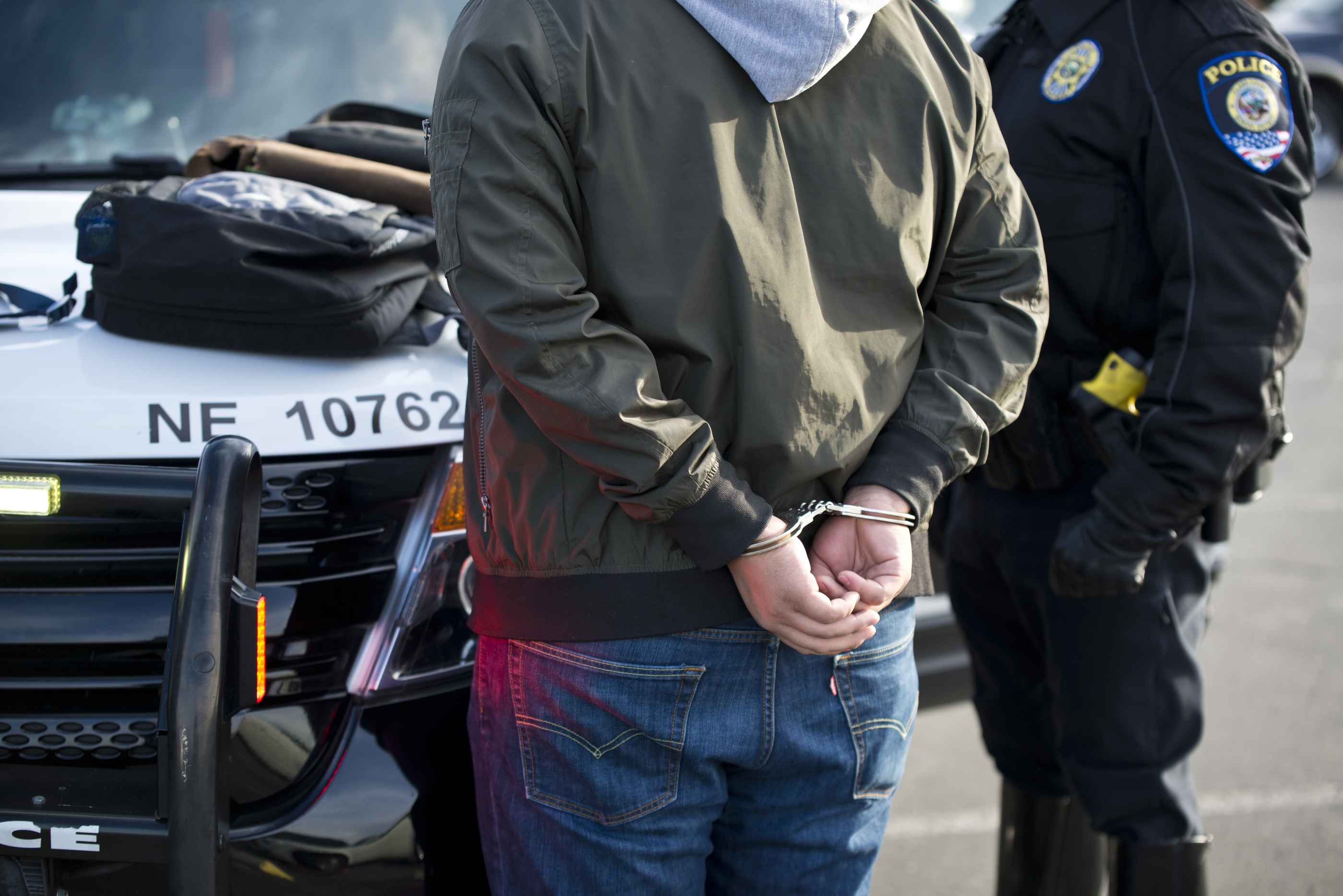 ***
The initiative — dubbed "Safe Zone" — involved a partnership between Metro Police and Clark County School District Police. The agencies worked jointly to run the operation, which included four police dogs and their handlers sweeping the gym's locker rooms in search of drugs or weapons. Outside, police conducted field interviews with students entering campus.
Roberto Morales, acting captain for School Police, said the initiative began as a pilot last school year in the northwest valley. Eldorado High School, home to roughly 2,000 students, was the first eastside campus to participate. It's separate from the district's random search policy, which Superintendent Jesus Jara announced last month to combat a rising number of firearms found on school property. So far this academic year, school police have confiscated 11 firearms from students.
The school district rolled out the random search policy amid growing safety concerns, pointing to a 1985 Supreme Court decision that gives school staff leeway to conduct reasonable searches.
The goal behind the "Safe Zone" operation is largely the same as the idea behind conducting random searches: Show students and the community that drugs and weapons won't be tolerated on campus.
Eldorado Principal Dave Wilson said police officers used reasonable suspicion to conduct searches inside the school, while officers patrolling the nearby neighborhood during the operation used probable cause as a basis for any searches.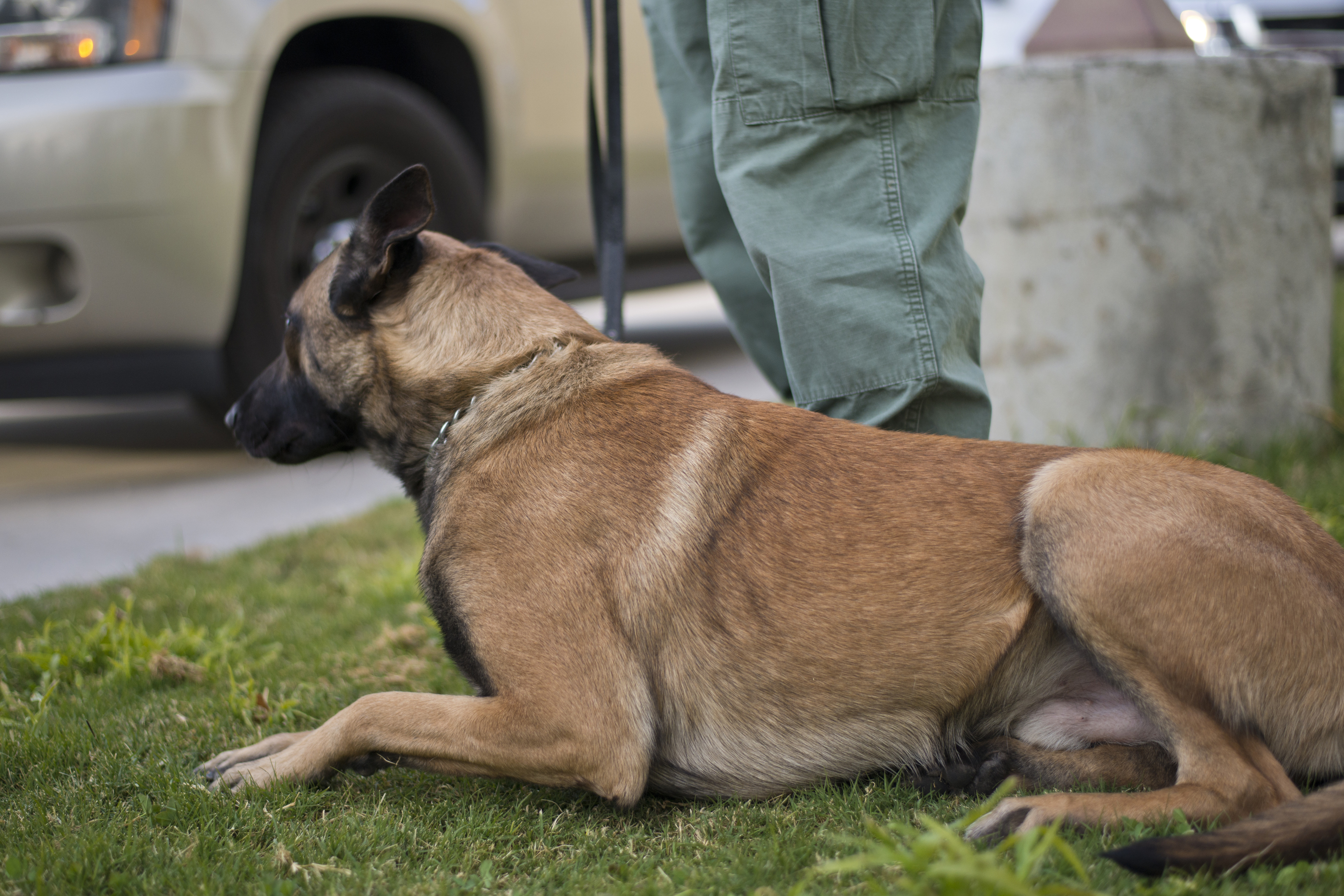 ***
The discovery of marijuana on students didn't come as a surprise to Eldorado High School administrators. It's an issue they have been monitoring since Nevada legalized recreational marijuana last year for anyone 21 years of age or older.
The school recorded 25 instances of student drug possession during the 2016-2017 academic year and 23 instances last year. School officials haven't determined what led to the slight dip last year, Ludtke said, but the numbers are trending up again: 14 instances of student drug possession so far this school year, not counting the new cases that emerged during the operation Wednesday.
School officials had to call an ambulance earlier this year when a student began seizing in class — a medical reaction later attributed to marijuana laced with methamphetamine, Ludtke said.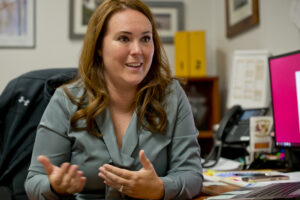 Add vaporizer pens to an environment where marijuana is more likely to be lying around home, perhaps bought legally by parents or older siblings, and it's becoming an increasing challenge at schools.
"The same way kids had access to alcohol in the past, they have access to marijuana now," Ludtke said.
One of the four teenage boys stopped by police in the school parking lot offered some insight into why students are turning to marijuana. The 17-year-old, whom The Nevada Independent is not identifying, said he uses it some mornings to relieve stress before heading to school.
"I wake up and I'm already hard breathing and thinking about not graduating and stuff," said the senior, who's short some English and math credits. And then he clarified what his marijuana use entails: "I don't use it more than I need to — just to the point where I am calm and relaxed."
The candid acknowledgment prompted a heart-to-heart conversation between the student and his assistant principal, right there in the parking lot next to police vehicles. Ludtke talked to him about his options, including night school or transferring to Desert Rose High School depending how far behind he is. She injected some optimism into the situation.
"Realistically, I think at this point you should be able to graduate Eldorado with your friends," she told him.
If the interaction seems too soft, it's because Eldorado administrators believe in forming connections with students as much as possible. Ludtke said the operation wasn't designed to drive up the school's suspension rate but rather provide an opportunity for intervention. She said the school plans to hold meetings with parents and arrange for drug classes or social-worker involvement for the students found in possession of drugs.
"We work with kids to hopefully change behavior," she said. "I'm not here to scream and yell at kids. I'm here to help."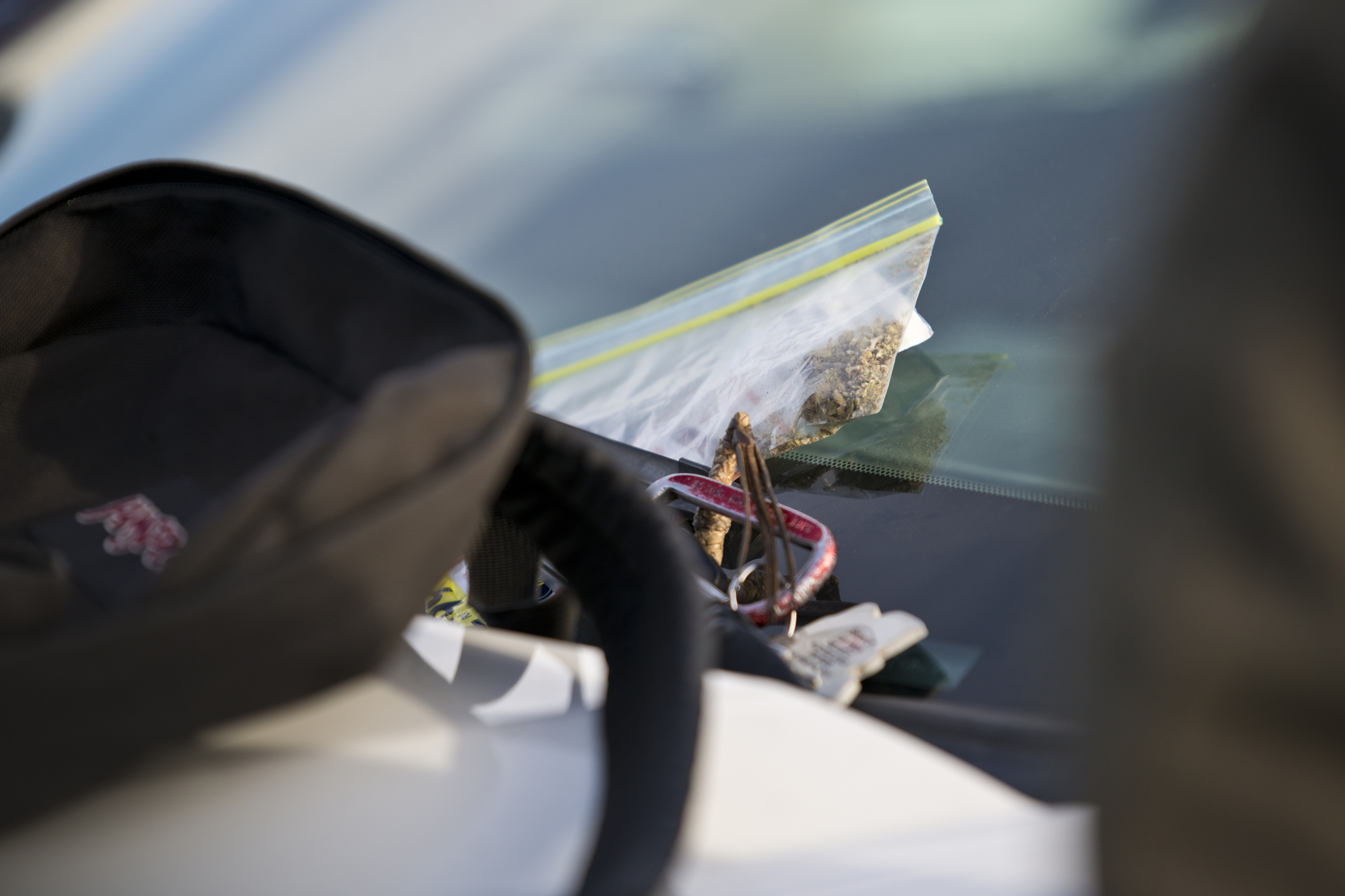 The safety operation yielded another trend as well: students from other schools lingering on the Eldorado campus. Police field interviews led to the discovery of six non-students hanging out on Eldorado property, school officials said. Four attend Chaparral High School, and the other two came from Desert Rose High School.
One of the Desert High School students was arrested for distributing drugs, Ludtke said. Eight other students — six from Eldorado and two from Chaparral — were cited for possession of a controlled substance. No weapons were discovered during the operation.
Wilson, the principal of Eldorado, was attending a conference Wednesday but said the operation results were eye-opening. He was especially troubled by how many students from other schools were on campus. The situation, he said, highlights the need for a district-wide policy among secondary schools that would require students to wear lanyards with identification cards.
Wilson said he will be taking immediate action to prevent non-Eldorado students from gaining unapproved access to campus.
"That's not acceptable," he said.
Comment Policy (updated 3/21/19): We welcome reader comments on our stories. However, in keeping with our general policy of transparency, accuracy and accountability, we do not accept comments from anonymous accounts. Anonymous accounts are those without a valid first and last name. Any such comments will be deleted, and anonymous users will be blocked from commenting further. We also will block commenters who use offensive language, engage in personal attacks or state things that are verifiably false.
get our morning newsletter, The Daily Indy
INDYMATTERS PODCAST
CAFECITO CON LUZ Y MICHELLE
@TheNVIndy ON TWITTER