Debris is scattered on a street behind the Highway 91 concert stage on Monday, Oct. 2, 2017. (Jeff Scheid/The Nevada Independent)
Police, FBI still searching for motive days after mass shooting on Las Vegas Strip
October 6th, 2017 - 2:06pm
Five days after a gunman opened fire on a country music festival on the Las Vegas Strip in the worst mass shooting in modern U.S. history, Las Vegas police are still searching for a motive and have launched an information campaign in conjunction with the FBI seeking additional leads.
Las Vegas Metro Undersheriff Kevin McMahill, addressing the media Friday afternoon, said that police are "very confident" that there was not another shooter in the hotel room on the 32nd floor of the Mandalay Bay Hotel and Casino where the suspect, 64-year-old Stephen Paddock, opened fire on a crowd of 22,000 people Sunday night before taking his own life. But McMahill said that police are continuing to investigate whether anyone else was aware of Paddock's plan before he carried it out.
"In the past, terror attacks or mass murder incidents motive was made very clear, very clear in most of those cases by a note that was left, by a social media post, by a telephone call that was made, by investigators mining computer data," McMahill said. "Today in our investigation we don't have any of that uncovered. I wish we did. We will and are continuing to investigate with great tenacity and hope to arrive at an answer."
FBI Special Agent in Charge Aaron Rouse said that the outdoor advertising company Clear Channel has partnered with Metro and the FBI to put up billboards as part of an information campaign seeking "true knowledge as to what happened in the events leading up to and involving this incident." The billboards, which will be located throughout the Las Vegas area, will display the Metro badge and the seal of the FBI, urging people, "If you know something, say something" and to call 1-800-CALL-FBI with any tips.
Scant new details emerged at the press conference, other than McMahill officially naming the Mandalay Bay security guard, Jesus Campos, who assisted with police efforts Sunday night. McMahill said that Campos, who he called a "true hero" was dispatched to a door alarm that had gone off on the 32nd floor and went up to investigate, where he came under fire by the suspect and was struck in the leg.
"This was a remarkable effort by a brave and remarkable man," McMahill said. "I want to say today I don't think we've done a good enough job recognizing him and his actions and for that I apologize. I just want to take a moment and clear the record that he's an absolute hero.
McMahill said that it is also unclear what the suspect intended to do with the tannerite, a patented exploding target used for firearms practice, located in his car. He said that the tannerite did not resemble an improvised explosive device (IED) in the condition it was found.
Police have reviewed "voluminous amounts of video" from many different locations but have not located any other person they believe to be a suspect at this point, McMahill said. They also do not believe anyone else used Paddock's room key to access his room.
The official name of the incident as listed on official reports and documents relating to the investigation will be "1 October," Clark County Chairman Steve Sisolak announced at the press conference.
McMahill said there were thousands of pieces of property left at the site of the country music festival and that police are still working to document and catalogue evidence. He said it would likely be four more days before people are able to retrieve their belongings.
INDY FAST FACTS
Steve Sisolak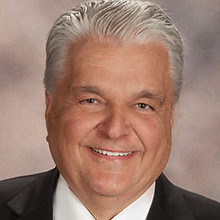 Job:
Clark County commission chairman
Party:
Democrat
In current office:
2009-present Commission chairman since 2013
Birthdate:
December 26, 1953
Education:
University of Wisconsin—Milwaukee (B.S.) University of Nevada, Las Vegas (M.B.A.)
Other public offices held:
Nevada System of Higher Education Regent (1999-2009)
Total donations:
$9,647,261 (1/12/11-6/7/18)
Top donors:
MGM Resorts International $174,359 Station Casinos/Zuffa: $90,000 Las Vegas Sands $75,000 Fidelity National $61,600 Marnell Companies LLC $55,000
From the Editor
The Nevada Independent
is a 501(c)3 nonprofit. We need help to attain the elusive goal of sustainability. We depend on recurring donations from you, the readers who believe in our mission of nonpartisan, transparent journalism. I know you are busy. I know you have many commitments. But if you would take a moment to
support our work
or bump up your current donation, I would be forever grateful.
Thanks for all of your support.
Best,
Jon Ralston
get our morning newsletter,
The Daily Indy
Stars & Struggles
Take a peek into today's education world through the lens of Sunrise Acres Elementary School in Las Vegas.
@TheNVIndy ON TWITTER