Poll: In GOP primaries, Fiore leads for treasurer, while AG and SOS remain close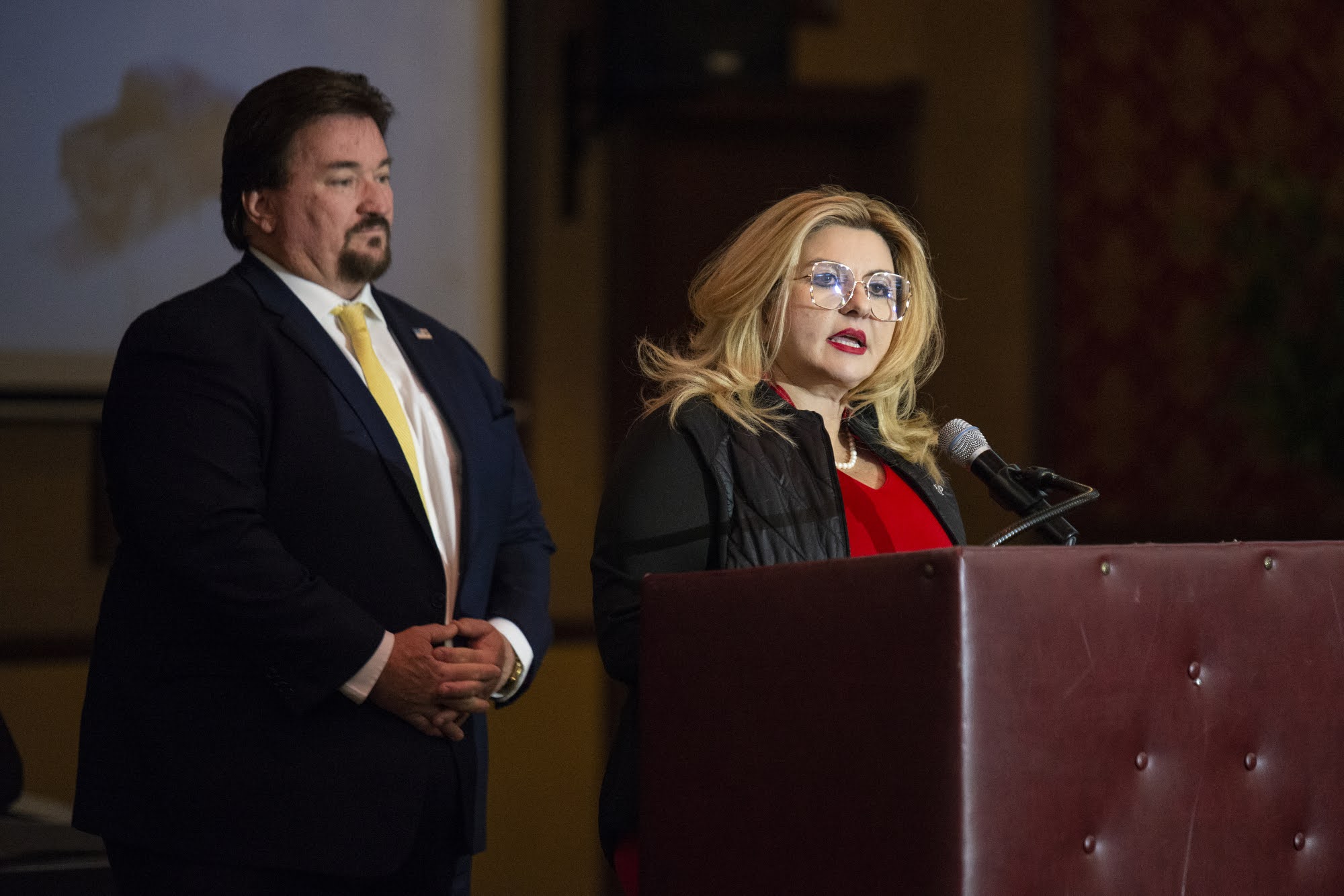 Las Vegas City Councilwoman Michele Fiore has a commanding lead over her Republican primary opponent for treasurer, but GOP primaries for attorney general and secretary of state remain tight heading into the final month before the June 14 primary election, according to a new Nevada Independent/OH Predictive Insights poll.
The results of the poll, which surveyed 500 likely Republican primary voters in Nevada via live phone calls from May 10-12, found that most GOP voters are undecided or not supportive of candidates in the running for state offices down the ballot from the high-profile governor's race.
Mike Noble, chief of research and managing partner of OH Predictive Insights, emphasized the importance of name recognition for those candidates because high-profile races for governor and the U.S. Senate typically garner more money and attention, leaving voters with less bandwidth to pay attention to other races.
"Voters don't typically know a lot about these down-ticket candidates," he said in an interview. "So primarily name ID is where you really want to hammer on."
In the attorney general's race, Tisha Black received slightly more support than Sigal Chattah (18 percent to 15 percent), but the difference between the two was within the poll's 4.4 percent margin of error. And in the race for secretary of state, former assemblyman Jim Marchant holds a small lead over other Republican candidates, but his support sits at just 16 percent.
Across those two races, upwards of 60 percent of respondents said they were either unsure of who they would vote for in the primary or would not vote for any of the Republican candidates in the running. And though Fiore leads her opponent by 30 points, nearly half of respondents were unsure or unsupportive of the two Republican candidates running for treasurer.
"Candidates haven't done a good job of getting their name and basic message out to the voters," Noble said. "[They] just really haven't defined themselves, and they need to, quickly … whatever money they're holding on to, they gotta spend it."
In the primary race for attorney general, Black, a lawyer who typically deals in real estate, business and cannabis law, holds just a 3-point lead over Chattah, a criminal defense attorney who has gained notoriety for litigation challenging COVID restrictions enacted by Democratic Gov. Steve Sisolak.
Both Black and Chattah polled below 20 percent, while 36 percent of participants were unsure between the two and 29 percent preferred neither candidate. With so many people undecided, Noble said the race could break in either direction.
"It's really going to come down to who has the better get-out-the-vote operation and who can really chase those ballots and do the messaging because right now, no one has an advantage," he said.
Support for Black over Chattah was greatest in Clark County (23 percent to 13 percent). In Washoe County, Chattah led by 6 points (21 percent to 15 percent), and she carried a similar lead in rural Nevada, finishing ahead of Black by 6 points (17 percent to 11 percent).
Since entering the race in February, months after Chattah, Black has spent significant money on TV advertising. The two bring distinctly different brands of conservatism, but Chattah has garnered support from the state Republican Party, which endorsed her at a recent central committee meeting.
Republican Secretary of State Barbara Cegavske is prevented from running again because of term limits, leaving the seat open. With seven candidates running in the Republican secretary of state primary, 34 percent of participants said they were unsure who they likely would vote for.
Marchant, who previously ran for Nevada's 4th Congressional District in 2020, came out on top of the group with 16 percent, followed by former District Court Judge Richard Scotti (8 percent) and Reno-based developer Jesse Haw (7 percent). No other candidate received more than 3 percent support, including Sparks City Councilman Kristopher Dahir and longtime news anchor Gerard Ramalho.
Though Marchant has double the support of the next candidate, Noble said it is still "anyone's race" with so many voters undecided. An additional 26 percent said they would vote for none of the candidates.
Noble emphasized the importance of name recognition in lower-profile statewide races, particularly through broadcast media, including TV advertising, and earned media, such as exposure through news. Haw is the only candidate in the race running television advertisements, where he pledges to prioritize election integrity.
Support for Marchant was highest in areas outside of Clark and Washoe counties (19 percent), which comes as he has toured throughout the state's rural counties spreading misinformation about the 2020 election and seeking to eliminate the use of electronic voting machines in Nevada elections.
But the two contenders behind Marchant each appear to have benefited from name recognition in their home regions. Scotti, who served as a judge in Clark County, trailed Marchant more closely (15 percent to 12 percent) in Clark County. Haw, who has worked in the Reno area, saw his support jump in Washoe County, where likely voters were split between him and Marchant (14 percent to 14 percent).
Still, Noble cautioned that local support does not necessarily translate into success in a statewide race.
"It's great in the local regional area, if you were running for a county position or something along those lines," he said. "However, when it comes to the statewide, most of the voters don't know who the heck they are, so they really don't see much of an advantage."
In the primary race for treasurer, where the winner will go up against Democratic Treasurer Zach Conine, Fiore holds a commanding lead (42 percent to 12 percent) over primary opponent Manny Kess, a business owner and political newcomer.
Fiore saw strong support from Clark County, Washoe County and the rurals, ranging from 39 percent to 43 percent in each region, while Kess saw just 9 percent to 12 percent support in those areas.
With more than triple the support of Kess, Noble said Fiore — who dropped out of the governor's race to run for treasurer near the end of the filing period — has benefited significantly from name recognition.
"It's Fiore's race to lose," he said.
In the races for both treasurer and secretary of state, the two leading candidates (Fiore and Marchant) saw their support drop among Republicans who identified themselves as ideologically moderate.
Among self-identified ideological conservatives, Fiore led Kess by 35 points (45 percent to 10 percent), and Marchant led his closest opponent, Scotti, by 11 points (19 percent to 8 percent). Among moderates, Fiore's lead was cut nearly in half to 18 points (37 percent to 19 percent), and Marchant nearly lost his lead entirely, leading Scotti by only 1 point (9 percent to 8 percent).
But winners of Republican primaries typically are those candidates who can prove their conservative bonafides, Noble said.
"There's more conservatives than there are moderates [in the GOP primary]," he said. "How many people have said, 'Yeah, I'm gonna run as a moderate in the primary,' right? It's always everyone claiming that conservative spot."
Find the poll results and crosstabs here.
The Nevada Independent is raising $200,000 by Dec. 31 to support coverage of the 2024 election.
Tax-deductible donations from readers like you fund this critical work.
If you give today,your donation will be matched dollar-for-dollar.
Give + Get Matched
Featured Videos