Democratic presidential candidate and Washington Governor Jay Inslee shakes hands during his "Climate Mission Tour" at the Nevada Conservation League in Las Vegas on Saturday, March 9, 2019. (Jeff Scheid/Nevada Independent)
Presidential candidate Inslee condemns secret shipment of plutonium during Las Vegas campaign visit
Washington Gov. and Democratic presidential contender Jay Inslee offered a harsh rebuke Saturday of the Trump administration's decision to secretly ship radioactive plutonium to Nevada, calling it an "atrocious" act that should not happen again.
The controversial shipment — seen by some as a harbinger for future nuclear waste storage here — surfaced during Inslee's multi-state "Climate Mission Tour" that brought him to Las Vegas on Saturday. Inslee indicated that such a decision would not be tolerated by his administration if he were in the Oval Office.
"First, we should not allow a repeat of what Donald Trump did," he told reporters. "We should stop him in his tracks. And if we have to go to court to do that, we should."
Inslee said the issue isn't new to him given the Hanford Site in southeastern Washington state, where reactors produced plutonium for the nation's nuclear weapons program. Cleanup of the federal facility began in 1989 and is overseen by two Department of Energy offices.
States need to hold the federal government responsible for cleaning up areas with nuclear waste, Inslee said. But he also supports pursuing new technologies, such as glassifying nuclear waste, as a means to solving the problem.
The presidential candidate said he wouldn't make any decisions about Yucca Mountain without consulting Gov. Steve Sisolak and former Sen. Harry Reid, noting that it's not a viable solution unless communities agree to it.
"That's just not going to work without the consent of the people in Nevada," he said. "We have to have a transparent process for any decision-making."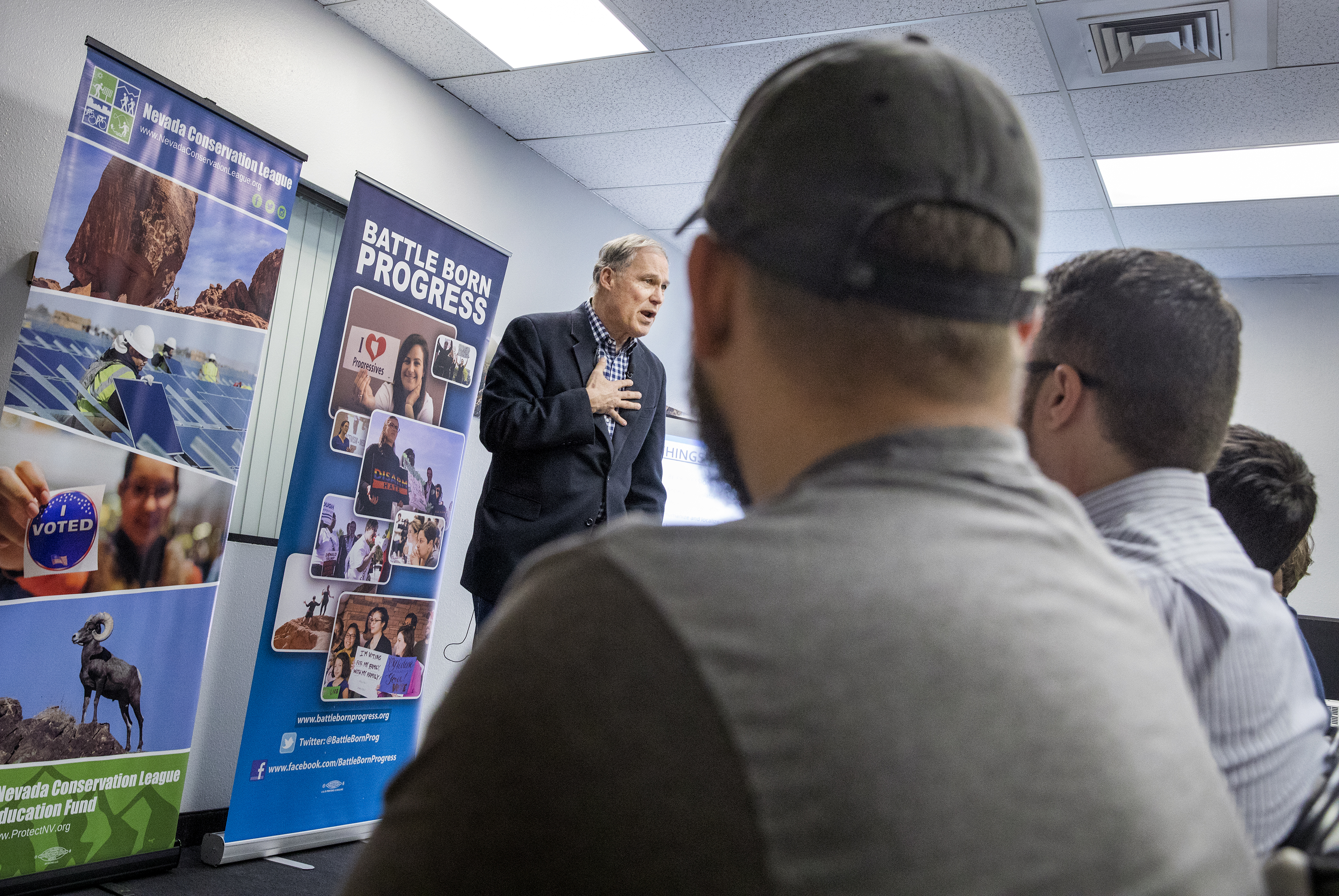 While plutonium was perhaps the most timely and Nevada-specific environmental issue Inslee addressed Saturday, he discussed his overall climate-centric platform with the Nevada Conservation League in a nondescript office center miles from the Las Vegas Strip. Just a week ago, Inslee declared his candidacy for president and has made climate change his top priority.
The Washington governor and former congressman said he recently drove around Paradise, California, which was devastated by a deadly and fast-moving wildfire in November. Inslee said the charred remains and emptiness of the once small community — what he described as a "Hollywood apocalypse" — serve as a grim warning for future generations.
"That is not only the face of the future, it is the current situation in the present," he said, adding that he sees climate change as an "existential threat to the United States of America."
Inslee has served as governor of Washington for nine years, the latest arc in a political career that began decades ago as a state lawmaker. He also served two stints in the U.S. House of Representatives, the first starting in 1993 and the second in 1999. He became Washington's governor in 2013 and won re-election four years later. His interest in the environment isn't anything new. He co-wrote "Apollo's Fire: Igniting America's Clean-Energy Economy," which was published in 2007.
Inslee, 68, pitched his pro-climate campaign as one that goes hand in hand with the economy. He pointed to the expanding solar and wind power industries as evidence that defeating climate change involves building a clean-energy economy that adds jobs.
The question is whether Inslee's message will resonate with voters, but a recent poll conducted by Yale University found that an increasing number of Americans are concerned about global warming. About seven in ten Americans both think global warming is happening and are at least "somewhat worried" about the trend. That marks a 10 percentage point increase since March 2015 in the number of Americans who believe global warming is a real phenomenon.
Inslee also rattled off a number of Washington state policies, such as paid family medical leave, increased minimum wage, and marijuana legalization, that he would like to see replicated across the country.
"We are really moving the needle in my state," Inslee said. "I believe we can do the same thing in the United States."
He used the visit to throw a few political jabs at the president as well. Inslee said he met with officials from the United Nations in the last year and a half to let them know "there's still intelligent life in the United States." The governor also quipped that he doesn't worry about artificial intelligence as much as he does "natural stupidity" in Washington, D.C.
The remarks drew chuckles from the friendly audience at the Nevada Conservation League office, where environmental advocates were training for their legislative lobby day on Tuesday. More than 230 Nevada residents are registered to attend in Carson City, making it the largest conservation lobby day in the state's history, said Andy Maggi, executive director of the league.
The environmental organization welcomed the climate-minded governor as a chance to learn more about the presidential candidate and hear his take on issues affecting Nevada, including water, wildfires and public lands. Maggi said Inslee's repeated references to the strong economy in Washington, though, needs to be heard, too.
"That's such a powerful message because so often we hear that addressing climate change or addressing pollution is going to mean a loss of jobs. It's going to mean a loss of economic opportunity," Maggi said. "The reality is there's proof across the country, in our states, that these issues lead and they lead to economic development."
He also lauded Inslee's stance on Yucca Mountain but wished the governor would have discussed public lands.
"It continues to be our priority that Nevada not become a nuclear waste dump," Maggi said. "From our opinion, if you want to be the president of the United States, you need to be doing better than the current occupant of the White House who has had no problem doing that."
Inslee planned to meet with Nevada educators later in the day. He visited Iowa earlier this week and has stops planned in California and Texas over the next couple days.
Comment Policy (updated 3/21/19): We welcome reader comments on our stories. However, in keeping with our general policy of transparency, accuracy and accountability, we do not accept comments from anonymous accounts. Anonymous accounts are those without a valid first and last name. Any such comments will be deleted, and anonymous users will be blocked from commenting further. We also will block commenters who use offensive language, engage in personal attacks or state things that are verifiably false.
get our morning newsletter,
The Daily Indy
INDYMATTERS PODCAST
CAFECITO CON LUZ Y MICHELLE
@TheNVIndy ON TWITTER