Arriah Whitehurst, left, seventh-grade student, and Chloe Falcon, seventh-grade student, at Nevada Learning Academy during class on Tuesday, Jan. 22, 2019. (Jeff Scheid/Nevada Independent)
Principal envisions online school as one answer to district's equity challenges
January 28th, 2019 - 2:10am
Arriah Whitehurst has learned to tune out the noise of her baby sister playing or her mom washing dishes while she studies.
The 12-year-old is a seventh-grader at Nevada Learning Academy, an online school within the Clark County School District, which means she attends class from home most days. Whitehurst has found a rhythm that works for her: She scans her assignment to-do list each morning, taking note of what's due in a few days or a few weeks. Then she dives into English work followed by math and history.
"I adjust really well to changing subjects quickly and easily," she said.
Whitehurst is one of 35 middle school and 250 high school students who attend Nevada Learning Academy full time. Some are athletes or performers with unusual schedules. Others have health issues that make brick-and-mortar schools difficult. One is a YouTube star. And others simply prefer online learning over traditional classrooms.
The online school also serves a little more than 5,000 part-time students who are taking at least one class — perhaps an Advanced Placement, dual-enrollment or career-oriented course not offered at their traditional schools, Principal Andrea Connolly said. Enrollment numbers swell in the summer when students try to work ahead or catch up.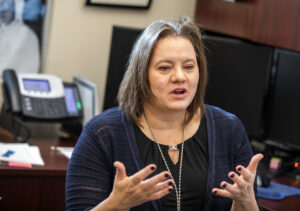 But Connolly is on a mission to build more awareness about the education option headquartered in a district building on Flamingo Road. She said Nevada Learning Academy, founded in 2013, is ripe for growth given its ability to act as a great equalizer, providing course options that may not be available at individual schools.
"Our goal, like I said, is to level the playing field for all students so they can get the education that meets their needs and interests," she said.
Connolly points to an AP Environmental Science class as an example. Not every Clark County high school offers the course, but interested students can take it as an online course through Nevada Learning Academy, she said. Part-time students pay $50 to $75 per semester depending on the courses they're taking. Schools also receive waivers to help low-income students afford the opportunity.
There is no cost for full-time students, who must apply to the school. Although there's no set criteria for admitting full-time students, Connolly said the school is looking for students who mostly are on track to graduate and have at least a 2.0 grade-point average.
"Even though I'm an advocate for online education, it's not the right choice for every student," she said.
Simply put, greater flexibility comes with greater responsibility. The curriculum, she said, is just as rigorous despite students being able to work at a pace and schedule that fits their needs. Some Nevada Learning Academy students, like Whitehurst, stick to regular school hours, while others prefer working in the afternoon and evening.
But it's not a self-taught curriculum. The school employs 30 teachers who develop lesson plans and assignments in addition to conducting web-based, interactive lectures. Students are required to participate in certain lectures but can complete other coursework on their own schedules. Stroll the school's physical location and you'll find teachers donning headsets and talking to web cameras in their decorated cubicles.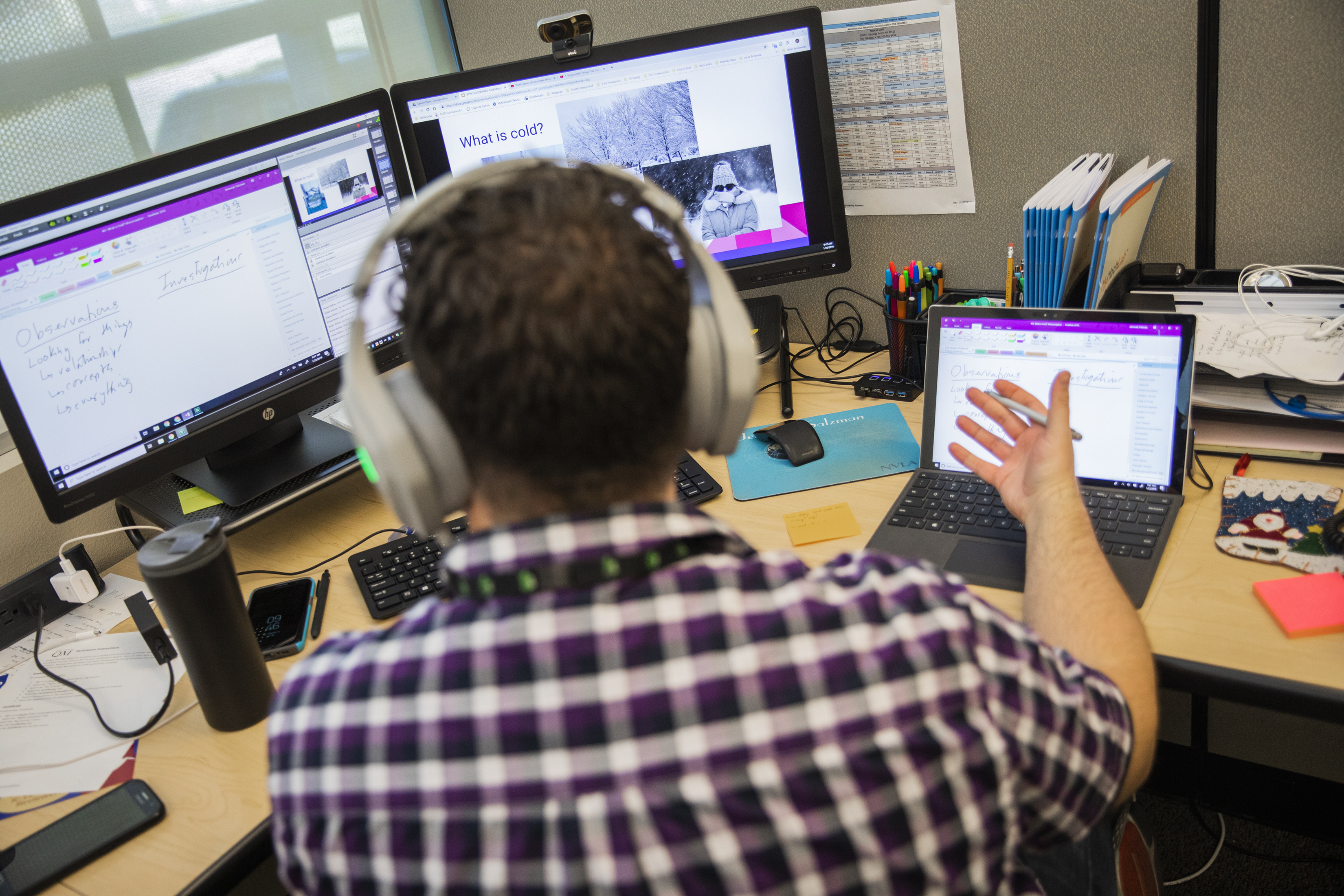 Anna Slighting, a Spanish teacher at Nevada Learning Academy, said she enjoys working at a school filling a niche in the education world. Two days a week, her sixth-grade son joins her in the building. Middle school students attend classes in person Tuesdays and Thursdays — a blended schedule to ease them into online learning.
Slighting said she has watched her son's anxiety levels decrease and interest in school increase since he switched to Nevada Learning Academy about nine weeks ago.
"It was too much," she said. "He had come from a small elementary school and just did not adjust well into that huge middle school."
Nevada Learning Academy's middle school recently earned a five-star rating from the Nevada Department of Education, indicating that it's largely outperforming virtual charter schools at those grade levels. But its high school only received two stars, putting it on par with its virtual charter peers. The average star rating for state-sponsored virtual charter schools is 1.5 stars at the middle school level and two stars at the high school level, according to a Guinn Center analysis.
"The secret to success for any school is the people," Connolly said. "We hire strong teachers. We give them a lot of professional development about being successful online teachers, and we have a cycle of quality review on all of our courses to make sure the course itself is the best it can be."
As Nevada Learning Academy grows, Connolly said she hopes it sheds the perception that it's a "last chance" for students who need credit retrieval. In reality, she said, the online school can fill curriculum voids within the district and across the state. Rural districts can forge agreements with the Clark County School District and allow their students to take Nevada Learning Academy courses. The school also offers courses in high-demand fields such as health care and information technology.
A marketing effort is underway to make those options known. Connolly said Nevada Learning Academy is working with counselors, principals and the state education department to spread the word.
"We are the best-kept secret of the Clark County School District," she said. "And we need it to not be a secret."
A selling point for some prospective students? Pajama day, every day.
But Whitehurst said she's also becoming a bit of a computer whiz thanks to online learning.
"In this day and age, we are getting really integrated in technology," she said.
Comment Policy (updated 3/21/19): We welcome reader comments on our stories. However, in keeping with our general policy of transparency, accuracy and accountability, we do not accept comments from anonymous accounts. Anonymous accounts are those without a valid first and last name. Any such comments will be deleted, and anonymous users will be blocked from commenting further. We also will block commenters who use offensive language, engage in personal attacks or state things that are verifiably false.
get our morning newsletter, The Daily Indy
INDYMATTERS PODCAST
CAFECITO CON LUZ Y MICHELLE
@TheNVIndy ON TWITTER