Private jet companies look to expand Las Vegas presence with casino customers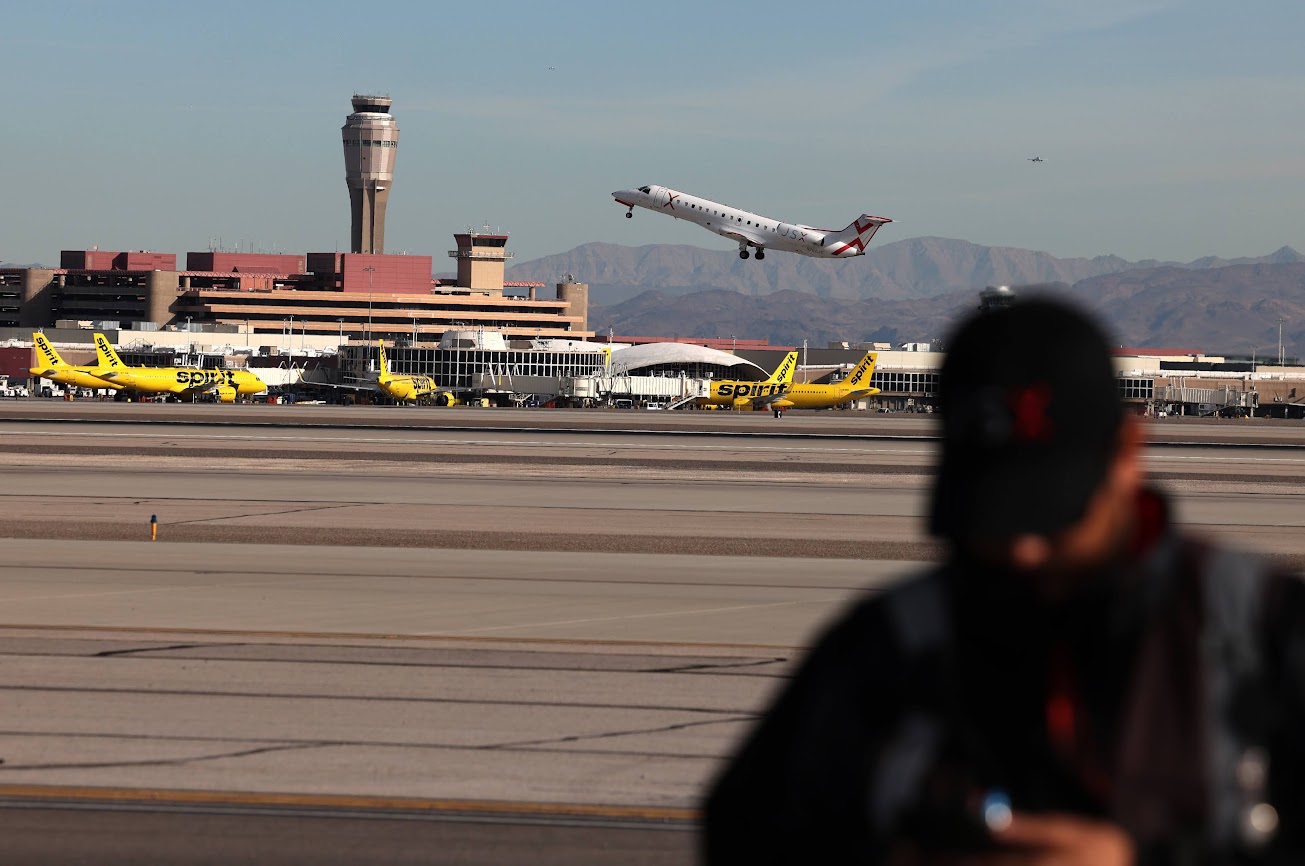 Officials with the growing private airline industry see their sleek jets as the eventual replacement to casino company corporate jets that fly big-spending customers to the Strip.
It's already happening on a small scale.
On many weekends, limousine drivers working for Strip resorts – instead of waiting in the Harry Reid International Airport baggage claim area holding a sign with a customer's name – park their vehicles in front of private airline terminals located along the western side of the airport, far from the main passenger terminals. The casino's customers are picked up for a quick drive down Las Vegas Boulevard to their awaiting destination.
Private airlines save time for passengers eager to reach the blackjack tables or make their restaurant reservations. Federal guidelines also allow passengers to avoid TSA security lines or baggage claim because their luggage is waiting on the tarmac when they disembark. They may pay a little more than a commercial flight, but not the exorbitant amounts typically associated with private jets, and officials from the airlines say the flexibility is worth the cost.
Executives said they have been in talks with gaming companies about ferrying their customers, but agreements haven't been formalized.
"With all the big events coming to Las Vegas this year, we've had a few private discussions about partnership opportunities," said Tom Smith, CEO of Scottsdale, Arizona-based Set Jet.
Ben Kaufman, director of marketing for Dallas-based JSX, said the airline has "great relationships" with several Strip properties.
"Those relationships are always ever-changing and evolving, but we have regular communication," Kaufman said.
Travel industry expert, Scott Mayerowitz, executive editor of travel industry news website The Points Guy, said Las Vegas is the latest target for private airline companies.
While many casino companies still operate their own corporate jets, Mayerowitz said private airline operators such as JSX and Set Jet offer the gaming companies a more economically feasible way to shuttle in customers.
"The idea of bringing one high roller over on a jumbo jet doesn't make economic sense anymore," Mayerowitz said, calling the private jet industry "a really creative way for the casino companies to still treat their best gamblers like royalty, but to do it at a much more efficient cost."
Spokesmen for several Strip casino operators said their companies still operate their own aircraft and declined to comment on the private airline industry.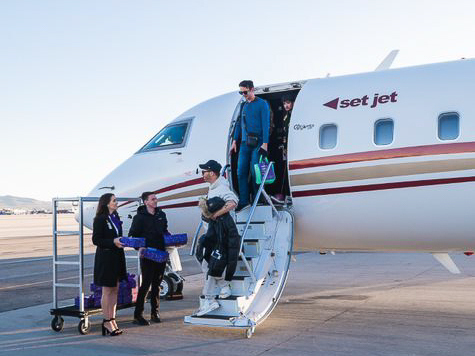 In the short term, Las Vegas is a key market for the corporate jet industry because leisure travelers are starting to become dismayed by the commercial airline industry. On a national scale, Mayerowitz said regional airlines have cut service to some leisure destinations. There are also not enough pilots for the industry.
He said four airlines – Southwest, American, Delta and United – "control 80 percent of the flights." He added that a proposed merger between Jet Blue and Spirit would reduce customer choice, further pushing air travelers to seek other options.
After the post-Christmas meltdown by Southwest Airlines that delayed or canceled thousands of flights nationwide and disrupted the travel plans of hundreds of thousands of travelers, the private airline operators found a new audience of interested customers.
"We saw a 100 percent increase in our web search traffic," Smith said.
In anticipation of a bigger consumer market, Set Jet broke ground in December on a 2,500-square-foot terminal adjacent to its temporary space in Las Vegas in the Atlantic Aviation facility. The private terminal is at the corner of Tropicana Avenue and Koval Lane on the airport grounds.
Smith said the 3-year-old company plans to base two planes out of Las Vegas, which would grow the airline's total number of annual passengers to a volume matching the company's Scottsdale hub that serviced 8,500 customers in 2022. Last year, Set Jet flew some 1,500 passengers to and from Las Vegas through the Atlantic Aviation terminal.
"Vegas is a key destination and a location that allows us to expand service and create opportunities and new partnerships," Smith said.
Las Vegas is also a growth market for Dallas-based JSX. The airline operates 43 routes across 22 North American destinations. More than half of the company's flights have a Las Vegas connection.
JSX Director of Marketing Ben Kaufman said the airline operates nearly 150 flights a week from the company's Las Vegas terminal at the end of Haven Street across from Mandalay Bay.
"Las Vegas is an absolutely critical pillar of our organization," Kaufman said. "It's a city that we've been very excited to grow over the years."
Count gaming industry analyst and adviser Brendan Bussmann as a convert to private airlines when he's looking for ways to reach a short work-related event. Bussmann, the managing partner of Las Vegas-based B2 Global, booked a round-trip flight on JSX for late March to attend the National Indian Gaming Association Conference in San Diego.
Bussmann said he didn't want to navigate a five-hour drive on congested Interstate 15 or rely on Southwest for the one-day trip.
"With the additional routes to California, it makes a day trip that much easier and you avoid the traffic slog of the I-15 that has yet to be fixed after all of these years," Bussmann said.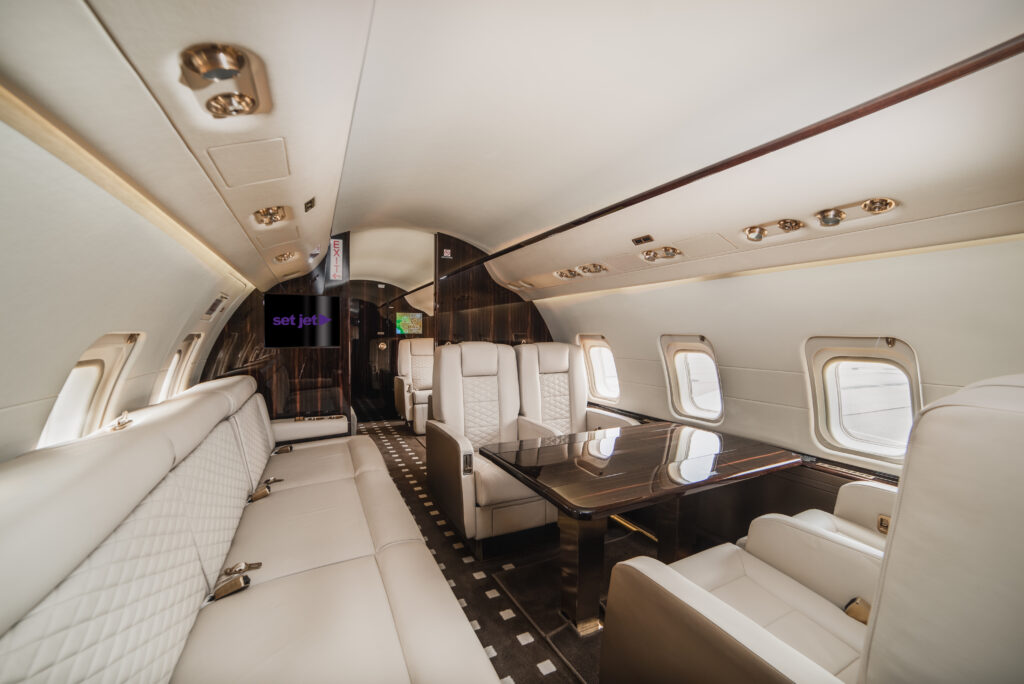 Resort operators silent
The history of private flights into Las Vegas started shortly after World War II when the late billionaire Kirk Kerkorian, long before creating MGM Resorts International, started an air service that shuttled customers from Southern California to casinos in the desert community.
Decades later, MGM Grand Air had a five-year run operating flights between Los Angeles, New York and Las Vegas, but the airline never made a profit. MGM Resorts International still has private aircraft in a hangar at Harry Reid International. A company spokesman declined to comment.
Resort operators are quite not ready to turn over the services of bringing their customers to Las Vegas.
Wynn Resorts operates two Gulfstream jets that can seat 19 passengers each.
Las Vegas Sands Corp. maintains a massive hangar at Harry Reid airport for the company's fleet of passenger jets, which includes several Gulfstream jets and several large Boeing aircraft, including the 737, 747 and 767 models normally used for commercial flights.
The planes are either owned by Sands or the Adelson family, which controls 58 percent of the casino company. Las Vegas Sands sold its Strip properties last year for $6.25 billion and just operates casinos in Macau and Singapore. A company spokesman declined to comment on the status of the aircraft.
Bussmann suggested casino operators would be better off partnering with private air carriers.
"These new airlines and additional routes provide the gaming industry with a more cost-effective way to bring in VIPs, especially for some of those that may not have any aircraft or just a small fleet of jets," he said.
Boyd Gaming eliminated its charter service to fly its Hawaiian customers to Las Vegas but has since contracted with Hawaiian Airlines for flights to and from Honolulu. Those customers account for a large percentage of the revenue for Boyd's three downtown Las Vegas properties.
"We were able to maintain some of the customer perks, such as having their luggage delivered to our properties," Boyd spokesman David Strow said.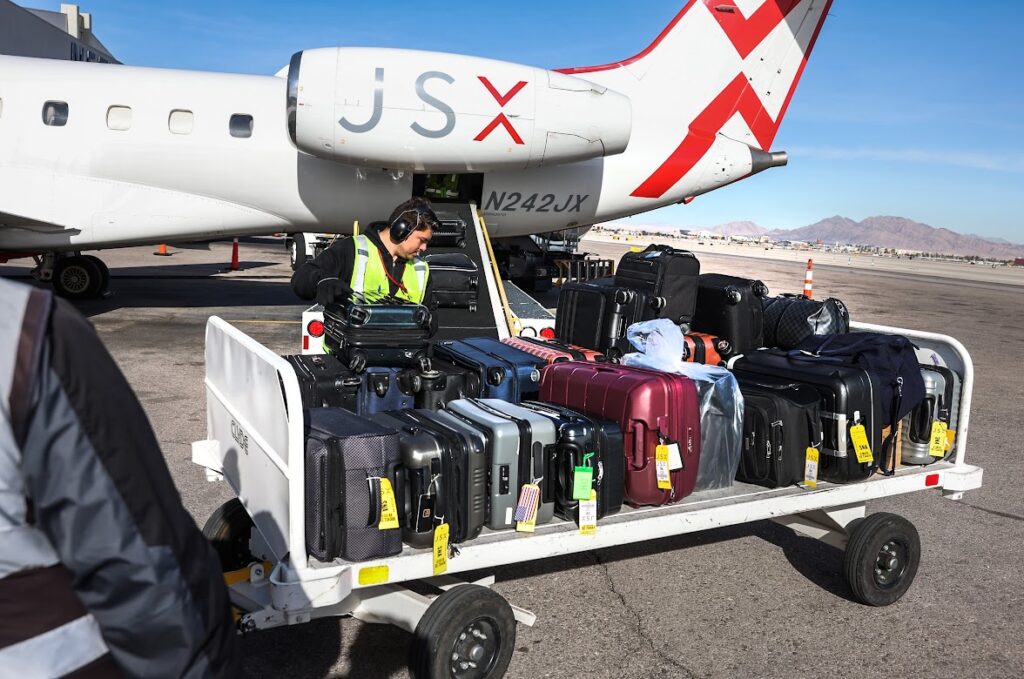 A niche market
According to the airport's monthly release of passenger figures, almost 48.3 million passengers came through the airport in the first 11 months of 2022. The private airlines accounted for an undisclosed small portion of the 193,622 passengers that used the Atlantic Aviation terminal during those 11 months.
"In a week, (private airlines) are probably going to move as many (total) passengers as the commercial airlines put through the airport in an hour," Mayerowitz said.
The jets shuttle from 15 to 45 passengers, depending on how the plane's interior is designed. Set Jet, for example, has a higher price point because it operates under a membership agreement in which passengers pay a monthly fee. The company charges a one-time $100 security check fee, $100 a month for membership and $750 for one-way flights.
The airline's passenger cabins include sofas, living room-style recliners and other amenities.
"People are seeking out different options and our model appeals to many customers," Smith said of the service that connects Las Vegas with flights between Los Angeles, Scottsdale and Cabo San Lucas, Mexico.
JSX offers more routes and flies longer distances, which is one reason the airline carries more passengers. The company is adding free in-flight high-speed Wi-Fi for 100 of its aircraft. From Las Vegas, JSX services Los Angeles, Burbank, Napa Valley, Dallas, Denver, Phoenix, Reno and San Diego. Prices vary for each city. From Las Vegas, a round trip to Phoenix in mid-February costs more than $600. A round trip to Los Angeles on the same day is roughly $350.
"It's more about having respect and a need for your time and for the passenger to be treated in a different manner than they would by flying the commercial carriers," Kaufman said.
Bussmann said JSX, Set Jet and other air carriers are expanding their Las Vegas flights and presence because they see a niche market they can serve.
"It's a specific customer that wants convenience, accessibility, and more amenities than the larger airlines," Bussmann said.
Scott Kichline, managing director of business and commercial development for Reid airport, said the facility has noted the growing use of private airlines.
"On a busy weekend, the ticket prices might be $150 or $300 or $400," he said. "But it's still not $2,000 an hour for a private jet. It's a different mix of customers."
With the Formula One race coming in November, the Super Bowl in 2024 and a growing schedule of special events, the airport acquired a 30-acre parcel for expanded private jet parking behind the JSX hangar building.
"We need to expand the ramp area for the private jets," Kichline said. "It's going to be a continuing effort to kind of adjust as the market adjusts."
Harry Reid International Airport is also considering other ways to accommodate private jets, such as expanding services at Henderson Executive Airport, which also operates under the Clark County's Department of Aviation. Kichline said 18 acres of ramp space were added for parking planes and the goal is to increase the size of the runway. An environmental impact process with the federal government needs to be completed.
"I think you're looking at probably a five-year plan," Kichline said. He added the department is also looking at a new master plan for North Las Vegas Airport, but that could be a 12- to 24-month process.
The challenge with moving private jets away from Reid airport is the owners want to be close to the Strip.
"There's always going to be the billionaire who says, 'No, I want to land at Harry Reid because it's right on Las Vegas Boulevard,'" he said.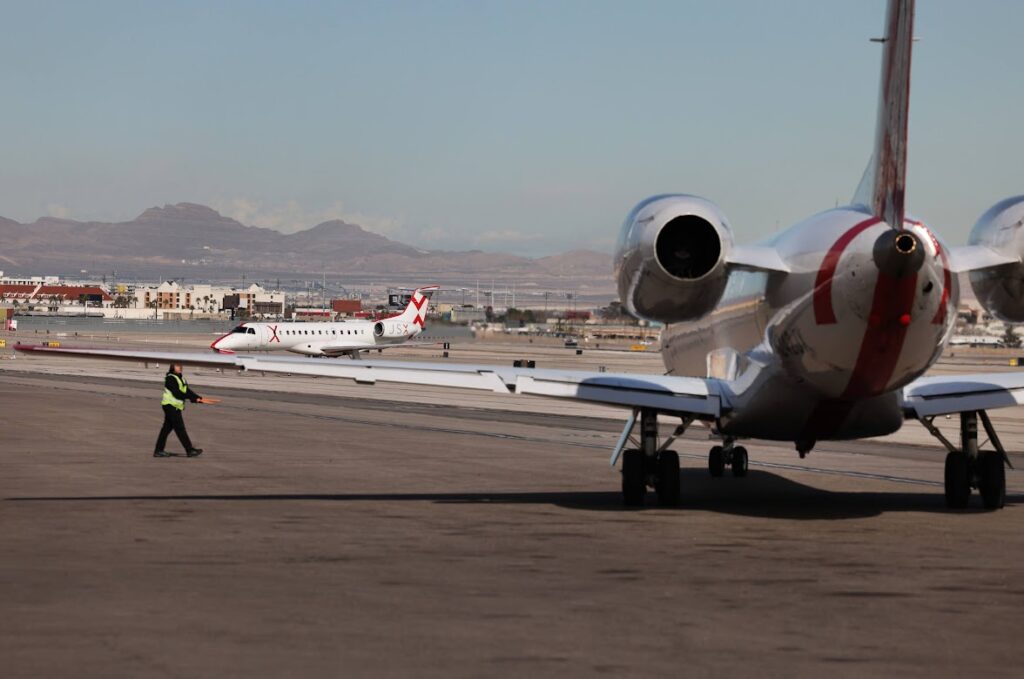 (Updated on 1/22/2023 at 1:20 p.m. to correct spelling of Scott Mayerowitz)
The Nevada Independent is raising $200,000 by Dec. 31 to support coverage of the 2024 election.
Tax-deductible donations from readers like you fund this critical work.
If you give today,your donation will be matched dollar-for-dollar.
Give + Get Matched
Featured Videos