Pro-Sam Brown group polling finds him leading GOP Senate field; many undecided
A poll of the Republican Senate primary field, commissioned by a super PAC supporting Sam Brown, found Brown leading the closest candidate by double digits.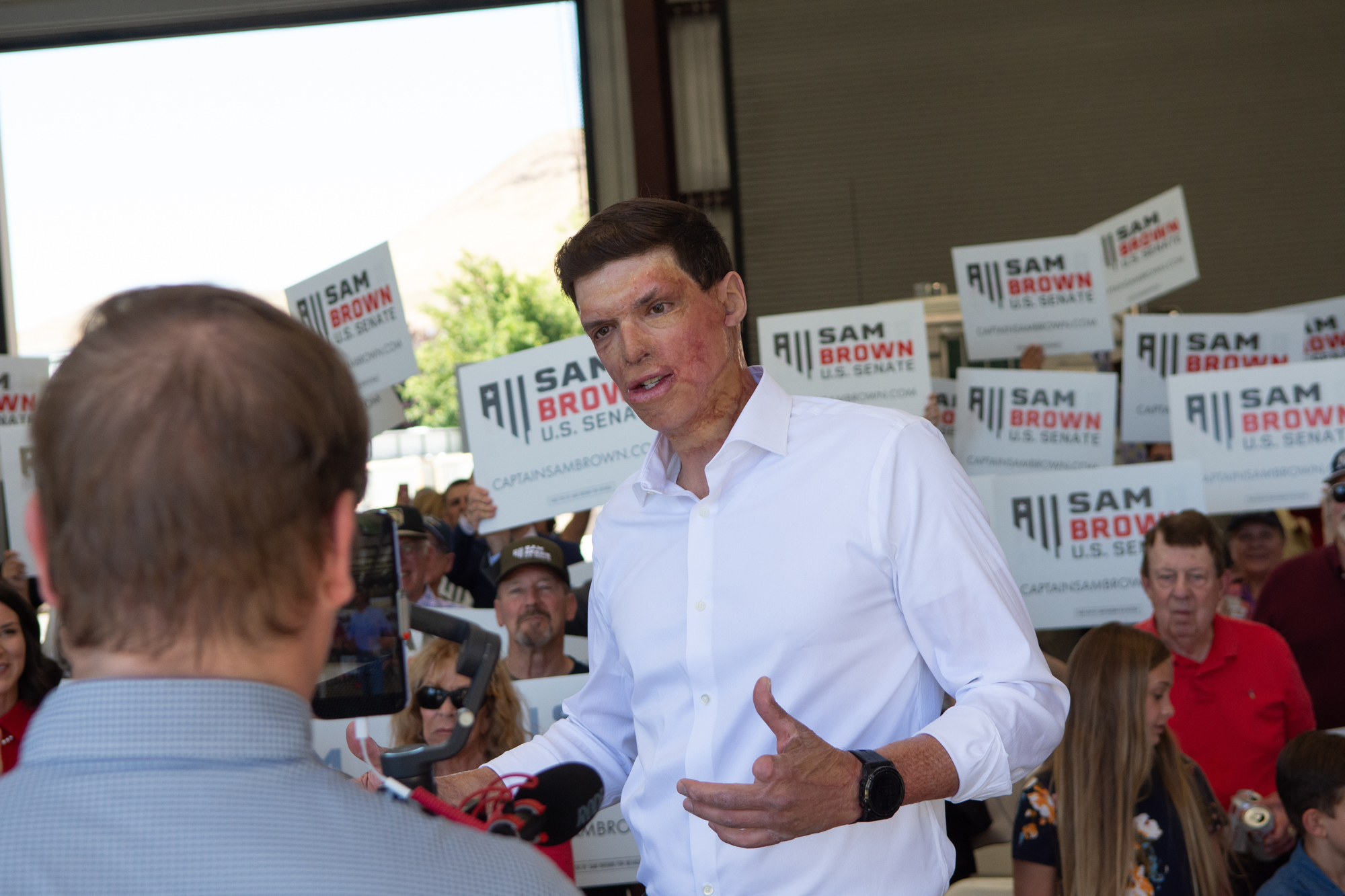 Retired U.S. Army Capt. Sam Brown is the leading Republican candidate to take on Sen. Jacky Rosen (D-NV) next year, according to a new poll of likely GOP primary election voters conducted by Public Opinion Strategies on behalf of Duty First Nevada, a super PAC supporting Brown.
Despite Brown's lead over the Republican field, the largest group of poll respondents, 44 percent of the 500 likely voters surveyed, were undecided among the growing field of GOP U.S. Senate candidates.
The poll, first reported on by Politico on Monday, was conducted via phone calls from Aug. 15-17, nearly 10 months away from the June 2024 primary election. The survey found 33 percent of respondents said they would vote for Brown in a hypothetical primary matchup, followed by 15 percent who would vote for former Assemblyman Jim Marchant.
None of the other five candidates listed — retired U.S. Air Force Lt. Col. Tony Grady, former Trump-appointed U.S. ambassador to Iceland Jeff Gunter, attorney Ronda Kennedy, retired U.S. Army Lt. Col. Bill Conrad and businessman Barry Lindemann, who ran for Senate last year as a nonpartisan — received support from more than 3 percent of respondents. The poll had a margin of error of 4.38 percent.
Glen Bolger, a partner and co-founder at Public Opinion Strategies, a national political research firm rated as a "B+" pollster by FiveThirtyEight, said Brown's level of support was an indication that his previous campaign made a "positive impression." Last year, Brown finished second to Adam Laxalt in the Republican Senate primary.
"This is higher name ID than I expected him to have," Bolger said of Brown.
Even months out from the election, Bolger noted that this type of early polling "makes it easier for the [leading] candidate to raise money [and] makes it harder for other candidates to raise money and attract support."
Duty First Nevada, the pro-Brown super PAC that commissioned the poll, launched in August and has not yet been required to report its campaign finance activity.
Faith Jones, Brown's campaign manager, said in a statement that "Brown is immensely grateful that conservatives across the state are uniting to support his race for the U.S. Senate."
Marchant's campaign did not respond to a request for comment Tuesday.
Brown and Marchant both benefited in the poll from their stronger name recognition among primary voters. Sixty-five percent of respondents said they had heard of Brown — who entered this year's race with institutional support from congressional Republicans including National Republican Senatorial Committee Chair Sen. Steve Daines (R-MT) — and 38 percent of respondents rated him favorably, compared with 3 percent who rated him unfavorably.
A similar share of voters, 61 percent, said they had heard of Marchant, who previously ran unsuccessfully for Congress and secretary of state. But just 25 percent expressed a favorable view of him, and 6 percent rated him unfavorably.
"Brown's favorables are higher than his opponents, and that is translated directly into ballot support," Bolger said.
The poll also showed Brown had a higher level of support in Washoe County and from respondents in rural Nevada, while his lead over Marchant was relatively lower among Clark County Republicans at 11 points (28 percent to 17 percent).
Behind Brown and Marchant, less than one-fifth of respondents said they had heard of any of the other candidates.
The only other candidate who received more than 1 percent was Grady, who finished second in the Republican primary for lieutenant governor last year and clocked in at third in the poll with 2.2 percent support.
Gunter, who entered the race only days before the poll was conducted, received support from 1 percent of respondents, sitting at about the same level as Kennedy, Conrad and Lindemann. Real estate agent Stephanie Phillips was the only Republican candidate not included in the poll.
In a statement released Monday night, Gunter described the poll as "fake," also attacking Brown and saying the early polling "doesn't even show him ahead" — referring to the large number of undecided voters polled, despite Brown's lead over other candidates.
Also looming over the primary is former President Donald Trump, who 85 percent of respondents rated favorably in the poll. While Marchant and Gunter have ardently supported the Republican presidential frontrunner, Brown has declined to endorse Trump, instead saying he will support whoever becomes the party's nominee. In last year's race, Trump endorsed Laxalt, who lost to Sen. Catherine Cortez Masto (D-NV) in the general election.
Bolger noted there will still be an opportunity for candidates to rise if they can raise a "significant amount of money" and spread their message.
"People can become competitive if they can get their messaging out in a significant way," Bolger said. "They've got a long time to do it, but … Sam Brown is definitely in the driver's seat, and they're certainly hoping to get into the back of the truck."
To view the poll crosstabs, click here.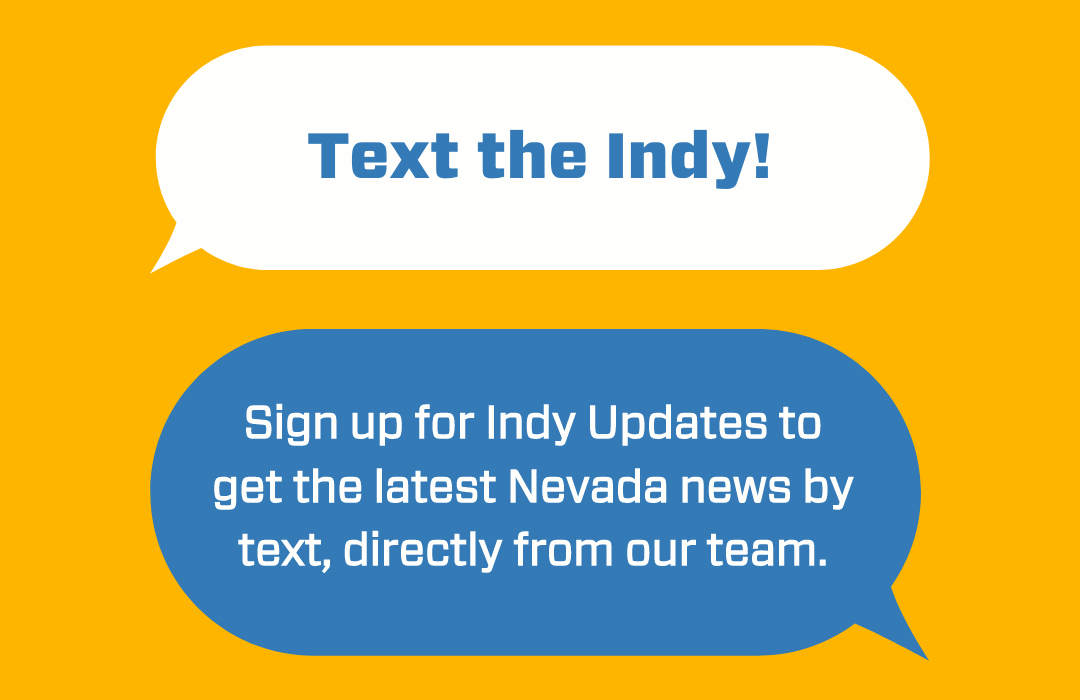 Featured Videos