Students walk between classes at Eldorado High School in Las Vegas on Wednesday, Nov. 14, 2018. (Daniel Clark/The Nevada Independent)
Proposed virtual expulsion program could give students who made a mistake a second chance
January 6th, 2019 - 2:00am
A squabble among several girls at Eldorado High School last year turned into a fight and then expulsions.
As a school police officer and assistant principal intervened, they slipped on liquid and fell to the floor, Principal David Wilson said. The melee continued, with the girls kicking the two adult staff members. The nature of the incident — battery of a school employee — called for automatic expulsion. Wilson knew the students needed to face repercussions for the serious infraction, but the ultimate consequence pained him: The girls were all on student council and had no previous disciplinary issues.
"These are kids who just got caught up in a moment," he said.
Wilson offers this story as an example of why he believes the school district needs a new way to handle egregious offenses. It's a fragment of the broader school safety discussion that has intensified over the past year, as educators grapple with keeping students and staff safe and learning uninterrupted.
In the fall, Clark County Superintendent Jesus Jara formed an advisory committee focused on school safety. The group unveiled its wide-ranging recommendations in December and among the proposed infrastructure enhancements and gun safety campaigns was something called a virtual expulsion program.
Wilson, a member of the advisory committee who helped craft the virtual expulsion proposal, said the program would equip certain expelled students with a district-issued Chromebook, which they would use from home to stay in contact with their teachers and complete coursework rather than go to an alternative school. A school social worker would make home visits, too, as part of a holistic approach to get students on the right track and, possibly, back to their original school.
"The problem with expelling kids is that they lose all their supports," he said. "They lose their friends. They lose the tie to the neighborhood school. They lose the support of their teachers. Some kids need to have that occur. Other kids, the best thing for them is to stay in the family."
But the program, he said, also could serve a smaller population of students — teens who were expelled and have a history of violent offenses, rendering them a threat to the school environment. A similar pilot program for those students already is underway.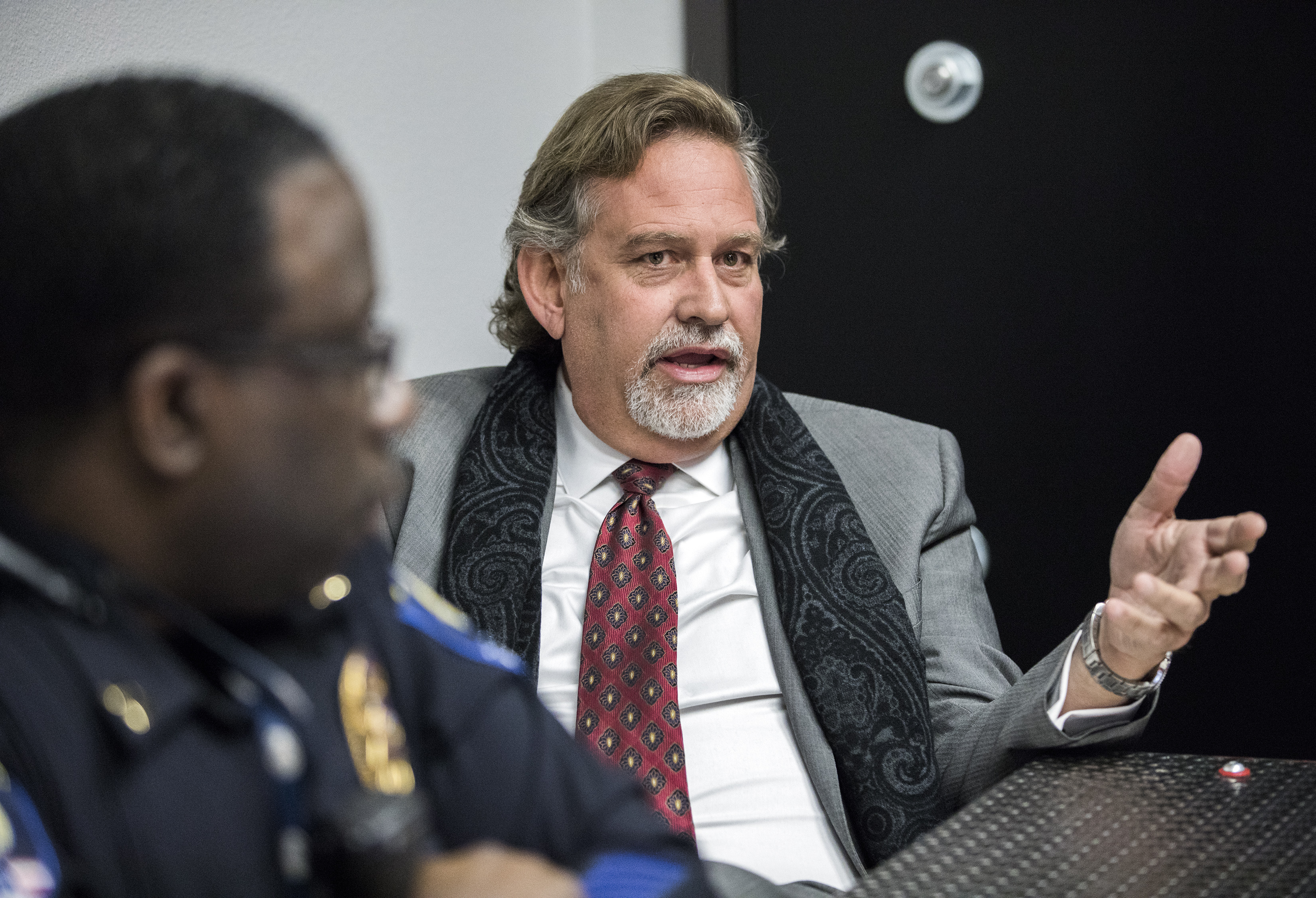 ***
The Clark County School District has enrolled nine high school-level students so far in a pilot program it has dubbed "The Lighthouse." The students — all of whom committed significant violent offenses — were referred to the virtual program and went through due process before enrolling, said Tammy Malich, assistant superintendent who oversees the education services division. (Students referred for expulsion have due process rights, which allow their parents or legal guardians to contest the decision.)
The Lighthouse program connects students to Nevada Learning Academy, the district's online school, where they receive their education remotely, Malich said. So unlike Wilson's proposal, the program isn't run through the students' neighborhood schools, but the teens and their families agree to home visits by behavior specialists or social workers, she said.
"We're really working on keeping them educated, keeping other kids safe and meeting the needs of those kids to get at the root of why the behavior has manifested," she said.
The school district is evaluating the program's effectiveness this year to determine how to proceed, Malich said. Educators have seen some progress with the nine students enrolled, though it's not across the board. Some struggle with the format more than others.
Jara has signaled interest in moving forward with some form of virtual expulsion. On the same day his advisory group delivered its recommendations, he acknowledged that "kids make mistakes."
But whether Wilson's push to expand the virtual expulsion program succeeds — to include students who have committed serious offenses but aren't necessarily considered a threat to others — remains to be seen. Malich said one barrier could be replicating such a program at dozens of schools across the district and ensuring appropriate staffing as well as protection of students' due process rights.
The concept, however, aligns with the district's ongoing efforts to keep students out of the criminal-justice system. Last year, the district announced a partnership with other community organizations that involves bolstered supports and interventions as a means to reduce behavior problems and prevent disproportionate discipline. Data released by the district show that African-American students are suspended or expelled at higher rates than their peers in Clark County.
Malich said the district has an obligation and desire to curb the school-to-prison pipeline. The goal is to help students, some of whom may be acting out because of trauma, graduate and become productive community members.
The virtual expulsion program — whatever form it may ultimately take — isn't about giving students a free pass for their actions, she said.
"It's really about supporting kids by changing behavior," Malich said.
***
So what merits an expulsion?
District policy requires mandatory expulsion for the following offenses: battery of a school employee; battery of a student resulting in significant injury; possession of a firearm or dangerous weapon; and distribution of drugs or alcohol or repeated possession of those substances.
Principals can also refer students for discretionary expulsion based on actions they think rise to that level of discipline.
Student expulsions can be limited or permanent, per district policy. Permanent expulsion means the student is removed from his or her original campus and placed in an alternative school setting. The district has three alternative schools — sometimes referred to as behavior schools — in various parts of the valley. Other students receive limited expulsion, which makes them eligible to return to a comprehensive campus (usually different than their original school) after successfully completing a stint at an alternative school.
Last school year, 1,611 students were referred for expulsion, according to district data. That's down from 3,890 students in the 2013-2014 academic year, before the district embarked on efforts to drastically reduce disproportionate discipline among student subgroups.
Wilson said a remaining problem with expulsions is the cycle of students in and out of comprehensive high schools.
At Eldorado High School last year, 22 students were referred for expulsion, 12 of which were mandatory and 10 discretionary, he said. Eight of those students were deemed "non-returns," meaning they can no longer attend Eldorado based on the behavior incident. (An expulsion related to gang activity could warrant a non-return status, for example, because of the likelihood of further violence.)
So if those eight students completed an alternative school program, they likely wound up at another comprehensive high school. But it works both ways: Eldorado High School last year inherited 51 students who had been expelled elsewhere, he said, although 12 of those students had moved into the school's attendance zone.
Wilson's hope is that fewer students could be considered "non-returns" if the district implements his proposed virtual expulsion program. Except for cases where a student's return could jeopardize safety, such as the gang example, he said students who make mistakes should be able to earn the right to attend their original school.
It boils down to a second chance.
"For the vast majority of kids that would be impacted by virtual expulsion, it's to save them," he said. "It's to keep them within their schools, their communities."
Comment Policy (updated 3/21/19): We welcome reader comments on our stories. However, in keeping with our general policy of transparency, accuracy and accountability, we do not accept comments from anonymous accounts. Anonymous accounts are those without a valid first and last name. Any such comments will be deleted, and anonymous users will be blocked from commenting further. We also will block commenters who use offensive language, engage in personal attacks or state things that are verifiably false.
get our morning newsletter, The Daily Indy
INDYMATTERS PODCAST
CAFECITO CON LUZ Y MICHELLE
@TheNVIndy ON TWITTER