Q&A: Attorney general on the death penalty and navigating a divided government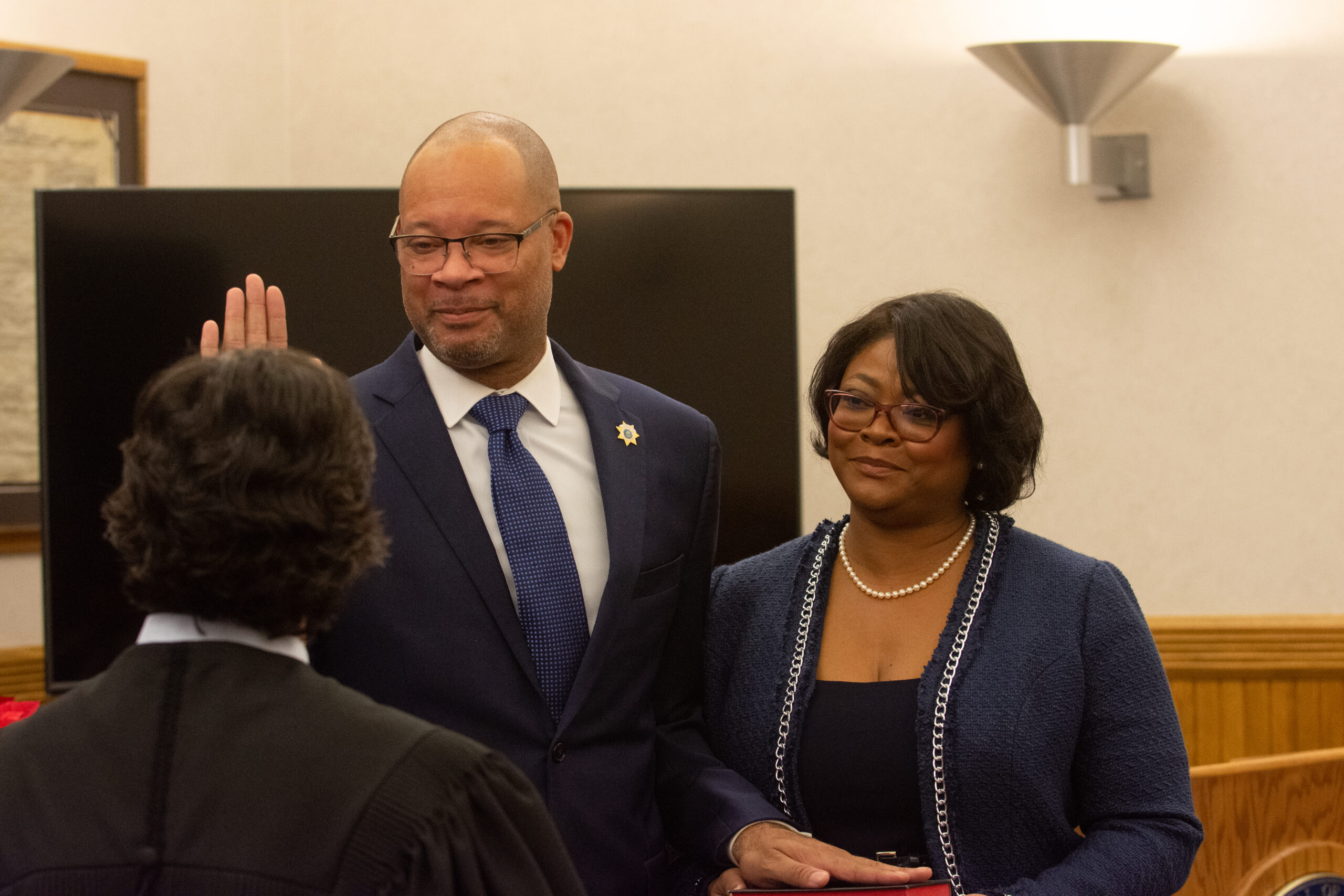 On Monday, Aaron Ford assumed his second term as Nevada's 34th attorney general, pledging in front of more than two dozen family members, friends, staff and journalists to make justice his guiding principle.
In a 10-minute speech following the swearing-in and the singing of the Black national anthem "Lift Every Voice and Sing," Ford vowed never to let partisan politics stand in the way of his work.
"The attorney general must be held beholden to only one thing, and that's the right of Nevadans to live in a system that protects them, not one that works against them," Ford said.
Ford, 50, described his job as focused on justice in all its forms — environmental, racial, housing, social. He said Muslims will always have his office as protection against someone trying to deny them their right to pray. He also referenced his past commitments to defending abortion rights and upholding the results of elections.
The attorney general serves as Nevada's chief legal officer, representing the people of the state in civil and criminal matters before courts in Nevada and in the federal system. His office also provides legal guidance to state agencies and can offer law enforcement agencies assistance in investigations or court cases.
In a wide-ranging sit-down interview with The Nevada Independent on Tuesday, Ford discussed his role as an attorney general, his upcoming legislative priorities, his decision to hold a separate swearing-in ceremony from the one for other statewide constitutional officers and his working relationship with Republican Gov. Joe Lombardo.
This interview has been edited for clarity and length. Explanations of certain terms or ideas have been added in italics as needed.
Why did you decide to hold a separate swearing-in ceremony?
It was an occasion that we felt was worth having a small private ceremony with family members because they are the reason I'm here. People from my background, from my neighborhoods, are counted out early on. And the reason why I'm here is because of what I've had from my family. … they deserved the ability to have an intimate swearing-in ceremony, so we held one.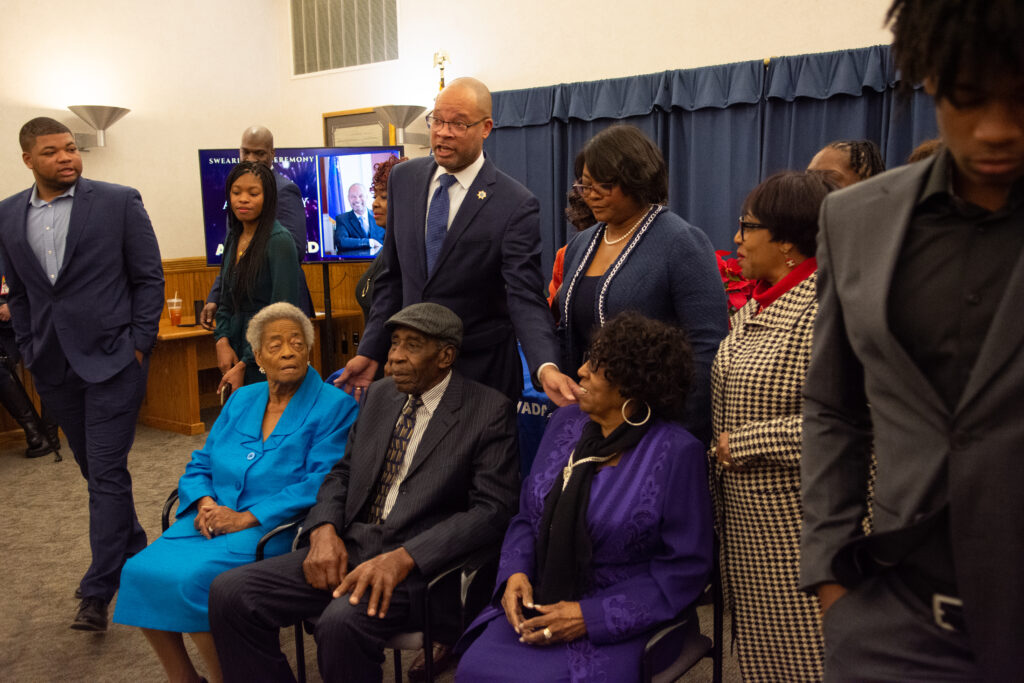 When you think about your working relationship with Gov. Lombardo, what is that going to look like? What conversations have you already had with him?
So far, so good. I've been in elected politics since 2012, and I've worked with him since then. I've put body cameras on his cops. We worked together on that — it wasn't a big fight. He happened to be bargaining with his unit at that time on body cameras. And so we worked together on those types of issues when I was in the state Senate.
I've been the top law enforcement officer in the state for the last four years, and worked with him on legal issues and law enforcement issues. And so, I anticipate an amicable working relationship. To be sure, there are political differences. But as the governor himself said, today, we have to put those aside for the betterment of the state.
It's not the first time there's been a divided executive branch (in which members of different parties are in statewide constitutional offices). Are there lessons to learn from the past?
There are certainly lessons to be learned from Attorney General Catherine Cortez Masto and Gov. Sandoval. They had an amicable relationship. There were times where they disagreed. And they disagreed agreeably and figured out a way to get things done nonetheless. … I intend to be communicative with the governor; I intend for the governor to likewise be communicative with me. Mutual respect is important in these types of circumstances. And I anticipate being able to emulate that on a going-forward basis.
Gov. Lombardo has said that he wants to eliminate some of the soft-on-crime policies that the state has passed under Sisolak's administration. What's your stance on that, especially because so many of those measures were passed during the most recent legislative session while you were in office?
Well, let's be clear, he and I have a disagreement on what soft-on-crime looks like. And he can pursue what he believes is an appropriate legislative approach. I'm going to pursue what I think is an appropriate legislative approach, and, frankly, it's up to neither of us to determine what the Legislature is going to do. … Public safety is at the forefront of my mind. But that includes ensuring that we have a fair criminal justice system. I will not be deterred by anyone when it comes to ensuring that we can improve our system.
Why is a fair criminal justice system important to you?
The neighborhoods that I've grown up in, sometimes bad things happened when cops came, but sometimes you wanted cops coming when bad things happened. So you can have a relationship with law enforcement that recognizes the importance of their presence in our communities, but likewise, recognizes the importance of good relationships between the communities in which they have to have a presence.
So, from a personal perspective, that's why it's important. But even beyond that, more generally speaking, public safety is on the minds of everyone. I don't know one person who wants to live in an unsafe neighborhood. Not one person. Especially those who are living in an unsafe neighborhood. And so at the end of the day, it's important to me that those who need law enforcement can receive that support, but that they can also augment trust where it exists, it can restore it where it's been diminished, and create it where it's never existed in the first place.
We saw the death penalty become a focus during the last legislative session. What is your stance on the death penalty? What are your thoughts on former Gov. Steve Sisolak's efforts to overturn the death penalty at the end of his term? Why didn't you say much around the time this was being discussed, even though you're on the pardons board?
I'm opposed to the death penalty. I have always been and will always be opposed to the death penalty. It is a misused and oftentimes discriminatory practice that leads to irreversible consequences when you are wrong. So I do not support the death penalty.
But as I've also said, as the top law enforcement officer in the state, I will enforce the law. And the law is the death penalty, and proof positive is the fact that I am right now embroiled in litigation, trying to fulfill my duties as counsel to the Department of Corrections as an execution is scheduled to take place.
And so I will do my job. But I'm opposed to the death penalty.
I think the next part of your question was, why I didn't say much in this last go-around. I am counsel to the governor; I am counsel to the pardons board. I'm on the pardons board. So I'm always very cautious with what I say out loud, because it can present a problem in litigation, it could present a problem policy-wise. So I try to be very cognizant of that fact. That said, as I said at the end of that pardons board meeting, additional conversation should be had from a policy level, whether it's at the pardons board level or over at the legislative building, around ways to address this issue.
When you're talking about wrestling with this personally, and then you also have your job, what would you want the public to know about your role that they might not understand about what an attorney general can and cannot do?
My job has to be to enforce the law as written. And to do the best I can to reconcile those competing interests. The death penalty is a great example. I'm opposed to it, but I'm having to enforce it. I sleep fine at night. Because here's what I know: that there is someone in the Office of Attorney General who is ensuring that if there is to be a death penalty, whatever happens in that context is going to be a constitutionally authorized execution.
I'm going to ensure that the cocktail being used is something that is constitutional, that the thought that is given to every single issue, leading up to the execution of someone under the current laws of our state, is on the right side of the Constitution.
The next legislative session is quickly approaching. The attorney general has the ability to file up to 20 bill draft requests — the second most of any constitutional officer after the governor. How many have you filed this year? Are there any bill draft requests you've put in you would like to talk with us about or you are particularly excited about?
I only put in 14 this year, because I don't believe in just doing stuff just to do it. And so I'm excited about all of these.
We have bills that relate to tobacco, where we're going to try to ensure that we continue to improve our record of cutting back on underage smoking. We have bills that relate to fentanyl, where we are recognizing that we need to increase penalties for those who are trafficking fentanyl and what it means to traffic fentanyl.
We have bills that relate to victims and trying to support them through victims advocates. I don't have one in my own office and we need one.
We're going to continue focusing on the crime of domestic violence and stalking and protective orders and things of that sort. We're happy about that. We're going to continue protecting the elderly. We have bills that protect the elderly relative to guardianship issues.
We're very excited about the upcoming legislative session. We think every single one of our bills is going to pass, as they have in the past, because we work hard. And we ensure that we're able to have everyone at the table to work through whatever issues and kinks there may be.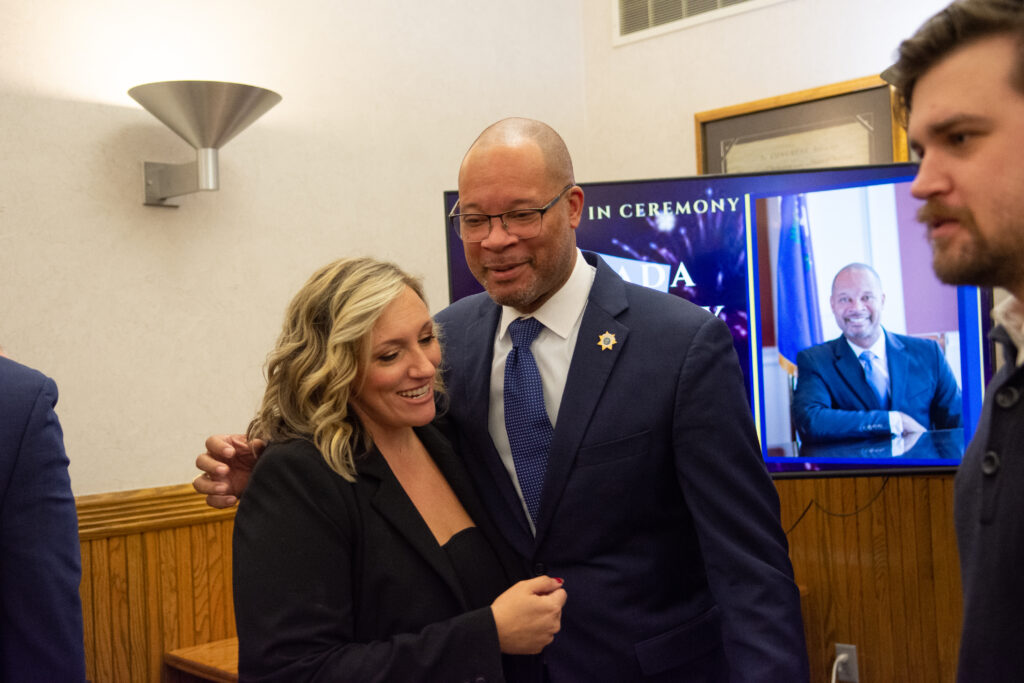 In your bill draft requests, there wasn't one related to gun control or gun regulation. Is there a reason for that?
My office is always at the forefront of common-sense gun safety issues. It doesn't have to be legislatively that we address this though.
We are in court right now defending the Legislature's actions regarding red flag laws or the early extreme risk protection orders. It was passed, there was a lawsuit waged, and I'm defending against that lawsuit. They passed laws related to ghost guns. It's my office that's defending that legislation that has been attacked. They passed laws related to background checks. We were engaged and involved in that.
We can always enhance public safety, because that's what this is about.
Enhance public safety by ensuring that those who should not have firearms are disallowed from getting them. So people who have been convicted of felonies, those who have domestic violence convictions, we need to ensure that we are prosecuting those individuals and ensuring that they do not get to obtain firearms, and we'll continue to work in that area as well.
People have been watching the Jan. 6 investigation. Was the conduct of the fake electoral plot in Nevada in violation of state law?
I've said the same thing ever since this hit the airwaves. And I'm going to tell you the same thing now: I don't comment on the pendency of investigations except to say, it's on our radar, and that we have been working with, since the federal government has announced it, working with them in their investigation. I know it's unsatisfactory relative to what people want to hear. But again, I can't be persuaded to speak on something that could potentially jeopardize anything that we are doing.
Why aren't you able to comment on that?
It's a matter of policy. We don't comment on any type of investigation, whether it's one related to elder abuse or one related to fake electors. And the minute I decide to comment on something, especially fake electors, it's going to become partisan. They're gonna say, 'he's commenting on this issue because it's partisan. He never comments on anything else, but he decides to comment on fake electors and that's because he's a Democrat and they're Republicans.'
There are also ethical rules that attorneys are bound by when it comes to prosecutions, when it comes to trying a case in the press. I need to ensure that we comply with those rules as well. And what I will not do is put in jeopardy an investigation that my people may or may not be involved in by trying to grandstand and comment on it because I'm getting pressure from the public or pressure from the media.
Within your term, you have the 2023 legislative session, and the 2025 session as well. How do you think about long-term versus short-term goals when you're approaching those two sessions?
Last legislative session, as you may recall, I passed two bills that were very timely, based on the circumstances of our country at the time: a bill that gave my office the ability to investigate police departments who were alleged to be engaging in patterns and practice of unlawful policing. Another related to no-knock warrants. One of those the first related to George Floyd being murdered, the second related to Breonna Taylor being killed. And that informed what it was I wanted to do from a listener's perspective.
So I keep my eye on what's happening in the communities to figure out if there's something that we want to try to address here as well.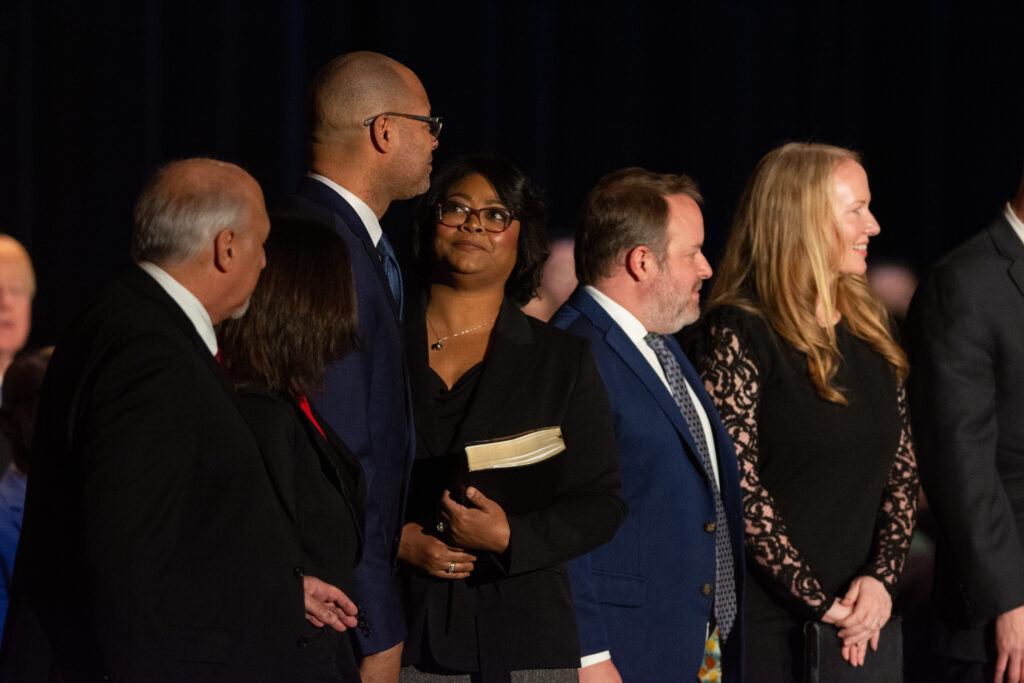 How do you define the "Nevada Way" the governor was describing in his speech?
I guess the Nevada Way, for me, at some level parallels what he said but certainly is particular to what I've experienced in Nevada. I am the first Black person to be elected to a statewide constitutional office in the history of this state, the first to be reelected to a position in this state. The first time I ran, there were dog whistles, racist attacks, attacks on my family and Nevadans saw through that and they elected me. That to me is the Nevada Way — understanding people's character, voting on character, and disregarding and discarding negativity and nonsense.
This time when I ran, the person running against me said that I should be hanging from an effing crane. And, again, that type of negativity was rejected. Not only by Democrats but by Republicans and independents. And we were able to prevail by 8 points — more than any other constitutional officer in the state. That to me represents the Nevada Way in a sense that this state is able to discern good character, is able to discern those who are truly interested in pursuing justice on behalf of those who live in this state and they will reward that type of sincerity with the ability to continue that type of work.
Photojournalist David Calvert contributed to this story.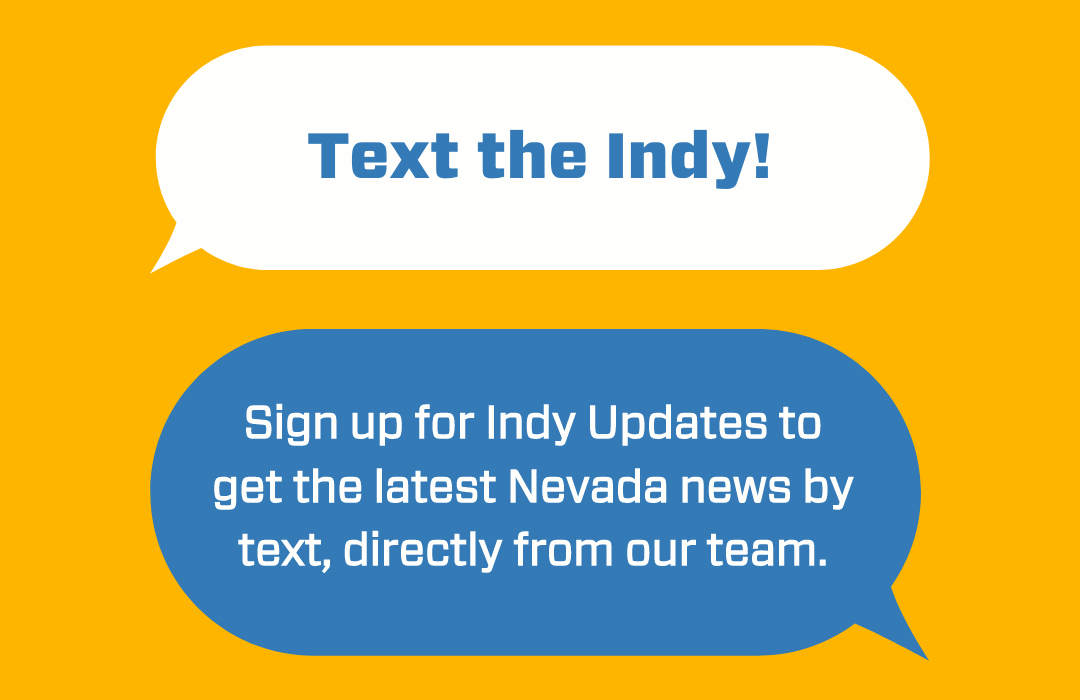 Featured Videos
Comment Policy (updated 4/20/2021): Please keep your comments civil. We reserve the right to delete comments or ban users who engage in personal attacks, use an excess of profanity, make verifiably false statements or are otherwise nasty. Comments that contain links must be approved by admin.