Record-setting July gaming numbers fueled by special events and pent-up demand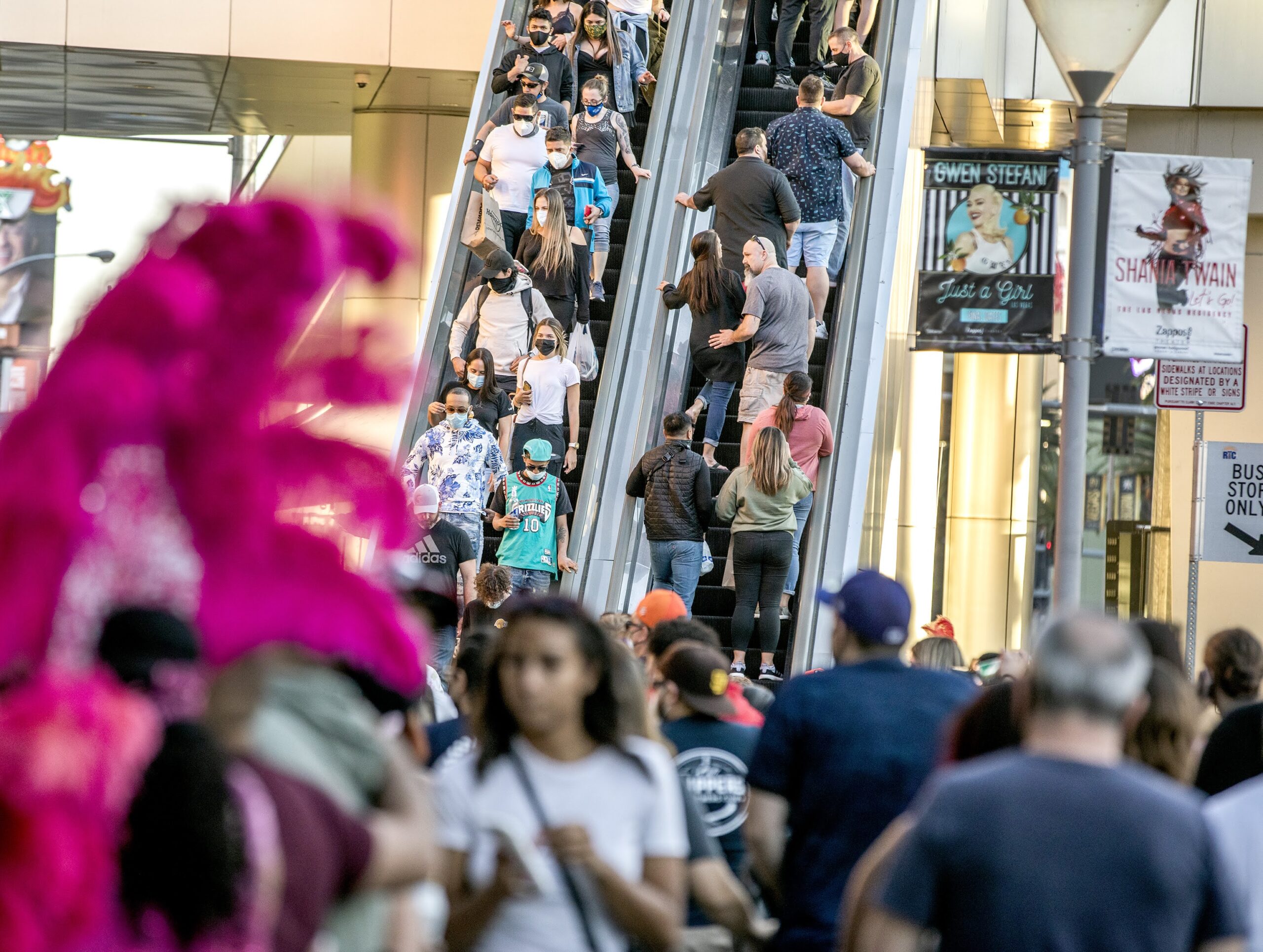 From Garth Brooks to Colin McGregor to Usher, the Strip welcomed a return of headliners and special events during July.
Las Vegas visitors didn't just spend money on high-priced event tickets. Some of the Benjamins landed on gaming tables and inside slot machines.
The result was the Strip's largest ever single-month revenue total as casinos reported $793.7 million during the month, the Nevada Gaming Control Board said Thursday. The total was 46.2 percent higher than July 2019 and blew well past the previous single-month mark of $696.1 million recorded in February 2013.
The figure helped propel the state to nearly $1.36 billion in gaming revenue during July, the fifth straight month of $1 billion or more in gaming revenue — eclipsing the previous single-month record (in May) of $1.23 billion. The last time Nevada saw five consecutive months of $1 billion or more in gaming revenue was December 2007 through April 2008.
The Strip also saw more than 3.3 million visitors during the month, according to the Las Vegas Convention and Visitors Authority. The figure was the market's highest single-month total since the pandemic dampened tourism visitation in March 2020.
Macquarie Securities gaming analyst Chad Beynon said in a research note said July's record gaming revenues came "with little to no convention or group business."
Earlier this month, Beynon hosted a talk between MGM Resorts International Chief Financial Officer Jonathan Halkyard and Macquarie clients. MGM Resorts operates 10 resorts on the Strip, and Halkyard said at the meeting that the company expects to return to pre-pandemic revenue levels by the middle of 2022.
Halkyard added that he expects all Las Vegas casino operators to report record July numbers.
The Strip wasn't alone in fueling record state gaming revenue. July revenues of $100 million collected by Washoe County casinos were the highest single-month figure for the Northern Nevada market since August 2002. Elko County saw revenues of $34.2 million, eclipsing its previous single month record recorded in March.
Gaming analysts have offered comparisons to 2020, when the pandemic closed casinos statewide for 78 days, and COVID-19 operating restrictions and health and safety protocols sent Nevada's gaming industry plummeting to its lowest single-month revenue total since 1997.
The bulk of the July gaming revenue came in ahead of the Control Board reimposing a mask mandate on casinos on July 30 that required facial coverings be worn by employees and customers regardless of vaccination status.
For the first seven months of 2021, statewide gaming revenues are up 5.8 percent compared to 2019 when Nevada recorded $12 billion in gaming revenue for only the third time in its history.
The record total didn't help the Strip's overall number, though; gaming revenues there are down 3.47 percent compared to the first seven months of 2019. Washoe County gaming revenues are up 23 percent compared to 2019, while Las Vegas locals market casinos are up 16.1 percent over 2019.
Strong July calendar
Control Board Senior Economic Analyst Michael Lawton called July "the perfect storm" for gaming revenues on the Strip because it included five weekends, the Fourth of July holiday and the first full month of operations from the $4.3 billion Resorts World Las Vegas, which opened on June 24 and is the Strip's first all-new megaresort in more than a decade.
Among the special events during the month were a concert by country music's Garth Brooks at Allegiant Stadium on July 10, along with UFC 264, also on July 10, featuring Conor McGregor versus Dustin Poirier. Lawton also noted the CONCACAF Gold Cup at Allegiant Stadium, played on Sunday, Aug. 1, between Mexico and the U.S., saying the weekend of visitation from soccer fans boosted the July numbers.
The month also included the return of Cirque Du Soleil's "O" show to the Bellagio on July 1, Bruno Mars' residency coming back to the Park MGM on July 3 and the opening of Usher's residency at Caesars Palace on July 10.
The special events, as well as visitation to Resorts World, fueled high-end baccarat play with unusually active numbers for July. Revenues from the game topped $160.1 million, an increase of 107.3 percent compared to July 2019. Wagering was up 26.3 percent to $809.9 million. The casinos' hold percentage on the game was an uncommon 19.77 percent compared to 12.03 percent in July 2019.
Lawton said other contributing factors to the Strip's record-setting month included a return of leisure travel, fewer COVID-19 cases early in the summer and increased discretionary spending driven by aid from the federal stimulus package.
Strip casinos' slot machines were active during July as gamblers wagered $4.8 billion on the games, breaking a 14-year-old single-month record for volume. The activity resulted in slot revenues of $459.6 million, a 6.4 percent increase over July 2019 and the largest single-month slot machine revenue ever on the Strip, eclipsing last month's $363.7 million.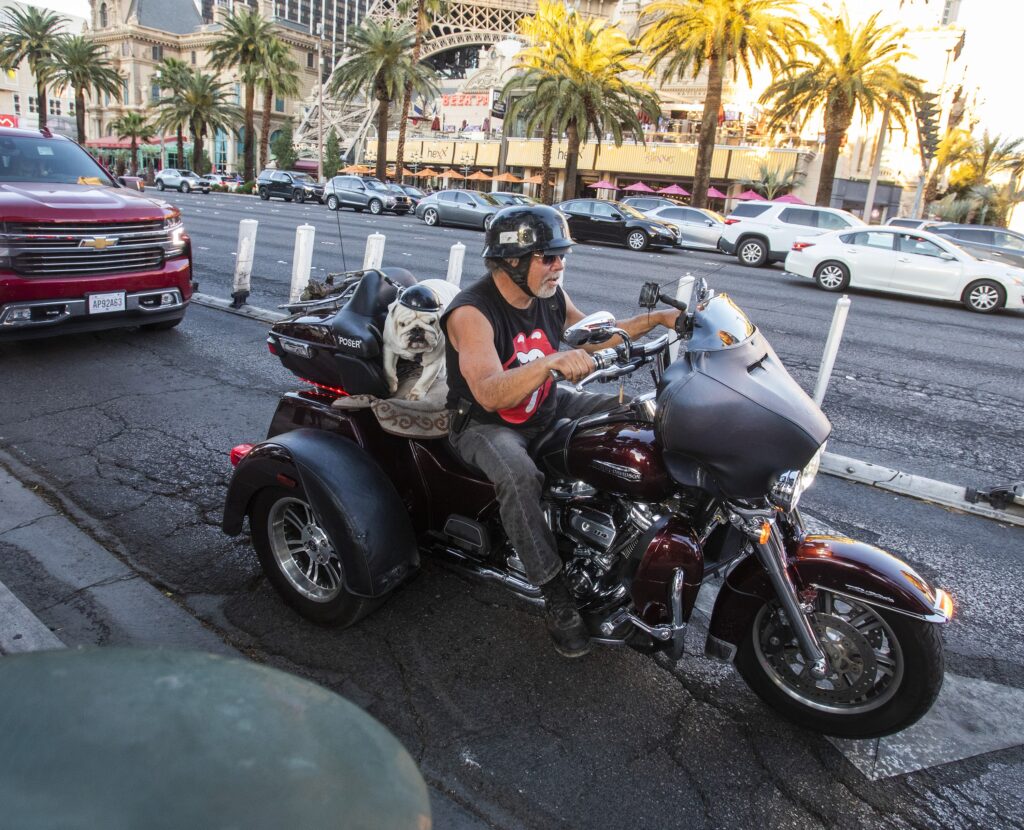 Filling the rooms
The LVCVA said July's 3.3 million visitors was 11.2 percent higher than June, but down 10.4 percent from July 2019. Hotel occupancy exceeded 79 percent in July with an 88.1 percent occupancy rate on weekends.
For the first seven months of the year, visitor volume is nearly 16.8 million, down 32.4 percent from the same point in 2019.
Southern Nevada's average daily room rate was $152 in July, a 19 percent increase over May. LVCVA Vice President of Research Kevin Bagger said revenue per available room, a financial indicator, exceeded the 2019 comparable levels for the first time in more than a year, hitting an average of $120.79.
Beynon, however, told investors Thursday that Las Vegas' convention business, which generally accounts for roughly 20 percent of all room nights, is close to non-existent.
"We believe any revenues from group and convention in 2021 is considered 'gravy' for the numbers," Beynon said. "Given the convention slate, we believe the demand will be there (in 2022) should COVID permit the schedule."
Sports betting
The Nevada sports betting industry continued its scorching pace in July with revenues of $33.3 million on wagers of $409.9 million. The figures were both all-time records for the month.
For the first seven months of 2021, sportsbooks are well ahead of the 2019 record year when the state saw $5.319 billion in wagers and $329.1 million in revenues. The Control Board said sports betting wagers are 35.5 percent over 2019 and revenues are up 68 percent.
Wagers placed through mobile apps accounted for 59 percent of July's overall total.
Oh Canada
McCarran International Airport recorded its busiest month since January 2020 with more than 4.15 million passengers arriving and departing during July. The figure was a 7.9 percent decrease from July 2019.
In the first seven months of the year, McCarran's total passenger volume was nearly 20.1 million, down 32.5 percent from 2019.
International airline traffic had its busiest month since the pandemic began last year, recording more than 64,000 passengers which included direct flights from two countries, Mexico and Canada.
WestJet accounted for nearly 3,500 passengers of the monthly figure, adding flights to and from Vancouver, British Columbia and Calgary. The rest of the passenger volume was composed of flights to and from Mexico.
A McCarran spokesman said WestJet and Air Canada added Las Vegas flights to and from Toronto during August.
The Nevada Independent is raising $200,000 by Dec. 31 to support coverage of the 2024 election.
Tax-deductible donations from readers like you fund this critical work.
If you give today,your donation will be matched dollar-for-dollar.
Give + Get Matched
Featured Videos