Reno mom with terminal cancer makes fighting tax bill, defending Medicaid her cause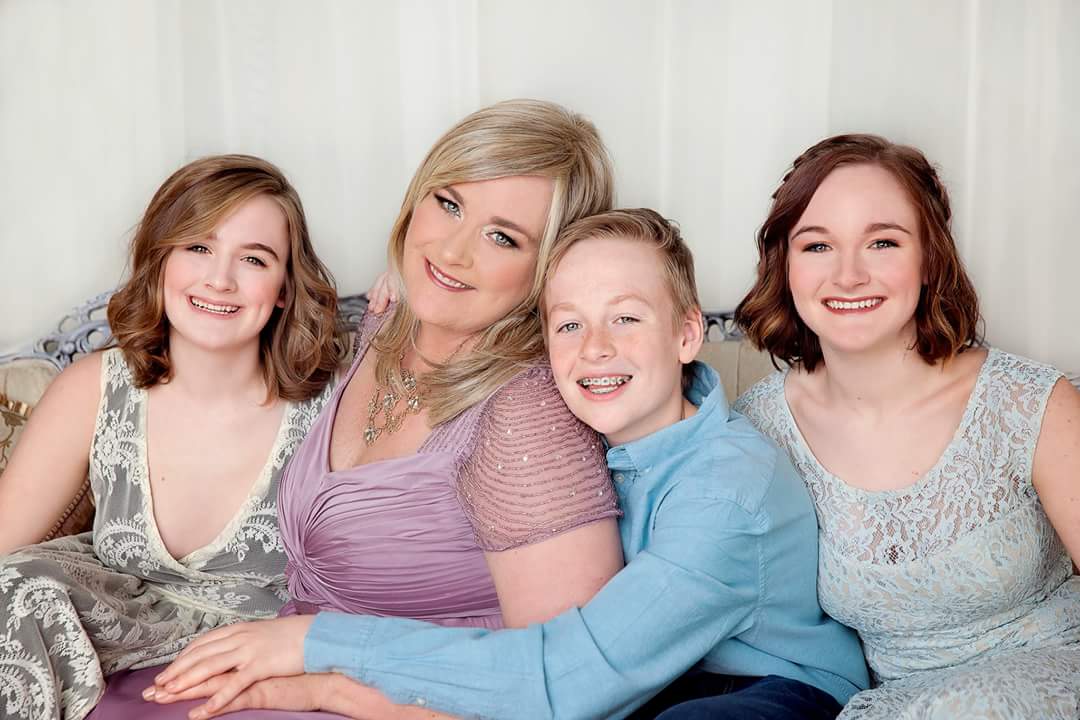 The first thing Emily Reese wants to talk about when she picks up the phone is about how amazing her day has been. She's on her first-ever trip to Washington D.C., she's spending time with one of her best friends from high school and she just came back from the Holocaust Memorial Museum and the new National Museum of African American History & Culture.
It's almost hard to tell that this enthusiastic, 43-year-old mother of three from Reno has been diagnosed with terminal colon cancer and doesn't know how long she has to live.
A few weeks out from radiation treatment paid for by Medicaid, she flew out to the nation's capital in hopes of convincing lawmakers to oppose the Republican tax bill — something she fears will create the kind of deficit growth that will lay the groundwork for cuts to Medicaid, Medicare or Social Security.
"This is, in particular, very keyed in on the future of what they call entitlements," she told The Nevada Independent by phone on Thursday about her trip. "I mean, I am entitled to my life. And I don't want someone who represents me taking something away that is keeping me alive because of their philosophy on the economy. It's just not right."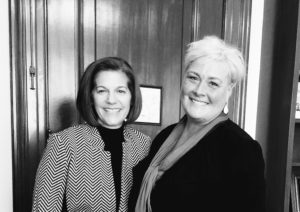 She scored audiences with Democratic Sen. Catherine Cortez Masto, Rep. Jacky Rosen and Republican Sen. Dean Heller. The latter has been a vocal champion for the tax bill, which is expected to pass through Congress this week on fast-track rules that mean it doesn't need a single Democratic vote (an analysis of his reasons for supporting it is here).
Her visit with Heller was more a chance to get clarity on his positions than to change his mind, she said, and she's considered the likely outcome that the measure will become law even though she's poured out her numbered days trying to stop it.  
"I've had enough practice in life ... of learning how to sort out the things I can control and I can't control," she said. "So if I can take action and do everything that's in my power to do, then it's easier to let it go."
My DC adventure begins! So looking fwd to Tues when I get to practice democracy by mtg with @DeanHeller and @SenCortezMasto . Fighting to protect "entitlements" on this #taxbill ! Love, Single Mom on Medicaid h SSI in NV w Terminal Cancer. Plz fight! Bill isn't final yet! RT pic.twitter.com/xpf4xkx4vi

— Emily Fay Reese (@mlereese) December 12, 2017
The diagnosis
A former high school English teacher, Reese has battled with colon cancer for the past eight years. It wasn't until last winter, on a routine appointment when she was feeling pretty good, that she learned the cancer had metastasized and entered her bloodstream.
"It didn't really register what she was telling me until she said 'I encourage you, if you have a bucket list, to start knocking things off of it,'" Reese said, recalling the day when the doctor declared her terminal. "And their reactions weren't like, 'you're going to be OK, you can fight this.' There was none of that. So I knew it was real."
She cried. And it took her several days to prepare for the dinner during which she had to tell her three children — all students at McQueen High School — that her cancer was terminal.
When a cancer diagnosis takes that turn, she said, a patient is fast-tracked onto permanent disability and Medicaid. She calls it the best insurance she's ever had, free of the co-pays she had on prescription drugs under past plans.
As for her cancer journey? She calls it eye-opening and a growth experience.
"I think that we all, when we're born, we're moving toward death and most of us try to live as though that's not happening, and that's understandable," she said. "And I think the gift that I've been given with a terminal diagnosis, is that I have time to be able to work through grief with others and that's a huge gift. I've been given the chance to say things that need to be said, and say them boldly to people."
In between radiation and chemotherapy treatments, when she's feeling strong, she's done some traveling with her kids. She tries to keep things as normal as possible for them.
"I've had the chance to really grapple with 'Am I afraid to die? No.' But I'm sad to leave, you know? I'm sad to leave," she said. "It's not because I think that when I'm not here they're going to fall into tatters ... I feel like when I leave they're going to be OK. I just feel sad that I won't get to see it."
In an hourlong interview, it's the only time she cries.
Turning to the tax bill
Reese said she was moved to action on the impending tax bill after watching an exchange on the Senate floor a few weeks ago between Sen. Bernie Sanders (I-VT), Sen. Marco Rubio (R-FL) and Sen. Pat Toomey (R-PA). She said it was an "adrenaline rush," a sudden realization that she had to get out and fight the proposal.
During debate on the proposed tax overhaul, Sanders asked Republicans to sign onto an amendment that would require a two-thirds vote to make any cuts to Medicaid, Medicare or Social Security.
"This tax proposal is more than a tax proposal," Sanders said in the exchange. "It is my absolute belief that as soon as this tax proposal is completed and drives the deficit up by $1.4 trillion, I have zero doubt that my Republican colleagues are going to come back to the floor of the Senate and suddenly say, 'Oh my goodness, the deficit has gone up, we have got to cut Social Security, Medicare and Medicaid.'"
Toomey argued that none of the three programs were listed in the bill and that he doesn't support cuts to people on the program, but Sanders said such cuts could come in the future under the umbrella of "entitlement reform" and mean stricter eligibility rules for the programs.
"And that's when I thought, 'Oh, that's what that means, and that is me and oh my goodness — the only thing I can get is Medicaid. They start touching that and I'm out of luck,'" Reese said.
It's possible that changes to Medicaid could leave people with deadly conditions like hers still on the rolls. But that's little comfort for Reese.
"The thing is, no one really knows. I mean, have they said anything about what they're going to do? It could be anything," she said. "Those are compassionate and righteous programs that we need when people fall into hard times … So many people have needed help from the government at times."
Reese hasn't always felt this way. She said she was a conservative Republican in her younger years and was deeply involved in "evangelical world."
That changed when her now ex-husband, Devon Reese, came out as gay after 10 years of marriage. It's an experience that informs a blog she writes on "mixed orientation marriages," and it challenged a range of her beliefs, including that homosexuality is a sin.
"That started me on the path to realizing what unconditional love is and really what it would be like if Jesus were here," said Reese, who now considers herself a progressive Christian. "And what he would look at with people who are going through terminal cancer and not having health care. I mean, what would he be thinking? Let's change our insurance to go across state lines? No. You know, what the heck?"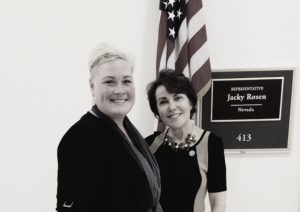 Her position now is that Nevada needs Democratic leadership, and she's endorsing Democratic Rep. Jacky Rosen for her Senate bid against Heller. Her personal worldview nowadays, she said, is less like a rigid box and more comparable to a moldable, vacuum-sealed space saver storage bag.  
"I can make room for things, I can tuck it neatly away, I can fit things in that wouldn't normally fit in a box," she said. "So I kind of look at my life like that, because it's a little bit more flexible. It allows for me to not be shut off from things that are different from me."
Visits to the delegation
Reese said she had a phone call with Heller's staff members in the last few weeks, who forwarded it along to other staffers and invited her to meet with the Republican senator in either Reno or Washington, D.C.
"I'm like, 'Well, D.C. — this tax bill's going to be going through. I'm not going to wait till he comes back here to Reno," she said. "And D.C.'s always been on my bucket list, so I said let's do it — I'm feeling good right now."
She also lined up meetings with Democratic Sen. Cortez Masto and Rep. Jacky Rosen; she said she's on the same page with them. When she met with Heller, she said, he was "very cordial" and asked about her story.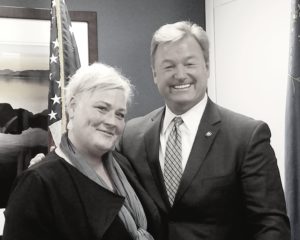 "He knows what he's doing when he's talking to constituents," she said. "I was not there to convince him that he's wrong because I know pretty much where he stands but I wanted some clarity in the end on what entitlements mean."
While no recording of the meeting was allowed, and Heller's office declined to speak on the record about the content of the discussion, Reese said Heller was blunt about his positions. He sponsored the Graham-Cassidy-Heller-Johnson amendment, which would turn Medicaid funding into a block grant and give states discretion on how to use it.
Reese is concerned about what would happen to Medicaid under a future governor or senator with less-moderate positions than Republican Gov. Brian Sandoval, who ultimately opposed the Graham-Cassidy-Heller-Johnson amendment, or who is less supportive of the Medicaid expansion.
"We all know that Gov. Sandoval is the catalyst for that and he's done after this term and we've got people like Tarkanian and Laxalt," she said. "I can only imagine if it goes down that route what will happen, and that's why I feel we need a Dem in the office that will protect those."
While she was glad to have the meeting with Heller, she said they don't see eye to eye.
"Pretend your fist is that topic. And you've got two people on either side of it literally looking at that fist as if it's something not a fist!" she said. "It blows my mind that we can be talking about an issue and not finding anything in common. It just blows my mind."
Reese's weeklong trip to D.C. to oppose the tax bill is her first significant foray into political activism. She said she's not one to join marches or protests, but has enjoyed the chance to share her story on her social media accounts, through her writing and with the Center for American Progress in what may become a public service announcement.
"If I see something that needs to be done and I have the opportunity to do it, why won't I do it? And I've just sort of been gradually coming out of my shell, and it's really empowering," she said.
Leaving a legacy for her children — 18-year-old Madeline, 16-year-old Kate and 15-year-old Thomas — is also a major motivation.
"I think about my kids and I want to set the example for what I want them to be," she said. "I want them to look at their mom in the future, whether I'm here or not, and say, 'She was a strong woman and I want to do what she does.'"
Comment Policy (updated 4/20/2021): Please keep your comments civil. We reserve the right to delete comments or ban users who engage in personal attacks, use an excess of profanity, make verifiably false statements or are otherwise nasty. Comments that contain links must be approved by admin.