Republican Rumble: The 'storming' of a county GOP meeting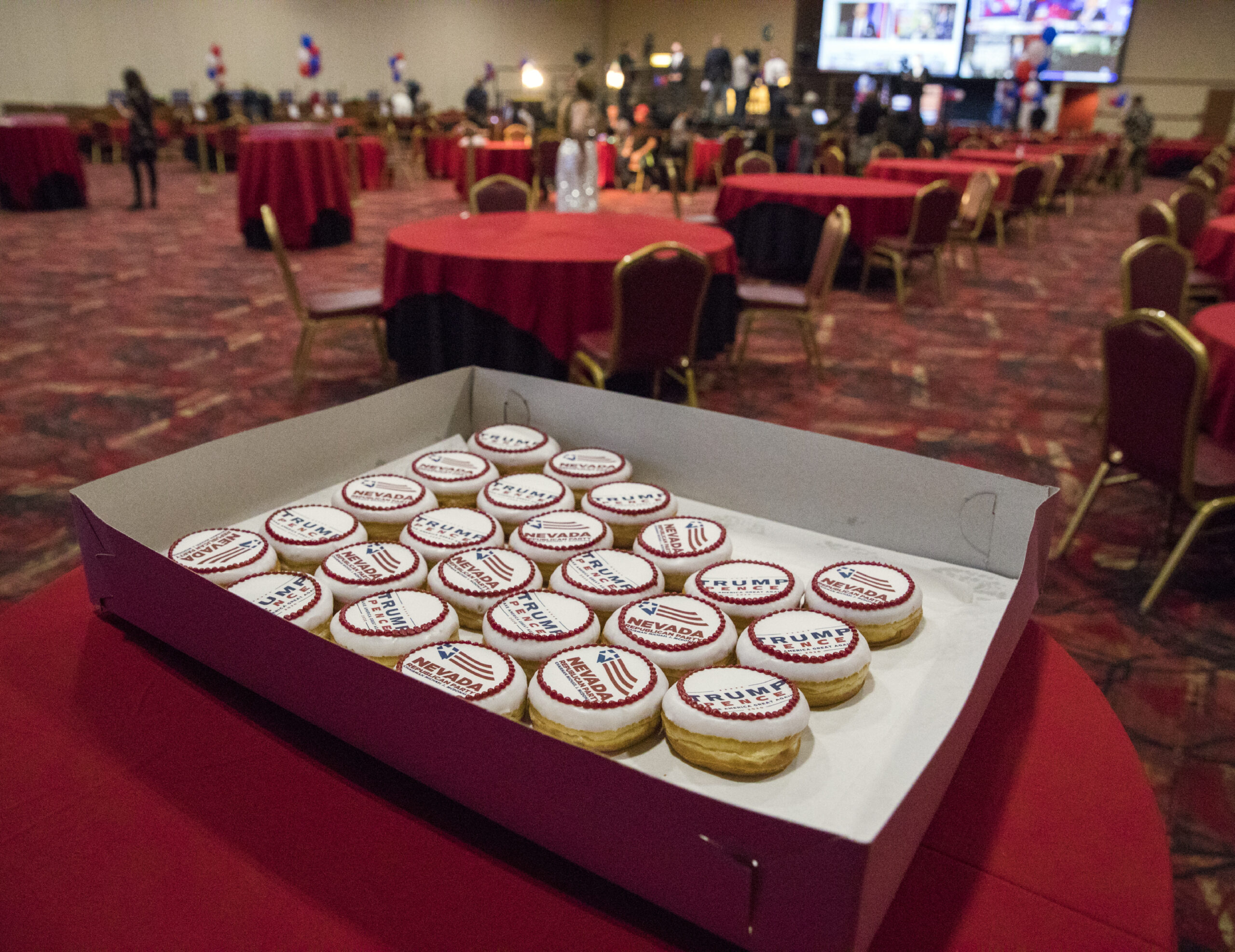 A meeting of a local political party of either stripe is traditionally a reliable cure for insomnia. Forget a warm glass of milk and counting sheep: a few minutes of droning Democrats or rhapsodizing Republicans will normally put almost anyone to sleep.
It's no news flash, but these aren't normal times for Nevada Republicans. Not only must they deal with the expanding political influence of the Democrats, but they also are faced with an increasingly nasty civil war between their own Clark County and state party officials.
That distinct lack of civility was on full display at Tuesday evening's county GOP central committee meeting at Spring Valley High School, a scheduled gathering for the purpose of electing a new slate of leaders to replace Chairman David Sajdak and his allies on the board. Instead, it rapidly devolved into a chaotic shouting match egged on by associates of the extremist Proud Boys. The crowd on campus was approximately 300, according to multiple sources who attended the festivities. It was a Republican Rumble with outrage flowing like green beer on St. Patrick's Day.
From the look of the county party's post of the meeting, trouble was anticipated. To wit: "The Clark County School District has a STRICT no weapons policy allowed on any school property. Campus police and Metro will be present to secure the meeting as well as to enforce this policy. This includes no weapons in vehicles in parking lots. …"
It's not the first time the county party has held meetings in gun-free zones. That's understandable given some of the rhetoric spewing from the board's enemies.
This is the state of affairs in a party playing tug-o'-war with its Trumpian personality disorder and big lie conspiracies. Those at the county party who want to move on and focus on the 2022 election are on the brink of being overwhelmed by the state GOP and maestro of MAGA, Chairman Michael McDonald.
At one point, at least eight Metro black-and-whites were on the scene Tuesday to disperse those who either didn't fit into the meeting room or were unwelcome. When you have to call in a K-9 unit to maintain order, it's not your run-of-the-mill rah-rah session.
One of those who by his own admission falls into the "unwelcome" category was McDonaldland rabble-rouser Paul Laramie, described in published reports as a leader of the Las Vegas Proud Boys as well as a business consultant who calls himself a "serial entrepreneur" with "an impressive portfolio." He is listed as the president of a group called the Republican Chamber of Commerce and is also associated with the internet-based, right-wing site Right News America (rightnewsamerica.com.)
Proud Boys members and associates are among the dozens charged with felonies related to the riot Jan. 6 at the U.S. Capitol.
His business bonafides aside, it's Laramie's ties to the Proud Boys, which the FBI categorizes as an extremist group with ties to white nationalism, that has given some Republicans pause as his profile within the party has increased. Laramie and fellow Proud Boys pals Rudy Clai and Matt Anthony Yankley have made no secret of their affiliation and their interest in making their mark in the county GOP. The trio were among those who filed a lawsuit against the county party after being denied access to the meetings. Laramie and Yankley keep busy with their shows on Right News America.
For his part, Anthony has taken partial credit to helping to provide the votes necessary for the party to censure its only statewide elected official, Secretary of State Barbara Cegavske, for her refusal to embrace Trump's debunked allegations of widespread voter fraud in the 2020 presidential election. Although McDonald has denied any connection to the vote-packing effort, Anthony has bragged to the contrary.
Trumpian political partisans who delight in vilifying the press and revel in calling reporters enemies of the state can't resist picking up their smart phone and playing correspondent. So it was during the Republican Rumble with Laramie reporting.
Directing his camera toward dozens of people entering the school property to attend the meeting, Laramie observed on Facebook, "People are kept out of the Republican meeting. They're not allowed to go in. They're not allowed to have their voices heard or join their own party because they want to keep candidates out that they don't agree with. … People are justifiably angry because we're being kept out of our own party. People want to keep themselves in leadership, folks."
Never mind that Sajdak had already announced he was leaving. The fact Laramie could make such a statement with a straight face considering McDonald's relentless efforts to remain state party chairman was truly impressive.
"Right News America is here at the meeting, where David Sajdak is trying to keep the folks out from having their voice heard. We are in the meeting, folks. We are in the meeting at the CCRP. Let us in. …They refuse to let the republicans into the republican meeting, folks. They refuse to let the Republicans into the Republican meeting. … Right News America. You heard it first."
Yes, we did.
The police presence calmed the chaos outside, and inside the county party postponed its election of officers. Sajdak resigned Thursday, according to a party source. Vice Chairman Stephen Silberkraus was named as a temporary replacement. By Friday, an acting county party secretary had issued a membership email listing a point-by-point retort to the shouting critics. The county party is preparing to try another vote before an Aug. 1 deadline.
That doesn't give Southern Nevada Republicans much time to rest before their next rumble. As a certain reporter might say, "Stay tuned."
John L. Smith is an author and longtime columnist. He was born in Henderson and his family's Nevada roots go back to 1881. His stories have appeared in Time, Readers Digest, The Daily Beast, Reuters, Ruralite and Desert Companion, among others. He also offers weekly commentary on Nevada Public Radio station KNPR. His newest book—a biography of iconic Nevada civil rights and political leader, Joe Neal— "Westside Slugger: Joe Neal's Lifelong Fight for Social Justice" is published by University of Nevada Press and is available at Amazon.com. He is also the author of a new book, "Saints, Sinners, and Sovereign Citizens: The Endless War Over the West's Public Lands." On Twitter: @jlnevadasmith.
The Nevada Independent is raising $200,000 by Dec. 31 to support coverage of the 2024 election.
Tax-deductible donations from readers like you fund this critical work.
If you give today,your donation will be matched dollar-for-dollar.
Give + Get Matched
Featured Videos