Road to Recovery: Why is Nevada still leading the nation in unemployment?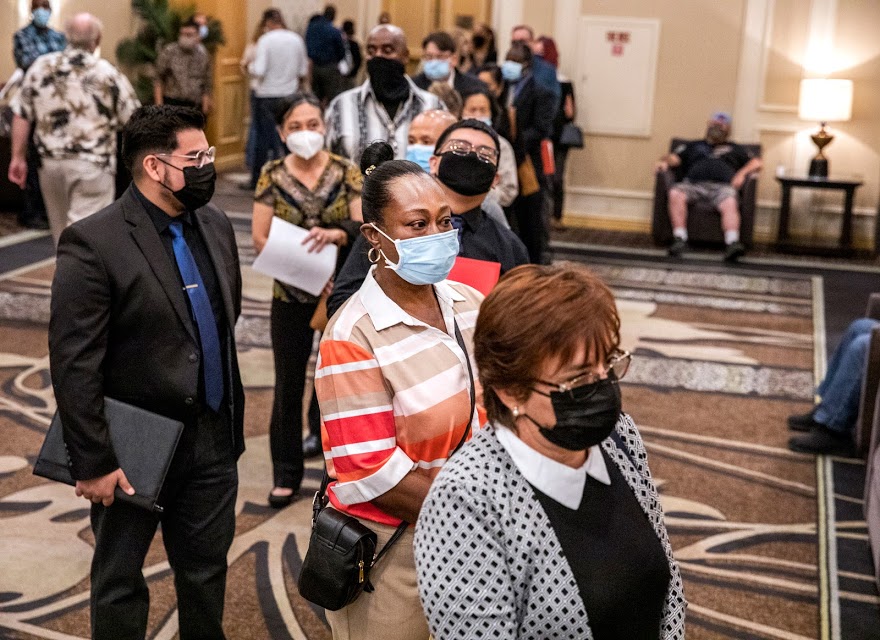 Welcome to the second installment of "Road to Recovery," a recurring feature that provides semi-regular updates on Nevada economic news and data.
The state's economy has been hit hard by the COVID-19 pandemic. Restrictions on public activity have resulted in businesses closures and thousands of lost jobs, and many parts of the economy have yet to return to their pre-pandemic state. As Nevada's recovery from the pandemic continues, this series will take a closer look at the most important economic indicators across the state.
You can find the latest data on our "Nevada Recovery Dashboard" data page and on Twitter. (Follow Tabitha Mueller for updates on housing data and Howard Stutz for updates on gaming and tourism numbers). Also, feel free to reach out to [email protected] with any questions.
Below, we take a look at how the hospitality industry is contributing to Nevada's highest-in-the-nation unemployment rate and how statewide unemployment data has recently changed.
High unemployment tied to Las Vegas hospitality industry
In September, Nevada's headline unemployment rate declined slightly from the past two months, falling from 7.7 percent to 7.5 percent — a mark that ranked last among all 50 states for the third straight month.
Nevada's economic struggles have not been the same across the state, though. David Schmidt, the state's chief economist, said the disruption in employment is seen more in the hotel and casino industry, particularly in Southern Nevada, than in all other industries.
"This is a phenomenon that's really focused in the Clark County area, where (in) the casino-hotel industry, overall employment is around 65 percent recovered compared to the peak employment that we saw prior to the COVID recession, whereas, the total for all industries … is closer to about 93 percent," Schmidt said.
Clark County's headline unemployment rate was 7.4 percent in September, compared to an average of 3.6 percent across Nevada's 16 other counties, according to the latest local area unemployment data from the Department of Employment, Training and Rehabilitation and U.S. Bureau of Labor Statistics (BLS). (Note: All county rates appear lower than the state's unemployment rate in September because the statewide rate is seasonally adjusted.)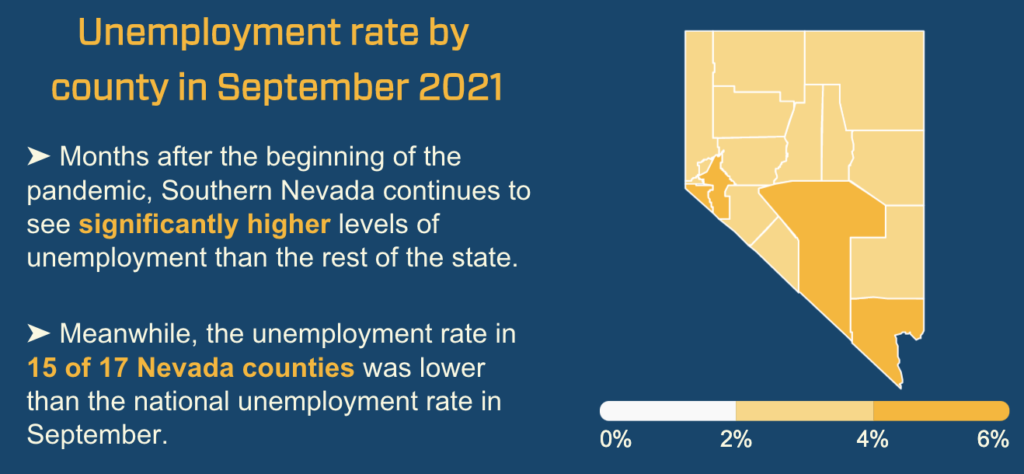 In the hospitality industry, statewide employment lags behind pre-pandemic totals. In September, 1.35 million Nevadans were employed in nonfarm jobs, of which 20.5 percent (277,200) were employed in the leisure and hospitality sector. In September 2019, a quarter (356,100) of the state's 1.43 million nonfarm jobs were in the hospitality industry.
Employment recovery in other industries is significantly higher. The number of jobs in mining and logging in Nevada was 14,600 in both September 2019 and September 2021. In the information industry, employment was 14,600 in September and 15,600 two years prior. Employment in the construction industry was roughly 92,000 in September 2021, compared with almost 98,000 in September 2019.
Schmidt said the concentration of unemployment within a specific area and industry has both benefits and drawbacks. With a particular group of unemployed people to focus on, it may be easier to find solutions to the problem, he said.
However, if there aren't as many job openings in that industry, there can be a disconnect between the labor supply and jobs available.
"If you have a lot of people coming from a single industry, if that industry is not recovering as fast and may not be recovering as fast for some time, that means you have a lot of people with really similar skill set trying to spread out into all of the other industries and areas of the states," he said.
Lower labor participation, but no clear worker shortage
Nationally, much of the coverage of the economic recovery from the COVID-19 recession is focused on a shortage of labor in the U.S. economy. But Schmidt said Nevada's data does not point to a clear lack of workers.
"Nevada ranks relatively highly among the states for the number of quits, but actually, we also are number one in the country for the rates of hires," he said. "So, I don't know that we have a broad labor shortage overall. We do have lower participation rates. That's pretty typical coming out of recession."
As Nevada's unemployment rate remains high, many other economic metrics show significant month-to-month changes. In July and August, the rate of hires in Nevada outperformed every other state, according to data from BLS. And even though Nevada ranked first for the rate of job openings in June, that rate slipped dramatically in the following two months fueled by the hiring rate, falling from 10.6 percent to 7.9 percent.
In August, Nevada recorded 116,000 job openings — a number that matches up fairly closely to the number of unemployed people in the state that month of roughly 120,000. But those totals do not necessarily mean the openings match up with the type of labor available.
"I think it's less a 'not enough workers period' than 'finding the matches between what employers are looking for for particular positions,'" Schmidt said. "It doesn't necessarily do a lot of good for someone in Reno who is looking for a manufacturing supervisor to have someone who's unemployed in Las Vegas coming out of the leisure and hospitality industry."
Nevada is also affected by shrinking labor participation. Economists have generally pointed to a mixed bag of reasons for the decline, including a lack of child care options, COVID-19 concerns and lifestyle changes. The pandemic also provided many Nevadans with time to reflect on their lives and reconsider whether to stay in their job or find new work.
Those decisions are reflected in Nevada's labor force participation rate, which has broadly declined since the months leading up to the pandemic, dropping from 64.9 percent in February 2020 to 61.6 percent in September.
The size of Nevada's labor force has also declined for the past several months and remains lower than it was prior to the pandemic. In September, the state's seasonally adjusted labor force was 1.56 million, down nearly 9,000 from August and almost 15,000 from July. The September total was also more than 18,000 workers lower than September 2019 when Nevada's labor force climbed to more than 1.58 million.
Amid that decline, Schmidt described the economy as a "seller's market for labor," where those looking for work have more power. That situation can lead to even more turnover, as the number of openings allows people who already have jobs to potentially leave for other jobs.
"It's not as simple as: number of job openings, number of unemployed, compare one to the other, and we know what the situation is," Schmidt said.
Nevada ranks last in other measures of unemployment
Though most of the attention on the state's high unemployment rate is typically focused on its U-3 rate — which is used by BLS as the "official unemployment rate" and measures the total number of unemployed people as a percent of the civilian labor force — Nevada also ranks last in all five other measures.
Those numbers are not as publicized as the U-3 rate because the bureau tracks them on a four-quarter moving average. But the U-1 and U-2 rates offer a narrower look at the unemployment rate, and the U-4 through U-6 rates provide more broadly defined measures of unemployment.
For example, Nevada's average U-1 unemployment rate from the fourth quarter of 2020 through the third quarter of 2021 was 6 percent, almost double the national average. That measure shows that on average, 6 percent of Nevada's labor force was unemployed for at least 15 weeks during that 12-month period.
Nevada's average U-6 unemployment rate — which measures all unemployed workers, marginally attached workers who want to work but have not searched for work in the past four weeks and part-time workers who want to work full-time — was more than 15 percent, or roughly one-and-a-half times the national rate.
But Schmidt cautioned that those alternative measures may not be as reliable for the past year because they are updated less frequently than the headline unemployment rate.
"Unfortunately, all of that data is reported by the Bureau of Labor Statistics on a 12-month average basis," he said. "Because there's been such a rapid pace of change in the economy over those 12 months, it's harder to get a sense from that of what … things look like right now."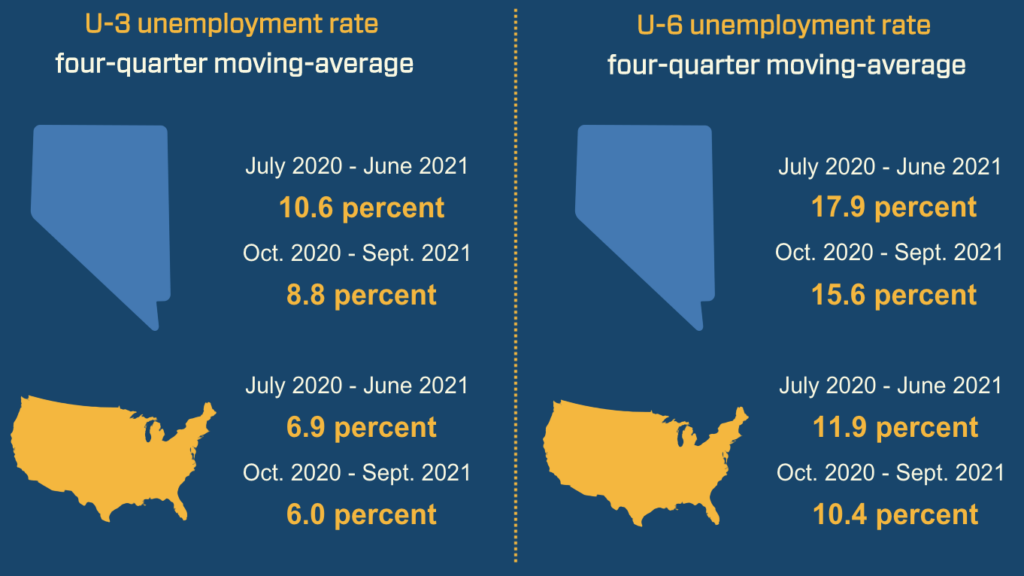 Decline in unemployment claims does not equal increase in employment
Though the number of weekly continued claims for regular unemployment insurance has fallen significantly since mid-September, the decline does not necessarily mean all of those workers have regained their employment.
Some workers may have had their benefits expire, or some may have decided to stop looking for work and are no longer counted as part of the state's labor force. But the change still signals an improving economy, as ​​the number of continued claims for regular unemployment insurance dropped each week from mid-September through mid-October and fell below 30,000 for the first time since March 2020 when the pandemic began.
Those numbers and how they relate to the state's employment rate are important to understand in context, Schmidt said.
In September 2019, when the state's unemployment rate was roughly half of what it was in September this year, the state saw close to 17,000 continued claims for regular unemployment insurance each week. In September 2021, the state saw roughly double that number at more than 35,000 on average per week.
Despite the alignment of continued claims and the unemployment rate, Schmidt said the unemployment insurance recipiency rate among unemployed Nevadans is slightly lower than it was prior to the pandemic, as many people who received unemployment benefits for a long time had their eligibility expire. That means the declining number of continued claims may not exactly correlate with the number of people rejoining the workforce.
Changes in initial claims for unemployment are also important to understand in context. Over the first few weeks of October, weekly initial claims averaged almost 3,000, an increase over the weeks ending in September (2,770 weekly claims on average) and August (2,412 weekly claims on average). But Schmidt said there are quarterly swings because of how eligibility is based on quarterly income.
"So when you get to the start of a new quarter, like we had in October, you usually see a bit of a bump in claims filing, not due to new separations from employment, but just due to the timing," Schmidt said.
Even as the number of initial claims has risen recently, Schmidt said he has not seen anything he considers abnormal.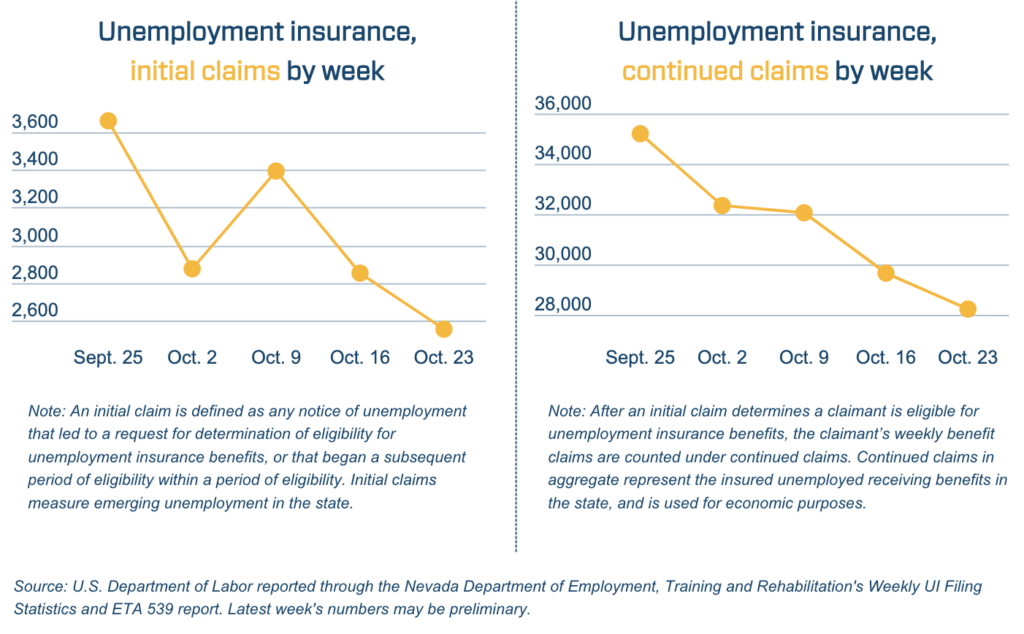 Economic recovery takes time
Schmidt also emphasized that the economic recovery will take time. In April 2020, Nevada recorded its highest ever unemployment rate of 28.2 percent. The rate has fallen dramatically since then. But over the past 10 months, the recovery has slowed. Since December, the unemployment rate has improved by less than a single percentage point, declining from 8.2 percent to 7.5 percent.
Despite the improving economic conditions, Nevada is still in recovery from a recession that brought massive economic losses. In September, Nevada had about 75,000 fewer jobs than it did two years prior.
The combination of declining labor participation and the continued presence of COVID-19 remain barriers to recovery, but time is one of the most important factors. There are businesses still finding ways to bring back enough workers. There are workers enrolled in job training to fit into new jobs. There are workers still searching for jobs that are right for them.
"The biggest factor is that it just takes time for the volume of people that we have to go through that process of getting matched to the new jobs and openings that are out there," Schmidt said. "It's not an overnight thing."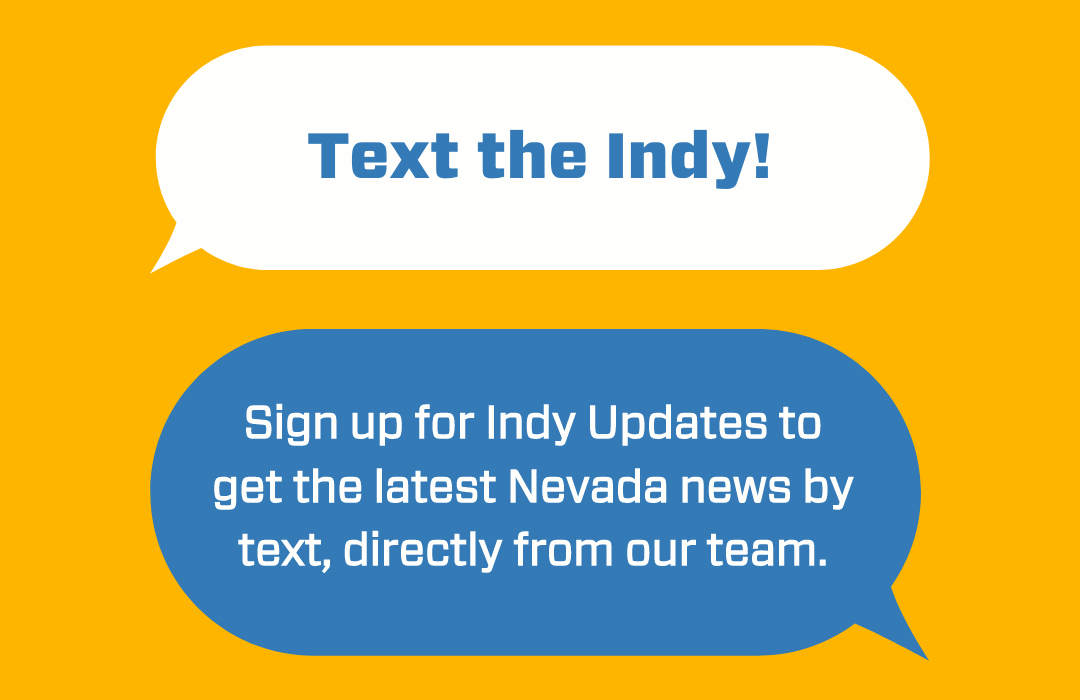 Featured Videos