Rollback of rules requiring developers to offset damage on public lands could affect land management in Nevada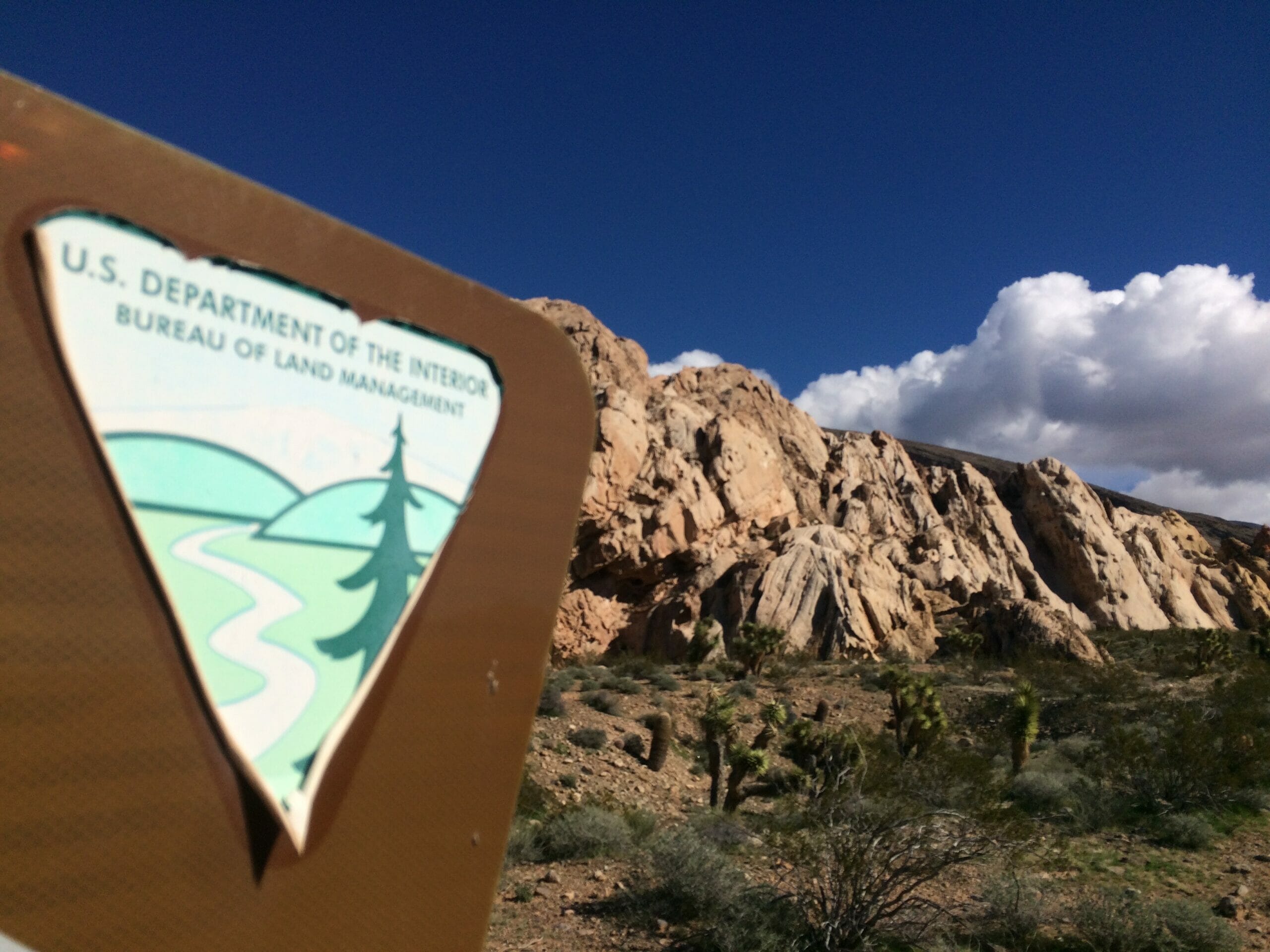 In a move that many experts described as a shift to promote industry, the Interior Department is rolling back policies to offset the impact of development on public lands.
Nevada officials are reviewing the changes to understand their effect on programs for the desert tortoise and the sage grouse, but hunting and conservation groups said the rollback could have a sizable impact in a state where the federal government manages about 85 percent of the land.
"The outcome of this policy is a clear indication that the administration is moving conservation priorities into the background," said John Gale, who directs the government affairs and land policy program for Backcountry Hunters and Anglers. "They are now becoming an afterthought."
At issue are the unsexy but significant — and controversial — policies of permitting projects on public land. When developers want to build a solar array or a mine on public land, they are often required to get permission from the Bureau of Land Management (BLM). The Interior agency is the largest landowner in Nevada — it oversees about 67 percent of the land — and it is tasked with managing the public domain for "multiple uses" that include ranching, recreation, energy development, mining, hunting and conservation. To balance these uses, the BLM often requires permittees to pay for mitigation to offset the land disturbances that come with development.
In the past decade, federal land managers have focused their efforts on off-site "compensatory mitigation," a policy embraced by the Obama administration. It requires project proponents to offset their impact on public land by paying into a program to restore similar habitat off-site. If a mine in Nevada wants to expand, for instance, BLM might require it to pay to restore habitat for sage grouse, a bird that many Westerners want to keep off the endangered species list.
Last week, the Interior Department blunted the BLM's ability to pursue these programs. A memo from BLM Deputy Director Brian Steed said the agency can no longer require or request off-site compensatory mitigation, a decision that was criticized by conservation and hunting groups.
"They are aiming at the heart of the permit process with this," said Michael Blumm, a legal expert who studies federal land policy as a professor at Lewis & Clark Law School.
Neil Kornze, an Elko native who served as BLM Director from 2014 to 2017, said the decision to rescind compensatory mitigation could make it harder for land managers in the field to carry out their mission — to manage for multiple use and sustain public lands for future generations.
"The agency has a huge responsibility to make sure its helping the country meet the current needs of our society, but it very explicitly is required to look out for future generations and make sure we're leaving something of significant value even when development is taking place," Kornze said in an interview. "I see mitigation as fundamental to the work of the agency."
Hunters, conservationists push back
Coupled with other changes to mitigation, hunters, anglers and conservationists said they are concerned the administration could degrade ecosystems and harm species that rely on them.
The BLM will continue requiring on-site mitigation, where developers might be required to paint a structure to blend in with the environment or translocate a threatened species to a different site. But the groups said that there are some impacts on public land that are too significant to mitigate on-site and developers should still be held accountable for impacts they create to the public landscape. Without compensatory mitigation, it could be harder to do that, they argued.
Juan Palma, Nevada director for the Nature Conservancy, worked for more than 30 years with the BLM, ending his career as the state director in Utah. He said that the changes could create confusion for land managers in state and local offices, making it more difficult to balance "multiple use."
"We're not saying you shouldn't have development," Palma said. "From my perspective, we need well-designed federal mitigation policies that balance development and conservation."
Other groups, including the National Wildlife Federation, Trout Unlimited, the Center for Biological Diversity, have also criticized the BLM's move.
"This new order has made it clear," said Patrick Donnelly, Nevada director at the Center for Biological Diversity. "It has not just taken away the mandate [for compensatory mitigation], but the official stance of the agency has been hostile to the concept of compensatory mitigation."
What Interior's memo does
Since assuming his post, Interior Secretary Ryan Zinke has criticized the fees that companies have to pay under "compensatory mitigation" projects. Since 2008, companies have paid about $152 million in compensatory mitigation, an Interior spokesperson said. Zinke has said the mitigation tool is a way for companies to "buy off" conservation groups, Bloomberg reported.
Others look at the $152 million as crucial conservation funding for an agency that's short-staffed and does not have enough funding to fulfill its obligations to manage large swaths of rangeland.
Although the Obama administration placed a greater emphasis on compensatory mitigation, it is a tool that has been used for decades. But it has been a controversial one long before Zinke stepped into office. Both conservationists and developers have criticized mitigation as an imperfect instrument. Developers have often questioned why they need to spend money to improve land that they had no impact on. And some conservationists have wondered whether certain mitigation measures have actually worked in restoring habitat or if it's a shell game.
How well mitigation has worked is a "big question," said David Owen, an environmental law professor at UC Hastings. "The policies are much more well-designed [than they used to be]."
In its memo, the BLM said it will continue to accept voluntary mitigation, but only when the idea is raised by industry or required by a state government. The BLM is also no longer able to accept funds to pay for off-site mitigation, even if it is voluntary and supported by developers.
Changes to the sage grouse plan?
State and local agencies are in the process of reviewing how the changes to mitigation might affect Nevada conservation programs, often the result of hard compromises and collaboration.
"Sage grouse obviously is looming in the background as a big part of this story," Owen said.
Nevada's state plan for the sage grouse, approved by the Obama administration in 2015, rested on the idea that developers should mitigate their impacts by paying for off-site habitat restoration for the imperiled bird. The plan was a compromise with the administration to avoid listing the grouse under the Endangered Species Act, which would have halted nearly all development.
Several mining companies, including Barrick and Newmont, have already participated in the state's compensatory mitigation program. A spokesperson for the program said officials are in the process of discussing the effect of the changes internally and with federal partners.
It's unclear what action, if any, Interior might take to amend the sage grouse plans. Faith Vander Voot, a spokesperson for the department, noted that the memo applies prospectively. At the same time, however, Interior is currently in a process of changing the 2015 sage grouse plans.
"Going forward, the department will review current land use plans that include compensatory mitigation and take appropriate action, which may be anything from leaving current plans as they are to removing compensatory mitigation provisions," Vander Voot wrote in an email.
Brian Rutledge, who directs the Audubon Society's Sagebrush Ecosystem Initiative, said that he thinks the changes to compensatory mitigation will trickle down and affect Nevada's program.
Other changes to mitigation and the desert tortoise
In addition to the BLM change, the U.S. Fish and Wildlife Service (FWS) announced in the federal register on Monday that it would withdraw an Obama-era mitigation goal. The policy, known as the "net conservation gain" goal, had required mitigation programs to leave the land in better shape than it was before or, at the very least, to maintain the land in its current shape.
"At times, the nexus between a proposed undertaking and compensatory mitigation requirements is far from clear," FWS said, according to E&E News, a publication that covers environmental policy. "These concerns are particularly acute when coupled with a net conservation gain goal, which necessarily seeks to go beyond mitigating actual or anticipated harm to forcing participants to pay to address harms they, by definition, did not cause."
The agency, which oversees the Endangered Species Act, has the authority over regulating the threatened desert tortoise in Clark County. As the county has expanded with new development, it has been required to offset its impact through mitigation. Politics around the desert tortoise were a big driver in why the county pushed for a federal public lands bill earlier this year.
The county had been watching what was going on with the "net conservation gain" goal as it could increase its mitigation requirements for the desert tortoise. Marci Henson, who runs the county's desert tortoise mitigation program, said the removal of the conservation goal will have little effect on the program. The county was still figuring out how to meet the new goal but had yet to implement anything because the policy was in place for such a short amount of time.
Henson said the stark shifts in policy illustrate how difficult it is to get certainty from D.C.
"That's challenging these days," she said.
Disclosure: Patrick Donnelly has donated to The Nevada Independent. You can see a full list of donors here.
IndyFest is proudly sponsored by:
Comment Policy (updated 4/20/2021): Please keep your comments civil. We reserve the right to delete comments or ban users who engage in personal attacks, use an excess of profanity, make verifiably false statements or are otherwise nasty. Comments that contain links must be approved by admin.