Rosen pushing for Nevada to hold first-in-the-nation presidential primary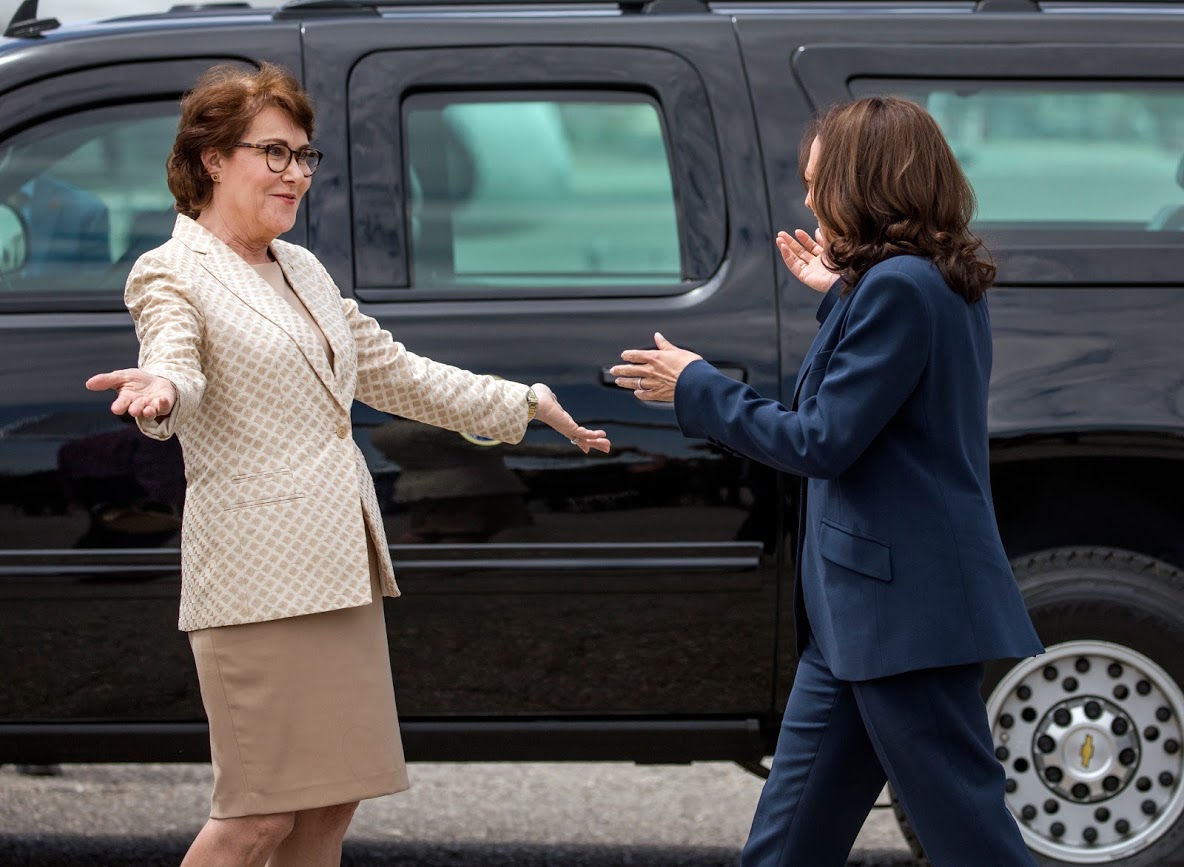 As the Democratic National Committee (DNC) considers a draft proposal to change its presidential nominating calendar, Sen. Jacky Rosen (D-NV) sees a case for Nevada to move its contest from 'first in the west' to 'first in the nation.'
The DNC's Rules and Bylaws Committee is circulating a draft proposal to overhaul the calendar and set criteria for up to five states to hold early contests, according to documents obtained by The Nevada Independent.  The new criteria would favor states with racially diverse populations and high levels of union representation, among other factors. That could help Nevada.
"It's important that we think more dynamically about having the first primary be in Nevada," Rosen said in a brief interview earlier this week. "We're diverse. We're a battleground state that matters to who becomes the next president."
Rosen spoke to the DNC two weeks ago and underscored the state's ethnic and racial diversity, which more reflects the nation than Iowa, which has held the nation's first presidential primary for both major political parties since 1972. 
Others involved in the effort, pointed the late Sen. Harry Reid (D-NV), who pushed for the move in 2020. That includes Rebecca Lambe, a longtime Democratic operative in the state, Reid's longtime political advisor and architect of Reid political machine. Lambe also helped lead the effort to make Nevada an early state in 2006.
"Senator Reid is the reason Nevada became an early state, and he was tireless in making the case that we should be first in the nation because our diversity, our strong union representation, our battleground status, and our commitment to voter access matches the party's values," Lambe said via text. "He would be incredibly proud of the effort from Senator Rosen, Nevada's congressional delegation, and Democratic leaders across the state to make this a reality in 2024."
Artie Blanco, who represents Nevada on the DNC committee, was also upbeat about the state's chances.
"As a battleground state with strong union representation and a uniquely diverse electorate, Nevada offers presidential contenders the ability to prove they can put together a winning coalition," Blanco said in an email. "And, because Nevada has spent the last decade expanding access to voting in a secure, fair and inclusive manner, voters won't have to jump through obscure hoops or overcome suppression tactics in order to make their voice heard."
The committee will next meet Monday. The proposal is silent on whether the five states would hold their contests on the same day, à la Super Tuesday, or on different days.
Under the plan, a state's ethnic diversity would play a greater role in determining which states hold contests early in the year.
The Des Moines Register first reported on the proposal.
To hammer home her argument for Nevada, Rosen appeared at the DNC with a handout created by former Reid staffers that included statistics showing that Nevada ranks third in the country in diversity, based on the Census Bureau's 2020 diversity index. A copy of the handout was obtained by The Nevada Independent.
The state is a majority-minority state, with Hispanics making up 29.2 percent of the state's population, which is the fifth-highest share of Hispanics of any state. The brochure also noted that the number of Black and Asian American residents in the state increased by about 40 percent over the last decade. 
Nevada has gone third behind Iowa and New Hampshire in recent primary cycles, even though those two states are not as diverse as Nevada. South Carolina has traditionally held its contest fourth.
Last year, Democrats in the Nevada Legislature advanced a bill that replaced the state's presidential nominating caucus with a primary, and leapfrogged other early states by scheduling the state's primary for the first week of February. But lawmakers at the time acknowledged that the legislation was intended to help Nevada make the case that it should go first, and that they could not force major political parties to modify their nominating process.
In addition to the ethnic diversity of the electorate, the DNC proposal lists diversity of geography, level of union representation and the economy as factors.
The brochure highlights Nevada's median income, $31,557, which is less than the national median of $34,103. She notes that just 24.7 percent of Nevadans have a college or advanced degree, which also lags the national average of 32.1 percent.
With regard to union membership, Nevada is 15th among the states in percent of employees represented by unions. Its rate far exceeds the national average and other early nominating states' rates.
In 2021, Nevada had a 12.2 percent union membership rate, above the national 10.3 percent average, according to the Bureau of Labor Statistics.
Rosen also pointed to the unique rural and urban dichotomy in Nevada, with dense areas like Las Vegas and Reno and vast open spaces between the two urban areas. Nevada ranks 32nd in population and only nine states are less densely populated.
Other criteria include the electoral competitiveness of a state. Nevada has been a battleground in recent election cycles. According to the brochure, Nevada was the 7th most competitive presidential state in 2020, Nevada was ranked the 6th most competitive presidential state in 2016 and had the 3rd closest U.S. Senate race in 2016. It had the 6th closest U.S. Senate race in 2018.
The proposal also looks at a state's ability to hold a contest, feasibility of scheduling and the ability to run a fair, transparent and inclusive nominating process.
The brochure also stressed "voter access" measures taken by the state, including permanent absentee ballots, more than two weeks of early vote and approval of legislation last year to move from a caucus to a presidential primary.As the DNC process plays out, more states are expected to voice a desire to hold an early contest. Lawmakers from New Jersey are making a push and Iowa and New Hampshire will not give up their early spots without a fight.
This story was updated at 6:30 p.m. on March 24, 2022, to include comments from Rebecca Lambe and Artie Blanco.
The Nevada Independent is raising $200,000 by Dec. 31 to support coverage of the 2024 election.
Tax-deductible donations from readers like you fund this critical work.
If you give today,your donation will be matched dollar-for-dollar.
Give + Get Matched
Featured Videos