Presidential candidate and Vermont Sen. Bernie Sanders speaks to the Sun City Anthem Democrats during his campaign swing through Southern Nevada on Thursday, May 30, 2019. (Jeff Scheid/Nevada Independent)
Sanders courts older Democratic voters during Henderson campaign stop
Vermont Sen. Bernie Sanders made his presidential pitch to a target demographic — older Democratic voters — during a campaign stop Thursday morning in Henderson, where he ragged on pharmaceutical companies and promised to reduce prescription drug costs.
Sanders said as president he would cut the cost of prescription drugs in half through a three-pronged approach: allowing Medicare to negotiate prices with pharmaceutical companies, tying drug costs to the median price in five other major countries and allowing patients, pharmacists and wholesalers to import low-cost drugs from other countries.
"You may think that is a radical idea," he said. "It is not a radical idea because that's what people all over the world are already paying."
The longtime supporter of a "Medicare for All," single-payer system reiterated his desire to see that policy proposal become a reality in the United States. Sanders said his version of "Medicare for All" would cover dental care, hearing aids and eyeglasses, drawing applause from the seniors gathered in a retirement community south of Las Vegas.
The presidential hopeful also said he plans to expand Social Security benefits by lifting the cap on taxable income.
Although Sanders, who describes himself as a Democratic socialist, has appealed strongly to millennials, older voters haven't been as quick to embrace all of his policy platforms. But the 77-year-old candidate said his policy ideas that were characterized as "radical" when he ran for president in 2016 have since become more mainstream.
Some have even been championed by his opponents in the crowded Democratic presidential field. Sanders, who said his Democratic challengers are "good people," called for an issue-oriented primary cycle rather than one overcome by personal attacks.
"My hope and expectation is that it not be some campaign where people are trying to savage and destroy the character of other people," he said. "The American people are sick and tired of that."
Sanders struck an optimistic tone about his chances but acknowledged he would support whomever the Democratic nominee turns out to be.
"I am looking forward to winning this election," he said. "If I win, I look forward to my 22 colleagues supporting me. If I don't win, I will support the winner. Absolutely."
The Thursday morning event, hosted by the Sun City Anthem Democrats, marked Sanders' third visit to Southern Nevada since launching his second bid for the presidency. He rallied supporters Wednesday evening in Reno, where his campaign staff encouraged attendees to download the "BERN" app and become a "walking field office."
During the Reno event, the Independent senator talked about his plans to reduce the income inequality gap, improve the nation's physical infrastructure, combat climate change, enact comprehensive immigration reform and overhaul the criminal-justice system, among other topics.
His Reno rally drew more than 1,000 people Wednesday. About 220 people attended his campaign event Thursday morning in Sun City Anthem.
Sanders was the third Democratic presidential contender to meet with the Sun City Anthem Democrats. Minnesota Sen. Amy Klobuchar visited several weeks ago, followed by New Jersey Sen. Cory Booker on Tuesday.
Ron Hrebenar, a retired political science professor and a board member with the Sun City Anthem Democrats, attended all three candidate visits.
"I'm here to see if Bernie Sanders is viable in the current world we live in," he said, noting that his message needs to resonate with seniors. "I don't know. That's why I'm here."
Hrebenar, 74, said he has been fascinated by the 2020 election cycle, but he's hoping the crowded field doesn't end in a situation where no Democrat emerges with widespread support.
"If we put out a candidate that doesn't appeal to a strong proportion of this country, the Democrats could lose this election," he said. "That would be disastrous."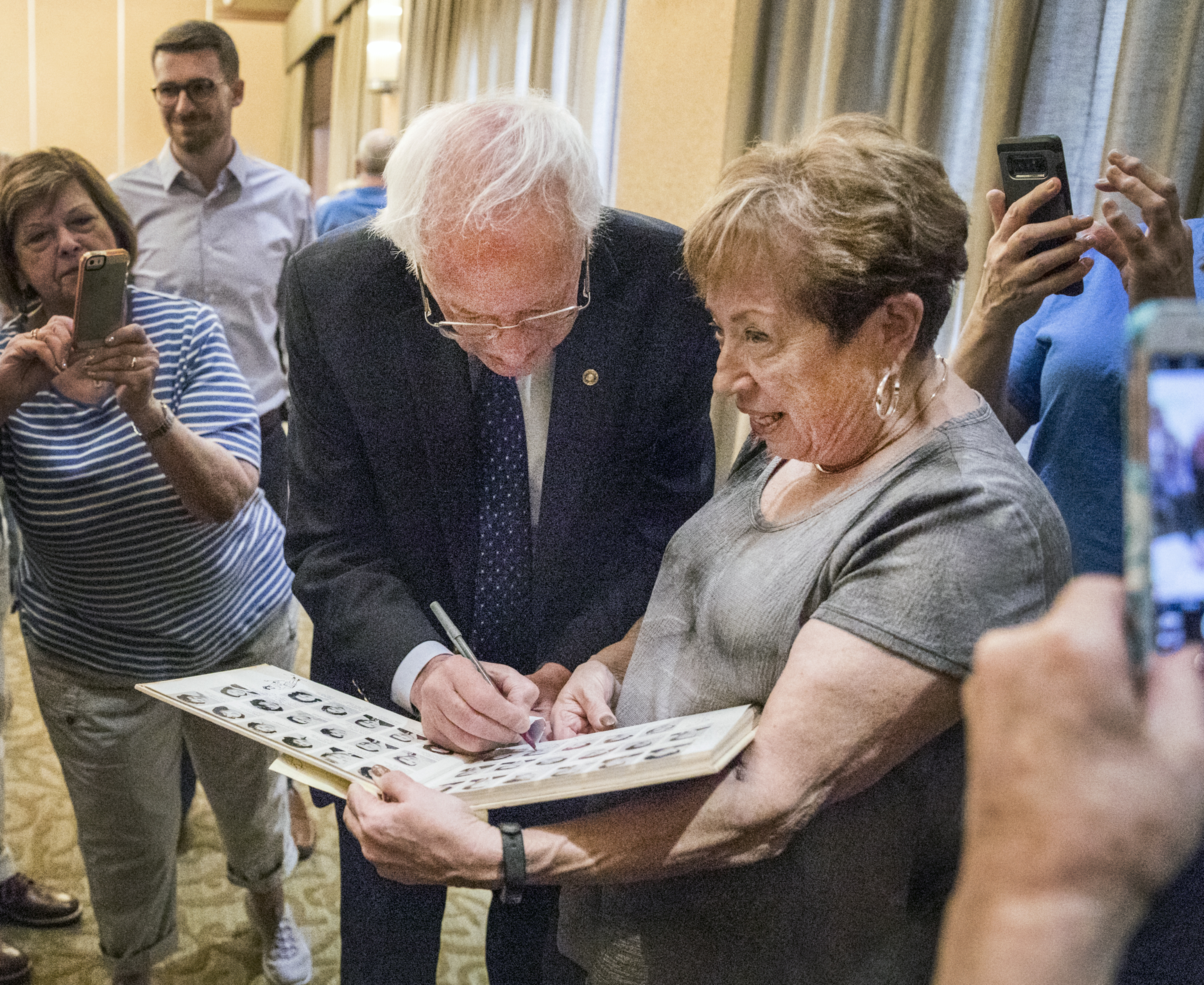 Karen Fleischer, 74, said Sanders has some "very, very wonderful ideas" but she was disappointed with his response to a question about potential impeachment proceedings against President Donald Trump.
Sanders said the House Judiciary Committee should begin impeachment inquiries to determine whether Trump has committed impeachable offenses. As he has in the past, Sanders stopped short of calling for actual impeachment at this point, instead urging caution against entering into a monthslong debate that could detract from other important issues. (Ten other Democrats vying for the Oval Office have outright called for impeachment proceedings against Trump.)
Fleischer disagreed.
"I think we have an obligation to proceed with it at this point," she said.
Before Sanders headed to his afternoon campaign events in Las Vegas, he took a quick walk down memory lane — and signed a high school yearbook brought by his former classmate, Helene Laefer. The two attended James Madison High School in Brooklyn, New York.
Laefer said she didn't know Sanders in school, as their graduating class had more than 1,000 students. Still, she wanted his signature, even if it was 60 years after they earned their diplomas.
The former classmates, briefly reunited decades later and thousands of miles away from their school, smiled for cameras Thursday morning. Then Sanders headed to his next campaign events — a town hall in East Las Vegas followed by a meeting with the Asian Pacific Islander American (APIA) community in North Las Vegas.
Sanders focused on immigration Thursday afternoon during an event that drew more than 900 people to Roy Martin Middle School in East Las Vegas.
"Donald Trump thinks he'll win by dividing us by the color of our skin, by our religion, by where we come from, by our sexual orientation," Sanders said. "I got news for you, it ain't gonna work. We're gonna win by bringing people together."
Race and immigration have become a key focus of Sanders' 2020 campaign since his first run for president in 2016; the support of minority voters is crucial to any Democratic candidate running for office. That's especially true in Nevada, where almost 30 percent of the population is Hispanic.
Sanders, himself the son of a Polish immigrant who fled poverty and anti-Semitism, said the way President Trump often describes immigrants reminds him of how people treated his father.
"His story is the same story of many of yours," Sanders said. "That's a story we are proud of. When we look at our border, remember they are seeking safety from violence, strife and desperate poverty."
Sanders proposes comprehensive immigration reform, including immediate legal status to the 1.8 DREAMers that currently live in the United States.
Maya Cinemas in North Las Vegas served as Sanders' third and final campaign stop Thursday. During a roughly 20-minute speech, he touched on everything from health care and immigration to climate change and education.
This story was updated at 10:15 p.m. to include information from afternoon campaign events.
Stories
Candidate Trackers
Endorsements, Ads, Policies, Visits
& More
visit now
Comment Policy (updated 10/4/19): Please keep your comments civil. We reserve the right to delete comments or ban users who engage in personal attacks, use an excess of profanity, make verifiably false statements or are otherwise nasty.