Sanders draws big crowd — and some protesters — to first Nevada rally since announcing presidential bid
There were $15 campaign T-shirts, musical performers, a snaking entry line and bullhorn-toting protesters — all the trappings of a political rally deep into an election cycle.
The scene seemed more suited for summer 2020 and yet, more than 18 months until the presidential election, Bernie Sanders loyalists flocked to a Henderson park Saturday to hear the Vermont senator discuss why he's making a second bid for the White House.
Fresh off a visit to South Carolina, where he received seven stitches after cutting his head on a glass shower door, Sanders, 77, poked fun at the injury when he took the stage.
"A little black eye isn't going to stop me," he said.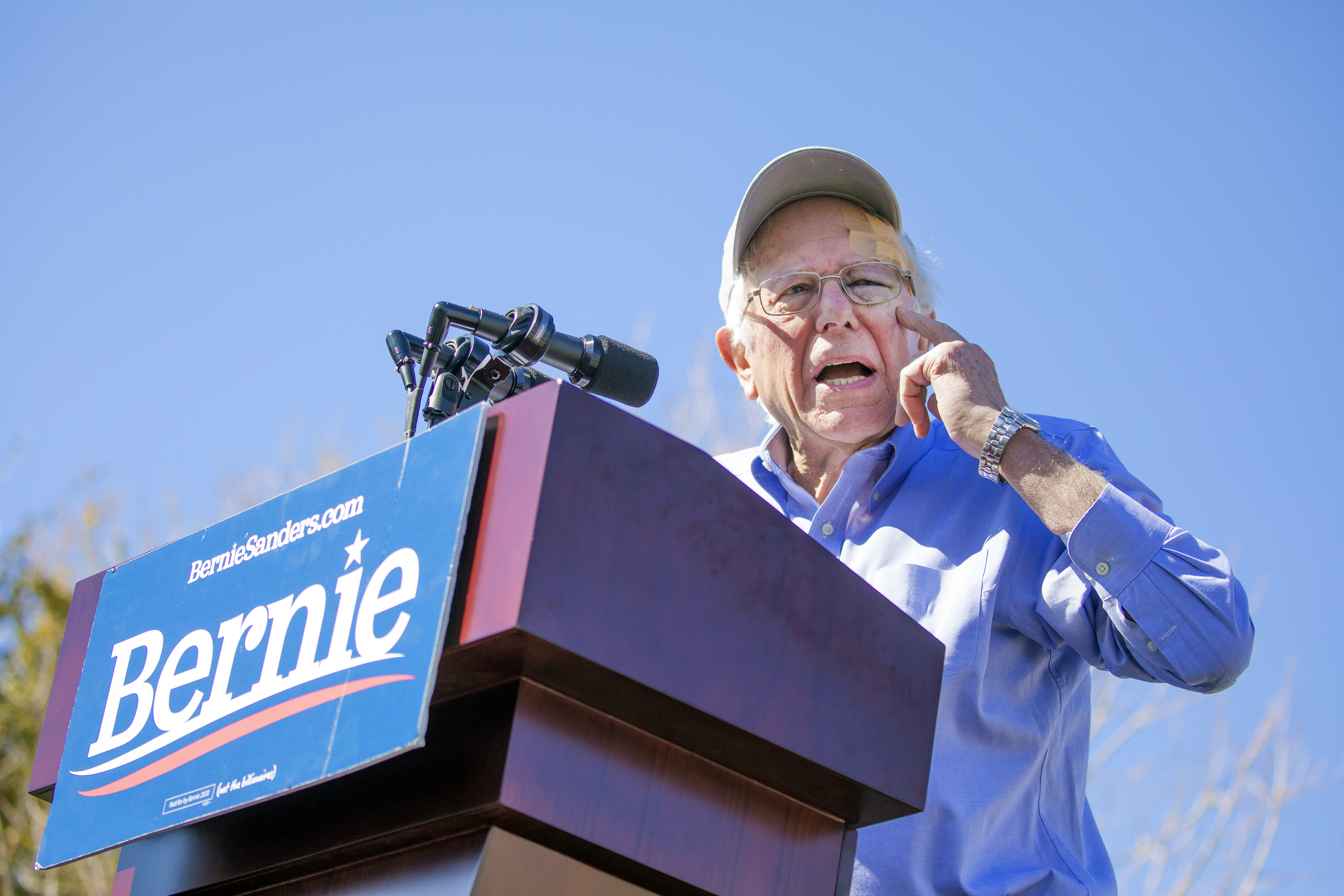 For the next 45 minutes, Sanders dug into campaign issues — health care, child care, climate change, economic mobility, criminal justice, education and affordable housing — while making his case for winning the Democratic nomination and, ultimately, defeating President Trump.
"But I will need you the day after the election because our job is to take on powerful special interests and to transform this country," he said.
The self-described Democratic socialist — who is an Independent in the Senate — continued his attack on corporate greed Saturday during his first visit to Nevada since formally launching his presidential campaign last month. Sanders ran for president in the 2016 cycle but lost the Democratic nomination to Hillary Clinton.
Hospital visits shouldn't bankrupt Americans, he said, nor should people working 40 hours a week be unable to afford housing. Sanders vowed to bring change to the nation's health-care delivery system and institute a $15 minimum wage.
"We are going to end a system whose main function is to provide enormous profits and compensation packages for those who lead the health-care industry," he said. "That is going to end. So we say to the health-care industry and the insurance companies: Whether you like it or not, we are going to pass the Medicare-for-all, single-payer program."
He also called for an "end to the demonization of undocumented immigrants" by passing comprehensive immigration reform; a move toward energy efficiency and sustainability to combat the "existential threat" of climate change; and a revamping of the United States' criminal-justice system, which he described as an "international embarrassment" because of the number of people incarcerated.
His fiery rhetoric and myriad campaign promises drew hearty applause and occasional "Bernie! Bernie! Bernie!" chants. But the progressive senator's presence also brought protesters to the park's perimeter. Some hurled insults, most of which weren't discernible inside the rally. Others carried pro-Trump or anti-Sanders posters, including one that read "Crazy Bernie to Make USA Venezuela" — an oblique reference to what critics say is Sanders' socialist agenda.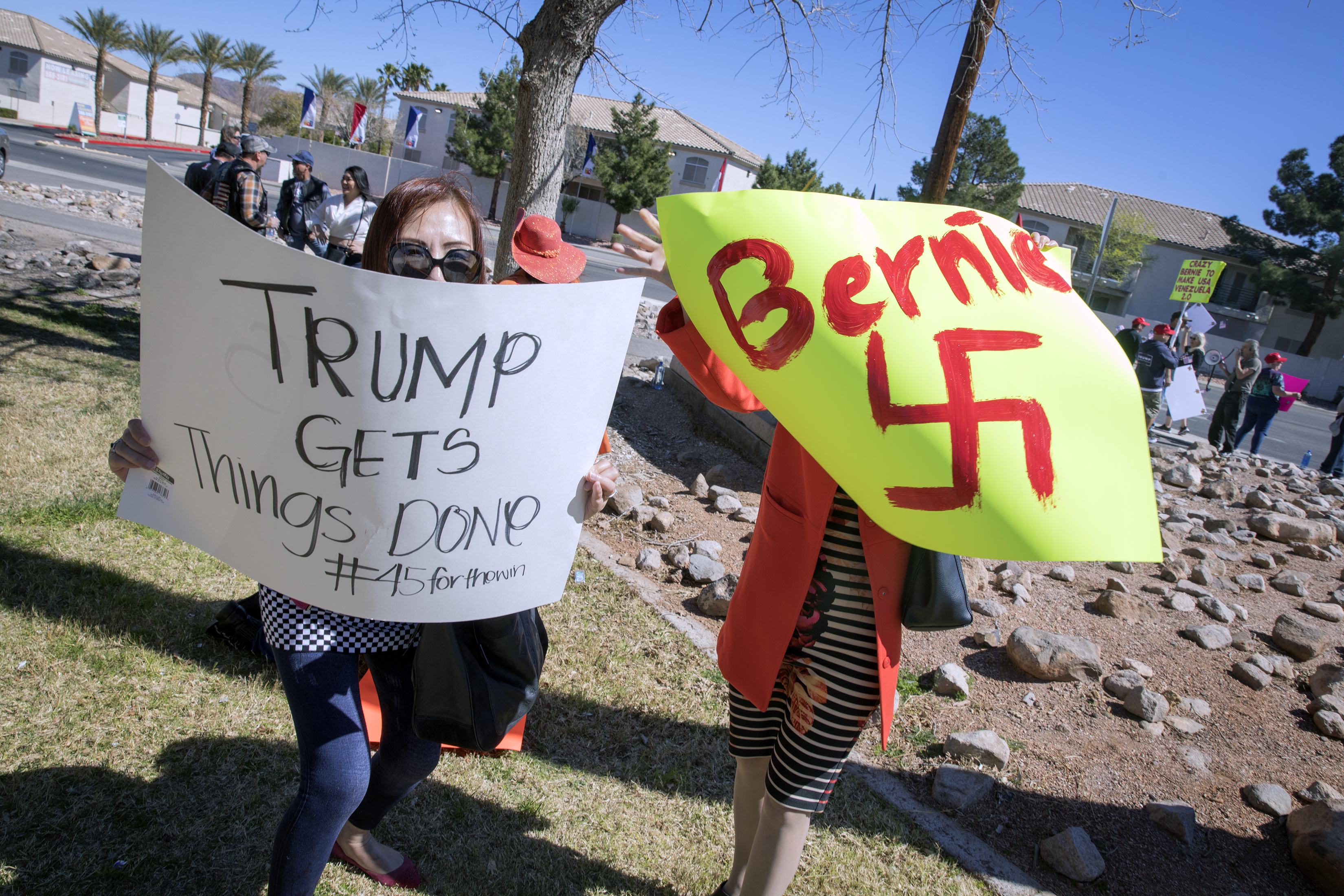 But Joe Cervantes, 37, doesn't buy that comparison. The pastry chef and Sanders volunteer, who immigrated from Venezuela as a child with his family, said there's no socialism in his politically unstable home country. All of his relatives have fled.
"I think that whole socialist thing is a cover-up for the dictatorship going on now," Cervantes said, referring to the frequent attack on Sanders.
Sanders fans since roughly 2013, Cervantes and his wife, Susan, plan to heed the presidential candidate's call for a grassroots movement and assist on the ground level. They plan to help make phone calls for his campaign, although Cervantes conceded he stays away from political discussions that he can tell might get heated.
"We lost the art of speaking about politics," he said. "Everyone gets offended."
More than 1,000 people attended Sanders' campaign rally in Morrell Park, making it the largest gathering yet among presidential contenders who have visited Southern Nevada. Temperatures hovered in the low 70s as the presidential candidate outlined his vision and criticized Trump. Sanders said Americans are "sick and tired of billionaires running our country."
He alluded to his first presidential campaign, saying his supporters built a vision around priorities such as guaranteed health care and lessening the influence of big money in politics. More than two years into Trump's presidency, Sanders asked his supporters for help as the gear-up to the 2020 election gets underway.
"Now is the time to complete that journey," he said.
As an early caucus state, Nevada has seen a steady churn of presidential hopefuls visit in recent weeks. Washington Gov. Jay Inslee spoke during a Nevada Conservation League meeting last weekend and, on Friday, Julian Castro — the former secretary of Housing and Urban Development in the Obama administration — made multiple stops in Las Vegas.
Rep. Tulsi Gabbard, of Hawaii, plans to host a town hall Monday at the Asian Cultural Center in Las Vegas, followed by a meet-and-greet event in the evening.