Democratic presidential candidate Sen. Bernie Sanders speaks at a campaign event inside Cambridge Community Center in Las Vegas on Saturday Sept. 14, 2019. (Daniel Clark/The Nevada Independent)
Sanders hammers on health care, unveils housing plan, targets Biden during Nevada campaign swing
September 15th, 2019 - 2:00am
Facing six figures of mounting health care debt, Navy veteran John Weigel told Bernie Sanders he had lost all hope. 
"I can barely take care of myself," Weigel said. "I do not have any energy to fight these people and every time I get on the phone with them, they piss me off."
Weigel told the crowd at Sanders' Friday afternoon rally in Carson City that he had been struggling with Stage-4 Huntington's Disease — a fatal, hereditary disease that attacks the nervous system in ways similar to Parkinson's or Alzheimer's — and that his health care providers had stopped accepting his military insurance, even saying he had canceled his plan despite his claims to the contrary. 
Sanders held up a bill Weigel had brought to the event. It showed an account balance of $139,000.
"How are you going to pay it off?" Sanders asked.
"I can't! I can't! I'm going to kill myself!" Weigel said, to gasps from the audience.
"Hold up, John, you're not going to kill yourself," Sanders said. 
After the event, Sanders' wife, Jane, took a seat with Weigel, who was brushing away tears. She told him his congressional representatives had staff members dedicated to sorting out problems with government programs like his.
Other attendees surrounded him, offering him help and trying to encourage him.
"I feel better," Weigel told a reporter as the room cleared and he headed for the exits. "There's a lot of people going to help me now."
It was a dramatic turn during a two-day campaign swing meant to feature something entirely different: a $2.5 trillion affordable housing plan that would completely revamp the country's public housing — in part through establishing a national rent control standard. 
"It is unacceptable to me that over 18 million families in America today are paying more than 50 percent of their limited incomes on housing," Sanders told a crowd in Las Vegas on Saturday. "How can working people pay for food, transportation, health care, prescription drugs, education and childcare when over half of their income is going to pay the rent or the mortgage?"
The visit was also defined in part by Sanders firing back at former Vice President Joe Biden, who harshly criticized the long-term costs and feasibility of Sanders' vaunted Medicare for All proposal during Thursday night's Democratic debate. Speaking to a crowd of roughly 400 in Carson City, Sanders said the primary frontrunner was merely "parroting" the talking points of the health insurance industry. 
"Apparently the vice president thinks that it is just wonderful for people to be paying a thousand dollars a month, $500 a month in premiums," Sanders said. "That's just great having a deductible of $4,000, $5,000 or more out of pocket, paying the highest prices in the world for prescription drugs. Not a problem. Well, I think those are all problems."
"Right now in Iowa, and I'm sure it's gonna be here soon — you're gonna find, you're gonna turn on the TV and there'll be this ad and it says 'Bernie Sanders, terrible human being, wants to take away your private health insurance' and they'll be lying and lying. Those ads are paid for by the drug companies and the insurance companies who made $100 billion in profit."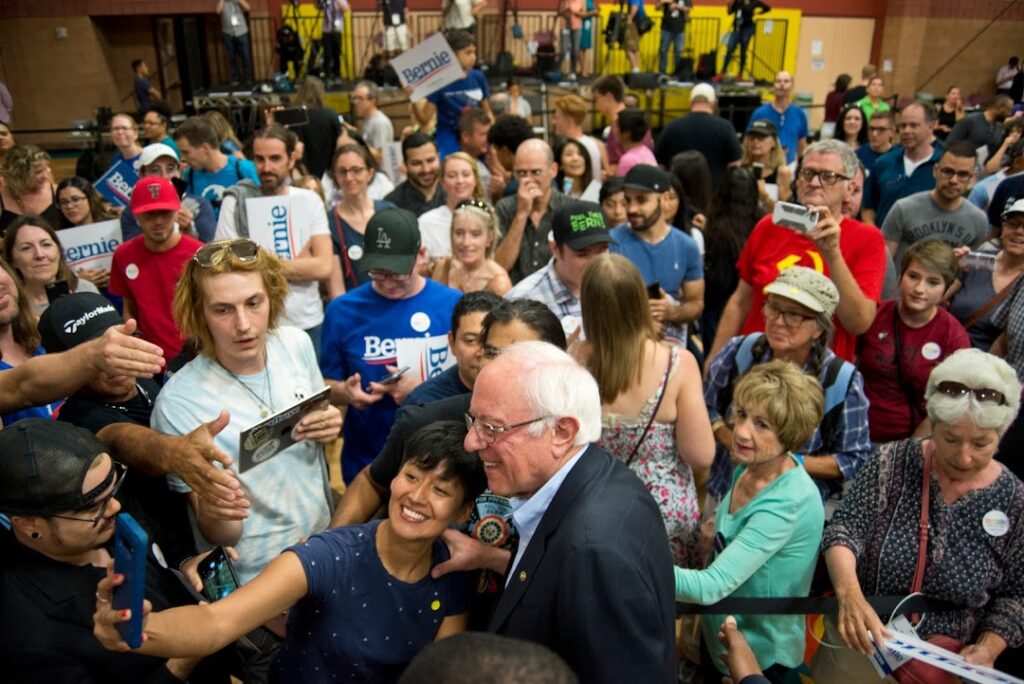 Sanders has long touted his plan for government-run health insurance, but the policy has come to the fore over the last few months as it has emerged as a singular sticking point in the Democratic primary.
"In America today, 500,000 people a year go bankrupt because of medical bills," Sanders said. "Can you deal with that insanity? You're diagnosed with cancer and you've got to go bankrupt. What crime did you commit?"
Later, as he announced his housing plan, Sanders rebuked Trump Administration policies that have diverted money away from affordable housing programs in moves he said "actively" worsened the nation's existing public housing infrastructure. 
"Not only will this close the affordable housing gap, it will create millions of good-paying jobs in the process," Sanders said. "When I talk about rebuilding America's infrastructure, I am talking about building the millions of units of low-income and affordable housing this country desperately needs."
The full plan, which the campaign said would be rolled out over the next few weeks, includes promises to expand the National Affordable Housing Trust in an effort to renovate more than 7 million units of existing affordable housing, as well as build 2 million additional units. It also includes new safeguards for Section 8 housing programs and the promise to implement a national rent control standard. 
All that comes with a hefty price tag — Sanders' campaign estimates more than $2.5 trillion over the next 10 years. But the Vermont senator, pre-empting his critics, said the money will come from a familiar Sanders target: America's ultra-wealthy. 
"At a time when we have seen a massive transfer of wealth from the working families of this country to the top 1 percent, when over the last 30 years, that top one percent has seen a $21 trillion increase in its wealth, we are going to establish a wealth tax on the top one-tenth of one percent – the wealthiest 175,000 households who own more wealth than the bottom 83 percent of Americans," Sanders said. "Under our proposal, 99.9 percent of Americans will not see their taxes go up by one nickel."
Sanders also paid a visit to the campus of UNLV, where he participated in a town hall held by the Latinx organizing group Mijente. There, speaking to a largely Hispanic audience, he touted his work with the Latino community on issues from immigration to Puerto Rico. 
As population changes continue to shift the Democratic base, Latinos — who overwhelmingly register as Democrats — have become an increasingly critical voter demographic for the party in states like Nevada, where Hispanics make up roughly 28 percent of the total population. 
Sanders struggled to win black and Latino voters during his 2016 campaign, and — though he touted his success among young minority voters — he has since retooled his voter outreach efforts. 
The weekend also saw Sanders frequently take aim at a Trump Administration he called "dangerous" on more than one occasion. Speaking at a rally in Las Vegas on Saturday evening, Sanders said of climate change that the president's policies have "made a bad situation worse."
"Trump thinks that climate change is a hoax, and is making us more dependent on fossil fuels," Sanders said. "I think it might be a good idea to listen to the scientists and not to Donald Trump."
He went on to criticize the role of fossil fuel companies and the military industrial complex in fueling the root causes of climate change, as well as touting his own version of the controversial Green New Deal as the most "comprehensive climate change legislation ever introduced" by a national candidate. 
Reporters Michelle Rindels, Mark Hernandez and Shannon Miller contributed to this report. 
Stories
Candidate Trackers
Endorsements, Ads, Policies, Visits
& More
visit now
Comment Policy (updated 10/4/19): Please keep your comments civil. We reserve the right to delete comments or ban users who engage in personal attacks, use an excess of profanity, make verifiably false statements or are otherwise nasty.