Gov. Brian Sandoval shown Monday, March 12, 2018, in Carson City, where he gathered superintendents for a discussion about school safety. (David Calvert/The Nevada Independent)
Sandoval, school superintendents discuss arming teachers and more at capital gathering
March 13th, 2018 - 2:05am
Most Nevada school districts have chosen not to allow staff members to carry guns on campus, even though it is permitted under state law.
"There's a difference of opinion there," Gov. Brian Sandoval said after convening a meeting with school superintendents Monday to discuss school safety, including the controversial topic of arming teachers. "Although I will say the consensus was that most of the school districts chose not to do that."
President Trump has proposed arming certain staff members, including teachers, as a way to prevent more bloodshed in the wake of the recent school shooting in Florida, which left 17 people dead. But his suggestion comes at a time when a student-led movement is calling for stricter gun control laws to curb mass shootings.
Sandoval said he's "aware" of some school districts in Nevada that have armed staff members on campus, but he declined to elaborate, citing safety concerns. Nevada law gives school principals the discretion to allow certain staff members to carry a concealed weapon on campus.
Humboldt County School District's superintendent, David Jensen, said his district does not "advertise" whether any teachers are authorized to carry firearms.
"As the governor has indicated, that's because we want to ensure the safety of everybody on our school campuses so we do not share that information," he said.
Sandoval initially expressed concerns about Trump's plan to arm teachers, but he later toned down that sentiment after a White House meeting with other governors. The debate over arming teachers is only one slice of the complicated school-safety issue, hence Sandoval's meeting Monday with 15 school district superintendents in Carson City.
The termed-out governor announced that he will be issuing an executive order to create a commission tasked with examining school safety. The commission will include two superintendents — one from a rural and urban district — as well as principals, teachers and students, among others, who will provide school-safety recommendations to him.
Sandoval wants to take those recommendations into account as he tweaks the state's next budget, but none of it will be binding. His successor could change the budget after taking office in January.
"The bottom line is we're not going to solve this all in one day in two hours," he said. "But this is the beginning to a conversation that will lead into the next session of the Legislature."
Clark County principals recently told The Nevada Independent that school safety is far from a single-solution problem. School design and the emotional well-being of students also play a major role. The superintendents who met with the governor seemed to echo their thoughts.
Based on his meeting with the superintendents, Sandoval said he expects the forthcoming commission to examine needs regarding mental-health workers, school police officers, staff training and funding for safety improvements.
Sandoval addressed the mental-health component of the equation Monday. The governor referenced one of his education reforms in 2015, which placed social workers in more schools, and said he wants to explore making it easier for districts, especially those in rural areas, to access that funding.
"We want to get in front of this issue as much as we can," he said.
Sandoval said he wants to form the commission as quickly as possible so the group can meet several times before the state's budget-building process wraps up on Aug. 31. He expects to finish a draft of the executive order by the end of this week.
The governor's meeting with superintendents — and subsequent announcement about forming a commission — comes two days before Attorney General Adam Laxalt, who's running for governor, convenes law enforcement authorities for a school-safety summit.
Sandoval said he doesn't plan to attend Laxalt's summit, but he's likely sending a staff member.
INDY FAST FACTS
Adam Laxalt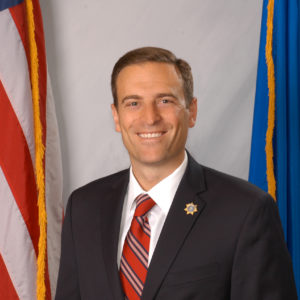 Job:
 Nevada State Attorney General
Party:
Republican
In current office:
2015-present
Birthdate:
August 31, 1978
Education:
Georgetown University (B.A.) Georgetown University Law Center (J.D.)
Other public offices held:
None
Total donations:
$8,262,050 (1/08/14 - 6/07/18)
Top donors:
Station Casinos/Zuffa/Fertitta $208,500 Las Vegas Sands $75,000 Marnell Properties LLC $42,500 Starpoint Resort Group/Partners $40,000 MGM Resorts $35,000
INDY FAST FACTS
Brian Sandoval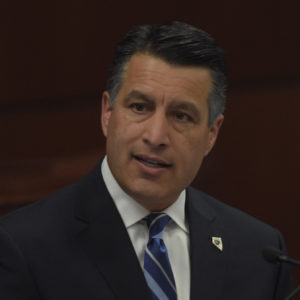 Job:
 Nevada Governor
Party:
Republican
In current office:
2011-present
Birthdate:
August 5, 1963
Education:
University of Nevada, Reno (B.A.) Ohio State University (J.D.)
Other public offices held:
U.S. District Court Judge (2005-2009) Nevada State Attorney General (2003-2005) Nevada Gaming Commission Chair (1999-2001) Nevada Gaming Commission Member (1998-2001) State Assemblyman, District 25 (1994-1998)
Total donations:
$5,035,808 (1/7/11 - 7/5/17)
Top donors:
Caesars Entertainment $245,000 Station Casinos $158,072 MGM Resorts International $160,000 Wynn Resorts $80,000 Marnell Properties LLC $70,000
From the Editor
The Nevada Independent
is a 501(c)3 nonprofit. We need help to attain the elusive goal of sustainability. We depend on recurring donations from you, the readers who believe in our mission of nonpartisan, transparent journalism. I know you are busy. I know you have many commitments. But if you would take a moment to
support our work
or bump up your current donation, I would be forever grateful.
Thanks for all of your support.
Best,
Jon Ralston
get our morning newsletter,
The Daily Indy
Stars & Struggles
Take a peek into today's education world through the lens of Sunrise Acres Elementary School in Las Vegas.
@TheNVIndy ON TWITTER