Nevada Governor Brian Sandoval and fiancee Lauralyn McCarthy head to the concourse between the second and third periods of a playoff game between the Vegas Golden Knights and the Los Angeles Kings on Friday, April 13, 2018, at T-Mobile Arena in Las Vegas. The Knights won the game 2-1 in double overtime. (Sam Morris/Las Vegas News Bureau)
Sandoval to marry gaming executive Lauralyn McCarthy
August 7th, 2018 - 4:43pm
Gov. Brian Sandoval is planning to marry gambling industry executive Lauralyn McCarthy this weekend.
The two-term governor's office confirmed Tuesday that the couple will marry on Saturday, but declined to say where or offer further details about their relationship. Sandoval is returning this week after a trade mission to Ghana and South Africa.
"The happy couple requests privacy for themselves and their families during this special time," his office said in a statement.
According to her biography on the website of Global Gaming Women, McCarthy is vice president of new markets at Aristocrat Technologies. She attended the University of Nevada, Reno on a tennis scholarship; she graduated in 1992 with a journalism degree and received the Journalism School Senior Advertising Professionalism Award.
She helped set up offices for slot manufacturer IGT in the Latin American market, and then ended up starting her own slot route in New Mexico, operating about 600 of her own machines there, according to Vegas Seven. McCarthy has been working for more than 24 years in leadership and development for casino companies including Scientific Games and IGT.
She is a trustee of the Desert Research Institute and a member of Global Gaming Women and the foundation board for Opportunity Village, which provides services for people with disabilities.
"I have two severely disabled siblings, and my family has spent our whole lives looking for the best quality of life for them," she told Vegas Seven in 2016. "Opportunity Village is unique on the planet for the services it provides to the adult disabled."
Sandoval and his wife Kathleen finalized their divorce earlier this year after 27 years of marriage. Washoe County Court records from the divorce proceedings are sealed.
The two met at the University of Nevada, Reno while attending summer school and married in 1990. They have two adult children, James and Maddy, and one teenager, Marisa.
Sandoval, 55, is in his eighth and final year as Nevada's governor. He was first elected in 2010.
Sandoval is Nevada's second governor to get divorced while in office. His predecessor, Republican Gov. Jim Gibbons, had a highly public split from his wife Dawn that started in 2008 and was not finalized until 2010.
INDY FAST FACTS
Brian Sandoval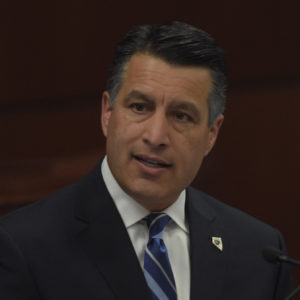 Job:
 Nevada Governor
Party:
Republican
In current office:
2011-present
Birthdate:
August 5, 1963
Education:
University of Nevada, Reno (B.A.) Ohio State University (J.D.)
Other public offices held:
U.S. District Court Judge (2005-2009) Nevada State Attorney General (2003-2005) Nevada Gaming Commission Chair (1999-2001) Nevada Gaming Commission Member (1998-2001) State Assemblyman, District 25 (1994-1998)
Total donations:
$5,035,808 (1/7/11 - 7/5/17)
Top donors:
Caesars Entertainment $245,000 Station Casinos $158,072 MGM Resorts International $160,000 Wynn Resorts $80,000 Marnell Properties LLC $70,000
From the Editor
The Nevada Independent
is a 501(c)3 nonprofit. We need help to attain the elusive goal of sustainability. We depend on recurring donations from you, the readers who believe in our mission of nonpartisan, transparent journalism. I know you are busy. I know you have many commitments. But if you would take a moment to
support our work
or bump up your current donation, I would be forever grateful.
Thanks for all of your support.
Best,
Jon Ralston
get our morning newsletter,
The Daily Indy
Stars & Struggles
Take a peek into today's education world through the lens of Sunrise Acres Elementary School in Las Vegas.
@TheNVIndy ON TWITTER