Sandoval touts economic development at event with Elon Musk, gives proclamation to Blockchains CEO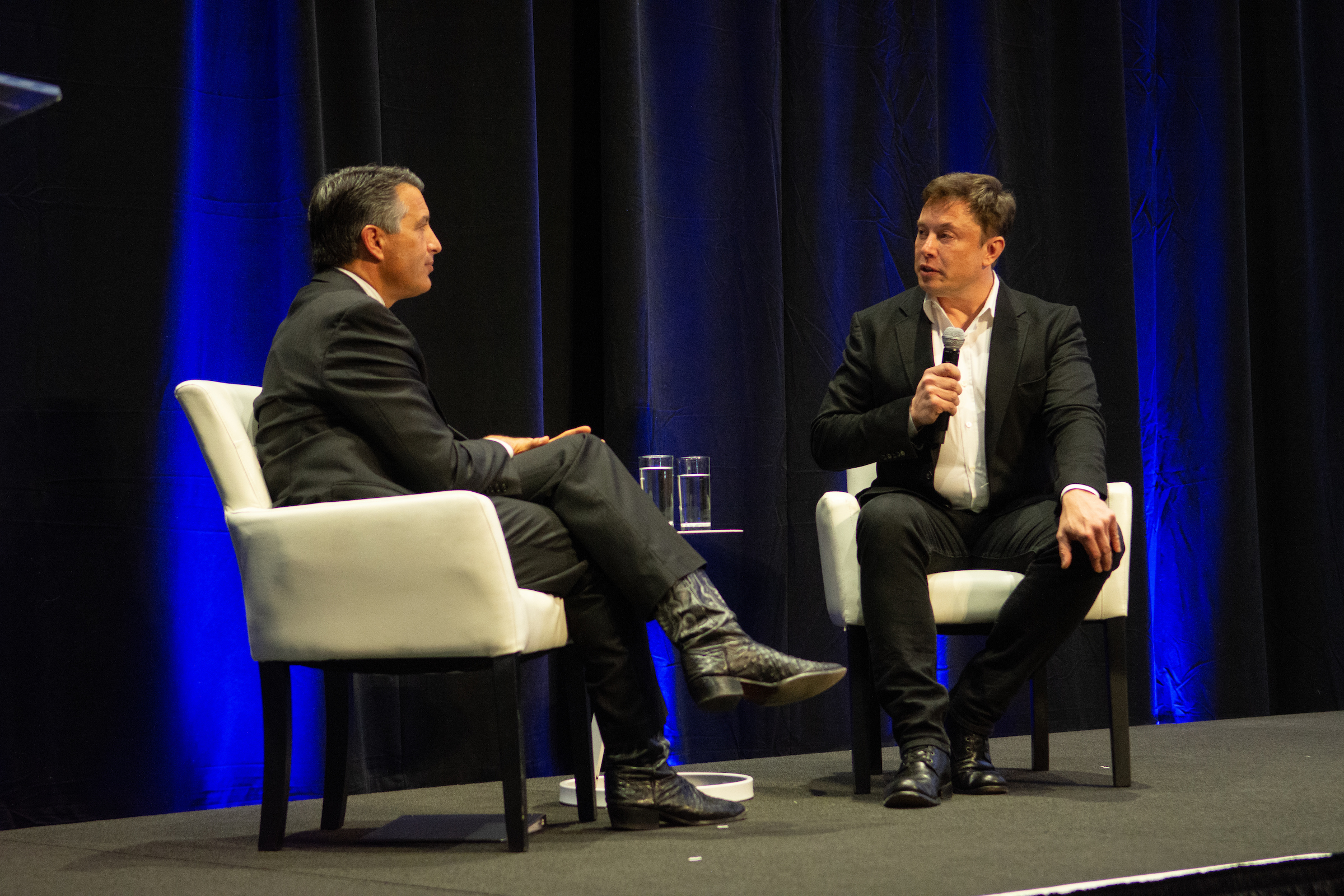 As Gov. Brian Sandoval enters his final months in office, he shared the stage one more time with Tesla CEO Elon Musk to highlight his record helping Nevada recover from the Great Recession Tuesday afternoon during a tech summit at the Tesla Gigafactory near Reno.
The summit, organized by the governor, included a panel discussion with the CEO and owner of Blockchains, LLC, a little-known startup that has purchased more than 67,000 acres — enough land to build a city — in the Tahoe Reno Industrial Center, where the Gigafactory is located.
"They mocked me," Sandoval said. "They called me Governor Sunny. Guilty as charged."
Sandoval noted that when he was running for office, the unemployment rate was double digits — at 14.3 percent — and has dropped to 4.5 percent. He said the turnaround has, in part, had to do with the state's ability to attract new companies like Tesla to build facilities or relocate to the state, noting that companies have invested nearly $30 billion dollars in capital in Nevada.
But the governor and Musk both said that new growth has brought challenges to the region, often placing a strain on infrastructure and the housing supply. Musk suggested that Tesla, which he said has nearly 7,000 employees at the factory who work directly for the electric car and energy company, might even begin to build its own housing at the industrial park.
"The biggest constraint on growth here is housing and infrastructure," Musk said in a Q&A with Sandoval. "We're looking at creating a sort of housing compound on-site at the Gigafactory."
As part of the deal to bring Tesla to Nevada, state lawmakers approved a tax incentive package for the company estimated to be worth about $1.25 billion over 20 years.
Before interviewing Musk for about 30 minutes, Sandoval gave a proclamation to Jeffrey Berns, the CEO of Blockchains, LLC, which paid in cash for more than 67,000 acres of land at the industrial park in January, more than 22 times the amount of land that Tesla owns. In the proclamation to Berns, Sandoval christened the industrial center as "Innovation Park."
"One of the next big chapters in this Nevada story is Blockchains," Sandoval said.
In a panel discussion with Sandoval and Tesla executives, Berns said that company planned to build a "sandbox" for blockchain-technology but revealed little more about their plans. Berns, a California trial attorney who has won big class-action cases, said that it would announce its plans on Nov. 1 at an annual blockchain development conference in Prague. Although Berns did not talk about the company, Sandoval asked Berns about how he got interested in blockchain.
"I had been litigating cases against banks for years, and mostly for predatory lending," he said.
One case in particular bothered him, he said. Although Berns was able to reach a $2 billion settlement, he was frustrated that the company got away with bilking much more. Around the same time, he said his daughter asked if he'd "changed the world in any meaningful way."
"That set me on this course of trying to find a way to rebalance the power structure," he said. "What's happening right now in society is there is a complete breakdown of trust in the institutions we are supposed to be able to trust, whether that be the government, banks, corporations, news media. Blockchains establishes trust person-to-person."
In the past, the company has said it plans to develop applications for using blockchain, a technology that allows for making digital transactions, such as payments or contracts, on a permanent ledger that is cannot be manipulated and is distributed throughout the internet.
But it remains unclear what the company wants to do with that much land. Berns said he hopes 10,000 to 20,000 people "will be employed here by what we have planned" in the next decade.
Berns told reporters that the company has spent the last six years in "stealth mode."
When asked why the company needed the land, Berns said the company would be doing more than software and that "we're going to create a sandbox like you've never seen before."
"If you think we bought enough land that we are the same size as the city of Reno, let your mind go on what we have planned," he added. "There will be a huge physical presence and unlike anything that has ever been seen. What we will build here will change not just Nevada but the entire planet. It literally will emanate from here. This will become the blockchain center of the universe. And because of that, all that blockchain has to offer will start here."
The Nevada Independent recently reported that the company plans to build a fiber network.
On Tuesday, Musk said that the battery factory will end up producing an output three times its original goal. The event came as the electric car company has come under scrutiny in recent weeks. Musk stepped down as the company's chairman in late September after the Securities and Exchange Commission filed charges over his tweets about potentially taking the company private. Since it first came to Nevada, the company has grown into an energy company, with its acquisition of SolarCity, the rooftop solar company founded by Musk's cousin Lyndon Rive.
Earlier in the day on Tuesday, The Nevada Independent reported that the state found that Tesla owed more than $654,000 in unemployment taxes, which the company said is has since paid, attributing the issue to a "clerical error" that arose from the merger of the two businesses.
At the event, Musk continued to frame the company, which is aimed at electrifying both the grid and transportation, as having a broader mission of moving the economy to sustainable energy.
"It is tautologically true that we must have sustainable energy because if it's unsustainable, we're going to run out of it and then civilization will collapse," he said. "We must have sustainable energy. The question is whether that happens sooner of later. And the scientific community very strongly argues that it is wise to have it sooner."
Tax credits have become a common economic development strategy in states across the country, and states often compete to offer the best incentive packages as companies look for locations to site large-scale products. Offering the incentives has been a key part of Sandoval's economic development strategy. Both gubernatorial candidates have criticized elements of this approach. Attorney General Adam Laxalt, the Republican looking to replace the Republican governor, has also said that the state's business license fees are too high for companies.
Talking to reporters after the event, Sandoval defended the large tax credits for the company.
"They are actually bringing a lot more tax revenue than we otherwise would have had," he said.
He also said he did not think that the business license fees were too high.
"I heard some of the issues associated with the business license fee last session," Sandoval said after the event. "And essentially, we [continue to] grow. The number of businesses are at an all-time high in this state. So I don't believe that the business license fee is too high."
The Nevada Independent is raising $200,000 by Dec. 31 to support coverage of the 2024 election.
Tax-deductible donations from readers like you fund this critical work.
If you give today,your donation will be matched dollar-for-dollar.
Give + Get Matched
Featured Videos