Incumbent Reno Mayor Hillary Schieve and challenger Eddie Lorton on stage at the Peppermill Resort Spa Casino during a debate on Thursday, Oct. 18, 2018. (David Calvert/The Nevada Independent)
Schieve, Lorton trade barbs on debt, homelessness and growth at Reno mayoral debate
October 19th, 2018 - 2:20am
Reno mayoral candidate Eddie Lorton and Mayor Hillary Schieve painted two different pictures of the city during a debate at the Peppermill Resort Hotel Thursday night.
Lorton described a city riddled with crime, crippling debt and an extreme homeless problem. Schieve recognized some of these growing problems but offered a 180-image in which Reno's debt had decreased, unemployment is down and the city is growing.
Schieve, who identifies as a non-partisan, is widely considered the favorite in the race, having won 63 percent of the vote in the primary. Lorton, a Republican, won 18 percent of the vote.
At the debate hosted by the Reno-Gazette Journal and KTVN Channel 2, the candidates differed in their views of government. Schieve said there should be a role for city government in providing numerous services, from homelessness to public art, while Lorton said he favored smaller government.
"The city's only job is police, fire and public works," he said.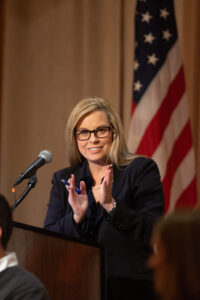 In her opening statement, Schieve acknowledge that with additional growth, Reno has faced new challenges that require the city to work with other municipal governments on solutions.
"With success comes challenges," Schieve said. "We know this. And that means [tackling] affordable housing, mental mental health and drug addiction."
As the owner of a carpet-cleaning business and real estate holdings, Lorton said his experience will help him bring down the city's debt, which he said is a priority. At the centerpiece of his bid is his "2022 Plan" to sell the city's surplus property and move the homeless shelter out of downtown. By selling the property, Lorton argued, the city would make money and free up the space for additional infill development.
"First off we sell all city-owned surplus properties," Lorton said. "We can pay off our debt in full."
Schieve, who noted that the debt had decreased by $200 million, said that the city was prudent in not selling those properties since land value has increased.
"Four years ago, you would have sold those for pennies on the dollar," said Schieve, referencing Lorton's unsuccessful run for mayor in 2014.
In 2013, Lorton filed a lawsuit alleging that City Council members could not run for mayor after they had served their full 12-year terms because the Reno mayor was effectively a member of the council. The Supreme Court agreed with Lorton's interpretation of the law, preventing two councilmembers from running for mayor. That opened up the door for Schieve, who won the general election with 61 percent of the vote in 2014.
Schieve said she believed that the mayor should be considered a special position. Despite a failed effort in the last legislative session to distinguish between the two positions, Schieve said she would continue to push for efforts that recognized the mayor as separate from the council.
"I know the difference," said Schieve, who was formerly a councilwoman. "And it is misleading to the voters. I think it should be up to the voters to decide. I wouldn't do it at the Legislature anymore and I think it should be up to you to decide if mayor and council-person are the same. Because I'm just here to tell you that they're not."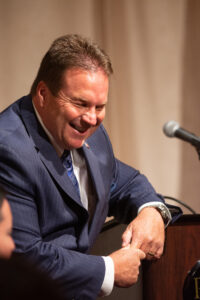 Lorton, in the intervening two years, became known as a brusque critic of local politics. In 2015, he threatened to sue the city of Reno and Washoe County over a tax dispute involving the Aces stadium, the Reno-Gazette Journal reported at the time. The city and Washoe County, which had already been negotiating with the ballpark owners, reached a settlement shortly afterward.
Lorton touted his success in floating the lawsuit.
"I'm going to make the biggest bang for your buck," he said. "We took our attorneys and made the ballpark pay its taxes too. Didn't we?"
The most intense exchange came when Lorton called Schieve a "bulldozer queen," referencing the weekly motels that have been demolished in downtown Reno. Lorton accused Schieve of backing those demolitions as a giveaway to developers.
"I don't cater to casinos… or the builders," he said.
But the mayor forcefully defended her record, arguing that many of the weekly motels are in poor condition without offering affordable rent. Some, she said charge around $300 a week.
"We did take them down because they are very unsafe," she said. "They are very toxic. I have seen mattresses where bed bugs have been there and those mattresses had not been changed for 20 years. So those need to go. And I am sorry because they were a place where pimps and prostitutes were hanging out and it's a horrible place for people to live. I've seen children live in those environments. And so yes: They have been bulldozed."
The issue of weekly motels came up during a section of the debate about homelessness, which also revealed stark differences between the two candidates. Lorton said he favored moving the downtown homeless shelter, which he called a "disaster for our town." He advocated leaving the issue of homelessness to the county. He said homeless residents are more likely to get services if they are not in downtown but moved to the outskirts of town and given a bus pass.
Schieve said that the city needed to work with the county and other partners, targeting specific services to specific populations within the larger pool of homeless residents.
"We have to work with our regional partners," she said. "We can't do this alone anymore."
In recent weeks, campaign contributions in the mayoral race have revealed tensions on the council and raised questions about finance rules. According to the most recent campaign finance filing, Councilwoman Jenny Brekhus, who has clashed with Schieve at times, gave a $250 contribution to Lorton. She gave Schieve $25 in 2017 and $500 when she first ran.
When the report came out on Tuesday, Councilman David Bobzien, who has appeared in ads with Schieve, swiftly criticized Brekhus on Twitter. Brekhus told the Reno-Gazette Journal it was not an endorsement and that she would have contributed to the mayor if she had asked.
"A contribution does not equate with an endorsement," she said. "I am neutral in this race and I'm trying to restore the long standing tradition of staying neutral in races with my colleagues."
In the debate, Lorton said he supported Brekhus, a liberal Democrat, and used her as an example of how he is willing to cross party lines.
"I'm not loyal to party politics," he said.
Lorton also criticized Schieve for shouting at Brekhus during a City Council meeting. Schieve noted that the council sometimes goes "head-to-head," but the mayor also defended herself against Lorton's claim about Brekhus.
"Ms. Brekhus is very smart and very intelligent, and I will continue to endorse her on the initiatives that I think are right to do," Schieve said.
Lorton also received $5,000 from David Griswold, a businessman who is one of the people helping fund a new website called RenoElections.org, according to the website's founder.
The website, which uses pointed rhetoric to discuss issues like homelessness and the city's debt, casts itself as a nonpartisan source for information. But incumbents, including Schieve and Councilwoman Naomi Duerr, have argued that it has engaged in advocacy, favoring upstart challengers such as Lorton. Advocacy groups have to register with the secretary of state.
Lorton said he had nothing to do with the website, even though it features issues that coincide with his agenda. The website, which has taken out billboards and sent campaign mailers to voters across the city, is having a debate on Saturday at City Plaza. Lorton, in his opening statement, encouraged people to come out to the RenoElections debate.
"They are trying to educate voters before election time because sometimes an educated voter is a dangerous voter for incumbents sometimes," Lorton said.
Comment Policy (updated 3/21/19): We welcome reader comments on our stories. However, in keeping with our general policy of transparency, accuracy and accountability, we do not accept comments from anonymous accounts. Anonymous accounts are those without a valid first and last name. Any such comments will be deleted, and anonymous users will be blocked from commenting further. We also will block commenters who use offensive language, engage in personal attacks or state things that are verifiably false.
get our morning newsletter,
The Daily Indy
INDYMATTERS PODCAST
CAFECITO CON LUZ Y MICHELLE
@TheNVIndy ON TWITTER