LIBRE Institute volunteer David Marroquin canvasses for school choice in a North Las Vegas neighborhood on Monday, Dec. 12, 2017. (Jeff Scheid/The Nevada Independent)
School-choice advocates bring the education conversation to residents' doorsteps
December 22nd, 2017 - 2:00am
As an ice-cream truck rolls through a North Las Vegas neighborhood, blaring its familiar jingle, Ronald Najarro examines a map on his smartphone.
Dozens of pins on the map confirmed what the novelty-selling truck driver likely suspected: Many families with children live in these homes near Ann Road and Valley Drive. But Najarro didn't come here bearing any sugary treats. Instead, his vehicle contained something the neighborhood kids might consider far less appealing — door hangers with information about school choice.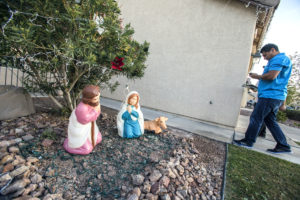 The children aren't his audience, though. Najarro wants to reach their parents.
He is coalition director for the LIBRE Institute, which launched an educational campaign in September that involved canvassing, digital advertising and websites chock-full of information about school choice in Nevada. The nonprofit organization — funded by the billionaire Koch brothers — seeks to inform Hispanic communities about the benefits of economic freedom, which it believes includes education.
"It's a conversation more than a sell or a push," Najarro said.
And so on a recent afternoon, as the fall light gradually turned to dusk, Najarro and volunteer David Marroquin walk past a Christmas nativity scene in a front yard and ring a doorbell. No answer. The pattern repeats itself at a handful of other houses, with the pair leaving door hangers in their wake.
They acknowledge their face-to-face interactions during canvassing aren't plentiful. Only about 8 percent of residents answer the door, but Najarro said those that do tend to embrace school choice, a politically charged term that has incited passionate debate for decades. Advocates argue that parents should wield more power in choosing what education options best suit their children — not just be pigeonholed to the public school in their ZIP code. But critics say the concept siphons taxpayer dollars away from traditional public schools, weakening them in the process.
The LIBRE Institute's three-month campaign in Southern Nevada, however, signals that the battle isn't over here despite a setback earlier this year.
+++
Nevada entered the national spotlight of the school-choice movement in 2015 when state lawmakers passed a bill creating Education Savings Accounts in the final days of the legislative session. The ESAs, as they're called, would give parents more than $5,000 in state funds to put toward education-related expenses such as private schooling or tutoring.
Proponents hailed the bill as one of the most sweeping school-choice laws in the nation. The program, they said, would inject more competition into the marketplace in addition to giving parents more choice and, as a result, force public schools to improve. Nevada typically falls near the bottom or dead last on national education rankings.
Naturally, legal challenges followed the passage of the ESA bill. The Nevada Supreme Court ultimately ruled that the program itself was constitutional but that the funding mechanism was not.
Republican lawmakers vowed to fix the funding mechanism during the 2017 legislative session, but the hot-button issue died in an endgame compromise — indefinitely stalling the program's launch.
State Sen. Scott Hammond, the architect of the original ESA bill, said he was disappointed the Legislature couldn't make the program a reality this year but believes it will happen in time.
His rationale: "If you're a millennial or younger, you love the idea of customization of almost everything, including education," he said. "That's why I don't see this issue going away for those who are deeply entrenched in sort of the education thought today."
Hammond, a Republican now running for Congress, said another key to moving the program forward is finding more Democrats who support school choice. Assemblyman Justin Watkins was the only Democrat who publicly supported ESAs during the legislative session. He announced in October that he won't seek re-election.
With an election year just around the corner, groups such as the LIBRE Institute are pursuing another avenue to build momentum for school choice — going directly to parents, who may be voters, and sharing the message.
The organization targeted 20,000 families — many of them Hispanic — for canvassing in the Las Vegas area, Najarro said. Staff and volunteers participating in the campaign, which wrapped up this month, hope the conversations breed more discussions among neighbors and friends, raising awareness about school choice.
"You always hear about the lack of funding for the public schools," Najarro said. "You always hear about our schools being overcrowded and that we need to build more schools, and that's not to say building more schools is not a good solution, but ESAs and school choice is a positive solution."
Still, the campaign hasn't earned accolades from everyone. Fernando Romero, president of Hispanics in Politics, didn't expect a strong school-choice push after the legislative session ended without funding for ESAs.
"I very naively expected it to stop," he said. "And, in fact, it's taken on full force."
Romero doesn't support ESAs, saying the voucher-style program dilutes the public school system, but his criticism toward the canvassing is more rooted in approach: He fears various organizations are spreading misinformation, including offering parents false promises related to money they'll receive in an ESA account. People in the Hispanic community, he said, are particularly vulnerable because they're not always deeply familiar with the education system.
"They're preying on that innocence," he said.
The LIBRE Institute disputed that assertion.
"Everything we do as an organization is researched and verified," Najarro said. "We never do anything that is not backed by information and data."
Simply put, Najarro views himself and the organization's volunteers as messengers. They deliver information. As for what the families do with it, that's up to them.
+++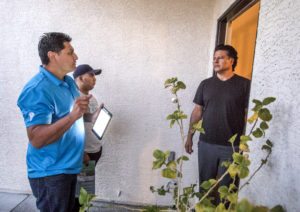 A half hour into their canvassing efforts in the North Las Vegas neighborhood, someone finally answers a door. It's a middle school-age boy.
"Hi! I'm looking for Miguel," Marroquin said.
The boy calls for his father and, soon, a man appears in the doorway. Najarro and Marroquin introduce themselves and their organization. When the father, Miguel Camarena, expresses interest, the first question is easy: Spanish or English?
"Spanish, please," he said.
The next question, posed by Najarro, is the only prepared one they'll ask parents. They consider it a starting point for a school-choice conversation.
"In some states, when families decide it is in the best interest of their children to remove them from their assigned school, families can use a portion of the funds that the government had allocated for the education of their child to pay for tuition at another non-government operated school or to cover alternate educational expenses including tutoring," Najarro said in Spanish, reading the wording verbatim from a script. "Do you agree or disagree with this policy?"
The ensuing conversation stretches beyond five minutes, as the boy and his younger sister peek out the doorway from behind their father. The gist of the dialogue: Camarena supports school choice and, in fact, recently transferred his sixth-grade son to a charter school.
The men bid farewell with handshakes and smiles. Then Najarro and Marroquin trudge onward, buoyed by the positive interaction.
It's dark outside now — save for the occasional twinkle of Christmas lights — but there are more doors to knock and families to visit.
From the Editor
The Nevada Independent
is a 501(c)3 nonprofit. We need help to attain the elusive goal of sustainability. We depend on recurring donations from you, the readers who believe in our mission of nonpartisan, transparent journalism. I know you are busy. I know you have many commitments. But if you would take a moment to
support our work
or bump up your current donation, I would be forever grateful.
Thanks for all of your support.
Best,
Jon Ralston
get our morning newsletter,
The Daily Indy
Thanks to everyone who made our October #IndyGive drive a huge success.
With your help, we raised more than $461,000 and welcomed 397 new donors to The Indy family.
If you are new to The Indy, please take a moment to read more about our nonprofit news venture — and consider supporting our work.
@TheNVIndy ON TWITTER