School district's budget woes hanging over fate of Teach For America program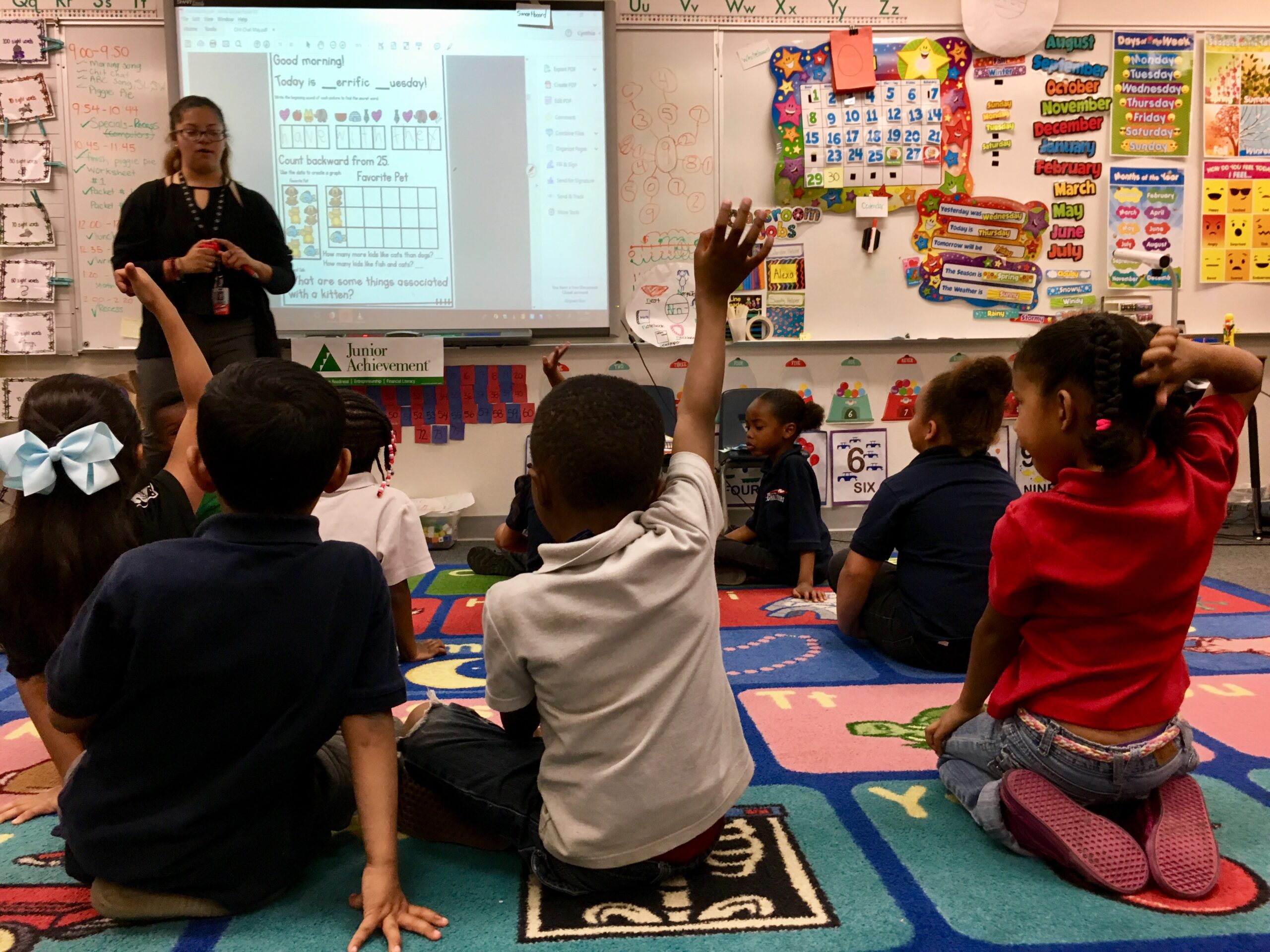 Sarah Hartman's journey to a third-grade classroom at Wynn Elementary School started with a political science degree.
An interest in education led the Marquette University student to apply for the Teach For America (TFA) program, which places recent college graduates in at-risk schools across the country. That's how Hartman wound up in Las Vegas three years ago — shaping the trajectory of her career. She stayed beyond her two-year commitment with the school district.
"Once I started teaching, I knew I would never want to leave," she said.
But the program's fate in Southern Nevada is in limbo. Two weeks ago, the Clark County School Board of Trustees voted 4-3 against renewing the district's TFA contract. The trustees who voted against continuing the partnership — Linda Cavazos, Chris Garvey, Kevin Child and Linda Young — expressed concerns about the program cost and the longevity of those teachers.
The district pays TFA $2,000 per teacher retained through the program each year. Teachers hired through the program commit to working in the school district for two years and receive the same salary and benefits extended to any entry-level teacher.
The problem, critics say, is that some TFA teachers see the gig as a stepping stone toward other endeavors and move on after their two years. For instance, only 38 percent of the TFA teachers hired for the 2015-2016 school remain actively employed in the district.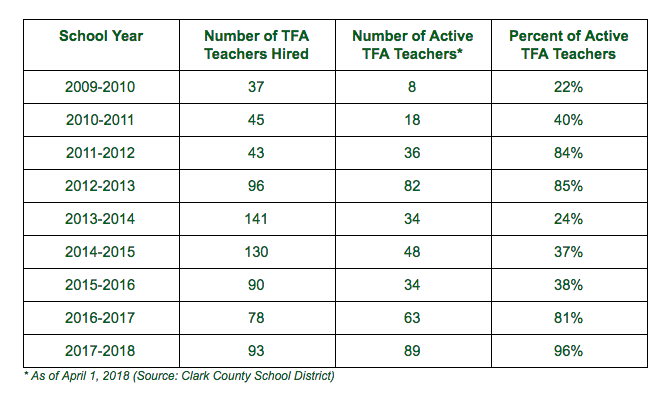 Garvey said she has received messages from former TFA teachers no longer working for the district who encouraged her to keep the program. But the fact that they left, Garvey said, proves her point that it's not worth the extra cost.
"The (return on investment) is very out of whack," Garvey said. "We're paying premium dollars."
Even so, the trustees' decision caught some principals and teachers off guard, especially because they consider the TFA program a stable recruitment source. School officials said 152 teachers are currently part of the TFA program, and 260 alumni of the program still work for the district.
John Haynal, a franchise principal who oversees three elementary schools, said the majority of TFA teachers he's hired have proven to be solid educators who come with "polish" after summer training provided by the program.
"They're not your rookie teachers," he said. "They groom them well."
His three elementary schools — Vegas Verdes, Roundy and Wynn — contain a combined total of eight current or former TFA teachers. He questions why the district would want to cut off that educator pipeline, even if it means paying some extra fees. Haynal said he'd be more than happy to work the TFA costs into his schools' budgets if given the opportunity.
"They're making snap decisions that are short-term, Band-Aid surgery," he said, referring to trustees. "They're putting Band-Aids on symptoms."
The decision may not be a done deal, though. Cavazos, who could not be reached for comment, has requested an agenda item at Thursday's board meeting to reconsider the TFA contract.
Trustee Carolyn Edwards said lack of briefings from staff may have contributed to some of her colleagues voting against the contract renewal. Edwards, who ran the meeting that night, also said she should have asked principals in attendance to testify about the TFA program.
Still, Edwards said she's "hopeful" the previous decision will be overturned.
It may be a tough sell to certain trustees. Garvey and Child pointed to the district's most recent financial struggle as proof that it's not wise to renew the contract, which would cost up to $250,000 for fiscal year 2019.
The school district announced Monday that it's facing a $68 million deficit tied to recent arbitration awards that would boost teacher pay. The district, which is appealing one of the arbitration decisions, has asked schools to revise their budgets for the 2018-2019 academic year to cover the costs of the increased salaries.
Child said the situation likely will result in a reduction in force, creating a surplus of teachers and rendering the TFA program unnecessary next year.
"We don't have any money," he said. "This district is b-r-o-k-e right now. You can't spend what you don't have."
Instead, Child said the district should be beefing up its own recruitment efforts by duplicating a program at Clark High School that prepares students for careers in the education field.
Board President Deanna Wright said she doesn't buy the argument that the district will have a surplus. The district faces a chronic teacher shortage that's being exacerbated by people fleeing the profession nationwide, she said, noting Clark County has hundreds of vacancies right now.
"This is a way to not have subs," Wright said, referring to the TFA program.
When trustees reconsider the program contract Thursday, Hartman said she hopes they really think about what's best for students. TFA teachers, she said, accept hard-to-fill positions in at-risk schools.
"I fell in love with Clark County students," she said, explaining her desire to stay. "There's so much work that needs to be done here."
Disclosure: Wynn Resorts has donated to The Nevada Independent. You can see a full list of donors here.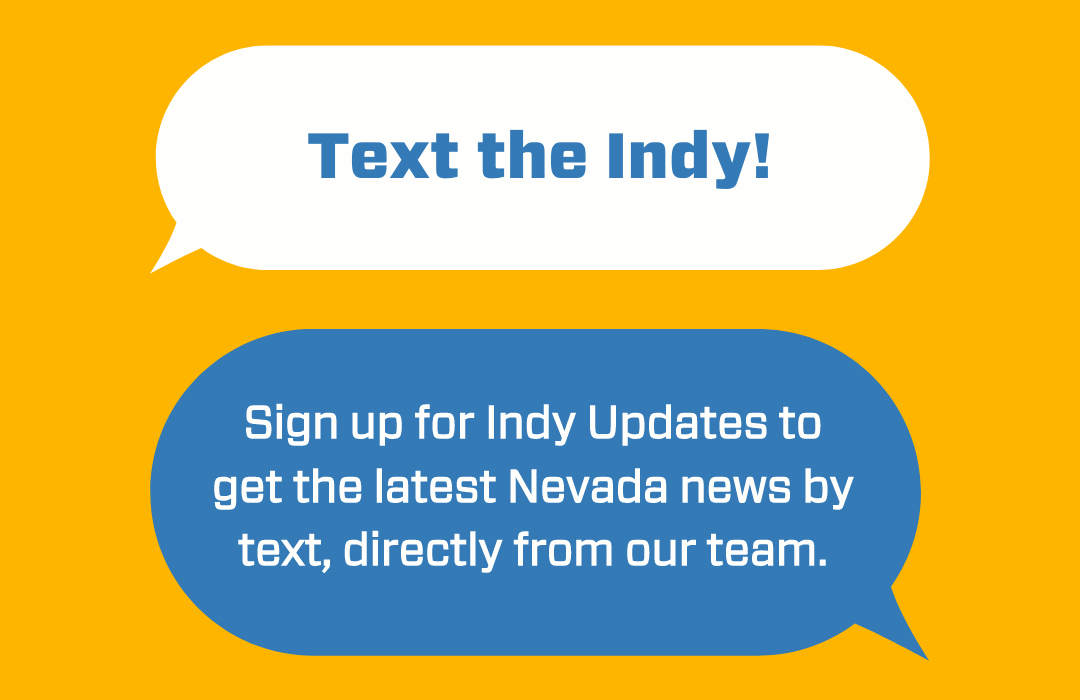 Featured Videos
Comment Policy (updated 4/20/2021): Please keep your comments civil. We reserve the right to delete comments or ban users who engage in personal attacks, use an excess of profanity, make verifiably false statements or are otherwise nasty. Comments that contain links must be approved by admin.