School trustees approve hiring a former gaming executive as district's CFO
The Clark County School Board of Trustees on Thursday approved the hiring of a former gaming executive as the district's next chief financial officer.
Trustees voted unanimously to let Superintendent Pat Skorkowsky appoint 46-year-old Jason Goudie to the district's top financial position and negotiate a contract for him. The proposed contract calls for a $144,360 annual salary.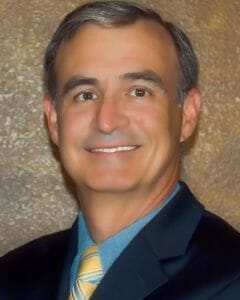 Goudie previously served as the CFO at the Tropicana Las Vegas and M Resort. Most recently, he has been vice president of financial and operational strategies for Accretive Consulting, which his wife owns.
Earlier this week, Goudie told The Nevada Independent that his background in the private sector allows him to "bring a little different perspective to the table." In his new role, he will be charged with overseeing the district's roughly $2.4 billion budget.
He will assume the district's financial duties from Eva White, who has been filling in as the interim CFO since January. White is retiring Aug. 1. The CFO position has been in flux much of the past year. Nikki Thorn replaced Jim McIntosh, who took a job with the city of Henderson last year. But Thorn left in late January after less than three months on the job. That's when White stepped in while the district searched for a permanent replacement.
Trustee Chris Garvey expressed frustration when Skorkowsky said he couldn't reveal the names of people who participated on a committee that interviewed Goudie. The superintendent said a human resources policy prevents him from disclosing the participants' names.
"I just want this process to be very open and transparent so that we can have the community's trust on a CFO that we desperately need to have in place," she said.
Goudie's appointment comes as the school district undergoes a dramatic overhaul of its operations. A key tenet of the state-mandated reorganization is the shifting of most funds from central services down to schools, giving them more power over their budgets.
"Mr. Goudie is eminently qualified to serve as CFO of the nation's fifth-largest school district," Rick Neal, the district's chief operating officer, said in a statement. "This is an especially critical position right now in CCSD because of the district's reorganization. Mr. Goudie will be instrumental in our efforts to be more transparent with our budget and put more funds in school budgets."
The board also approved the re-appointment of Neal as the district's chief operating officer and the appointment of Kirsten Searer as the chief communications, marketing and strategy officer. Neal's proposed contract includes a $151,608 annual salary, while Searer's would be $144,360.
Feature photo: Las Vegas Academy of the Arts, a high school in the Clark County School District, as seen on January 16, 2017. Photo by Sam Morris.