SCOTUS hears arguments in case that sparked abortion fight in governor's race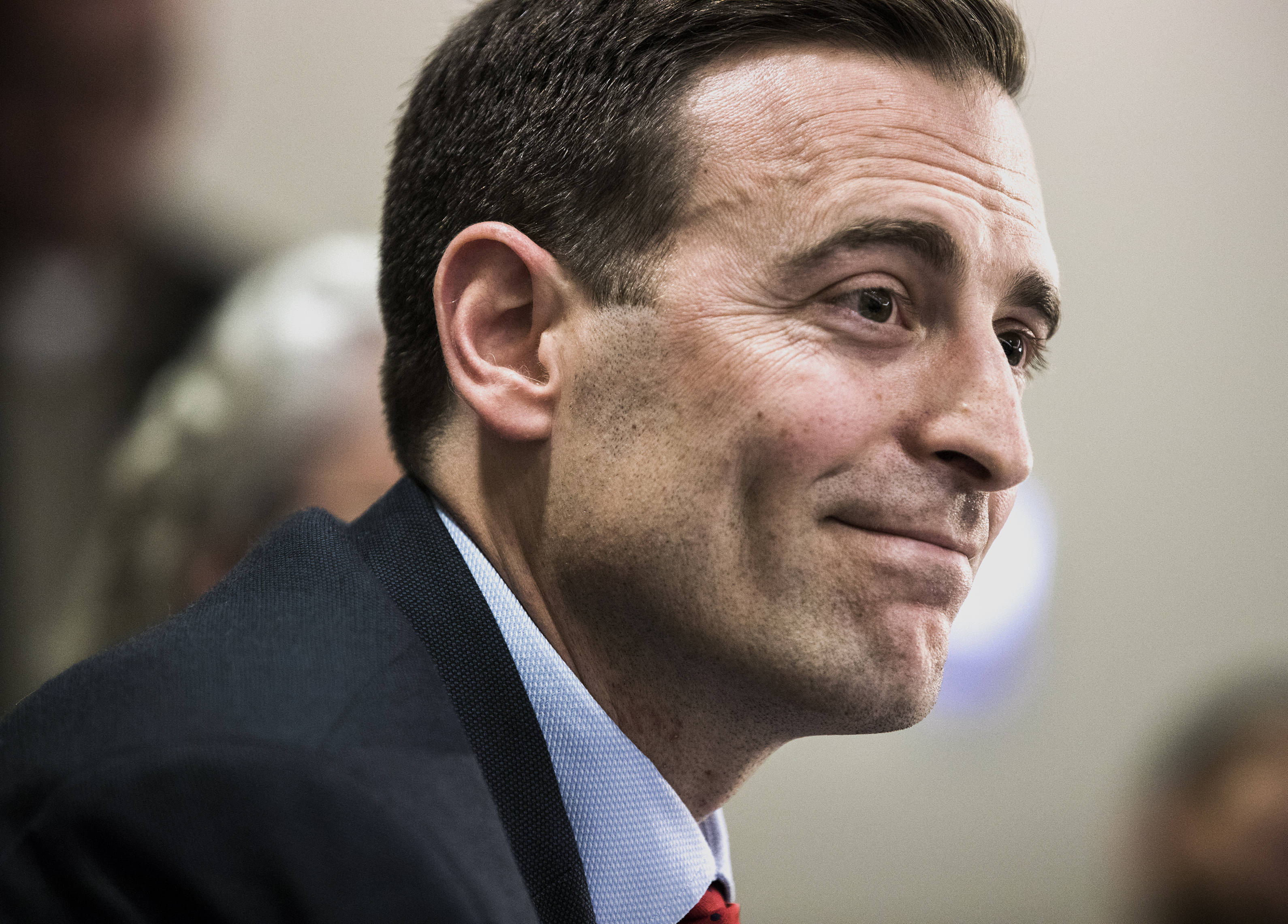 Pro-life pregnancy clinics that are the subject of a fight over abortion in Nevada's gubernatorial election took center stage in the Supreme Court on Tuesday, with the justices raising concerns about the free-speech rights of California clinics forced to notify patrons of abortion alternatives.
Justice Anthony Kennedy, typically the swing vote on controversial issues, asked pointed questions that were critical of a 2015 California law.
The measure requires licensed "crisis pregnancy centers" (CPCs), which oppose abortion and offer ultrasounds, pregnancy tests and related services, as well as counseling, to alert their patients that the state offers free, or low-cost, family planning services, including abortion. Unlicensed CPCs must notify clients that no medical professionals work at the facility.
"You're asking an organization to go against their deeply held moral and philosophical beliefs and their mission statement," said Melissa Clement, president of Nevada Right to Life, who's been tracking the case. "Am I worried it's going to happen in Nevada? Yes, because you've got the Nevada Democratic Party that's obviously overly concerned in shutting down what is competition for the abortion clinics in Nevada. And in doing so, absolutely disregarding women and their needs."
Republican Attorney General and gubernatorial candidate Adam Laxalt signed on to an amicus brief in January with conservative attorneys general supporting the pro-life group suing California over the law. It's unclear whether he consulted with Republican Gov. Brian Sandoval, who's pro-choice, on the matter. Laxalt's office did not respond to an inquiry seeking comment.
Abortion has become an issue in the race to replace Sandoval, most notably when Laxalt visited a CPC in Las Vegas in February. That spurred a tense exchange over Twitter with Clark County Commission Chair Steve Sisolak, who wants to be the Democratic nominee and called the Las Vegas-based First Choice Pregnancy Services organization "shameful."
In a statement provided by his campaign Tuesday, Sisolak said "I fully support protecting a woman's right to choose and her access to safe, comprehensive reproductive health care. It's unacceptable that Adam Laxalt supports attempts to defeat a law that protects women and their access to critical information about their health care. Laxalt's out of touch anti-choice agenda would roll back the clock on women's rights and drag Nevada down a dangerous path. As governor, I will fight against any efforts to limit women's constitutional reproductive rights."
Clark County Commissioner Chris Giunchigliani, Sisolak's main Democratic primary opponent, also chastised Laxalt's stance and criticized CPCs, saying they should be regulated.
"It's clear that Adam Laxalt's goal is to implement his far-right, anti-choice agenda on Nevadans," she said in a statement. "These so-called 'crisis pregnancy centers' often provide wildly misleading and inaccurate information to women and should be regulated. I've always stood up for a woman's right to choose and supported organizations like Planned Parenthood and I'll do so as governor."
Laxalt's actions haven't gone unnoticed by other Democrats in the congressional delegation. Sen. Catherine Cortez Masto said she has signed on to a friend of the court brief on the side of California.
"No doubt his actions, as he moves forward, are going to be brought up," Cortez Masto said.
She noted that the issues in the case are the same that she policed when she was Nevada's attorney general.
"We are talking about consumer protections, notice to consumers. This an area in which I have fought for the last eight years. I don't want someone going into one of these clinics thinking they are talking to a doctor when they are not talking to a doctor," Cortez Masto said.
Cortez Masto said she does not plan to endorse a candidate for governor, but plans to support the winner of the Democratic primary in June.
Rep. Dina Titus, who endorsed Sisolak in the governor's race, cited a ballot measure that passed in 1990 that strengthened abortion rights in the state.
"I think he's going against the will of the people of Nevada," she said of Laxalt.
There are currently nine CPCs in Nevada, according to the Nevada office of NARAL, a pro-abortion-rights group.
Caroline Mello Roberson, NARAL-NV's state director, said that she knows vulnerable women who have been misled in Nevada.
"I've had members come to me and tell me their stories about going to places, especially in Las Vegas, and getting misinformation, and not only misinformation, but pressure, significant pressure to continue with a pregnancy with which they were undecided," Roberson said in an interview. "At that time in women's lives, when you have an unplanned pregnancy, you need compassion. You need accurate information. You don't need someone to manipulate you and pressure you and tell you things like 'if you get an abortion, you'll get breast cancer' or 'don't worry, you're likely to miscarry anyway.' These are the types of things I know for a fact have been said to people in Nevada."
Clement said that CPCs have a "bias toward life," but that clinics offering abortion have a bias toward abortion and wouldn't be inclined to offer things CPCs provide such as post-abortion counseling or baby formula for expectant mothers.
"Here's a group of nonprofit agencies dedicated entirely to help women make choices, and giving them opportunities and social services and connecting them with governmental services, so if they choose to have a baby, they can have a happy healthy baby. I kind of always thought that's what we are about people," she said. "All of those services aren't going to be picked up by the abortionist who has a financial interest in making sure every woman who walks through his door has an abortion."
Both sides had protesters at the court, including one NARAL activist from Dayton, NV. Judy Zabolocky, a self-described "proud" Democrat and retiree who previously worked in payroll processing, said she felt compelled to try to meet with the state's senators who will vote on the next Supreme Court justices and make the case for those that would not harm abortion rights.
While she met with Cortez Masto, she did not meet with Sen. Dean Heller, a Republican.
Despite the Democrats' support for the law, its prospects in the Supreme Court seem dim. Kennedy, who is the court's bellwether on tough issues, said he believed that a billboard erected in California by a CPC that just read "choose life" would be subject to the state's disclosure law. "It seems to me that this is an undue burden in that instance and that should suffice to invalidate the statute," he said.
Other justices, including the liberal-leaning Elena Kagan, were concerned that the state law could be read as unfairly targeting non-profit CPCs, a notion called gerrymandering, due to the exemptions written into the measure.
"When you read this statute...there's at least a question that arises as to whether this statute has been gerrymandered," Kagan said.
Steve Sisolak and Chris Giunchigliani have donated to The Nevada Independent. You can see a full list of donors here.
Updated at 1 p.m. on March 21, 2018 to add a statement from Chris Giunchigliani.
The Nevada Independent is raising $200,000 by Dec. 31 to support coverage of the 2024 election.
Tax-deductible donations from readers like you fund this critical work.
If you give today,your donation will be matched dollar-for-dollar.
Give + Get Matched
Featured Videos