Flowers lay on the ground near the Route 91 Festival grounds on Tuesday, October 3, 2017 following a deadly shooting that took place late Sunday night. Daniel Clark/The Nevada Independent
Sheriff releases preliminary report about mass shooting, says FBI is investigating a 'person of federal interest'
January 19th, 2018 - 11:32am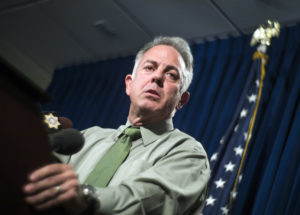 An 81-page report released Friday by Metro Police paints a clearer portrait of the man who sprayed bullets on Las Vegas concertgoers, killing 58 and wounding hundreds more in October, but it still doesn't answer the most haunting question:  Why?
The preliminary investigative report doesn't draw any specific conclusions about what motivated 64-year-old Stephen Paddock — a real-estate investor and frequent gambler — to commit the attack. Investigators still believe he acted alone, although the FBI has an ongoing case against a "person of federal interest," Clark County Sheriff Joe Lombardo announced Friday. He declined to elaborate about that person or the circumstances, citing the pending investigation.
"This report is not going to answer every question or even answer the biggest question as to why he did what he did," Lombardo said, referring to Paddock.
Evidence collected and interviews with 43 people directly associated with Paddock, including eight relatives, offer a puzzling look at the shooter, who in some ways led a seemingly normal life but also had apparent secrets. For instance, investigators found "several hundred" images of child pornography on a laptop discovered in the Mandalay Bay Resort and Casino suite, where he carried out the attack.
The investigation also suggests Paddock meticulously planned the attack, amassing an arsenal of weapons, researching crowded venues and carrying luggage filled with firearms and other gear up to his hotel room bit by bit. Among the details in the report:
Paddock purchased 29 firearms from 1982 through September 2016. Over the next year, from October 2016 through September 2017, he bought 55 firearms and related accessories.

The suspect's Internet search queries in May included, among others, "open air concert venues," "summer concerts 2017," and "how crowded does Santa Monica Beach get." He later reserved a hotel room overlooking the Lollapalooza music festival in Chicago. Two days before his August check-in date, he canceled the reservation. He also booked and stayed at the Ogden — a downtown Las Vegas high-rise building — during the popular "Life is Beautiful" music festival, which occurred the weekend before the Route 91 Harvest country music festival.

His girlfriend, Marilou Danley, told investigators that Paddock's demeanor changed over the last year, with him becoming more "distant" and their relationship no longer intimate. She also observed him studying the Las Vegas Village venue, where the Route 91 Harvest festival would be held, from the windows of their Mandalay Bay hotel room when the couple stayed there in early September.

Paddock checked into his 32nd-floor Mandalay Bay room on Sept. 25. He booked the adjoining room from Sept. 29 through Oct. 2. Over the course of his stay, Paddock brought multiple suitcases to the room, starting with five on Sept. 25. On that day, he asked the bellman to take the service elevators rather than the guest elevators to his room — a request that hotel staff said is not uncommon for visitors. A different bellman helped Paddock bring up six pieces of luggage the next day.

Paddock gambled, traveled to Mesquite, ordered room service and ate at a sushi restaurant in the days leading up to the shooting. He remained in the room on Sept. 27 and Sept. 29 while it was being cleaned. On Sept. 30, he placed "Do Not Disturb" signs on his two adjoining rooms.

Friends and family reported that Paddock told them he often felt sick, in pain or fatigued. A doctor who identified himself as Paddock's primary care physician described Paddock as "odd" and showing "little emotion." Although the doctor believed Paddock may have had bipolar disorder, his patient did not want to discuss the topic and also refused antidepressants, but did take a prescription for anxiety. The doctor said Paddock seemed fearful of medications.
The release of the report — an unprecedented decision that breaks normal department protocol — came during the sheriff's first news conference about the shooting in three months. The department decided to release the preliminary investigative report as a matter of "public service," he said, noting that it's not a practice that will continue for other cases.
Lombardo said he does not expect charges to be filed against the suspect's girlfriend, Marilou Danley, who was in the Philippines at the time of the shooting.
He also responded to Pennsylvania Republican Rep. Scott Perry's comments on Fox News on Thursday, in which the congressman said "recently I've been made aware of what I believe to be credible evidence, credible information regarding potential terrorist infiltration through the southern border regarding this incident." Lombardo said there was no evidence that Paddock colluded with others or supported any terrorist organizations.
"I'd like to see the evidence," Lombardo said.
The mass shooting killed 58 people at the Route 91 Harvest country musical festival across from the iconic, gold-tinted casino. Lombardo said a total of 851 were injured during the attack, including 422 people who received injuries related to the gunfire.
Investigators anticipate finishing a more comprehensive, final report by the end of the year.
"You have my word and this is my goal and focus as the sheriff of Clark County: We will learn from this incident and do everything in our power to prevent something like this from ever happening again," he said.
Michelle Rindels contributed to this report.
Disclosure: Joseph Lombardo donated to The Nevada Independent. You can view a full list of donors here.
Comment Policy (updated 10/4/19): Please keep your comments civil. We reserve the right to delete comments or ban users who engage in personal attacks, use an excess of profanity, make verifiably false statements or are otherwise nasty.