Sisolak appoints principal, daughter of immigrants as lieutenant governor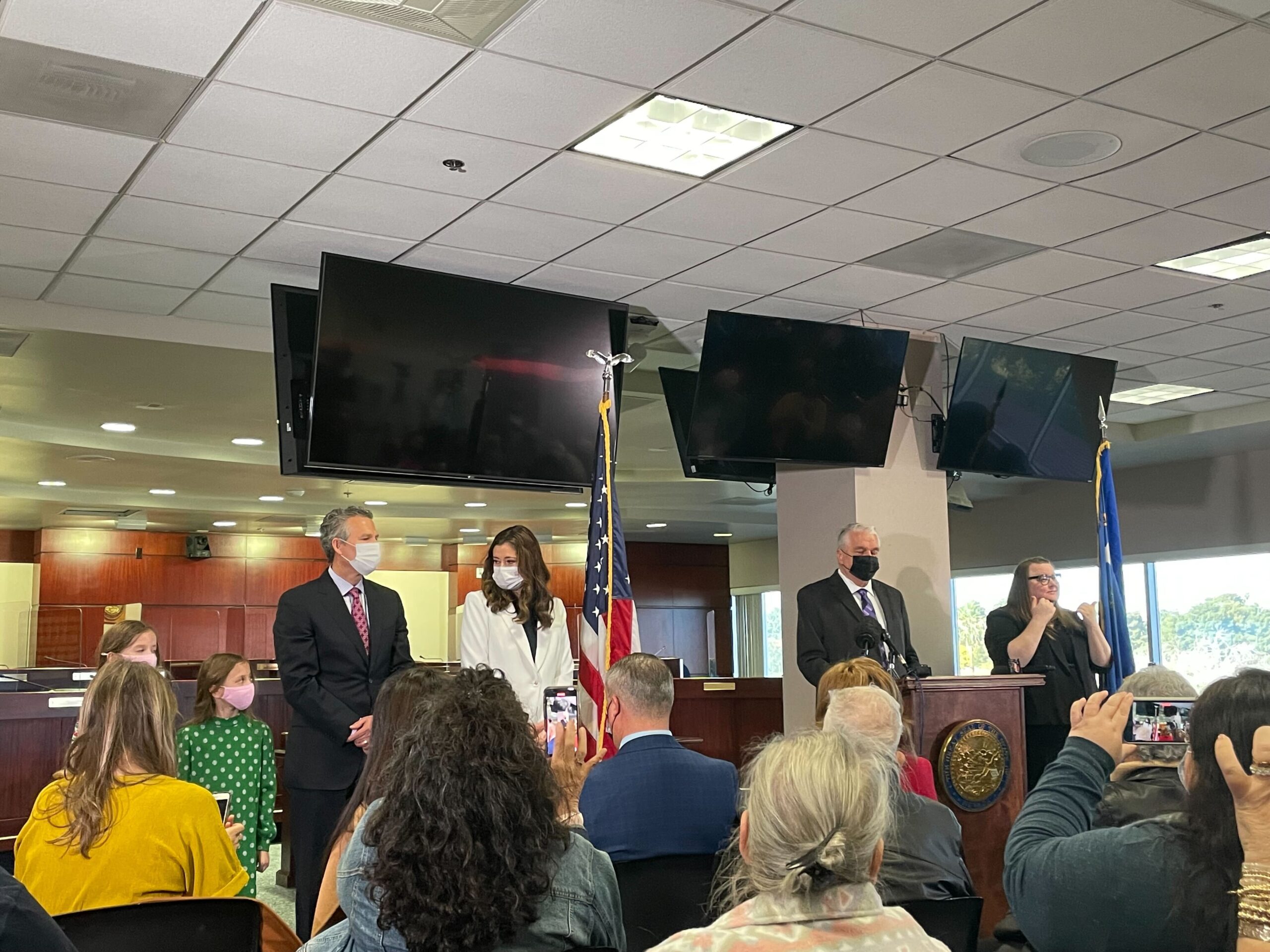 Gov. Steve Sisolak formally appointed longtime educator Lisa Cano Burkhead, a Democrat, as lieutenant governor on Thursday, saying the choice of a political newcomer for the role was intended to "bring the community into government."
Sisolak introduced his newest deputy Thursday at a press conference in Las Vegas, filling a post left vacant when former Lt. Gov. Kate Marshall departed in September after taking a job with the Biden administration. Raised by immigrant parents from Argentina and Paraguay who worked as a blackjack dealer and a seamstress on the Strip, respectively, Cano Burkhead's résumé includes time as a Spanish teacher and principal. She delivered part of her opening remarks in Spanish.
"My parents … instilled in me a deep appreciation for education, and the opportunities that come with a strong education," said Cano Burkhead, 50. "That's what led me to dedicate my career to teaching, and now I want to use my life's experience as a teacher, principal, administrator, and as a parent to be Nevada's advocate for education in my new role as lieutenant governor."
Sisolak said he had received "numerous" inquiries for the position and acknowledged at the press conference that some saw the three-month appointment process as too protracted, but he said that "this process took exactly as long as it needed to take to get the right person."
Cano Burkhead also confirmed that she planned to run for a full term after finishing out the remaining year in Marshall's term because "I think we can get so much work done if I have a full term."
Several others have expressed interest in running for lieutenant governor in 2022, including Henderson Mayor Debra March and rural Democratic Party organizer Kimi Cole on the Democratic side, and Las Vegas City Councilman Stavros Anthony, former state Treasurer Dan Schwartz, businessman John Miller and Mack Miller on the Republican side.
Born and raised in Las Vegas, Cano Burkhead taught English and Spanish at Clark County schools, then served as dean and assistant principal at Eldorado High School. She went on to be chief of staff to a regional superintendent, then principal of Fertitta Middle School before working as principal of Henderson's Foothill High School for six years. She retired from CCSD earlier this year.
She is married to husband Jeffrey and has three daughters: Taylor, 21; Raquel, 9; and Sophia, 8. At the event, Sisolak referred to her as "LG Mom."
Asked if she feels she could run the state government were something to happen to the governor, Sisolak chimed in to say he felt confident.
"I am heartened by the governor's confidence in me and I do have confidence that if the occasion arises, that I would be able to serve our state," Cano Burkhead said, "although I don't anticipate that happening."
The lieutenant governor role, which is technically part-time, includes responsibilities such as chairing the state tourism commission and serving on several state boards. They also serve as president of the state Senate, a largely symbolic role.
Asked how her education background parlays into a role without a statutory responsibility for schools, Cano Burkhead said she thinks there's a connection.
"I think that having a strong educational foundation really directly impacts our economy and economic development. So I will use that as a guiding light," she told The Nevada Independent.
Michelle Rindels contributed to this report.